June 3 Game Notes: Iowa Cubs vs. Columbus Clippers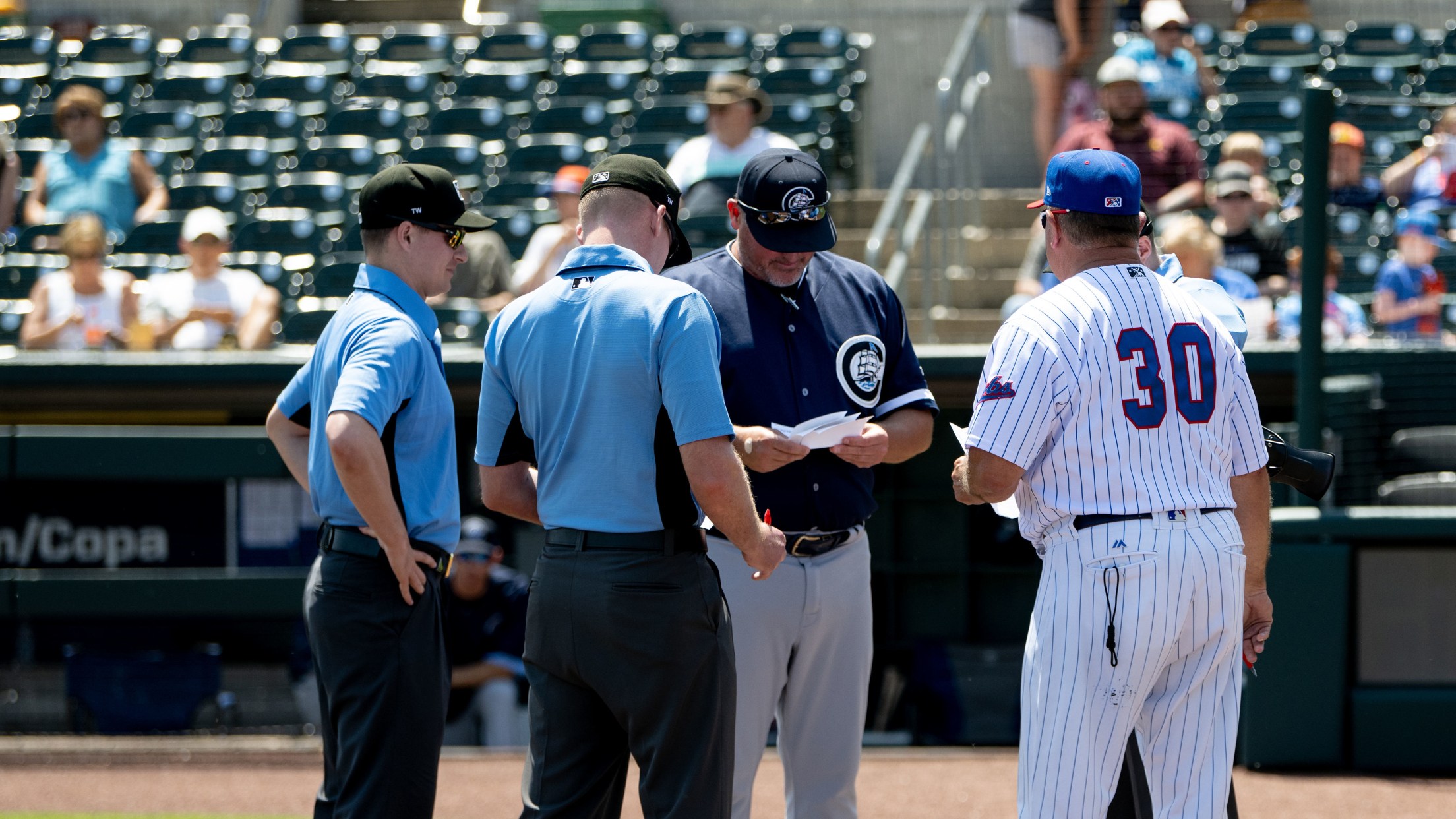 IOWA CUBS (31-20) vs. COLUMBUS CLIPPERS (27-26) Saturday, June 3, 2023 • 6:08 PM • Principal Park • Des Moines, IA RHP Caleb Kilian (3-0, 4.58) vs. RHP Touki Toussaint (2-1, 2.61)
IOWA CUBS (31-20) vs. COLUMBUS CLIPPERS (27-26)
Saturday, June 3, 2023 • 6:08 PM • Principal Park • Des Moines, IA
RHP Caleb Kilian (3-0, 4.58) vs. RHP Touki Toussaint (2-1, 2.61)
TONIGHT'S GAME: With the series tied at two, Iowa sends righty Caleb Kilian to the mound for his ninth start of the season. He looks to retain his undefeated record and earn his fourth win of the season. Tonight will mark Kilian's third start of the year against Columbus. He is 1-0 with a 9.82 ERA and six strikeouts this year. Kilian's victory over the Clippers came on May 5 after he allowed just one run in 5.0 innings. Opposite Kilian will be Touki Toussaint for the Clippers. The typical bullpen arm will be making his first start of the season. He boasts a season 2.61 ERA with a 2-1 record. The righty has a perfect 0.00 ERA in 7.1 innings versus Iowa this year where he's allowed just three hits. Toussaint earned a win over the I-Cubs on May 7 in Columbus and last appeared on May 30 in Iowa.
THE I-CUBS KILLER: While he's been a big piece of Columbus' offense all season, there's something about facing off with Iowa for Bo Naylor. This season, he's slashing .255/.396/.489 with 38 runs, 11 doubles, one triple, 10 home runs and 40 RBI. In 13 games versus the I-Cubs, Naylor has crushed five home runs and five doubles with 12 RBI. Naylor has helped lead Columbus to six wins over Iowa this season with his .421 OBP and .723 SLG. Against the I-Cubs this year, Naylor has hit 50 percent of his home runs, 45 percent of his doubles and 30 percent of his RBI. In this series so far, Naylor is 2-for-13 with four runs, one double, one homer and four RBI.
FIFTH INNING BLUES: In 2023, Iowa has outscored opponents 321-285. Pretty good mark. Except for the fifth inning. The I-Cubs have been outscored by 29 runs in that middle-of-the-game frame. Along with the eighth inning, Iowa has only been outscored in two frames this year. This week alone has created a crooked number in the fifth. Columbus has totaled 10 runs in the fifth while Iowa has scored just one. Just last night, Iowa allowed six runs in the fifth inning.
JARED "CY" YOUNG: With the game out of reach last night, the I-Cubs had infielder Jared Young take over the pitching duties in the later portion of the contest. It was the first time a position player has come into pitch for Iowa since Bryan Serra on September 18, 2021, on the road against Omaha. In Serra's outing, he tossed two-thirds of an inning, allowed one hit, and walked one. The I-Cubs lost that game by score of 14-3. Over his 1.1 innings of work last night, Young did not allow a run and gave up just one hit as well as two walks. The Canadian national does throw right-handed even though he bats from the left side and was bringing the heat as topped out at 90.1 miles-per-hour on the radar gun on his way to picking up two strikeouts.
DOUBLE OR NOTHING: Outfielder Yonathan Perlaza has been seeing the ball well at the plate as of late and has upped his batting average to .312 on the year. He has also had a knack for hitting doubles with 13 on the year, which is tied for the team lead. In the four games versus Columbus this series the Venezuela native has racked up four doubles alone with three coming in the suspended June 1 contest. Perlaza's third double in that game was the biggest as it came in the bottom of the ninth and cleared the bases to tie the game at 8-8 and force extra innings. Over his last 13 games, Pelaza has hit at least one double in nine of them. The 24-year-old also went on a four-game stretch between May 18-23 recording a double.
WALK THIS WAY: Last night was not the greatest night for the Iowa pitching staff as it was a struggle to find the strike zone against Columbus. En route to a 15-2 defeat, Iowa pitchers allowed a total of 16 walks to the Clippers. The 16 walks allowed by Iowa set a new season high for the I-Cubs. The previous season high was 10 walks allowed, which had happened three times this year with the most recent occurrence coming on April 25 versus Louisville. It wasn't just a new season high that was set by Iowa either. The 16 walks also set the record for the most allowed in a nine-inning game in franchise history. The previous mark for most walks allowed in a nine-inning contest was 14, which happened on August 3, 1990, versus Oklahoma City. The I-Cubs were just one walk away from tying the franchise record for walks in a single game as well. On September 1, 2015, the I-Cubs tallied 17 walks allowed on the road against Oklahoma City in a 19-inning marathon of a game. The breakdown by walks allowed from each Iowa pitcher went as follows: Ben Brown – 5, Cam Sanders – 5, Michael Rucker – 1, Jordan Holloway – 3, Jared Young – 2. For Sanders, that ups his total to 32 walks allowed this season, which is tied for second in the International League and is just two behind the league leader in Adam Scott from Columbus. Sanders has faced 115 batters this season and has issued a walk to 28-percent of them (32-for-115). With Iowa issuing 16 free bases in last night's contest, it has now racked up a total of 260 base on balls in 2023, which ranks 14th in the International League. Ironically Iowa's current opponent, the Columbus Clippers, rank last in the International League in walks allowed with 309 on the season. Iowa's 16 free passes is tied for the most in a single game at the Triple-A level this year with Gwinnett racking up 16 walks allowed to Charlotte on May 2. From the Major Leagues through Single-A, Iowa's 16 walks allowed is tied for the third most walks allowed in a game this season. The Hickory Crawdads, High-A affiliate of the Texas Rangers, allowed 18 walks to the Bowling Green Hot Rods on April 21 and the New York Mets allowed 17 on April 14 against the Oakland Athletics.
AGAINST COLUMBUS: The third series of the season between the I-Cubs and Clippers is tied at two after Columbus' win last night. Iowa still holds the season lead 7-6 and the lead at Principal Park 5-2. The Clippers improved their all-time record of 25-18 with their win.
SHORT HOPS: Iowa's four errors last night is a season high ... Iowa reached a season high 11 games over .500 after Thursday's win ... The I-Cubs are 5-0 at home in one-run games ... Iowa left 15 on base in Thursday's game, a season high and went 5-for-20 with runners in scoring position ... Thursday's game was the first game all year Iowa has been tied after eight innings.