June 6 Game Notes: Iowa Cubs @ St. Paul Saints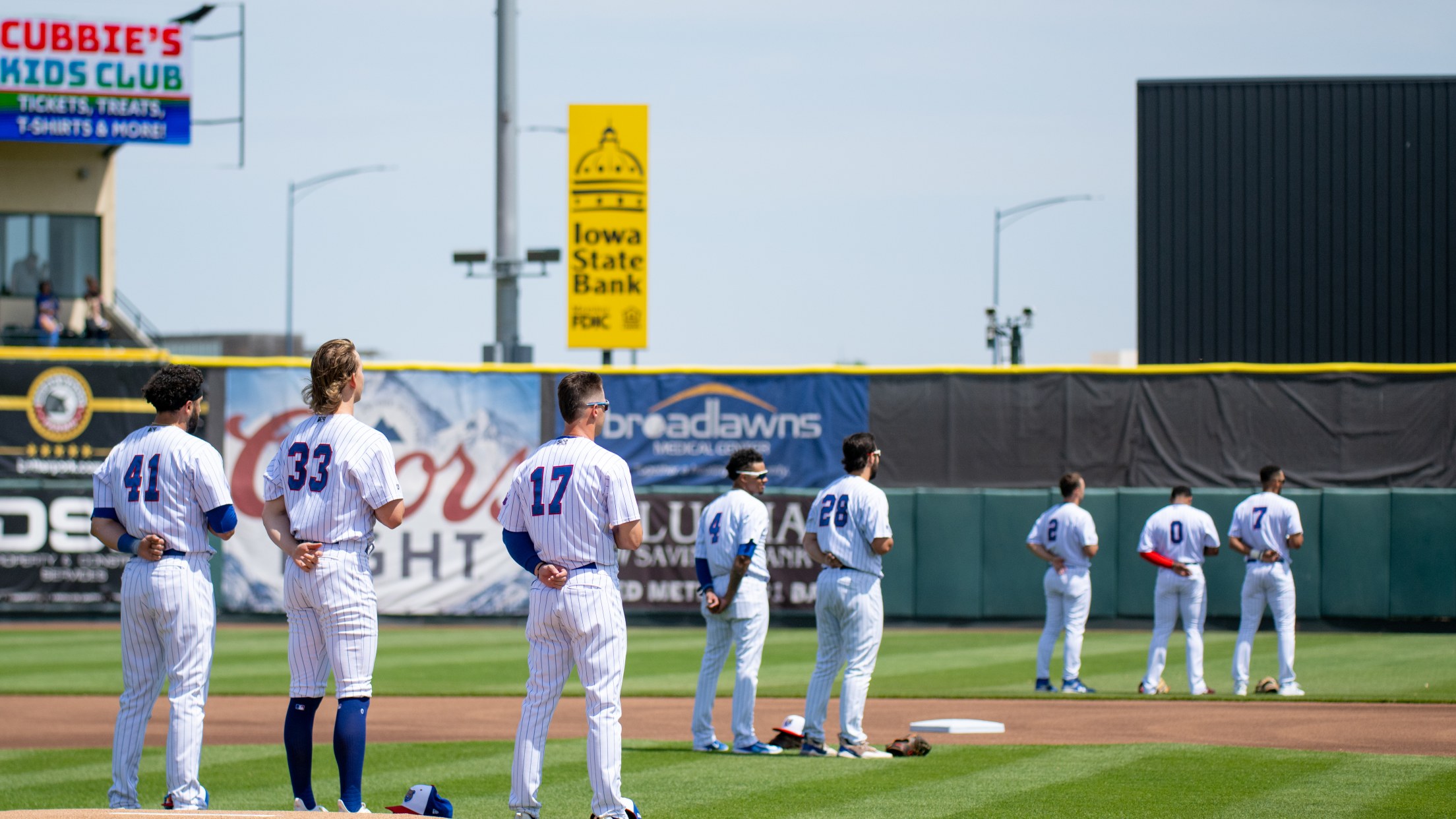 IOWA CUBS (31-23) @ ST. PAUL SAINTS (32-23) Tuesday, June 6, 2023 • 7:07 PM • CHS Field • St. Paul, MN RHP Chris Clarke (0-2, 2.82) vs. RHP Jordan Balazovic (0-1, 4.45)
IOWA CUBS (31-23) @ ST. PAUL SAINTS (32-23)
Tuesday, June 6, 2023 • 7:07 PM • CHS Field • St. Paul, MN
RHP Chris Clarke (0-2, 2.82) vs. RHP Jordan Balazovic (0-1, 4.45)
TONIGHT'S GAME: The I-Cubs and Saints are set to kick off their seven-game series tonight. Chris Clarke gets the starting nod for Iowa for his sixth start this season. He enters tonight with an 0-2 record and a 2.82 ERA. After spending two weeks in Iowa's bullpen, the righty returned to the starting rotation last week against Columbus. He tossed 3.0 innings where he allowed no runs on two hits last Wednesday. This will be Clarke's first career appearance versus St. Paul. The Saints will send Jordan Balazovic to the mound tonight. He will be making just his fourth start in 12 appearances this year. In his last start, Balazovic suffered the loss after allowing five runs, three earned, in 3.2 innings on May 14 against Indianapolis. The righty holds a season ERA of 4.45 and 3.27 as a starter. In five games against Iowa, Balazovic has a 15.00 ERA with 16 strikeouts.
BOTE'S BOUNCING BACK: After a tough month of May, David Bote is starting June on the right track. In three games, Bote boasts a .444 average (4-for-9) with four runs, a double, a home run, two RBI and five walks. His Sunday afternoon performance was a glimpse of "vintage" David Bote. The infielder reached base in all five of his plate appearances with three hits and two walks. With a single, double and homer, Bote was just a triple shy of his first career cycle. The game marked the sixth time in his career that he was just one hit shy of the cycle. He's been a double away once, a triple away three times and a home run away twice. Along with his near-cycle on Sunday, he scored three times and drove in two. It marked his fourth three-hit game and seventh multi-hit game of the season.
BEST OF THE WEST: The I-Cubs have held the lead in the International League West for 33 of their 49 game days this season. They held the lead for 16 consecutive days from May 17 to June 3. The team to take the throne? The St. Paul Saints. As Iowa has now lost three straight games and St. Paul has won two straight, the script has been flipped. With just 20 days left in the first half of the Triple-A season, this six-game series could be the deciding factor of who finishes first in the West. However, both teams still trail in the race for the International League title, which is the only way to punch a ticket to the playoffs. The Norfolk Tides, out of the East division, hold an impressive 40-17 record that has nearly guaranteed them a first-half championship and a playoff berth. Iowa and St. Paul will still fight for the West lead this series.
STOP THE BLEEDING: After allowing Columbus to score three runs in the fifth and two in the eighth inning in Sunday's finale, they have now surrendered 55 runs in the fifth inning and 46 in the eighth, respectively. Those two innings combine for 101 of the 304 total runs Iowa has allowed, good for 33% of runs allowed all season. The 55 runs given up in the fifth inning is the most runs allowed in a single inning for Iowa's staff this year, as opponents are outscoring Iowa by 21 runs in the fifth this year, at 55-34.
NOT THEIR MONTH: Through the first four games, Iowa is 1-3 in the month of June, their worst start to a month since starting 0-4 in July last year. In their four games this month, Iowa's pitching staff has struck out just one more batter than they have walked, striking out 35 batters while walking 34. Over their first 50 games of the season, when Iowa went 30-20, the staff was averaging 4.7 walks per game. After four games in June at 1-3, they are averaging 8.5 walks per contest.
THOMPSON'S TOUGH TIMES: Keegan Thompson joined Iowa on May 19 after being optioned from Chicago. In four appearances out of the bullpen, Thompson has clocked a 18.00 ERA. In just 5.0 innings, the righty has allowed 10 runs on eight hits. Thompson's biggest struggle hasn't been the contact, as he has walked 10 batters, averaging two walks per inning. In his last outing on June 4, Thompson walked five hitters. In the fifth inning, Thompson walked the bases loaded and then allowed a run on a disengagement violation. He went on to allow another run on a combination of walks and hits. In that last outing, just 45% of his pitches were thrown for strikes.
DOUBLING DOWN: Yonathan Perlaza has been on a tear at the plate as of late, reaching a team-leading .311 average. He's had a knack for hitting doubles with 14 on the year, which is also a team leading mark among the I-Cubs' active roster. In six games against Columbus, the outfielder racked up five doubles with three coming in Thursday's contest alone. Over his last 15 games, Perlaza has hit at least one double in 10 of them. The 24-year-old went on a four-game stretch May 18-23 where he recorded a double in each game. Perlaza's 14 doubles ranks tied for eighth in the International League.
AGAINST ST. PAUL: The I-Cubs and Saints are set for game one of a seven-game set this week. Tonight's games will mark their sixth matchup this season, with Iowa currently up 3-2 in the season series. This week will include the typical six-game format with a make-up game on Thursday from a postponement in April. Thursday will consist of two seven-inning doubleheader games. Iowa leads the season series 3-2 over the Saints but trails 26-38 all time. Iowa also trails when playing in St. Paul 17-23. Iowa enters today on a one-game winning streak against the Saints from their victory on April 9.
SHORT HOPS: Iowa has now suffered two series losses, both coming against Columbus...last week's series loss was the first at home for Iowa...Iowa is 6-4 in series openers overall and 3-2 on the road...Iowa enters tonight's game on what is tied for their longest losing streak of the season, at three games...Sunday's 10-7 loss to Columbus marked the first time all year Iowa has scored exactly seven runs, moving to 0-1 when they score seven runs this year...Iowa's opponents have turned 14 more double plays through the first 54 games of the season, having turned 50 compared to Iowa's 36.