June 8 Game Notes: Iowa Cubs @ St. Paul Saints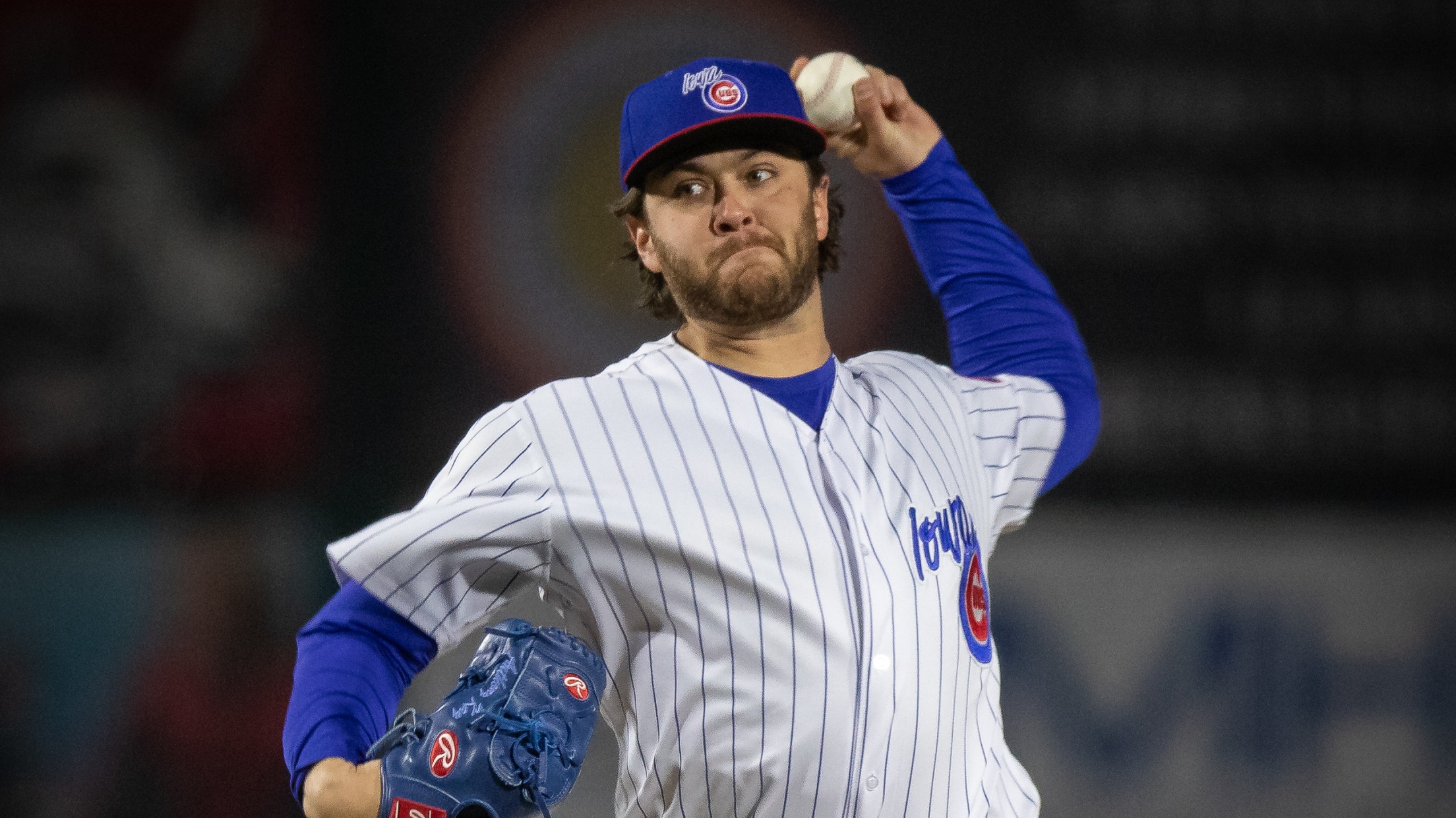 IOWA CUBS (31-25) @ ST. PAUL SAINTS (34-23) Thursday, June 8, 2023 • 5:37 PM (G1) • CHS Field • St. Paul, MN GAME ONE: RHP Ben Brown (2-3, 4.18) vs. RHP Randy Dobnak (2-2, 4.89) GAME TWO: LHP Anthony Kay (0-0, 4.62) vs. RHP Simeon Woods Richardson (0-5, 7.38)
IOWA CUBS (31-25) @ ST. PAUL SAINTS (34-23)
Thursday, June 8, 2023 • 5:37 PM (G1) • CHS Field • St. Paul, MN
GAME ONE: RHP Ben Brown (2-3, 4.18) vs. RHP Randy Dobnak (2-2, 4.89)
GAME TWO: LHP Anthony Kay (0-0, 4.62) vs. RHP Simeon Woods Richardson (0-5, 7.38)
TONIGHT'S GAMES: Iowa and St. Paul will play games three and four of their seven-game series tonight, with the doubleheader expected to begin at 5:37 pm. Ben Brown will take the ball for Iowa in the first game, set to make his seventh start of his Triple-A career. Brown is 2-3 with a 4.18 ERA through his first six starts, allowing 13 earned runs on 21 hits and 17 walks. Over his 28.0 innings, the young righty has fanned 40 batters, allowing opponents to hit just .206 against him. He has been credited with a decision in each of his last five starts, going 2-3 over that span. Opposite of Brown will be righty Randy Dobnak getting the nod in game one for the Saints, making his 14th appearance (10th start) of the year for St. Paul. Dobnak is 2-2 with a 4.89 ERA in his 13 games, allowing 23 earned runs on 51 hits and 23 walks while striking out 33 over his 42.1 innings. In his lone outing against Iowa this year, the righty was tagged for four earned runs on four hits and four walks while striking out three in 1.2 innings. Anthony Kay will get the spot-start for Iowa in game two of the doubleheader, entering the game with an 0-0 record and a 4.62 ERA. The southpaw has been Iowa's best reliever lately, not allowing a hit or run over his last five outings. That stretch covers 5.2 innings dating back to May 27. In those five games, he has walked three batters compared to seven strikeouts, throwing 63% of his 76 pitches for strikes. The Saints will send Simeon Woods Richardson to the mound for game two. Woods Richardson is still in search of his first win of the season, going 0-5 with a 7.38 ERA through his first nine starts this year. The righty has allowed 32 earned runs on 50 hits and 22 walks while striking out 33 batters over his 39.0 innings pitched, allowing opponents to hit .313 against him. He allowed three runs, two earned, on four hits and two walks while striking out six in his first game against Iowa this season, suffering the loss back on April 9.
MADRIGAL IS MAGICAL: Ever since making his debut with the Iowa Cubs on May 27, all Nick Madrigal has done is hit. The infielder is off to a great start in this series against St. Paul as he went 3-for-5 with a run scored and a pair of doubles in the series opener on Tuesday night. Madrigal followed that up with another three-hit performance last night, going 3-for-5 with two runs scored and a double. Madrigal has played in just 10 games for Iowa and has recorded at least two hits in seven of those, which is good for a 70-percent mark. With his three hits last night, it also marked the third time that the former No. 4 overall pick has done so in his 10 games. Madrigal is now tied for second in three-hit games for Iowa. Out of the current players on Iowa's roster Madrigal leads the team in batting average (.486), on-base percentage (.578), slugging percentage (.838), and on-base plus slugging (1.416).
RUNS ALLOWED: After last night's 11-6 loss to St. Paul, it marked the third consecutive game in which the I-Cubs have allowed 10-plus runs in a game and the fourth time in the last five games. It's been a rough start to the month of June with Iowa earning just one win over the first week. Iowa has given up 10-plus runs in four of the six games it has played in this month, compared to last month where it gave up 10-plus runs just three times. All of the earned runs allowed in the month of June (55) has led Iowa to have an ERA of 8.35 this month.
FOREVER YOUNG: Infielder Jared Young has had a hot bat for Iowa over the past couple of weeks mainly hitting out of the three-hole. Young continued his strong play last night against St. Paul by going 3-for-4 at the dish with a run scored and one RBI. It was the fourth time this season that Young has recorded three-hits in a game, which is tied for the team lead. Over his past 16 games, which dates to May 20, Young has hit safely in 11 of those contests. During that span, the Canadian national has totaled a batting average of .351 (20-for-57) with five doubles, one home run, and eight RBI. All four of Young's three-hit performances have come since May 20 as well. He also recorded his longest hitting streak of the season at six games between May 20-26.
READY FOR RYAN JENSEN: Pitcher Ryan Jensen made his Triple-A debut with a relief appearance last night against St. Paul. The 25-year-old right-hander was promoted to Iowa from Tennessee on June 6 after spending the entire 2023 with the Smokies up to that point. During his time with Tennessee in 2023, the California native tallied a record of 2-5 with a 5.57 ERA, 40 strikeouts, and 22 walks allowed over 32.1 innings of work. Jensen appeared in a total of 14 games with Smokies and made six starts. Unfortunately for the No. 28 ranked prospect in the Chicago Cubs' system coming into this season, his Triple-A debut wasn't one that he was hoping for as he suffered the loss and in just one inning of work allowed three runs on one hit and three walks to go along with two strikeouts, setting his ERA at 27.00.
4-8, NOT GREAT: It's been a tough start to the series against St. Paul for Iowa as it has dropped the first two games out of the scheduled seven. Iowa now has extended its mark for its longest losing streak of the season at five total games. A glaring reason for the struggles in this current series could be from the lack of production in the bottom half of the I-Cubs lineup. Between the games on Tuesday and Wednesday, the No. 4-8 hitters in the lineup for Iowa have combined to go 2-for-35 (.057) at the plate with 17 strikeouts. The I-Cubs have struck out a total of 24 times over the first two games of the series with St. Paul. The 17 strikeouts from the 4-8 hitters accounts for 71-percent of the team's total strikeouts.
AGAINST ST. PAUL: With St. Paul taking game two of the series by a score of 11-6 last night, they now lead the current series 2-0 and the season series four games to three. They have now outscored Iowa by 11 runs, at 21-10 through the first two games of the series. Iowa is now just 26-40 all-time against St. Paul, going 17-25 at CHS Field.
SHORT HOPS: Jair Camargo has hit three home runs and driven in eight runs over the first two games played against Iowa, accounting for 38% of the runs the Saints have scored this series…Iowa's losing streak grew to a season-long five games last night, one shy of their longest streak from last season, when they lost six straight games from June 29-July 4…Anthony Kay's last non-rehab start was against the Iowa Cubs as a member of the Buffalo Bisons on April 6, 2022; Kay spun 2.2 innings but took the loss, allowing three earned runs on four hits and four walks while striking out two.