May 30 Game Notes: Iowa Cubs vs. Columbus Clippers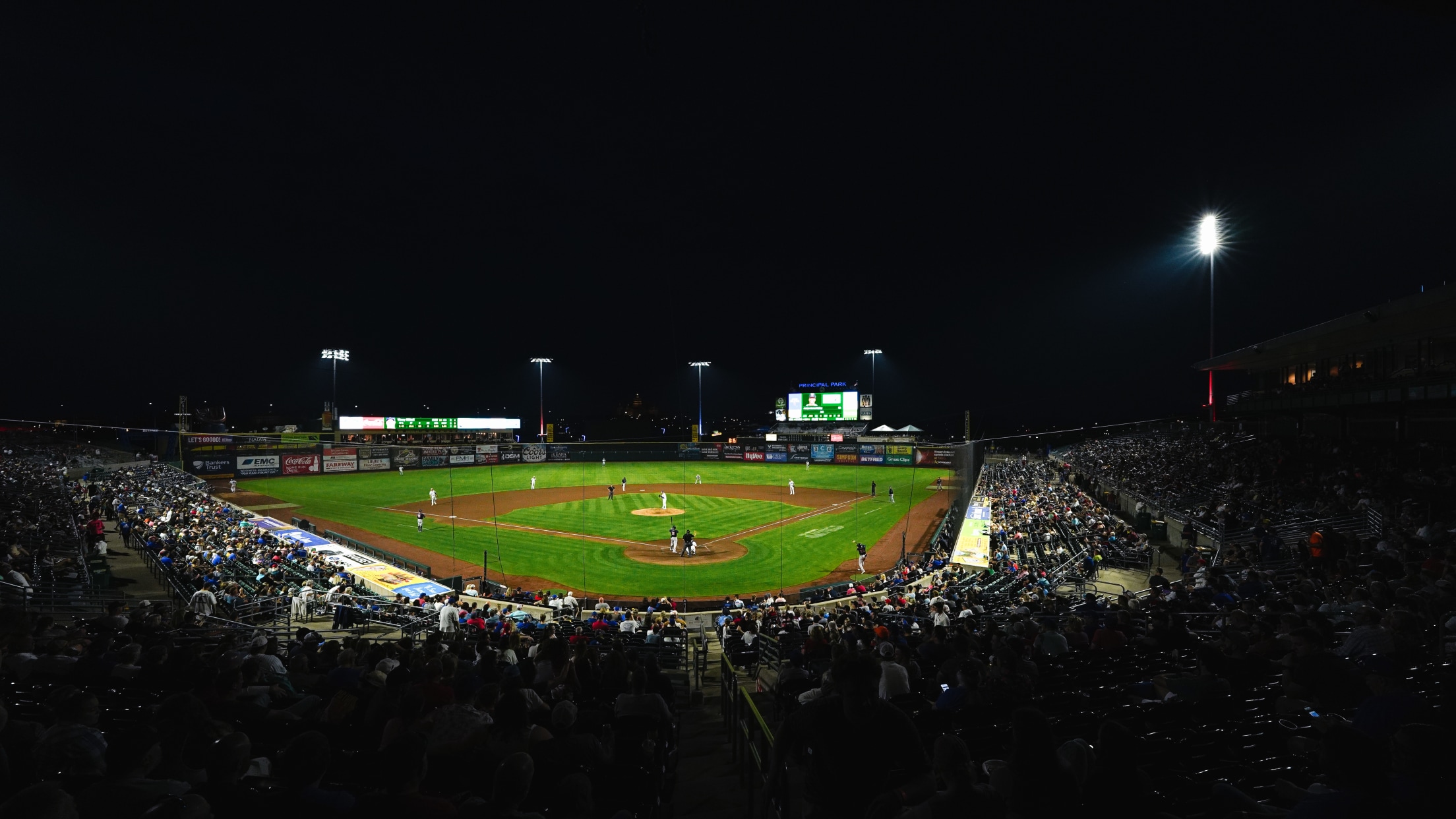 IOWA CUBS (29-19) vs. COLUMBUS CLIPPERS (26-24) Tuesday, May 30, 2023 • 6:38 PM • Principal Park • Des Moines, IA RHP Riley Thompson (1-3, 7.66) vs. RHP Triston McKenzie (0-0, 4.91)
IOWA CUBS (29-19) vs. COLUMBUS CLIPPERS (26-24)
Tuesday, May 30, 2023 • 6:38 PM • Principal Park • Des Moines, IA
RHP Riley Thompson (1-3, 7.66) vs. RHP Triston McKenzie (0-0, 4.91)
TODAY'S GAME: The I-Cubs and Clippers are set to face off in the first of six games scheduled this week. Riley Thompson gets the starting nod for Iowa, set to make his fifth start of the year. After working as a relief pitcher for six games, Thompson returned to the starting rotation last week in Nashville. In his four starts this season, he holds a 1-2 record with a 4.91 ERA and 17 strikeouts. The righty has made two appearances out of the bullpen against Columbus this season where he has allowed eight runs on four hits in 1.2 innings. For the Clippers, Triston McKenzie will toe the rubber for a Major League rehab start. In two so far this year, the Brooklyn, New York native has a 4.91 ERA through 7.1 innings. He's struck out 10 while walking three and has allowed four runs on eight hits. McKenzie has never faced Iowa and has made just seven Triple-A starts in his nine year professional career.
TOUGH TIMES FOR THOMPSON: Since being optioned to Iowa by Chicago on May 19, relief pitcher Keegan Thompson has gone through some struggles on the mound. Before being optioned, the right-hander owned a record of 2-2 with a 4.22 ERA, 16 strikeouts, and 14 walks allowed over 21.1 innings in 15 games up in the big leagues with Chicago. Since joining Iowa, Thompson has made two appearances totaling just 1.1 innings with an ERA of 54.00. He has yet to record a strikeout and has allowed four walks to go along with a blown save on May 28 against Nashville. Thompson will look to hopefully turn things around in this home stand versus Columbus, who he has never faced in his Triple-A career.
DOMINANCE FROM DUFFEY: A steady and consistent arm is always a nice thing to have in a teams bullpen and Tyler Duffey has been the reliable reliever for Iowa this season. The player with the most time logged in the major leagues, with just over six years of service, on Iowa's roster has produced a solid 2023 so far with a record of 4-0 and an ERA of 4.43 in 17 appearances. Duffey has tossed 20.1 innings in 2023 and has racked up 21 strikeouts compared to 13 walks and is holding opponents to just a .157 batting average, which ties the best mark by a reliever on Iowa's current roster. Duffey also leads Iowa in wins. The 32-year-old was used three times in the recent series against Nashville and over three innings of work he allowed just one earned run and didn't allow a walk compared to five strikeouts.
MADRIGAL START: On May 25, infielder Nick Madrigal was optioned to Iowa after spending all of 2023 up in the major leagues with Chicago. Two days later, the No. 4 overall pick from the 2018 draft made his season debut with the I-Cubs against Nashville. Since joining Iowa, Madrigal has produced at the plate in the two games he has played. In his debut, Madrigal led Iowa's offense with a 2-for-4 outing to go along with two RBI. The next day he followed up by recording another two-hit performance with a triple, two RBI, and two runs scored. Although it's just been two games, Madrigal is hitting at a clip of .444 (4-for-9) with a triple, four RBI, and two runs scored.
PERLAZA ON A ROLL: The I-Cubs have a hot hitter with Yonathan Perlaza as the outfielder is currently on a nine-game hitting streak. The streak is tied for the third-longest hitting streak by a player for Iowa this season ( Christopher Morel – 11, April 8-22, Jake Slaughter – 10, April 23-May 6). Perlaza started the streak nearly two weeks ago in the series against Indianapolis and carried it all the way through the follow series against Nashville. During this span the 24-year-old his hitting at a clip of .441 (15-for-34) with 11 runs scored, eight doubles, one home run, four RBI, a .513 on-base percentage, and a .765 slugging percentage. The Venezuela native had his best performance during this streak in his most recent game this past Sunday against Nashville. Perlaza roughed up the Sounds pitching staff with a 3-for-4 performance with three runs scored, a double, a home run, and two RBI. In the series against Nashville Perlaza totaled a hitting clip of .417 (10-for-24), eight runs scored, five doubles, one home run, and four RBI.
DON'T STOP, DARIUS: Another top-producer over the past month and change for Iowa has been outfielder Darius Hill. The Dallas, Texas native had another great showing at the plate in the series finale against Nashville this past Sunday when he paced the Iowa offense with a 4-for-5 performance with three runs scored, a double, and two RBI. Hill's four-hit performance against the Sounds marked just the fourth time an I-Cub has totaled four hits in a game this season. The 2019 draft pick had already achieved a four-hit game earlier this season on April 27 versus Louisville. Christopher Morel and Miguel Amaya are the two other I-Cubs who have totaled four-hits in a game this season. Hill's impressive hitting goes further than just this past Sunday too. The 2022 minor league leader in hits has hit safely in 14 of his past 17 games dating back to that four-hit showing on April 27. During this 17-game stretch Hill is hitting .337 (29-for-86) with 12 runs scored, seven doubles, one triple, one home run, and 12 RBI. The outfielder also totaled a nine-game hitting streak over that time from May 9-20. When Hill is in the lineup, he primarily hits leadoff, which has brought Iowa success as the I-Cubs own a record of 11-7 when Hill hits first.
AGAINST COLUMBUS: Iowa and Columbus will face off for the tenth time this season tonight. Iowa leads the 2023 series 5-4. The last time the Clippers visited Principal Park, Iowa recorded a three-game sweep. It was the first sweep for the I-Cubs against Columbus in franchise history. Despite their early success this year, Iowa still trails the all-time series 16-23 and enter today on a three-game losing streak against the Clippers. They also trail all-time at home 8-13.
SHORT HOPS: Iowa is 6-3 in series openers this season ... The I-Cubs have scored 10 or more runs in 13 games this season, the most since 2011 ... Iowa is on pace to have 39 10+ run games ... Darius Hill is the only I-Cub to record two four-hit games this year ... Iowa is 2-1 when playing at home on a Tuesday in 2023.