Jumbo Shrimp unveil 2023 Opening Day roster
Squad includes three of Marlins' top 12 prospects, 13 players with MLB experience and 17 players who have logged time with Jacksonville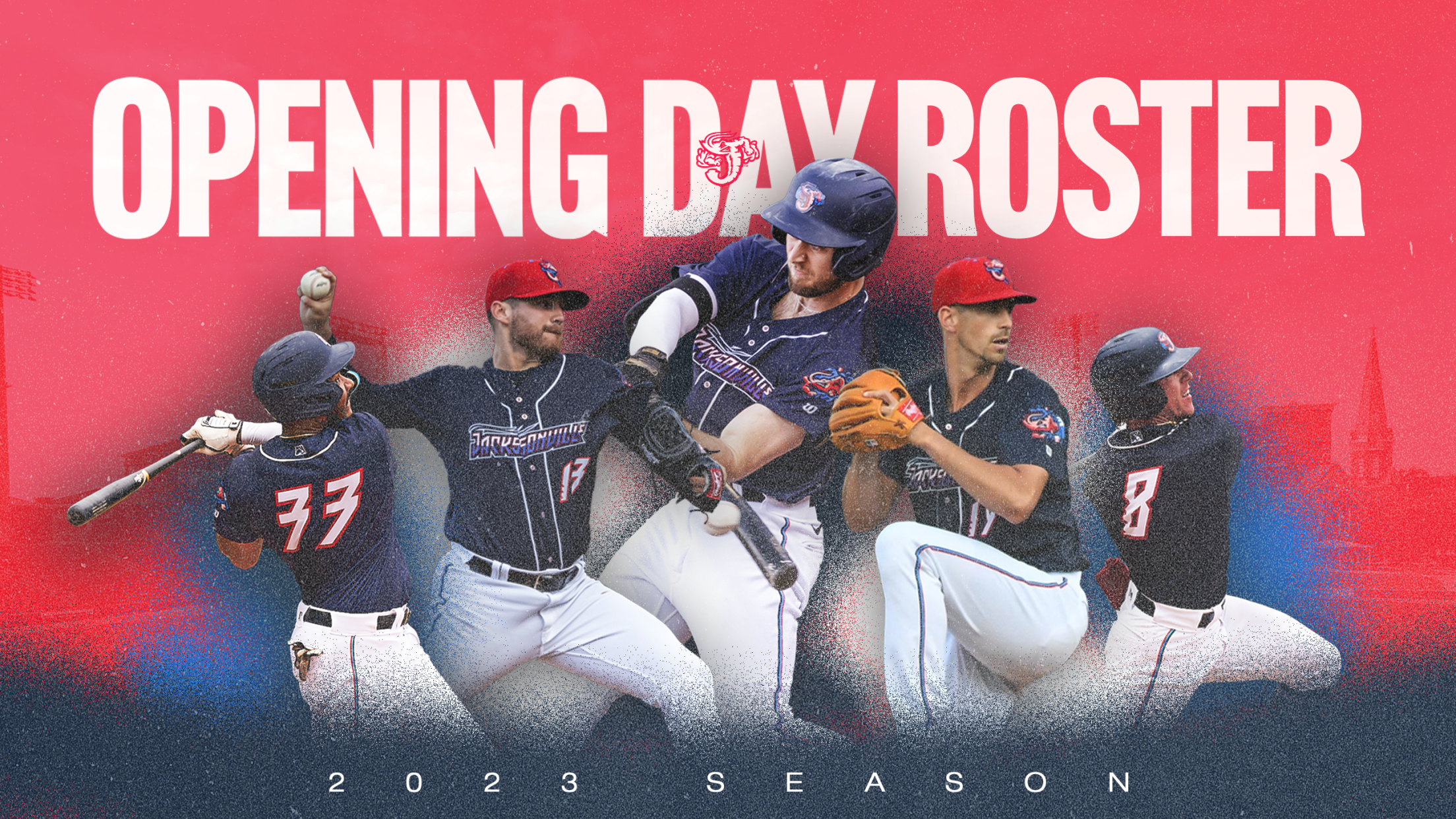 VIEW ROSTER HERE JACKSONVILLE, Fla. – In conjunction with the Miami Marlins, the Jacksonville Jumbo Shrimp have announced their Opening Day roster for the 2023 season presented by FIS. The group features three of the top 12 ranked prospects in the Marlins' system according to MLB.com, 13 players with major
JACKSONVILLE, Fla. – In conjunction with the Miami Marlins, the Jacksonville Jumbo Shrimp have announced their Opening Day roster for the 2023 season presented by FIS. The group features three of the top 12 ranked prospects in the Marlins' system according to MLB.com, 13 players with major league experience and 17 returning members to Jacksonville.
All three Jumbo Shrimp ranked among MLB.com's top 12 Marlins' prospects reside in the Jacksonville infield. Jacob Amaya, acquired by the Marlins in January from the Dodgers in exchange for infielder Miguel Rojas, enters the year as Miami's No. 9 prospect. Amaya is coming off a season in which he launched a career-high 17 home runs between Double-A and Triple-A. Jordan Groshans, who Miami received from Toronto in July for a pair of relievers, is the organization's No. 10 prospect. Following the trade, Groshans batted .301/.399/.416 in 31 games with Jacksonville before making his MLB debut on September 13 and scoring nine runs in 17 games with the Marlins to close the campaign. Xavier Edwards was another recent trade acquisition by Miami, with the club's now-12th-ranked prospect coming in a November deal from Tampa Bay. Edwards played in 93 games in 2022 with Jacksonville's International League East Division rival Durham, smacking 19 doubles and scoring 48 runs.
Jacksonville's infield is bolstered by several players with major league experience. After a breakout 2022 season in which he hit .302/.382/.503 in 82 games with the Jumbo Shrimp before posting a solid .723 OPS in his MLB debut in 48 games with the Marlins, Charles Leblanc returns to the First Coast. Garrett Hampson and Alex De Goti, who both signed with Miami in the offseason as minor league free agents, have played in The Show with the Colorado Rockies and Houston Astros, respectively. Meanwhile, C.J. Hinojosa is another minor league free agent addition who finished second in the Pacific Coast League in doubles (33), tied for fifth in hits (134), sixth in average (.291), seventh in RBIs (83) and 10th in extra-base hits (52) last season while playing for El Paso, a San Diego Padres affiliate.
Three of the four outfielders on the Jumbo Shrimp Opening Day roster have also appeared in the major leagues. Jerar Encarnacion's June 13, 2022 big league introduction saw him become the first player since at least 1901 to hit a grand slam, steal a base and record an outfield assist in his MLB debut. The Bayaguana, Dominican Republic native slashed .265/.333/.470 with 14 home runs and 40 RBIs in 68 games with Jacksonville following a promotion from Double-A Pensacola. Encarnacion logged 23 games with the Marlins in 2022, a hair less than the 32 played by Peyton Burdick. The Marlins' Minor League Player of the Year in 2021 after collecting an .823 OPS in 114 games between Jacksonville in Pensacola, Burdick registered a .736 OPS, 36 extra-base hits and 13 steals in 99 games with the Jumbo Shrimp in 2022. Brian Miller's major league debut came in 2021, and the Durham, N.C., native finished the 2022 campaign tied for the IL lead in triples (9) and seventh in average (.292). Miller had a .783 OPS and 26 stolen bases in 108 games with Jacksonville in 2022. Jake Mangum, a Marlins trade acquisition from the New York Mets in the offseason, hit .306/.363/.441 with 14 steals in 72 games between Triple-A Syracuse, Double-A Binghamton and the FCL Mets in 2022.
The Jumbo Shrimp bullpen is spearheaded by a pair of ranked Marlins' prospects in left-hander Josh Simpson (No. 24) and right-handers George Soriano (No. 26). The duo was added to Miami's 40-man roster in the offseason along with right-hander Eli Villalobos, who pitched to a 1.04 ERA and 26 strikeouts in 17.1 innings with Jacksonville last season. That trio are among several relievers who have pitched with the Jumbo Shrimp in the past, including Robert Garcia, Bryan Hoeing, Zack Leban, Anthony Maldonado, Jackson Rose and Will Stewart. The only member of the Jacksonville relief corps who has not previously pitched with the club is Enrique Burgos, who has pitched parts of two MLB seasons with the Arizona Diamondbacks.
Three members of Jacksonville's likely starting rotation have seen time in the major leagues in right-hander Chi Chi González and southpaws Daniel Castano and Devin Smeltzer. Right-hander Jeff Lindgren made 15 starts with the Jumbo Shrimp in 2022 while left-hander Enmanuel De Jesus appeared in 35 games, including 19 starts, with 118 strikeouts in 101.2 innings for Triple-A Sacramento of the Giants' organization in 2022.
Jacksonville's backstops managing the pitching staff include Austin Allen, who has appeared in parts of four MLB seasons with the San Diego Padres and Oakland Athletics and Santiago Chavez, who has spent time with the Jumbo Shrimp in every season since 2019.
The Jumbo Shrimp open the 2022 season on Friday, March 31 with a three-game series at the Gwinnett Stripers. The club's home opener is set for 7:05 p.m. on Tuesday, April 4 against the Durham Bulls at 121 Financial Ballpark.
2023 Opening Day Jumbo Shrimp Roster
Pitchers (15): Enrique Burgos, Daniel Castano, Enmanuel De Jesus, Robert Garcia, Chi Chi González, Bryan Hoeing, Zack Leban, Jeff Lindgren, Anthony Maldonado, Jackson Rose, Josh Simpson, Devin Smeltzer, George Soriano, Will Stewart, Eli Villalobos.
Catcher (2): Austin Allen, Santiago Chavez
Infielders (7): Jacob Amaya, Alex De Goti, Xavier Edwards, Jordan Groshans, Garrett Hampson, C.J. Hinojosa, Charles Leblanc
Outfielders (4): Peyton Burdick, Jerar Encarnacion, Jake Mangum, Brian Miller
The Jumbo Shrimp are excited to add a digital ticketing experience for Crustacean Nation. Fans will easily and securely be able to buy, access and forward tickets via www.jaxshrimp.com and the MiLB First Pitch app (select Jacksonville Jumbo Shrimp as your favorite team). Additionally, the club will also be adding cashless concessions to reduce wait times and improve the 121 Financial Ballpark experience. Fans who do bring cash will be able to easily and securely utilize this new concessions experience by depositing cash and using a debit card with 121 Financial Ballpark's new Reverse ATM Technology, which will be situated on the main concourse behind home plate.
Season tickets, mini plans, and group outings for the 2023 season are on sale now. Visit www.jaxshrimp.com or call the Jumbo Shrimp at (904) 358-2846 for more information.
ABOUT THE JUMBO SHRIMP: The Jacksonville Jumbo Shrimp offer affordable family fun at 121 Financial Ballpark. Their inaugural season garnered the Southern League's Don Mincher Organization of the Year, Promotional Trophy and Jimmy Bragan Executive of the Year, won by general manager Harold Craw. The club added its second Promotional Trophy in three years following the 2019 season. The 2021 season marked the return of Triple-A baseball in Jacksonville. To experience the excitement with the terrific value of ticket and group options, call the Jumbo Shrimp at (904) 358-2846 or visit www.jaxshrimp.com.