33,381 to Go: BlueClaws Closing In On 8-Million Fans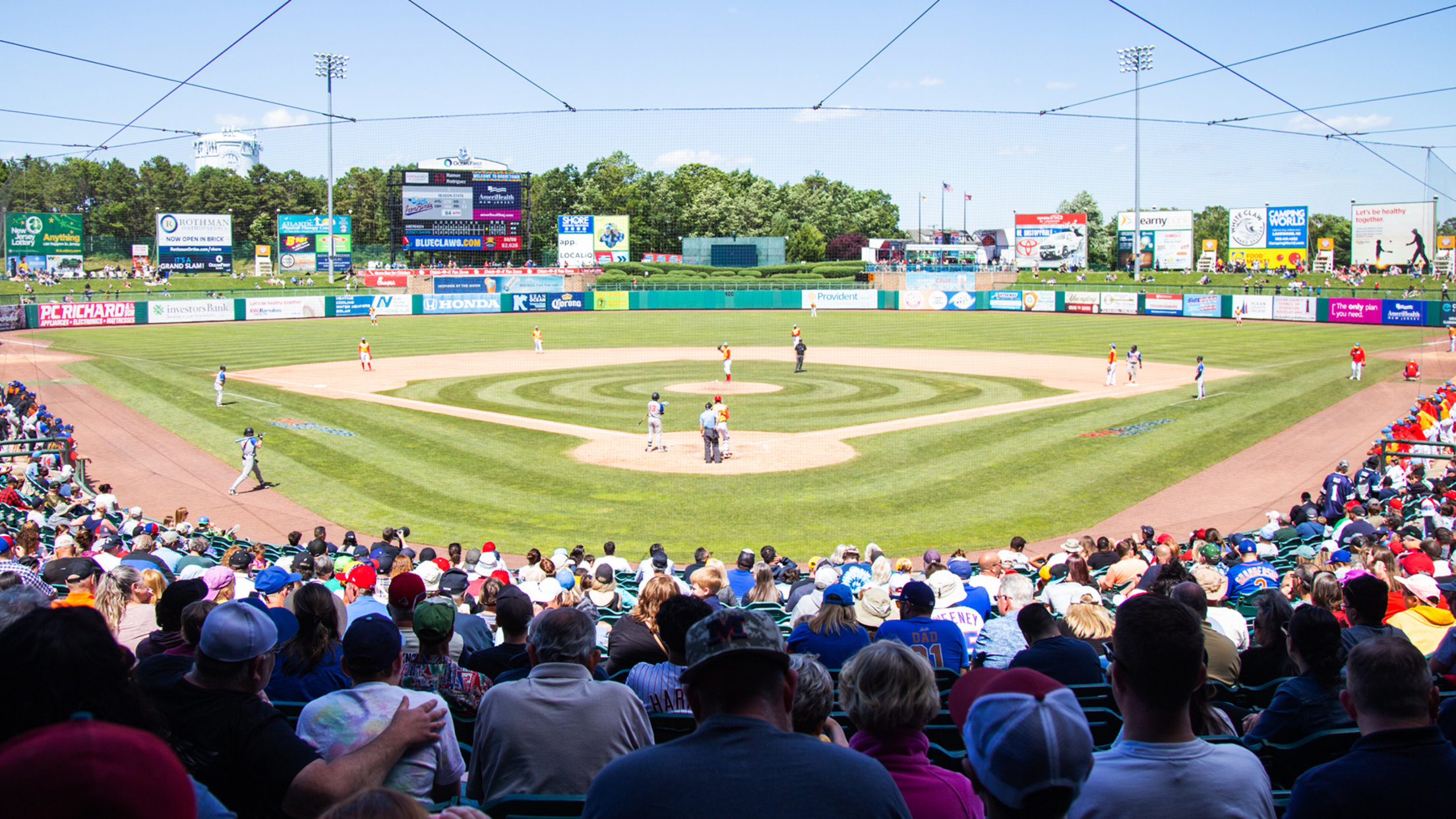 JERSEY SHORE, NJ - After a big weekend in ShoreTown, the BlueClaws head into July just 33,381 fans from reaching the 8-million mark!
JERSEY SHORE, NJ - After a big weekend in ShoreTown, the BlueClaws head into July just 33,381 fans from reaching the 8-million mark!
The BlueClaws welcomed in over 18,000 fans across three games last Friday through Sunday, including a sold out crowd on Friday for Girl Scout Family Night. So far this season, the BlueClaws have four sold out crowds, including three crowds of over 8,000 fans. Now, they set their sights on 8-million.
CLICK HERE TO ORDER TICKETS ONLINE.
"We have known 8-million was coming for awhile, but now we're getting closer and closer," said BlueClaws team president Joe Ricciutti. "It's a very exciting time for us, especially heading into July 4th and a busy month of tremendous promotions and theme nights."
The 8-millionth fan will receive a special prize package from the BlueClaws including eight nights in a Luxury Suite for themselves and their guests. Plus, they will receive a BlueClaws jersey (#8 of course) and throw out a first pitch at that night's game.
"The Jersey Shore community has supported the team in a tremendous fashion over the last two decades, and reaching 8-million fans is really a tribute to them," Ricciutti added. "We are so appreciative of the passion they've shown the BlueClaws, especially over the last two seasons."
The BlueClaws return home on Monday, July 4th for Red, White & BlueClaws Night as the team celebrates America and has their biggest fireworks show of the year, presented by Camping World. A Red, White & BlueClaws picnic option is available which includes an all-you-can-eat picnic buffet plus the chance to watch the fireworks on the field after the game.
Additionally, the BlueClaws have a Ticket & Tee package available. The package includes a game ticket and a choice of three Red, White & BlueClaws t-shirts for just $35.
"Some of our best nights at the ballpark are coming up in July. There's a lot to look forward to, from our 8-millionth fan on through the rest of the summer," said Ricciutti.
The upcoming homestand also includes Military Appreciation Night on July 7th, presented by OceanFirst Bank. The BlueClaws have more fireworks on July 8th, presented by Corona Hard Seltzer.
Finally, Saturday, July 9th is Irish Heritage Night, presented by New Jersey Natural Gas. The BlueClaws will have live music from Almost U2 in the Sand Bar as part of the Bell's Brewery Summer Concert Series. Plus, the first 1,500 fans through the gates will receive a BlueClaws Irish Cap.
Tickets for these and all BlueClaws games are available online at BlueClaws.com/Tickets.
-Jersey Shore BlueClaws-