Jupiter wins sixth straight game, sweeps doubleheader
Two walk-off wins fueled a doubleheader sweep for the Jupiter Hammerheads on Saturday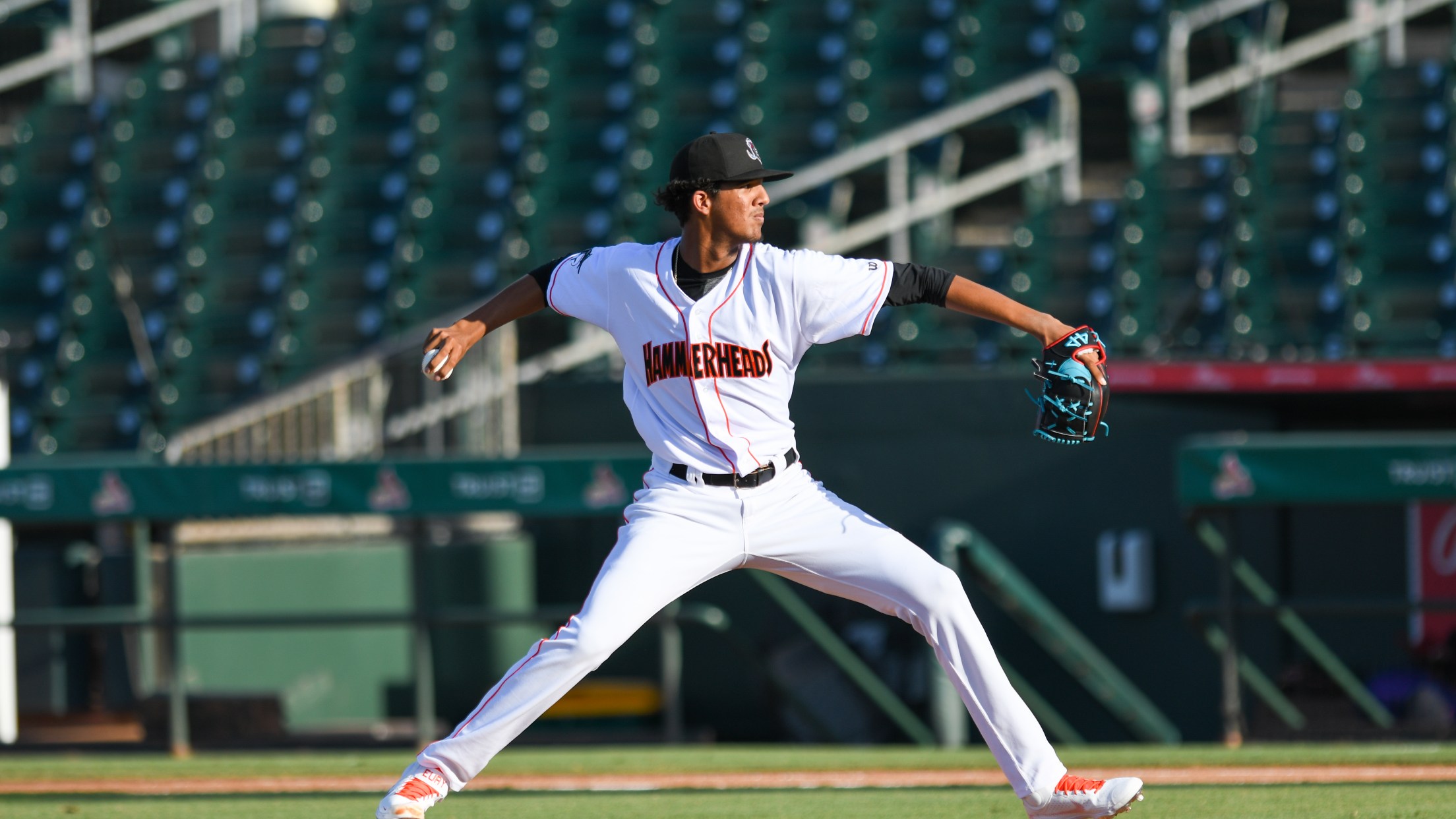 Courtesy of two walk-off wins, the Jupiter Hammerheads sweep Saturday's doubleheader against the Palm Beach Cardinals. Jupiter took game one 5-4, while game two was won 3-1 in extra innings. Starting game one was Marlins No. 23 overall prospect (according to MLB Pipeline) Evan Fitterer. The young righty went three
Courtesy of two walk-off wins, the Jupiter Hammerheads sweep Saturday's doubleheader against the Palm Beach Cardinals. Jupiter took game one 5-4, while game two was won 3-1 in extra innings.
Starting game one was Marlins No. 23 overall prospect (according to MLB Pipeline) Evan Fitterer. The young righty went three innings in his full-season debut. The former 5th round pick tallied three strikeouts while allowing two earned runs in his opener.
Following Fitterer, the Hammerheads turned to Jesus E. Sanchez to finish the game. The Panama native pitched four innings of relief and picked up his third win of the season.
After going back and forth early in the game, the Hammerheads found themselves down one run in the bottom of the seventh inning. However, Jupiter had a runner on second and third with just one out. Then, Dalvy Rosario hit a deep sacrifice fly to center field that scored both Javeon Cody and Victor Mesa Jr. to seal the win for the Hammerheads. As Mesa Jr. slid home, the dugout erupted, and players swarmed the field in celebration.
Mesa Jr. and Davis Bradshaw both had strong performances in the first game. Each finished with three hits in the afternoon game.
After the exciting walk-off in game one, the Hammerheads had to quickly turn around and play game two just thirty minutes later. Starting game two was the lanky Eury Perez. The 18-year-old continued his impressive 2021 campaign with another dominant performance. The Dominican native pitched five shutout innings while striking out nine Cardinals'. Palm Beach struggled to get a read on the righty with a fastball that hits 97 MPH and an off-speed pitch in the high 70s. Perez now has a 2.09 ERA and 60 strikeouts in 43 innings this season.
With just a 1-0 lead in the seventh inning, the Hammerheads were looking to close out the pitcher's duel before extra innings. Unfortunately, the Cardinals were able to knot things up after a Donivan Williams RBI single to right field.
However, the game wouldn't stay tied for very long. After Joey Steele kept Palm Beach off of the scoreboard in the eighth, the Hammerheads would walk-off game two with a two-run home run courtesy of Zack Kone. The former Duke Blue Devil crushed the ball 423 feet to give Jupiter the doubleheader sweep. The Florida native also drove in all three runs in the second game for the Hammerheads.
The doubleheader sweep gave Jupiter their sixth win in a row and pulled their record back to .500 at 35-35. The Hammerheads will look to sweep the series on Sunday afternoon. First pitch is scheduled for 12:00 pm.
For Game 1 box score CLICK HERE
For Game 2 box score CLICK HERE
Ain't no party like a shark party 🦈 #HammerDown https://t.co/bpe1Vd89jG

— Jupiter Hammerheads (@GoHammerheads) July 24, 2021
Here's another angle of Kone's walk-off 💣!

Don't say we never did anything for you 😉 https://t.co/p1CFEZnnDe pic.twitter.com/GiNdA32wep

— Jupiter Hammerheads (@GoHammerheads) July 25, 2021