Miami Marlins 2021 Draft Report
Nine players from the Miami Marlins 2021 MLB Draft have already donned a Jupiter Hammerheads uniform this season as they begin their journey to the big leagues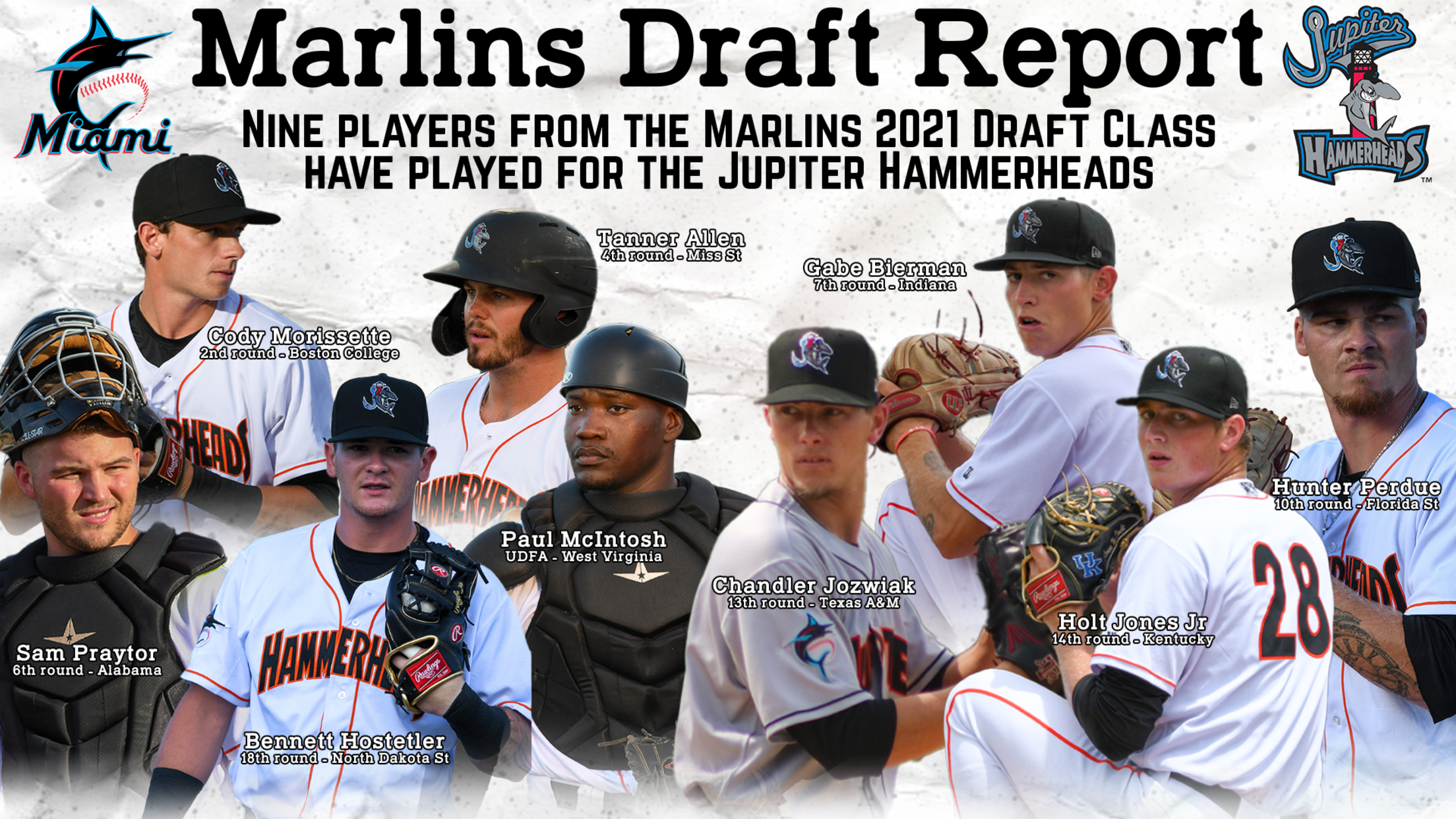 Following the 2021 MLB Draft at the end of July, the Miami Marlins have seen an influx of talent throughout the organization. The Fish signed 20 of the 21 players they selected during the amateur draft as well as adding a handful of undrafted free agents. Fast forward a month
Following the 2021 MLB Draft at the end of July, the Miami Marlins have seen an influx of talent throughout the organization. The Fish signed 20 of the 21 players they selected during the amateur draft as well as adding a handful of undrafted free agents.
Fast forward a month and nine of the Marlins' newest faces have suited up for the Jupiter Hammerheads. Four pitchers and five position players have made their full-season debuts in a Hammerheads jersey as of August 26th.
POSITION PLAYERS:
INF Cody Morissette - 2nd round, 52nd overall pick (Boston College)
The Marlins' third overall selection, Cody Morissette, is touted for his controlled approach at the plate. While the bat is still heating up, the Boston College alum has flashed the leather in the field. Although he primarily played second in college, Morissette has seen time at second, shortstop, and third base as a Hammerhead this season. The New Hampshire native is the only two-time All-American in BC history garnering recognition for his play in 2019 and 2020. The 21-year-old is already listed as the Marlins No. 20 overall prospect according to MLB Pipeline.
Save that ball! ⚾@CodyMorissette breaks up the no-hitter and gets his first professional hit with this 100mph single! #HammerDown pic.twitter.com/ABgLl4tlds

— Jupiter Hammerheads (@GoHammerheads) August 7, 2021
OF Tanner Allen – 4th round, 118th overall pick (Mississippi State)
In the fourth round of the draft, the Marlins took reigning SEC Player of the Year Tanner Allen. Before hearing his name called on draft day, Allen was in Omaha hoisting the College World Series trophy after leading Mississippi State to their first NCAA championship in school history. The Marlins hope to see his bat translate from the college level to the minors, as he finished his senior year with an SEC-leading .383 batting average. The lefty is now listed as the Marlins No. 30 overall prospect following the recent graduation of outfielder Jesus Sanchez.
No. Doubt.@HailStateBB's Tanner Allen connects for his first professional home run and we are now tied at 4! #HammerDown

📏4⃣0⃣2⃣ feet pic.twitter.com/M60rXXB1UC

— Jupiter Hammerheads (@GoHammerheads) August 27, 2021
C Sam Praytor – 6th round, 179th overall pick (Alabama)
The Marlins added another SEC prospect to the mix when they selected catcher Sam Praytor from Alabama in the sixth round. The Alabama native was named to the All-SEC First Team and was a Third Team All-American in 2021. The 22-year-old played in all 58 games for 'Bama last season with 54 starts coming behind the plate. The righty hit 14 home runs with a .277 batting average in his final season with the Crimson Tide.
We have a new face in today's lineup!

Everyone say hello to @Marlins 6th round draft pick Sam Praytor! 👋

🆚 @daytonatortugas
📍Jackie Robinson Ballpark
⏰ 7:05pm
🗒️ https://t.co/Rxy1sOnys1
🎧 https://t.co/kLtAaMCJiN pic.twitter.com/JYrKeoj7jM

— Jupiter Hammerheads (@GoHammerheads) August 12, 2021
INF Bennett Hostetler – 18th round, 539th overall pick (North Dakota State)
Joining Morissette on the infield has been Marlins' 18th-round pick Bennett Hostetler. The Bozeman, Montana native has been the Hammerheads' hottest hitter since making his professional debut on July 25th. In his first 21 games, the righty has collected 19 RBIs with a .329 average, including a seven-game hit streak that recently ended on August 26th. His impressive bat should come as no surprise considering he hit .394 in 61 games last season with North Dakota State. While Hostetler primarily played shortstop in college, the 23-year-old has split time between third base and shortstop with Jupiter.
Bennett Hostetler (@BennettHostetle) can not stop, and absolutely will not be stopped.

The @NDSUbaseball product 𝙘𝙧𝙪𝙨𝙝𝙚𝙨 a home run that traveled 4⃣1⃣8⃣ feet and left the bat at 1⃣0⃣8⃣.5⃣ 🔥🔥 MPH. #HammerDown pic.twitter.com/JCl7koIyDK

— Jupiter Hammerheads (@GoHammerheads) August 29, 2021
C Paul McIntosh – Undrafted Free Agent (West Virginia)
While Paul McIntosh didn't hear his name called during the draft, the Marlins quickly got on the phone to sign the young catcher. The West Virginia alum made his presence known in his first game with the Hammerheads, finishing 2-4 with 5 RBIs including his first professional homer. In his three years with the Mountaineers, the righty hit 21 home runs and finished with 105 hits. McIntosh did play some outfield in college and has already appeared in left field for the Hammerheads.
In his Hammerheads debut, Paul McIntosh put on quite a show! @pmac1384 collected his:
First Hit ✅
First Home run ✅
First RBI ✅

The @WVUBaseball alum finished 2-5 with 5 RBIs in our comeback win yesterday! pic.twitter.com/RRVcNMylii

— Jupiter Hammerheads (@GoHammerheads) August 16, 2021
PITCHERS:
RHP Gabe Bierman – 7th round, 209th overall pick (Indiana)
The Marlins selected their first pitcher in the seventh round of the draft when they chose Gabe Bierman. The former Indiana Hoosier started 12 games and compiled a 2.35 ERA in 2021 as a sophomore. The righty struck out 150 batters throughout his collegiate career. The Indiana native was named to the Second Team All-Big Ten team and Academic All-Big Ten team in 2021. Bierman has appeared in two games (one start) with Jupiter since his promotion on August 21st.
.@GabeBierman picks up his first strikeout in a Hammerheads uniform with this 90 MPH heater! #HammerDown pic.twitter.com/WdhauOAjGZ

— Jupiter Hammerheads (@GoHammerheads) August 22, 2021
RHP Hunter Perdue – 10th round, 299th overall pick (Florida State)
In the 10th round, the Marlins selected Hunter Perdue who had spent the previous season up north pitching for Florida State. The righty appeared in 20 games with the 'Noles and earned a 3.27 ERA. Before his stint in Tallahassee, Perdue played JUCO baseball for State College of Florida. With the Manatees, the 6-foot-3 pitcher posted a 2.38 ERA and a 9.3 K/9 rate across seven games in 2019. Unfortunately, Tommy John surgery wiped out his 2020 season and he began rehabbing shortly after transferring to Florida State. As of August 26th, Perdue has started two games in a Hammerheads jersey.
.@perdue_19 picks up his first strikeout with the Hammerheads!

We can't wait to see more of this! #HammerDown pic.twitter.com/7G8wvJNoAT

— Jupiter Hammerheads (@GoHammerheads) August 18, 2021
LHP Chandler Jozwiak – 13th round, 389th overall pick (Texas A&M)
The Marlins decided to go with Chandler Jozwiak from Texas A&M in the 13th round. The Texas native pitched in 80 total games for the Maroon & White during his tenure there. The lefty earned the 2021 C.E. "Pat" Olsen Outstanding Pitcher Award after leading the Aggies in WHIP (1.16), appearances (28), and saves (8). In 62 innings, the 22-year-old racked up 79 strikeouts and garnered a 3.48 ERA in his final season. Jozwiak is one of three lefty pitchers that the Marlins selected in the 2021 draft and is the only one to appear at the Low-A level.
The Miami @Marlins select Chandler Jozwiak, a left-handed pitcher from Texas A&M University...@CCjozy | #GigEm pic.twitter.com/RUPq0XMQQ9

— Texas A&M Baseball (@AggieBaseball) July 14, 2021
RHP Holt Jones Jr. – 14th round, 419th overall pick (Kentucky)
On the last day of the draft, the Marlins added another young pitcher with the selection of Holt Jones Jr. from the University of Kentucky. The 6-foot-8 pitcher appeared in 20 games for the Wildcats last year. Before his stint in blue, Jones Jr. played with the Clemson Tigers in 2018 where he had a 2-0 record across eight appearances (three starts). The righty comes from a long pedigree of athletes. Both his father and grandfather played baseball at Southern California, while his great grandfather played seven minor league seasons and eventually served as a scout with the New York Yankees for 30 years.
We've got another Hammerheads debut!

Now pitching is @Marlins 14th-round draft pick Holt Jones Jr! The @UKBaseball alum shows off his arm with this 9⃣5⃣MPH fastball! 🔥 #HammerDown pic.twitter.com/EdpVZ8SEIK

— Jupiter Hammerheads (@GoHammerheads) August 22, 2021