Ballers Out-Hit Woodies in 5-1 Loss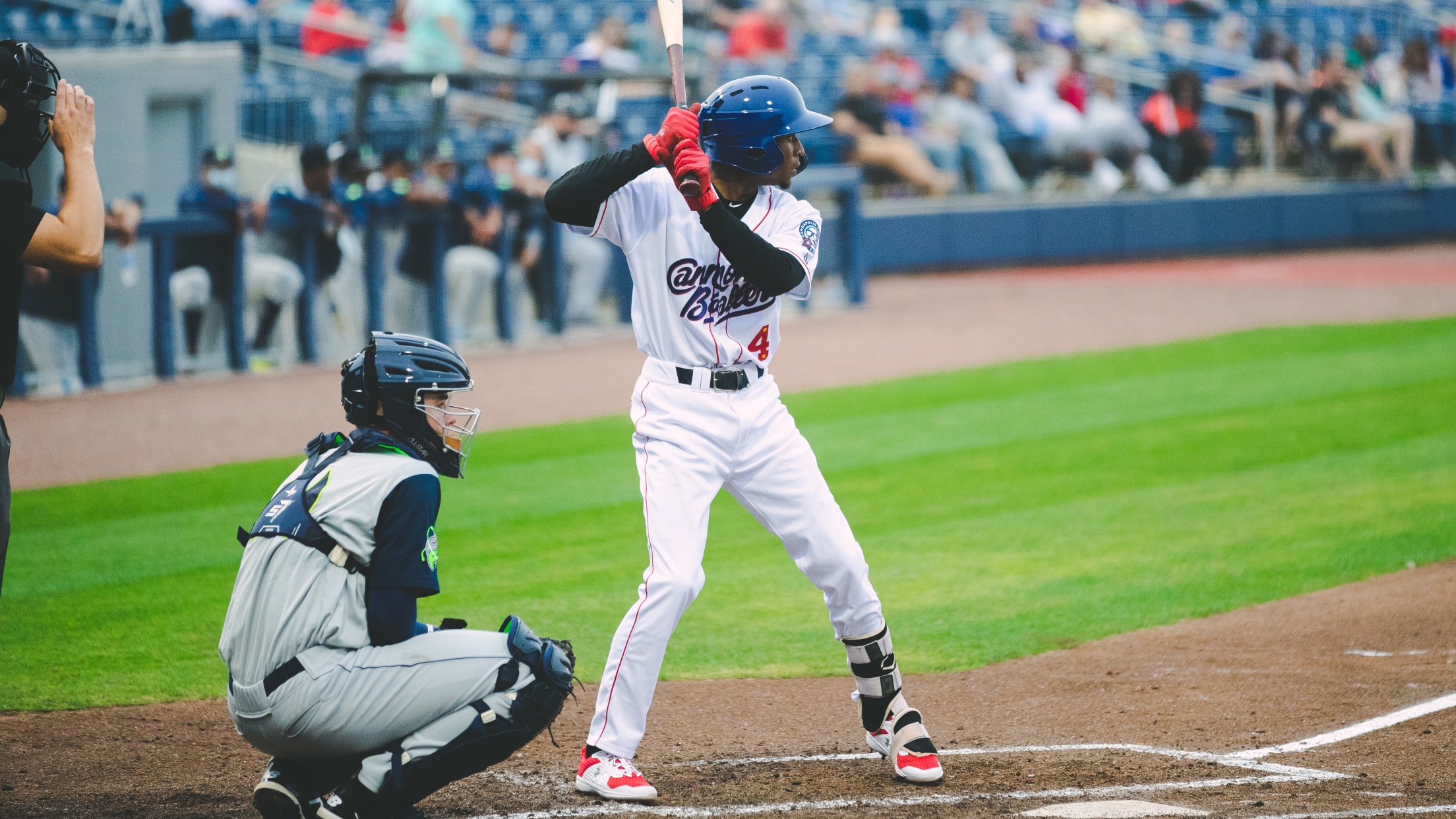 KANNAPOLIS, N.C. – Despite James Beard's 390-foot blast and out-hitting the Down East Wood Ducks six to five, the Ballers drop game one of the six-game series against the Woodies 5-1 Tuesday night at Atrium Health Ballpark. On a 3-0 pitch in the eighth inning, Beard took an Eris Filpo
KANNAPOLIS, N.C. – Despite James Beard's 390-foot blast and out-hitting the Down East Wood Ducks six to five, the Ballers drop game one of the six-game series against the Woodies 5-1 Tuesday night at Atrium Health Ballpark.
On a 3-0 pitch in the eighth inning, Beard took an Eris Filpo ball for a ride over the left field wall to get the Cannon Ballers on the board for the first time on the night, proving to be his fourth homer of the year. The 20-year-old's solo home run shot life into the Kannapolis bats late in the ball game, as they used two hits in the eighth and two in the ninth to out-hit the Wood Ducks for the first time this season.
Jared Kelley (L, 0-4) toed the rubber for manager Guillermo Quiroz in game one, hurling a total of 32 pitches in the first inning, helping lead to his early exit after recording just two outs. Kelley did not receive much help behind him, as Samil Polanco committed two errors at second base. Although the No.1 overall prospect in the White Sox organization did not allow one hit, he mixed in two walks with the two errors, culminating in three unearned runs for the Woodies in the first. Left-handed pitcher Rigo Fernandez took the ball from Kelley in the first, walking in two runs, with both runners being the responsibility of Kelley.
Karan Patel added in 3.0 innings on the bump for the Cannon Ballers after Fernandez's 2.1 innings pitched, with Tyson Messer and Taylor Broadway giving up no hits to the Down East batters from the seventh inning on.
Kannapolis' batting leader Harvin Mendoza collected the first hit of the ball game against Down East's starter Gavin Collyer in the fourth inning with one out, representing just one of five baserunners allowed by the righty in 4.2 innings.
Nick Yoder (W, 2-0) replaced Collyer over the next 2.1 innings on the hill, striking out the first five batters he faced. Filpo allowed the only run of the ball game and also four of the Ballers six hits in the final two innings.
The Cannon Ballers will look to put an end to their 12-game losing streak on Wednesday at 7:00 p.m. against the Down East Wood Ducks, sending RHP Martin Carrasco (1-4, 5.11 ERA) to the mound against the Woodies' RHP John Matthews (2-4, 7.78 ERA).