2022 Big League Weekend Features Cleveland vs. Oakland on March 12-13 at Las Vegas Ballpark®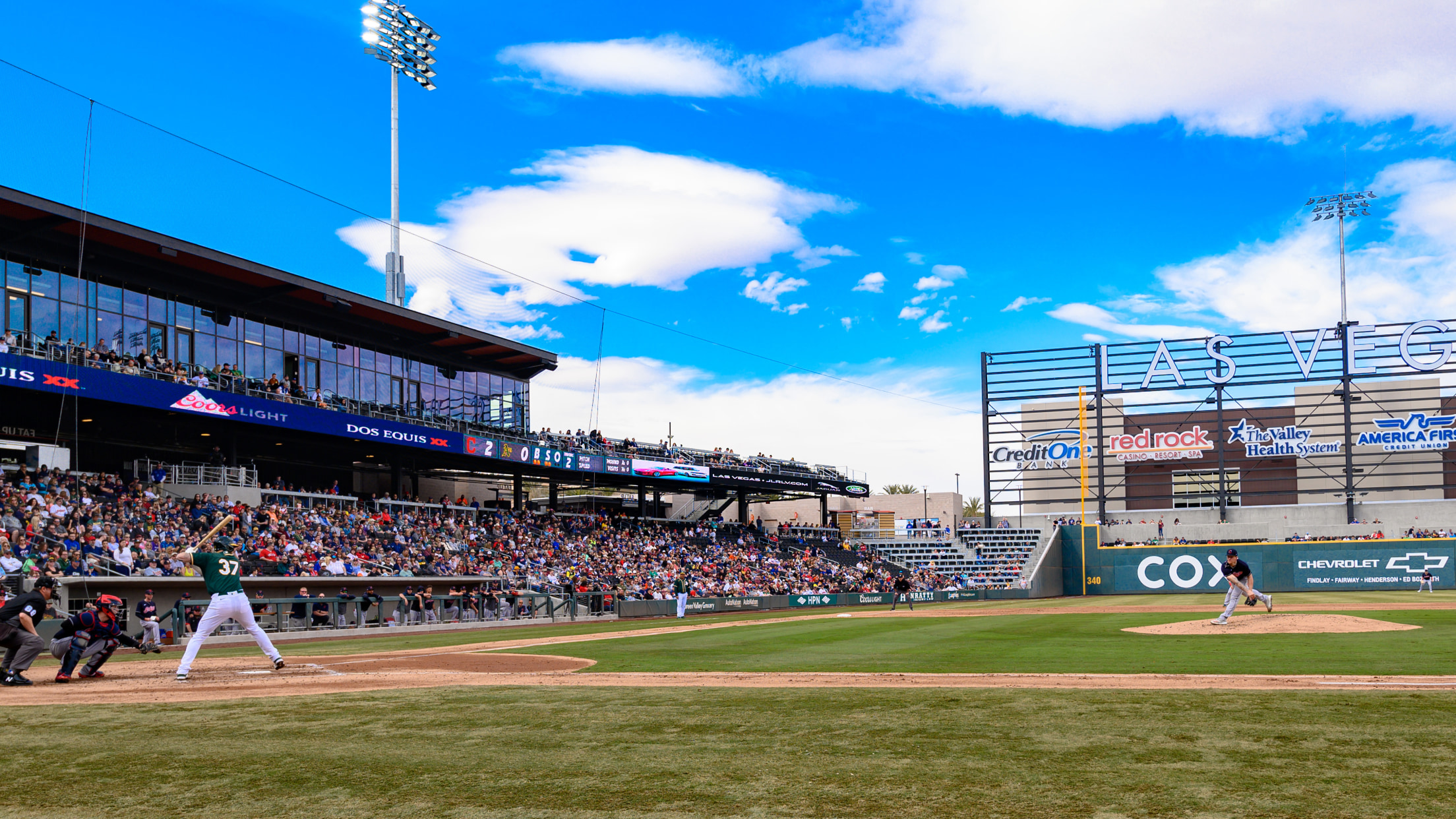 (Las Vegas, NV) – November 16, 2021 – The Las Vegas Aviators® professional baseball team of Triple-A West (formerly the Pacific Coast League, PCL), Triple-A affiliate of the Oakland Athletics, announced today two games for the 2022 Big League Weekend at Las Vegas Ballpark®. Las Vegas Big League Weekend is
Minor League Baseball Announces 2021 Triple-A League Awards & All-Star Teams; Aviators catcher Carlos Pérez named to Triple-A West Team!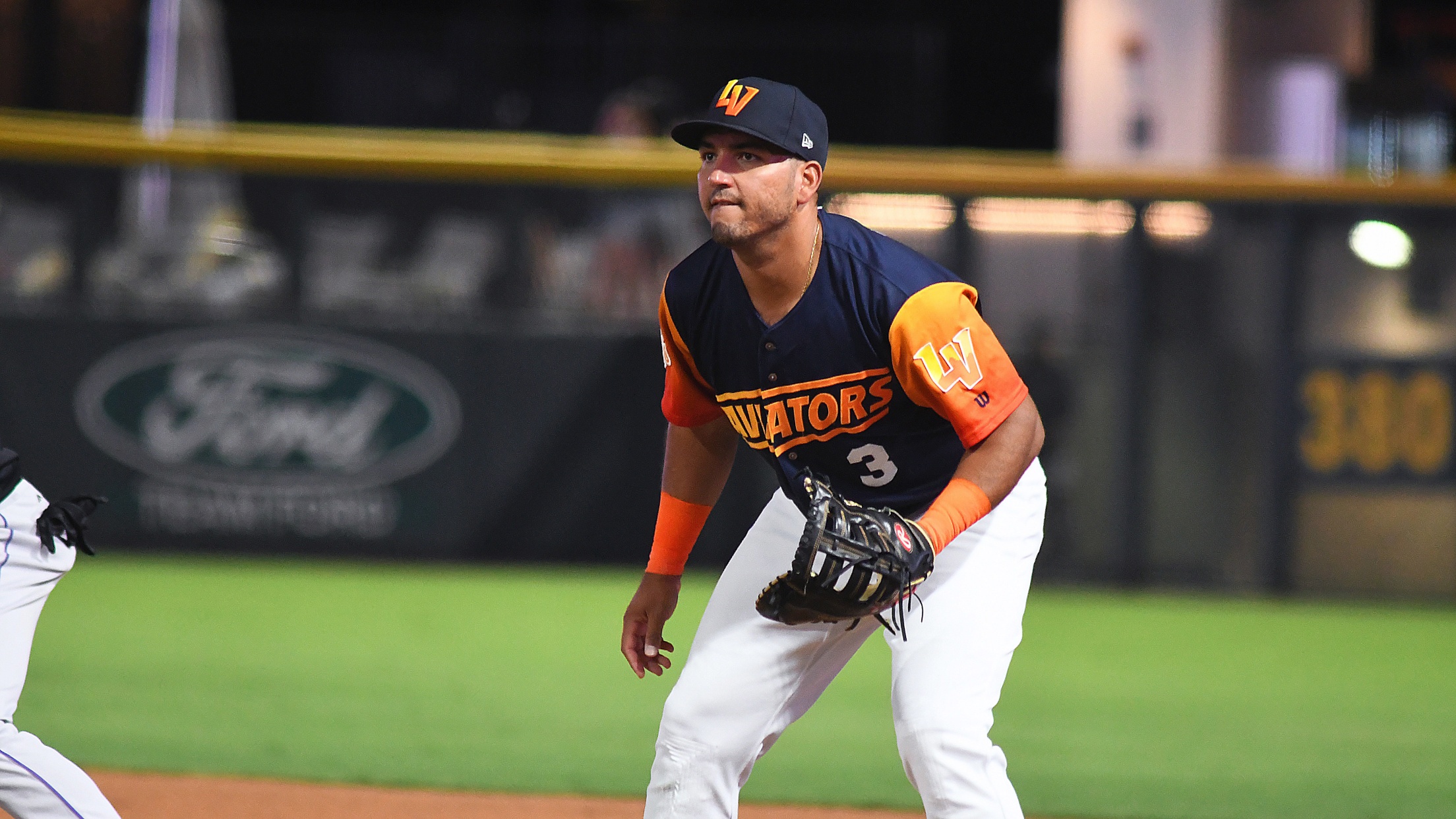 New York, NY, October 5, 2021 — Minor League Baseball™ (MiLB™) today announced the league All-Star teams for the two leagues that make up the Triple-A classification. Votes were cast by league broadcasters, Minor League Baseball executives and select members of the media. TRIPLE-A EAST Position, Name, Team, MLB Affiliate,
Newcomer Zack Gelof tallies 5 RBI to lead Aviators to 11-9 victory over Oklahoma City in home finale
Oakland A's 2021 second-round draft pick goes 3-for-4 in his second Triple-A game, as Las Vegas closes out home schedule victorious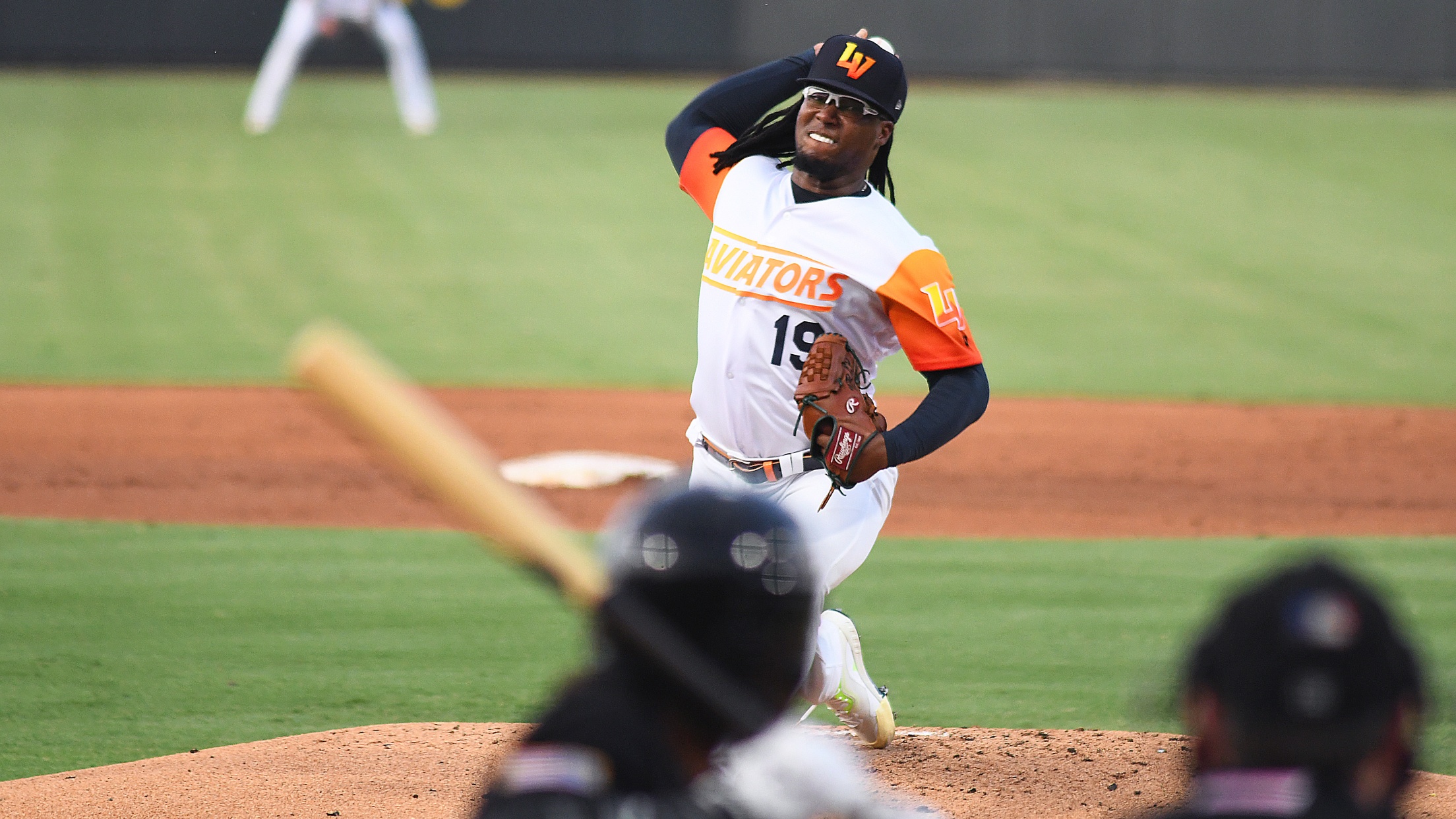 Three days ago, Zack Gelof was in the Arizona Instructional League with several of his fellow 2021 draft picks, getting some extended work after playing his first 32 professional games for the Oakland A's High-A club in Stockton (California). On Monday night, the 21-year-old found himself in an Aviators uniform
Aviators snap four-game skid with convincing 8-2 victory over Oklahoma City
Three Las Vegas batters blast homers, Nick Allen extends his hitting streak to 11 games and Brian Howard throws six stellar innings in win over Dodgers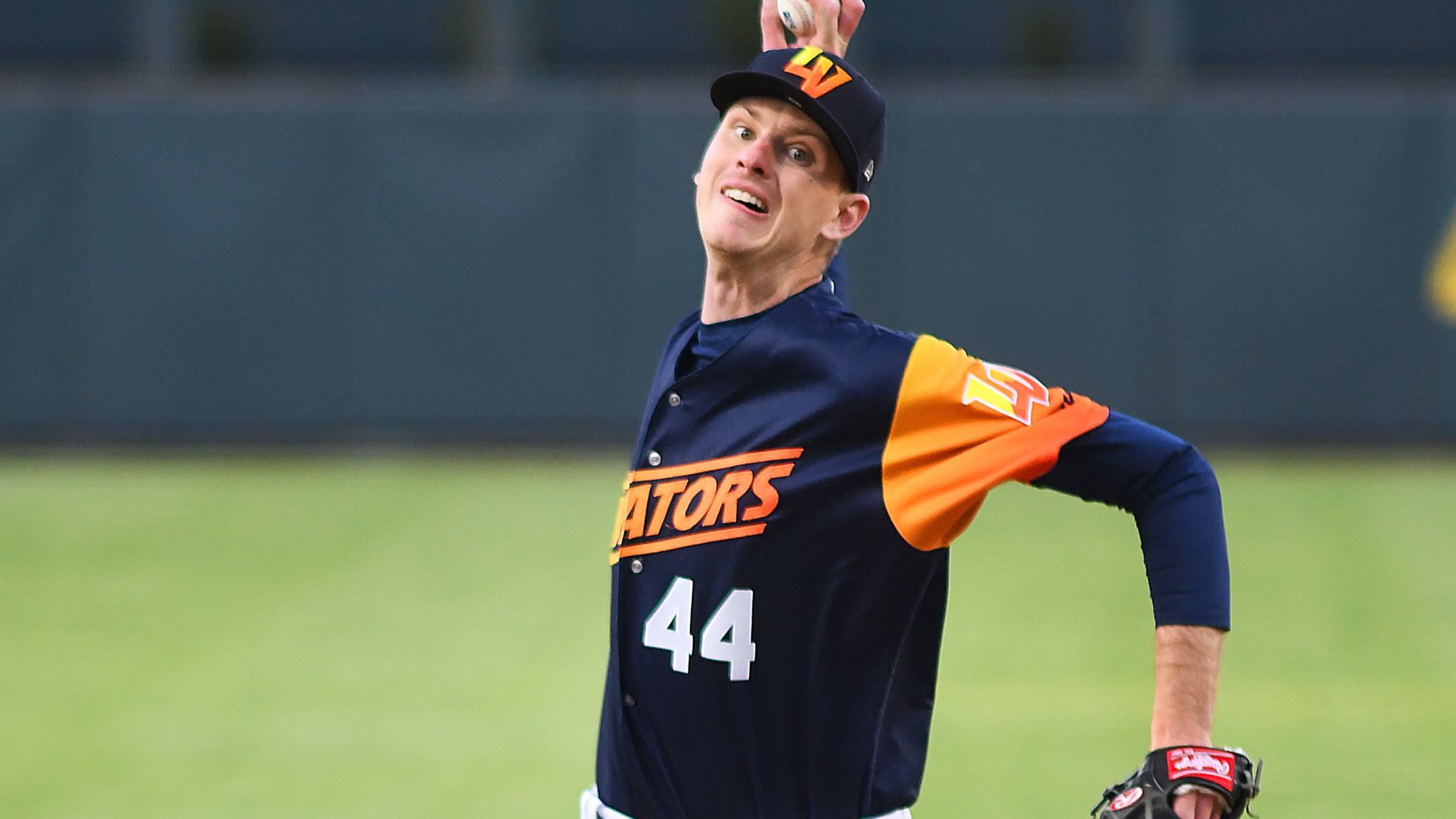 Having lost 14 of their previous 18 games, including four in a row, the Aviators walked into Las Vegas Ballpark for Sunday afternoon's game against the Oklahoma City Dodgers with one simple mission: find a way to pick up a victory— any victory. Nail-biter, blowout, come-from-behind, walk-off, mistake-filled—it didn't matter.
Despite four solid individual performances, Aviators drop third straight to Oklahoma City, 5-2
Nick Allen, Luis Barrera and Mickey McDonald each collect multiple hits, and reliever Kyle Friedrichs pitches four solid innings, but Las Vegas falls again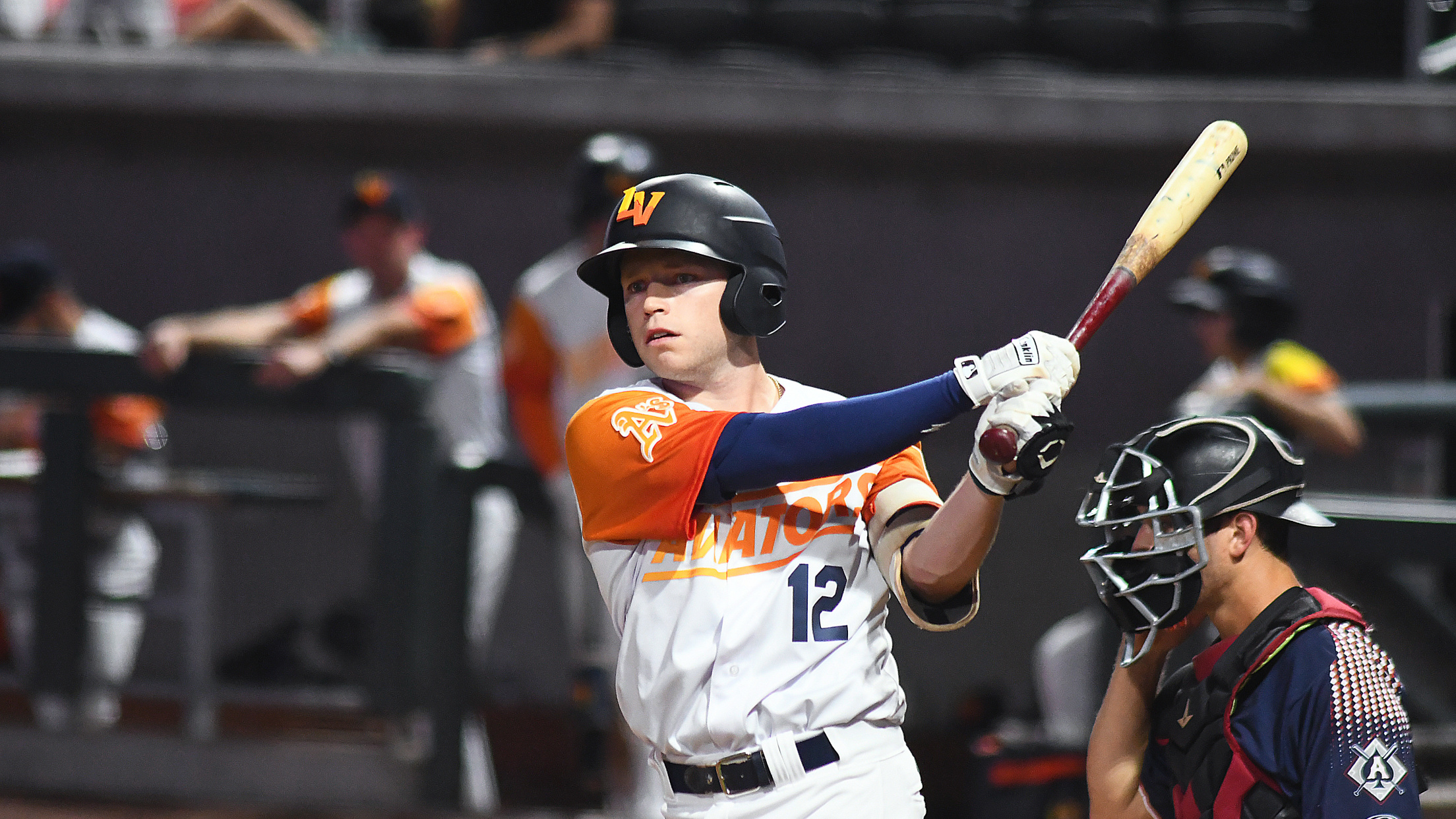 More than 24,000 fans have packed Las Vegas Ballpark for the first three games of the Aviators' final homestand of 2021. And while those fans didn't get to see the home team defeat the visiting Oklahoma City Dodgers in those three games, they did get to see stellar individual efforts
Aviators stumble once again against Oklahoma City, lose 13-4
Dodgers post a pair of six-run innings, score second consecutive blowout victory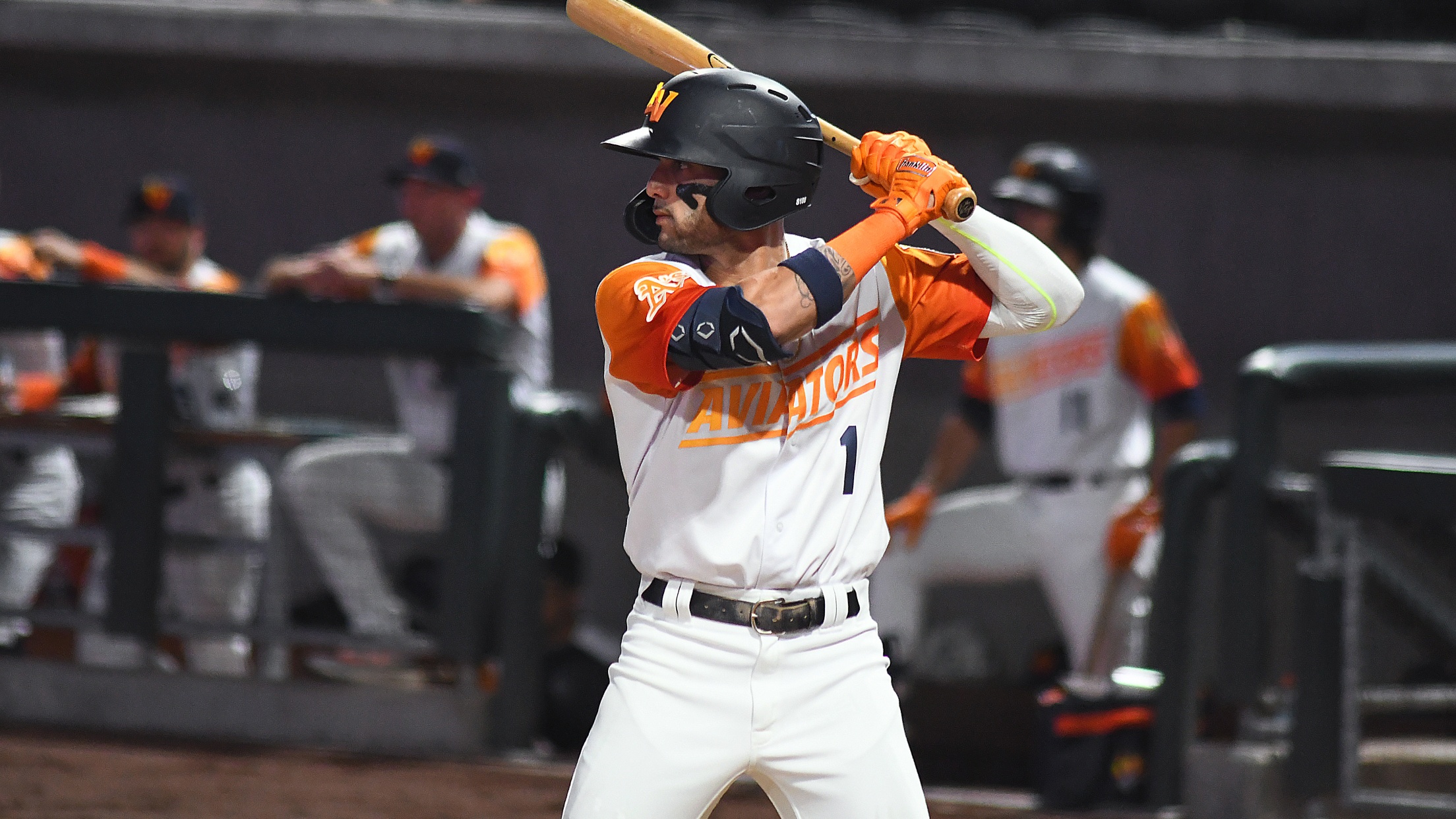 A month ago, the Aviators started their 12-game road trip in Oklahoma City and showed no mercy against the Dodgers, winning five of six games. It appears none of the Dodgers' players suffer from short-term memory loss, because they arrived in Las Vegas this week determined to exact some revenge
Aviators® announce season awards for 2021 campaign; Carlos Pérez recipient of Mayor's Trophy!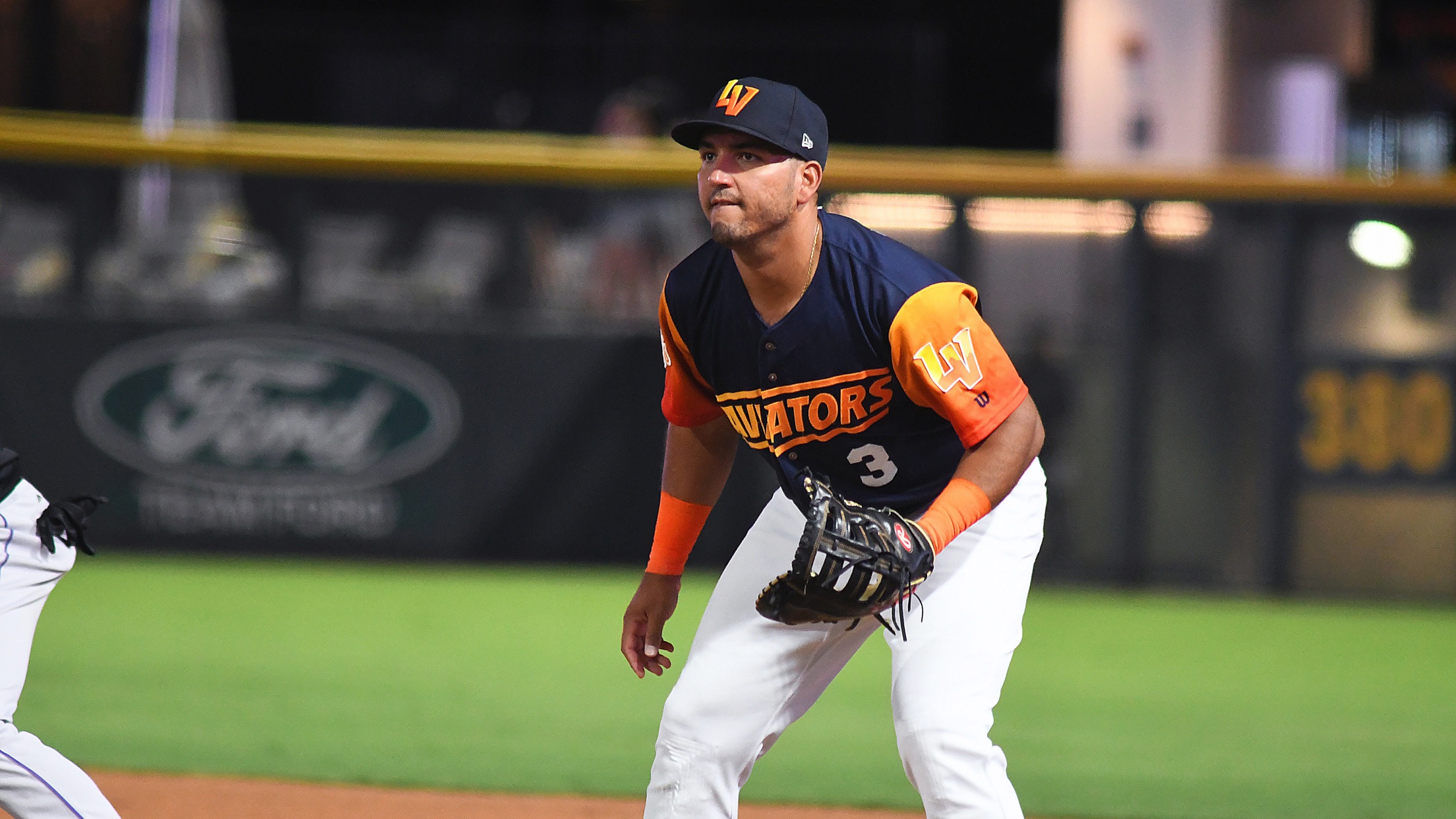 (Las Vegas, NV) – September 24, 2021 – The Las Vegas Aviators® professional baseball team, Triple-A affiliate of the Oakland Athletics, announced today the 2021 season awards for the players. The Las Vegas franchise has been a member of the Pacific Coast League for 38 years (1983-2020) and one season
Nick Allen collects three hits, but Aviators fall 12-5 to Oklahoma City
Las Vegas shortstop runs hitting streak to eight in a row with the first three-hit game of his Triple-A career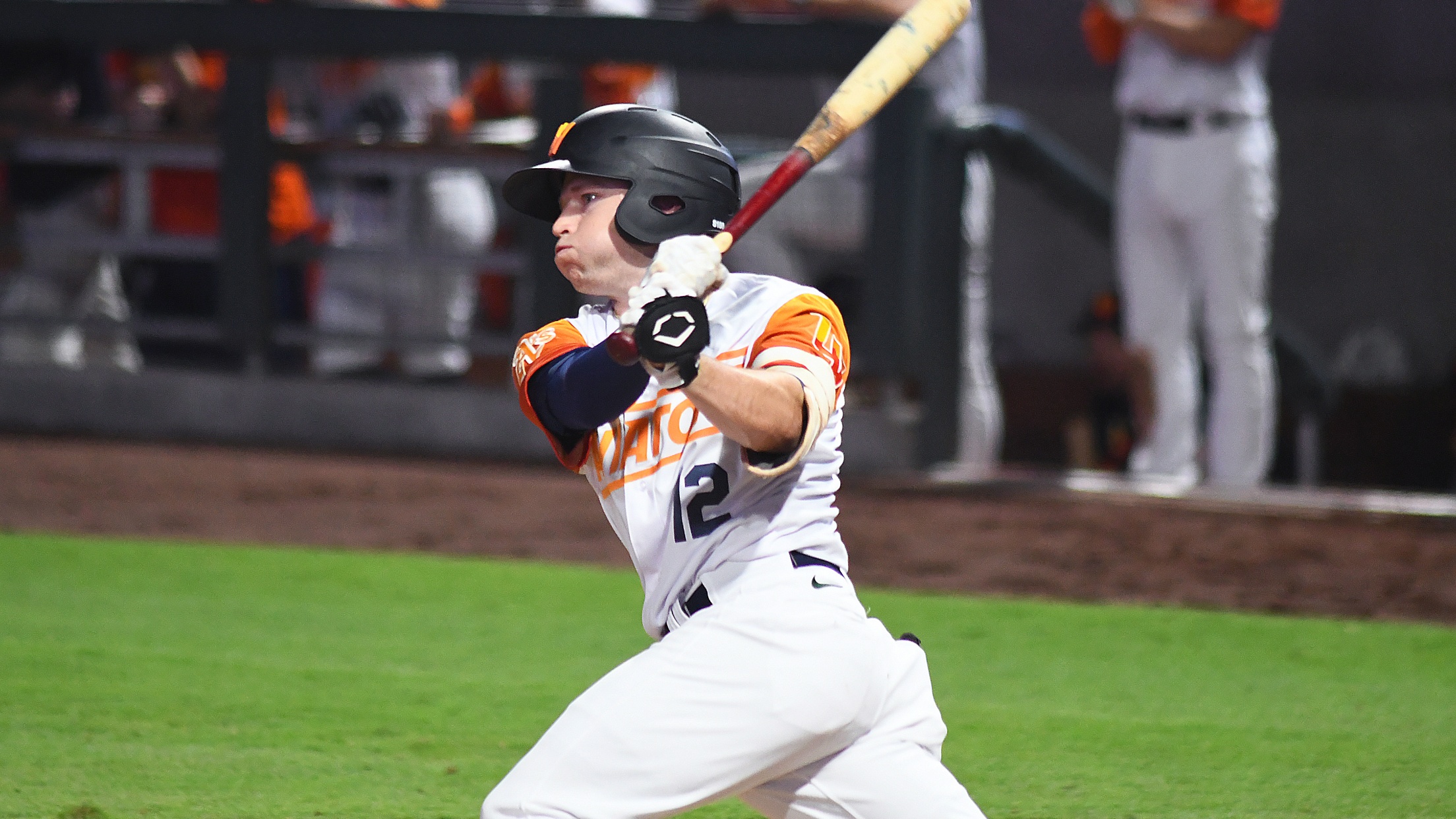 Nick Allen entered the 2021 season as a consensus top-five prospect in the Oakland A's system. So when Allen joined the Aviators in mid-August after helping Team USA win an Olympic silver medal in Tokyo, everyone—fans, coaches, and Oakland's player development and front office staff—was eager to see how the
Aviators geared up for Triple-A Final Stretch in 2021 homestand finale
Las Vegas welcomes Oklahoma City Dodgers to Las Vegas Ballpark for five-game postseason series that begins tonight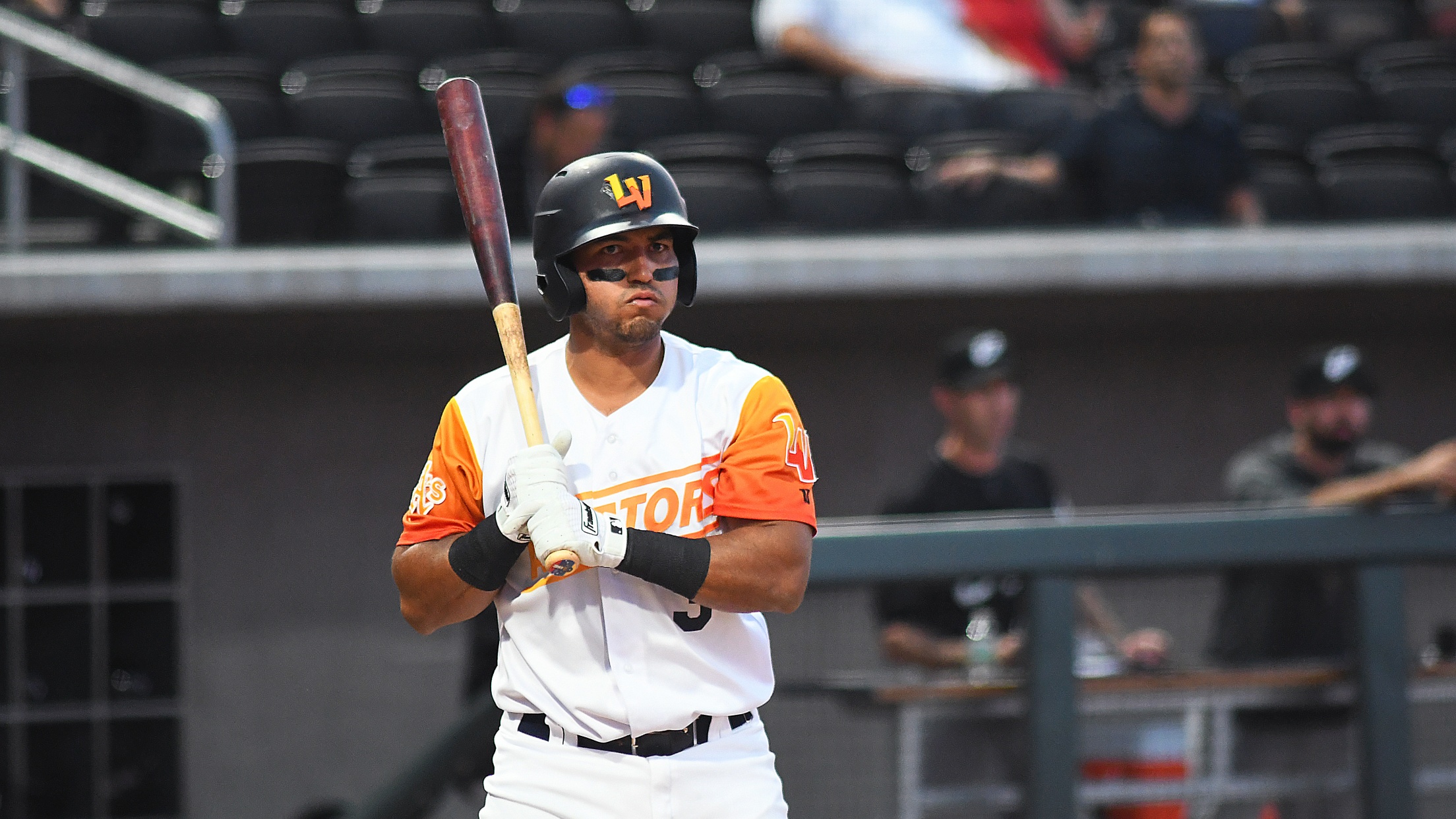 A little over a month ago, there wasn't a hotter team in Triple-A West than the Aviators, who put together a 15-3 run from August 15-September 4 that pushed the club back into contention for its second straight division title. Alas, Las Vegas was unable to sustain that momentum, stumbling
Aviators® host Oklahoma City Dodgers in final homestand of the season from September 23-27 at Las Vegas Ballpark®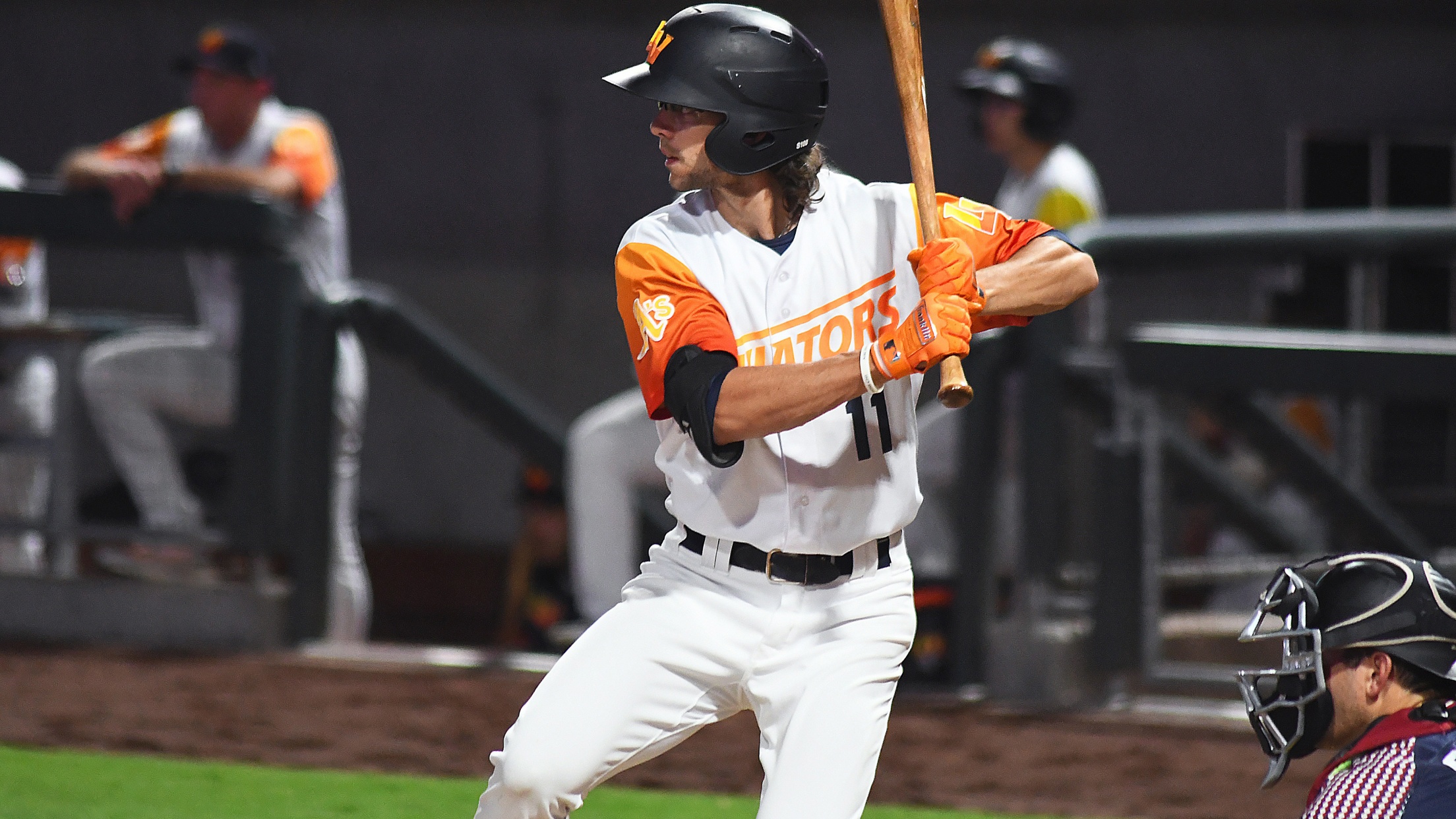 (Las Vegas, NV) – September 21, 2021 – The Las Vegas Aviators® professional baseball team of Triple-A West (formerly the Pacific Coast League, PCL), Triple-A affiliate of the Oakland Athletics, will host the Oklahoma City Dodgers, Triple-A affiliate of the 2020 World Series champion Los Angeles Dodgers, in the opener
Triple-A Final Stretch to benefit local charities; Aviators® partner with YMCA of Southern Nevada; "Homers that Help" to assist local charities in all 30 Triple-A cities!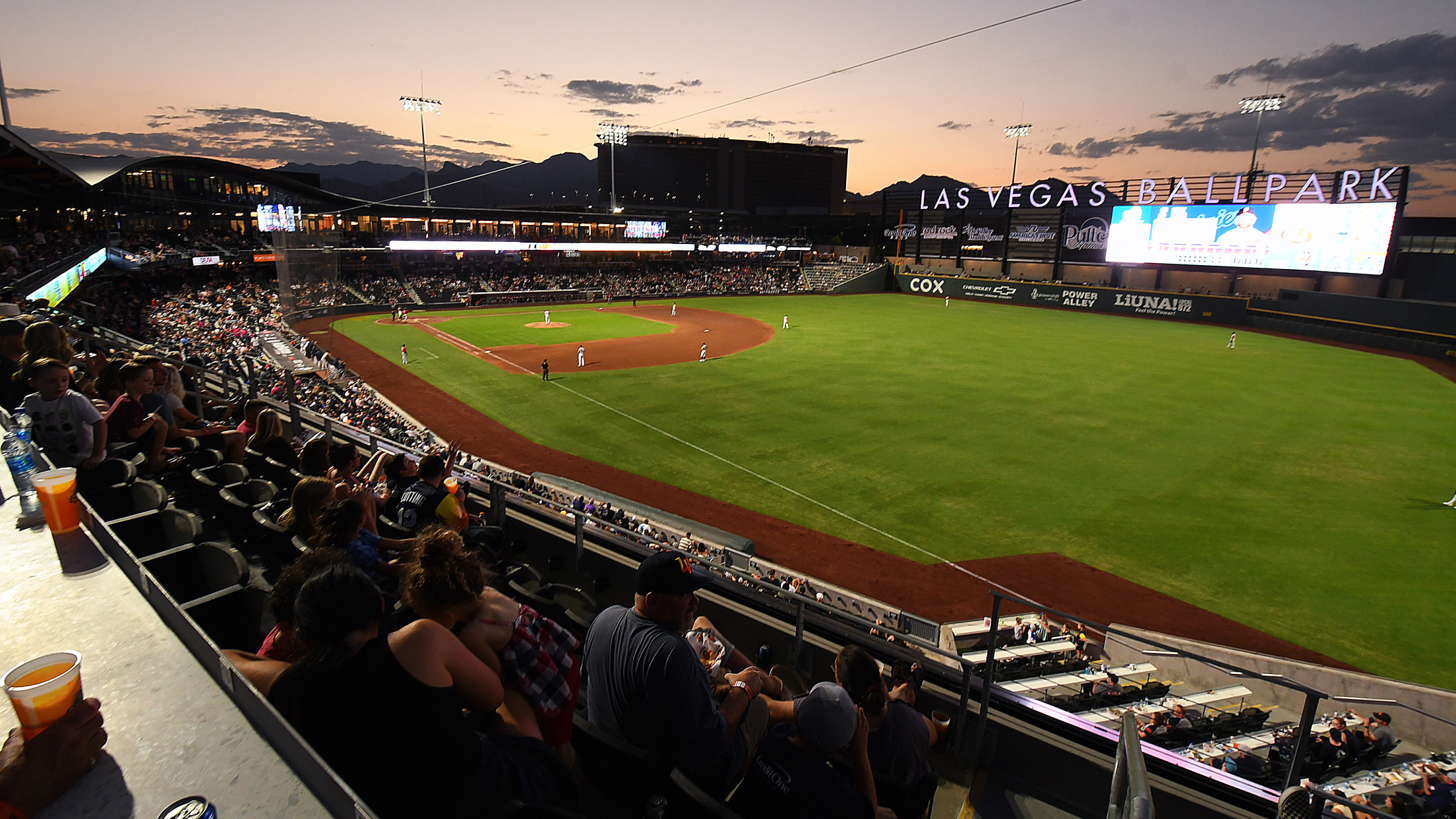 (Las Vegas, NV) - September 21, 2021 - Minor League Baseball™ (MiLB™) today announced the creation of a charitable component to the 10-game Triple-A Final Stretch of games (September 23 - October 3) that will benefit 501(c)3 charities in each Triple-A city. Las Vegas Aviators® professional baseball team of Triple-A
Las Vegas Ballpark Welcomes Mexican Baseball Fiesta Sept. 16-17
Two-day event featuring teams from the Mexican Winter Leagues promises nonstop family fun
Spring training is coming to Las Vegas Ballpark this weekend — and it's coming in the form of the Mexican Baseball Fiesta, right as summer gives way to fall. Confused? Here's the explanation: Since 2011, the Mexican Winter Leagues — which feature 10 professional teams that compete from October through
Aviators blow early lead, fall 14-5 to Aces
Reno overcomes 3-0 deficit, then breaks 5-5 tie with nine unanswered runs to even series with Las Vegas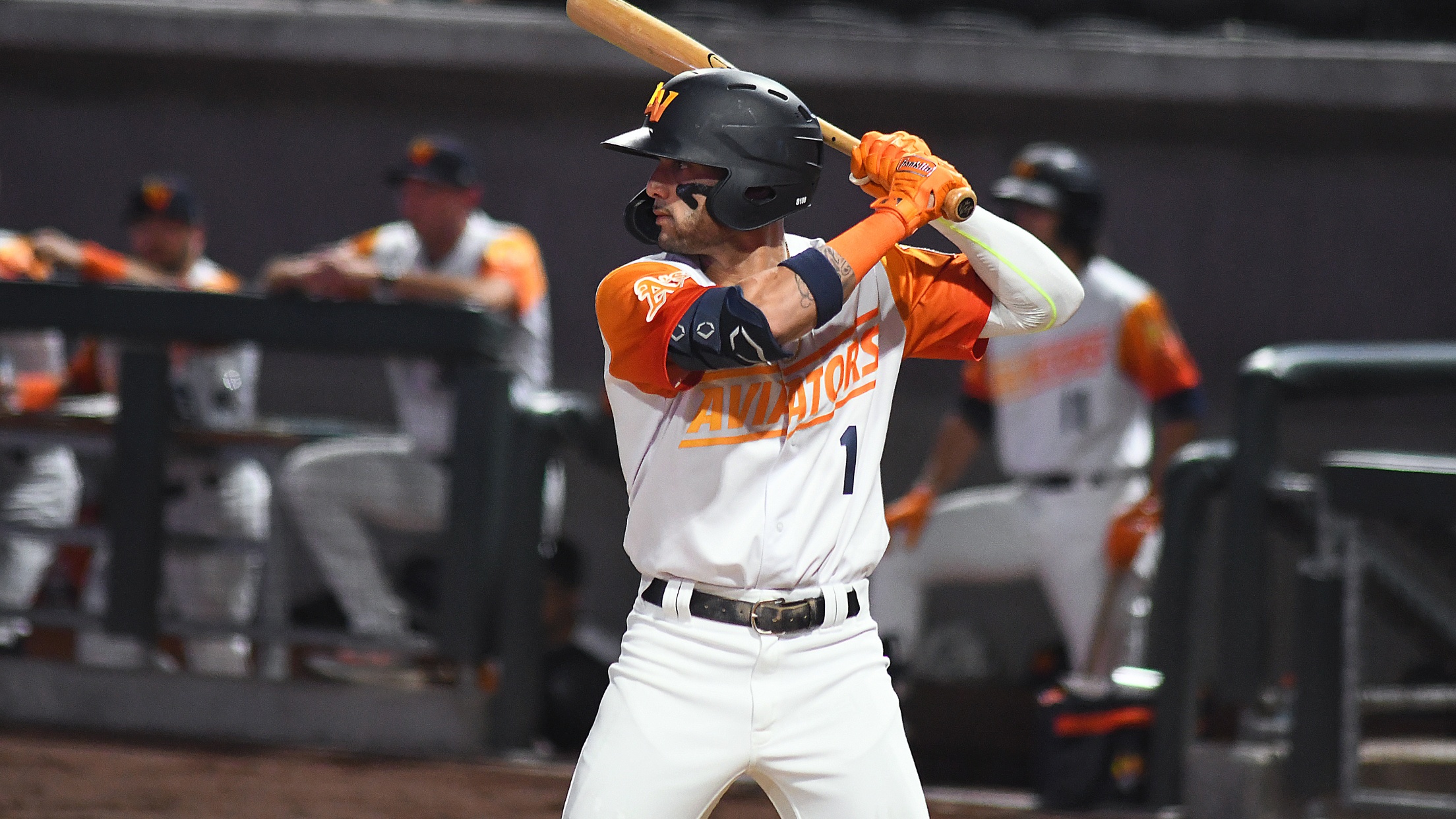 There was a time not so long ago when all the Aviators seemingly had to do to ensure a Sunday victory was show up to the ballpark. Through the first 16 weeks of the 2021 season, they went 13-3 on Sundays, including winning nine of 10 from June 20-August 23.
Hot-hitting Mickey McDonald drives in three runs, Aviators hold off Aces, 6-5
Las Vegas outfielder goes 2-for-4 while relief pitchers Ben Bracewell and Domingo Acevedo come through late to preserve victory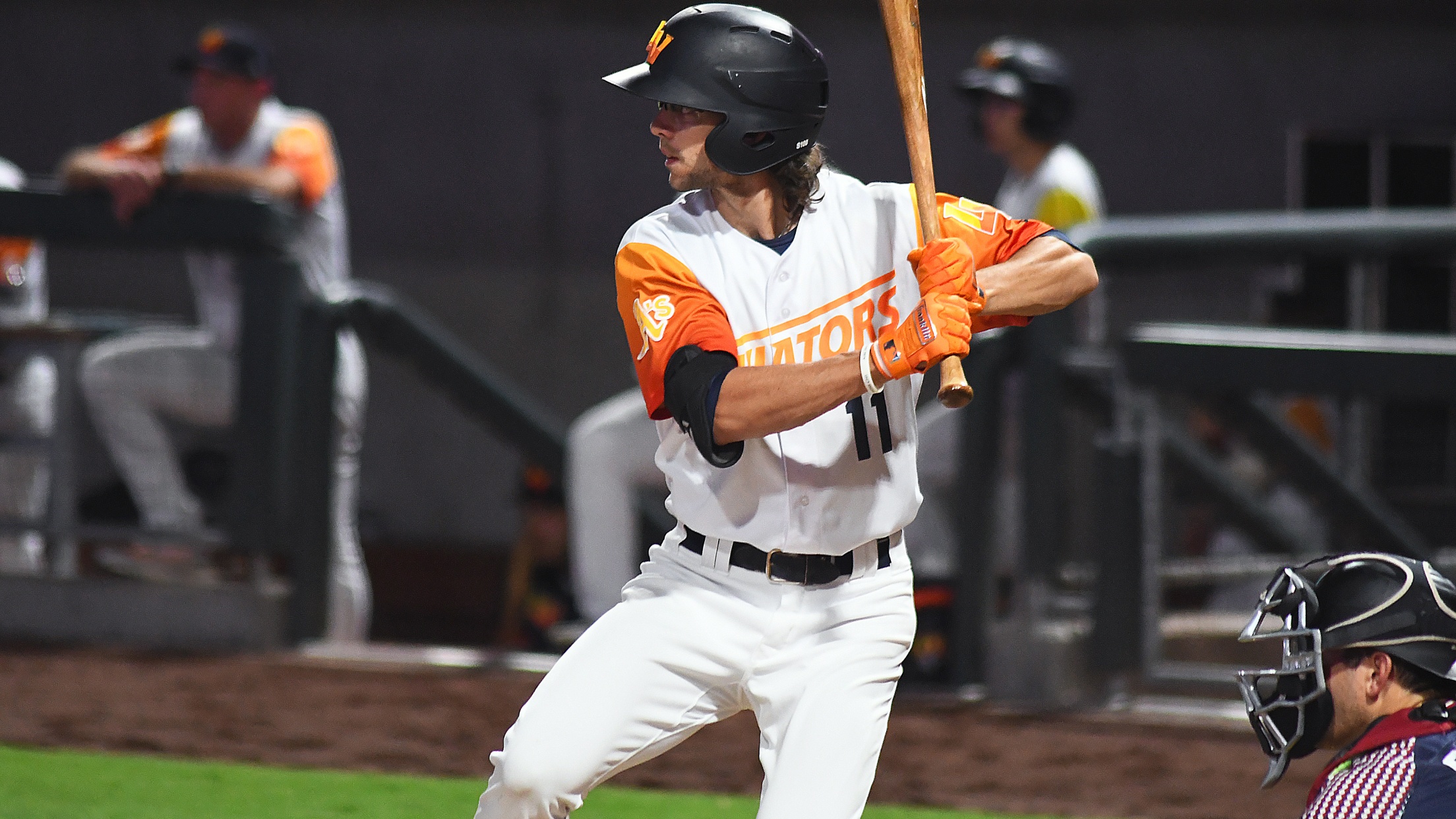 Success for Minor League Baseball players essentially comes down to two factors: receiving opportunities and making the most of them. Six weeks ago, Aviators outfielder/third baseman Mickey McDonald was given his second opportunity to showcase his talents at the Triple-A level — and as he proved yet again Saturday at
Reno pounds out 14 hits, rolls to 11-5 victory over Aviators  
Aces tally six runs in the first inning, snap five-game losing skid and even six-game series with Las Vegas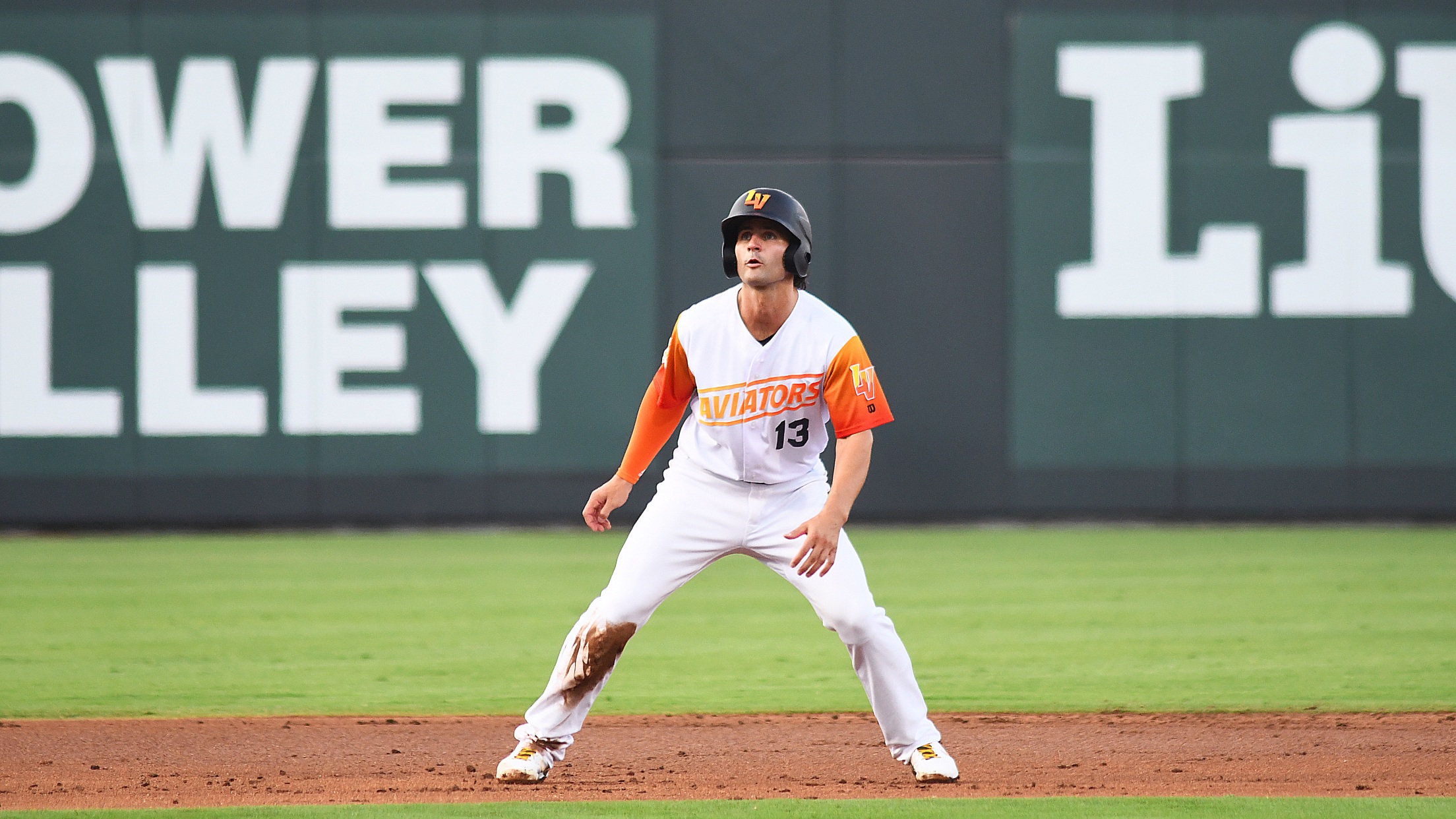 By the time the Aviators took the field Friday night at Las Vegas Ballpark, a monsoon that drenched much of Southern Nevada had blown out of town. It didn't take long, though, for the thunder to return in the form of the Reno Aces' bats. One night after mustering just
Aviators' pitchers come up big in 6-3 victory over Reno in series-opener
Brian Howard and three relievers shut down Aces' potent offense in opener of six-game series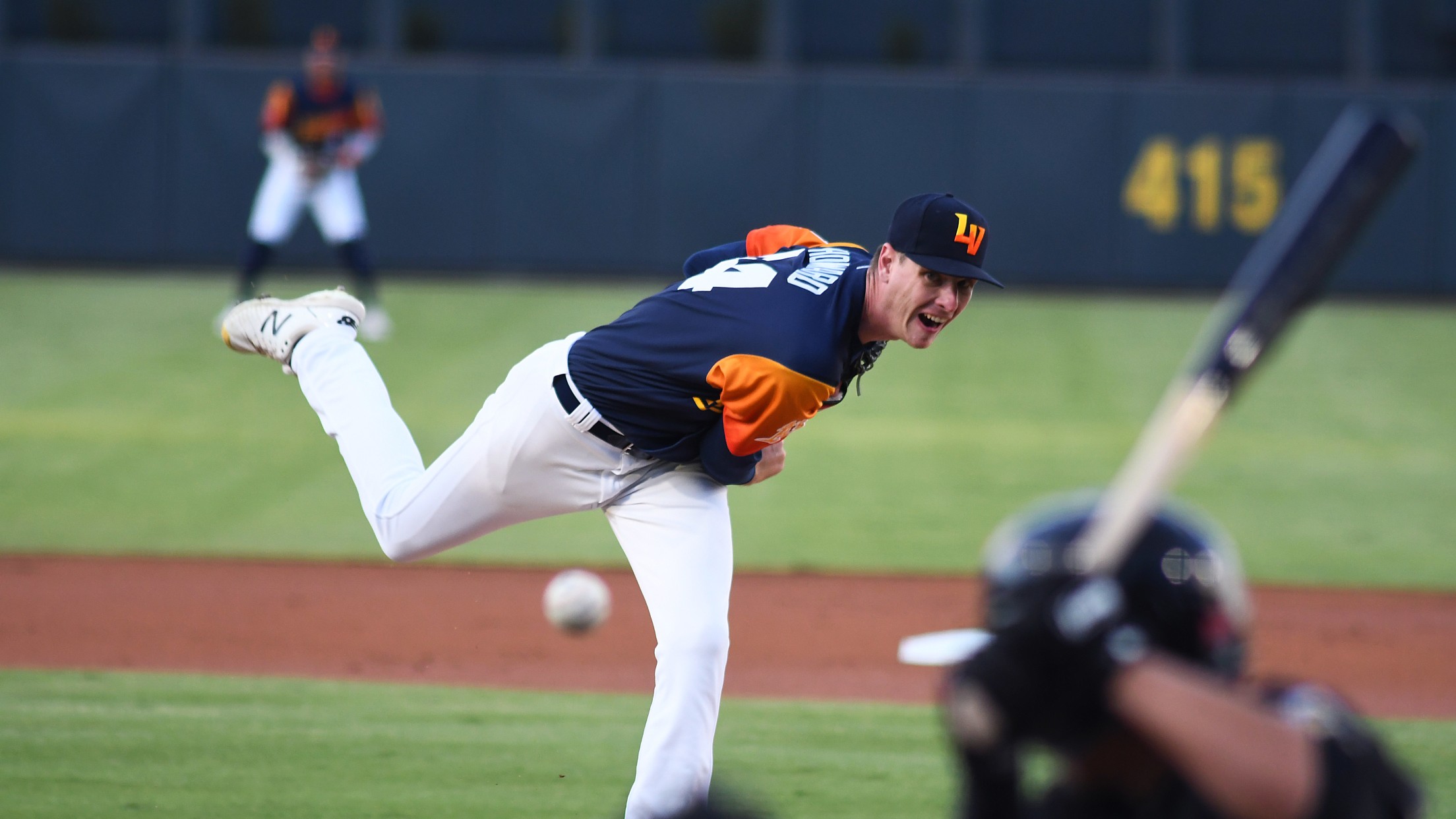 As recently as six weeks ago, the notion that the Aviators' pitching staff would be responsible for guiding the team to a much-needed late-season victory would've been as farfetched as aliens landing in center field at Las Vegas Ballpark … during a midsummer snowstorm. That's how much both the Aviators'
Aviators return home looking to resume late-season surge
After dropping the final three games of a 12-game road trip, Las Vegas will try to get back on the winning track when it welcomes Reno to Las Vegas Ballpark
The last time they faced the Reno Aces, the Aviators were teetering on the brink of a lost season. It was mid-July, and Las Vegas had dropped the final two games of a six-game series in Reno to fall two games under .500 (29-31) and — more disturbingly — nine
Aviators® host intrastate rival Reno Aces in six-game homestand from Thursday-Tuesday, September 9-14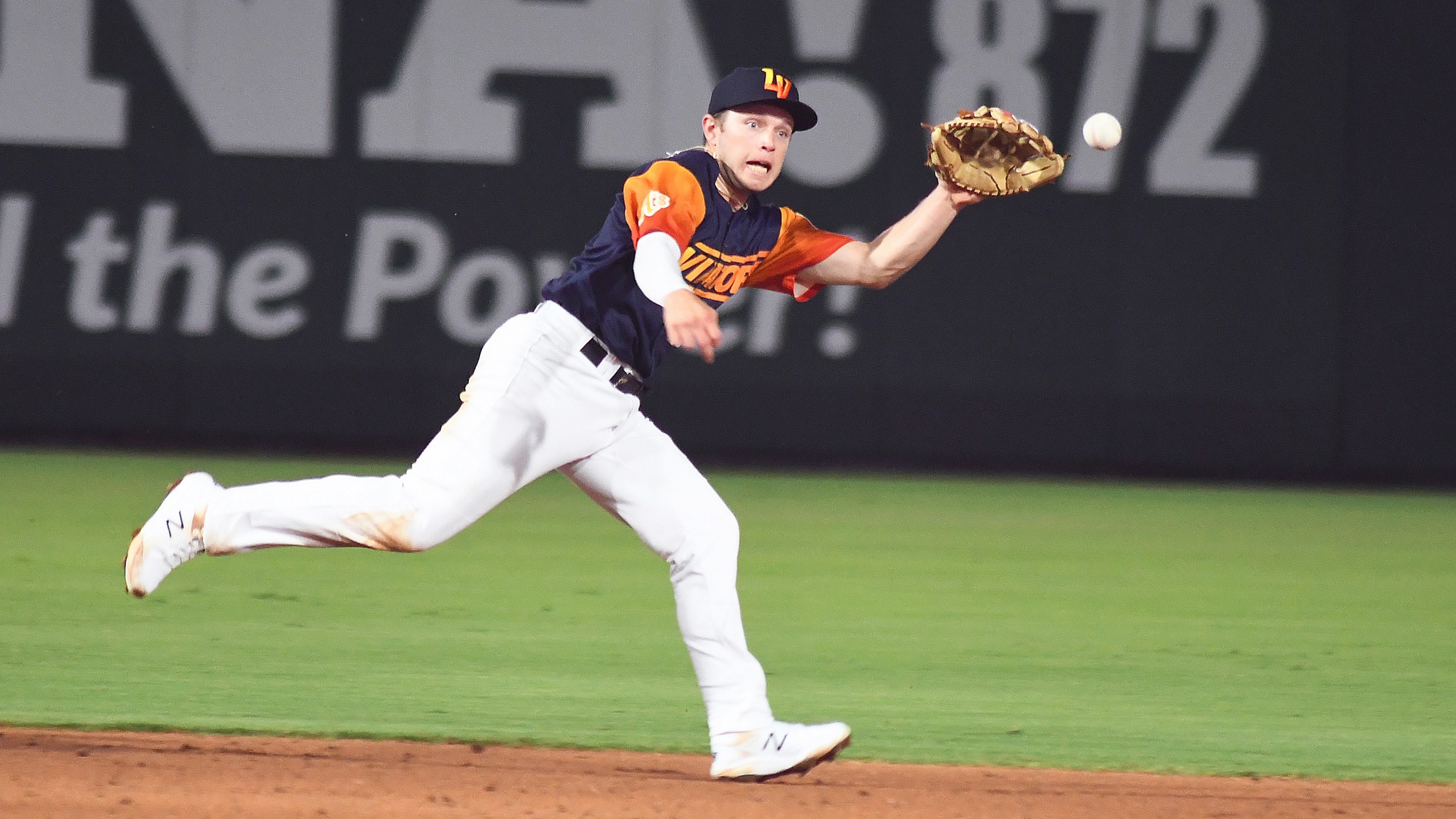 (Las Vegas, NV) – September 7, 2021 – The Las Vegas Aviators® professional baseball team of Triple-A West (formerly the Pacific Coast League, PCL), Triple-A affiliate of the Oakland Athletics, will host intrastate rival, the Reno Aces, Triple-Affiliate of the Arizona Diamondbacks, in the opener of a six-game series on
Aviators® catcher/INF/OF Carlos Pérez Named Triple-A West Player of the Week (August 30 - September 5)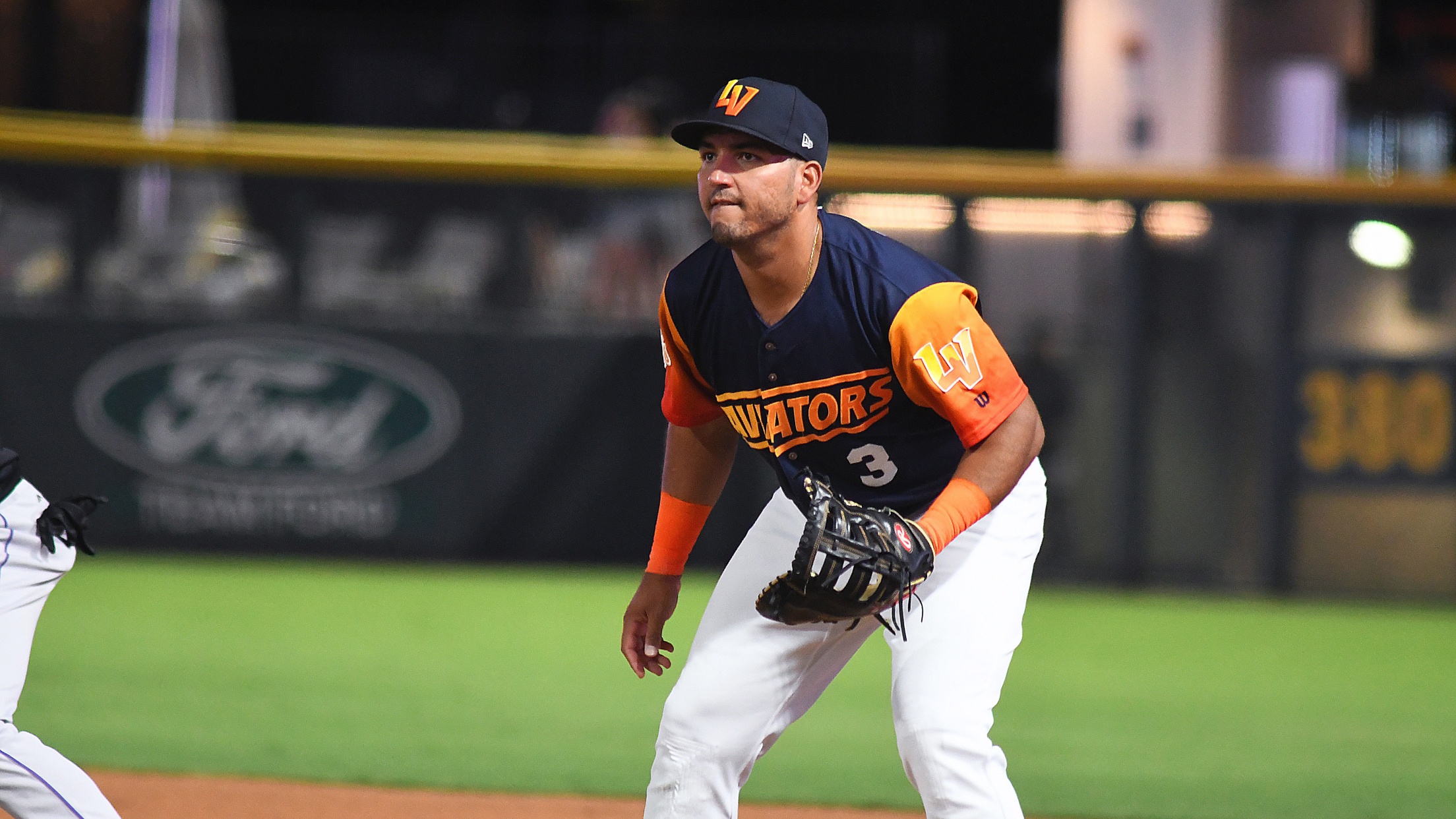 (Las Vegas, NV) - September 6, 2021 - The Las Vegas Aviators® professional baseball team of Triple-A West (formerly the Pacific Coast League, PCL), Triple-A affiliate of the Oakland Athletics, today announced that Catcher/INF/OF Carlos Pérez was named the Triple-A West Player of the Week (August 30 – September 5)
Aviators® designated hitter Khris Davis named Triple-A West Player of the Week (August 23-29)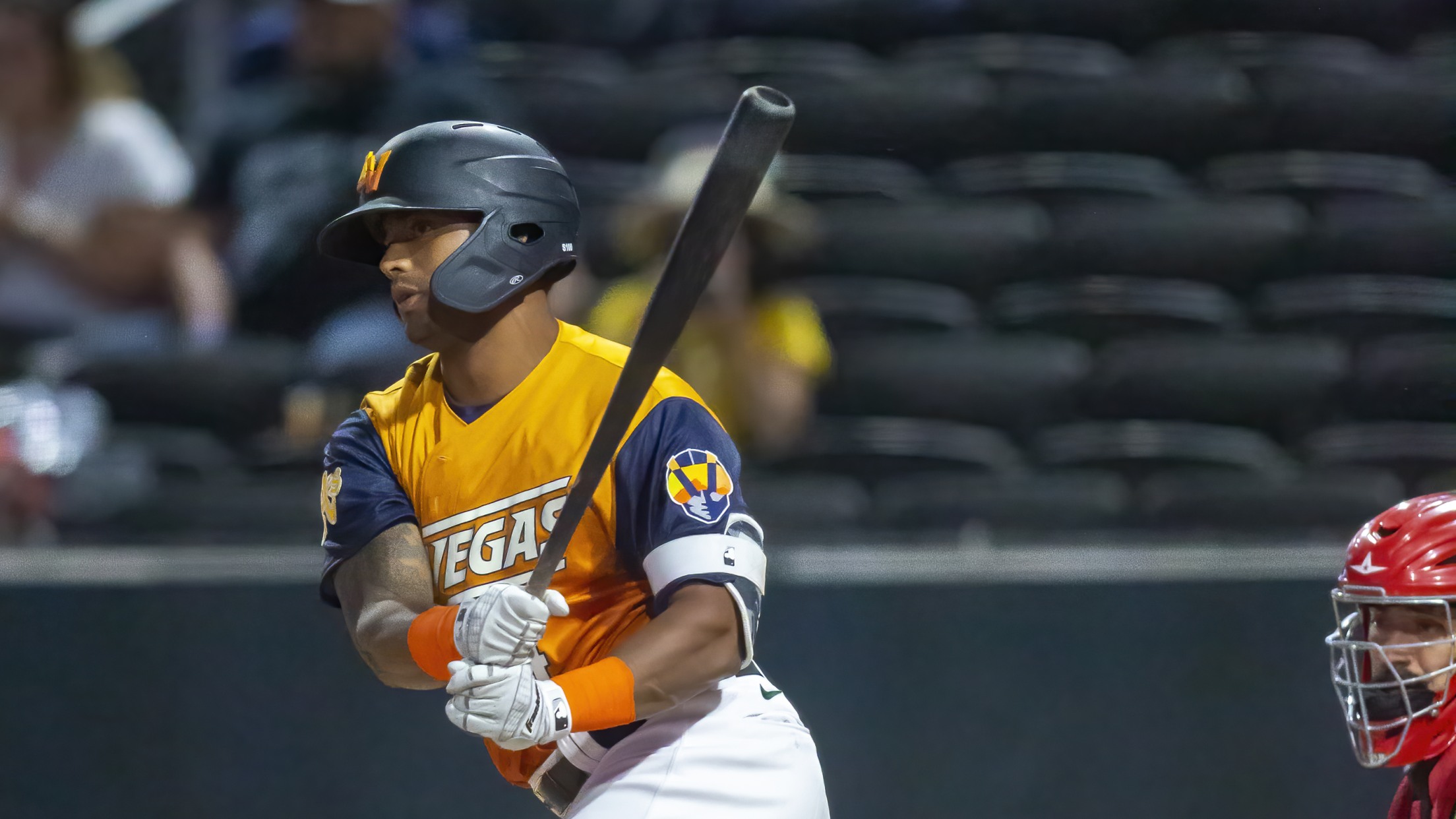 (Las Vegas, NV) - August 30, 2021 - The Las Vegas Aviators® professional baseball team of Triple-A West (formerly the Pacific Coast League, PCL), Triple-A affiliate of the Oakland Athletics, today announced that designated hitter Khris Davis was named the Triple-A West Player of the Week (August 23-29). Davis joins
Khris Davis belts two more HRs, Aviators rout Isotopes 9-4 for fifth straight victory
Veteran designated hitter adds triple to his two dingers, and three pitchers hold Albuquerque to five hits as Las Vegas establishes season-long winning streak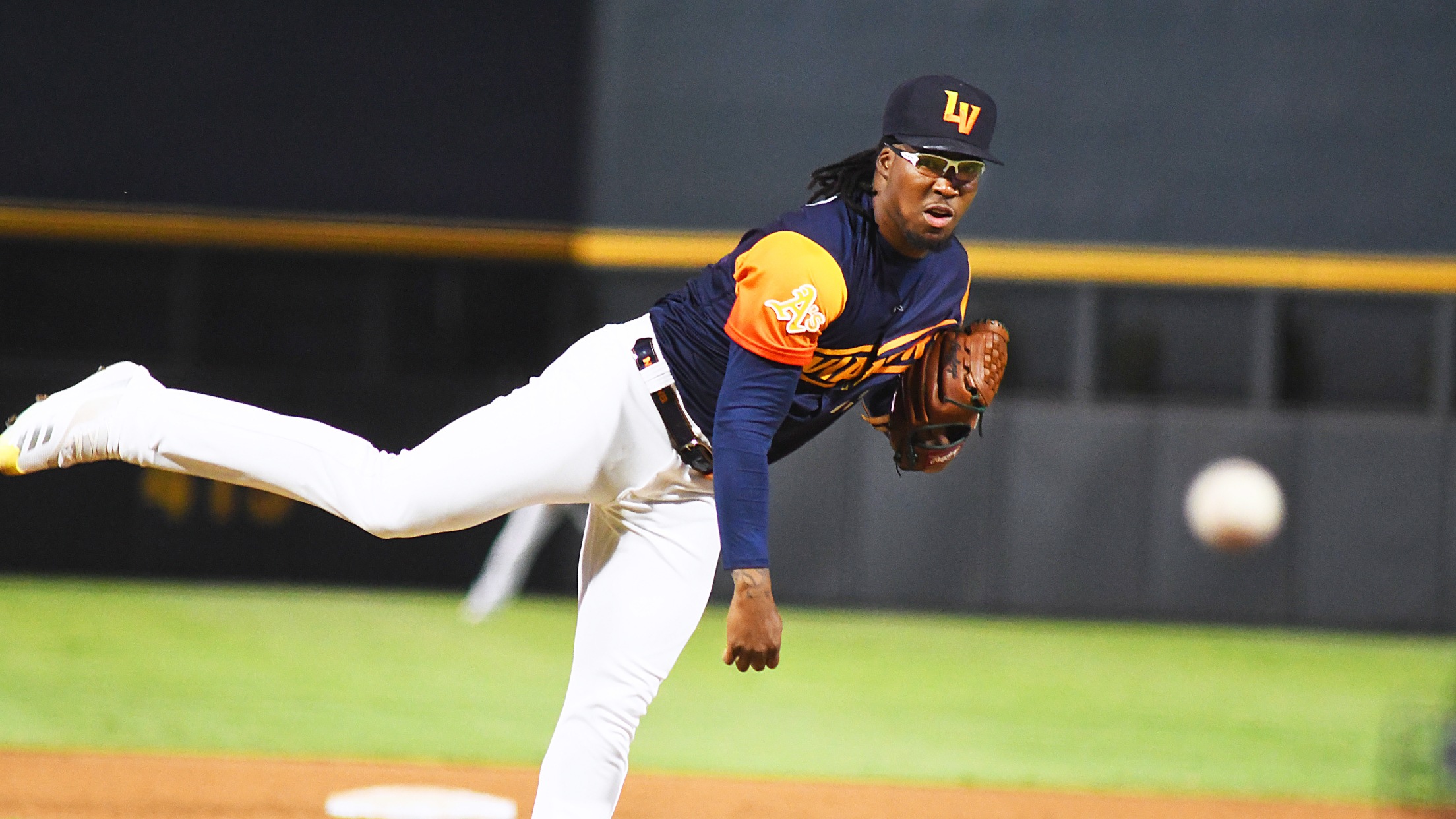 It took the Aviators precisely 60 days to notch their second four-game winning streak of the 2021 season. It took them less than 24 hours to stretch that streak to a season-high five in a row. Red-hot designated hitter Khris Davis went 3-for-4 with two home runs, a triple and
Aviators extend winning streak with second straight walk-off victory over Albuquerque, 7-6
Luis Barrera's infield single with two outs in the bottom of the ninth plates two runs as Las Vegas once again rallies past the Isotopes for fourth consecutive victory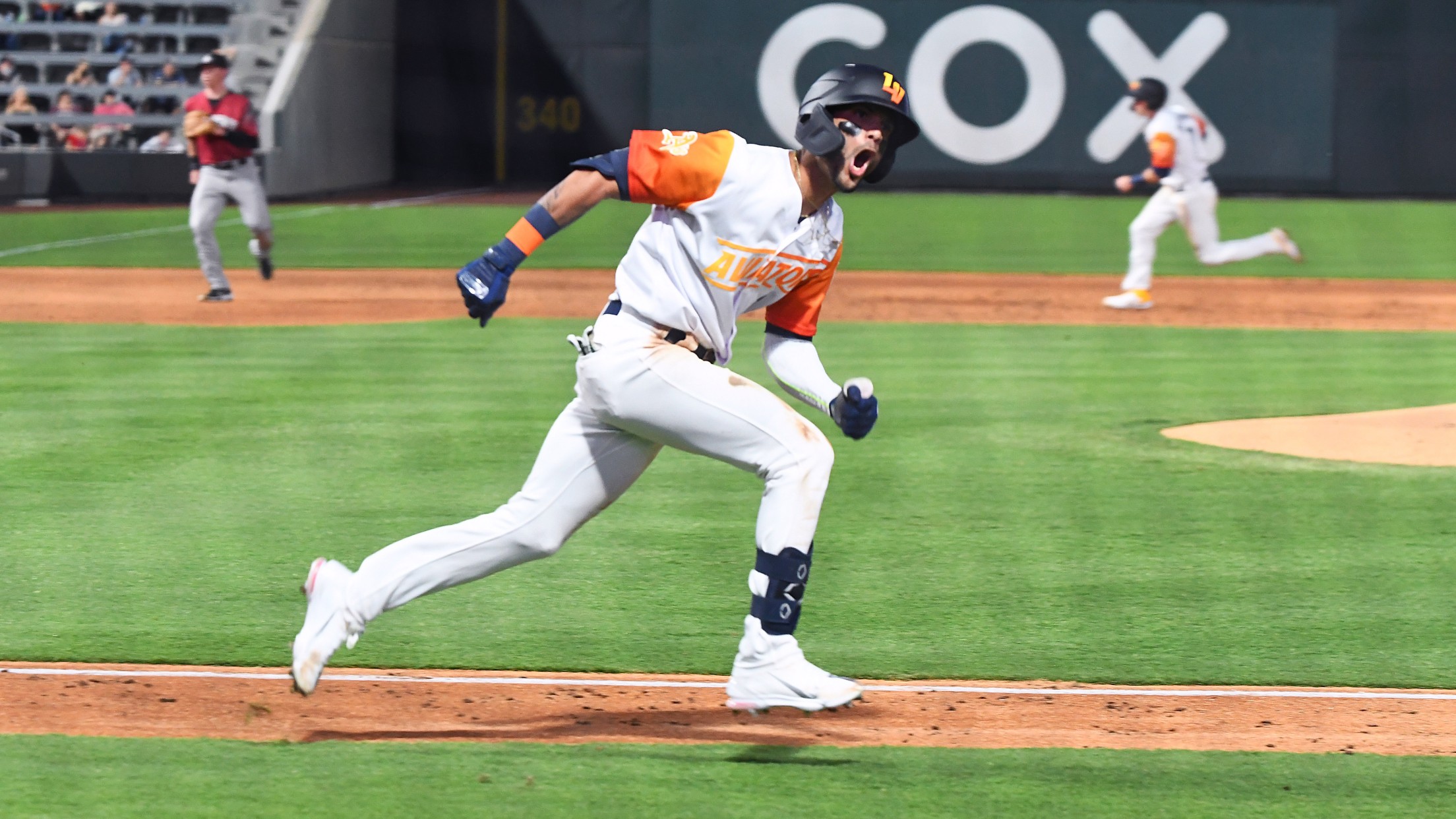 It took exactly two months and 52 games, plus a second consecutive down-to-their-final-strike rally and a controversial call on the game's final play. But at long last, the Aviators finally have a four-game winning streak. Trailing 6-5 with two outs in the bottom of the ninth inning, outfielder Luis Barrera
Aviators® catcher/INF/OF Carlos Pérez named Triple-A West Player of the Week (August 16-22)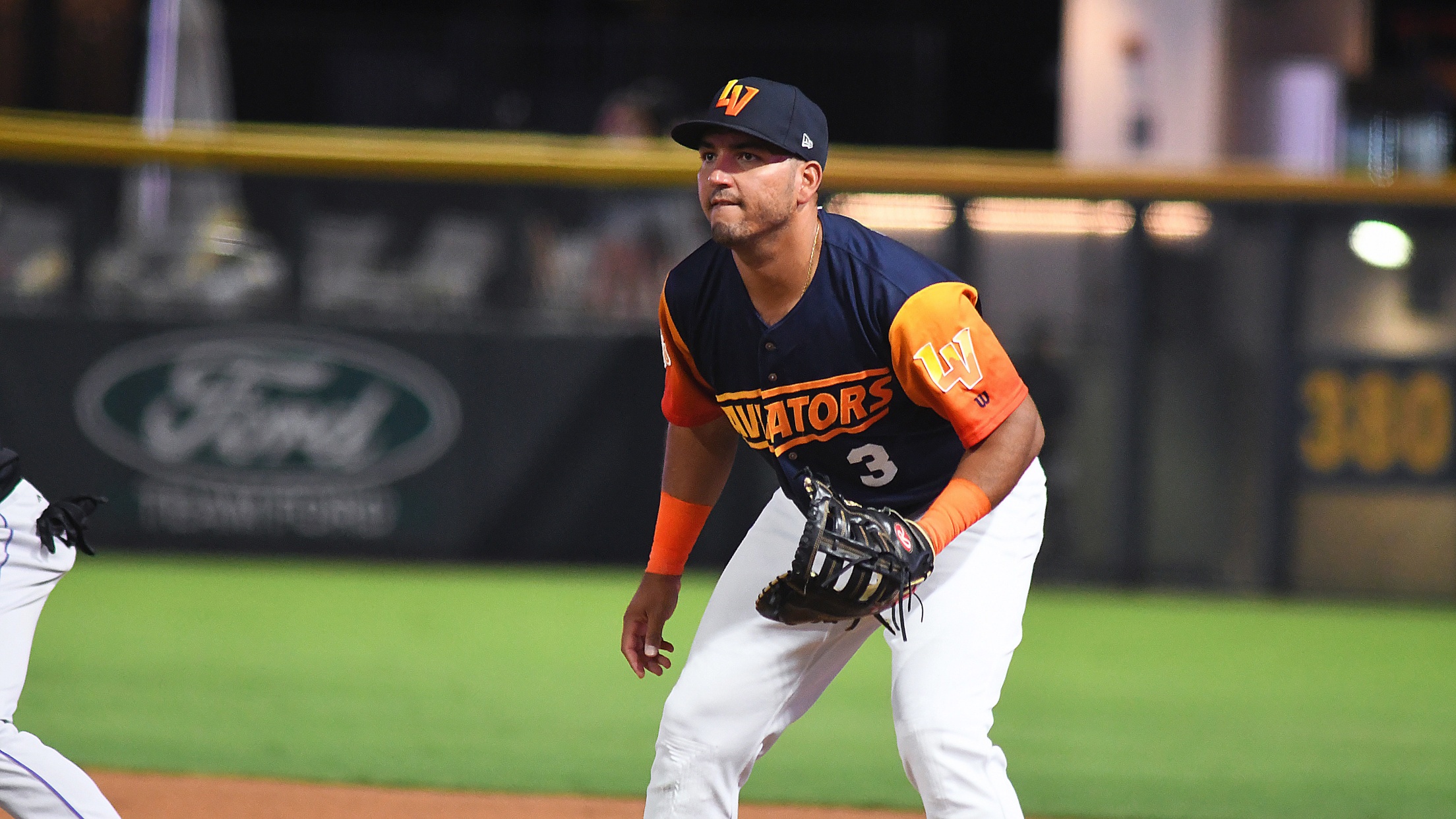 (Las Vegas, NV) - August 23, 2021 - The Las Vegas Aviators® professional baseball team of Triple-A West (formerly the Pacific Coast League, PCL), Triple-A affiliate of the Oakland Athletics, today announced that Catcher/INF/OF Carlos Pérez was named the Triple-A West Player of the Week (August 16-22). Pérez joins catcher
Khris Davis blasts walk-off three-run homer, Aviators topple Isotopes 13-11 in 10 innings
Las Vegas blows 7-0 lead, but battles back and scores four runs in the 10th inning to rally for third straight victory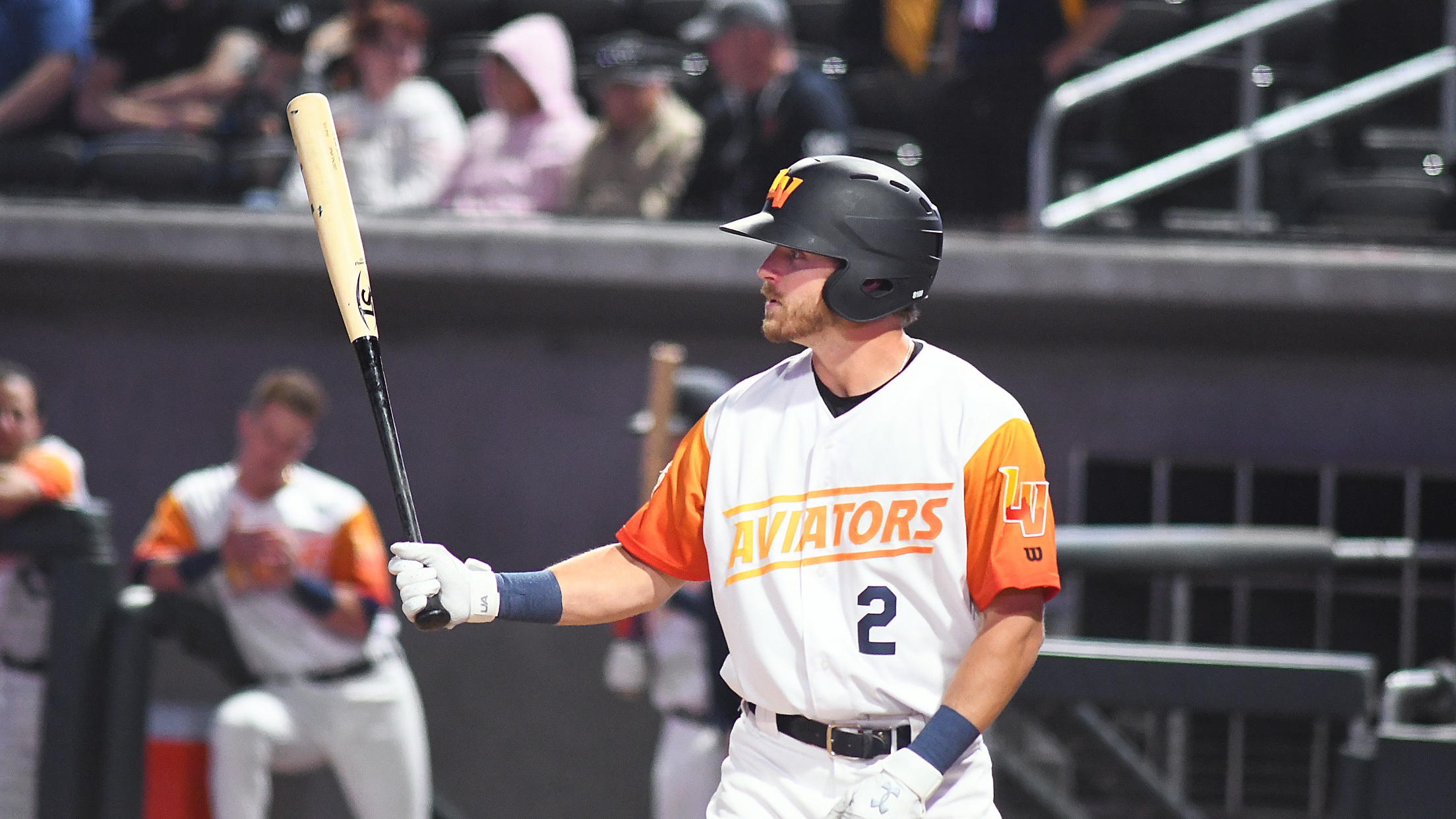 The Aviators and Albuquerque Isotopes gave baseball fans their money's worth (and then some) in the first three games of their six-game series at Las Vegas Ballpark, combining for 49 runs and 75 hits. Then on Sunday, the Triple-A West foes yet again gave fans their money's worth — as
Aviators rally late, pull away for 12-7 victory over Isotopes
Carlos Pèrez belts two homers and Vimael Machín adds two triples as Las Vegas erases 7-3 deficit with nine unanswered runs to even series with Albuquerque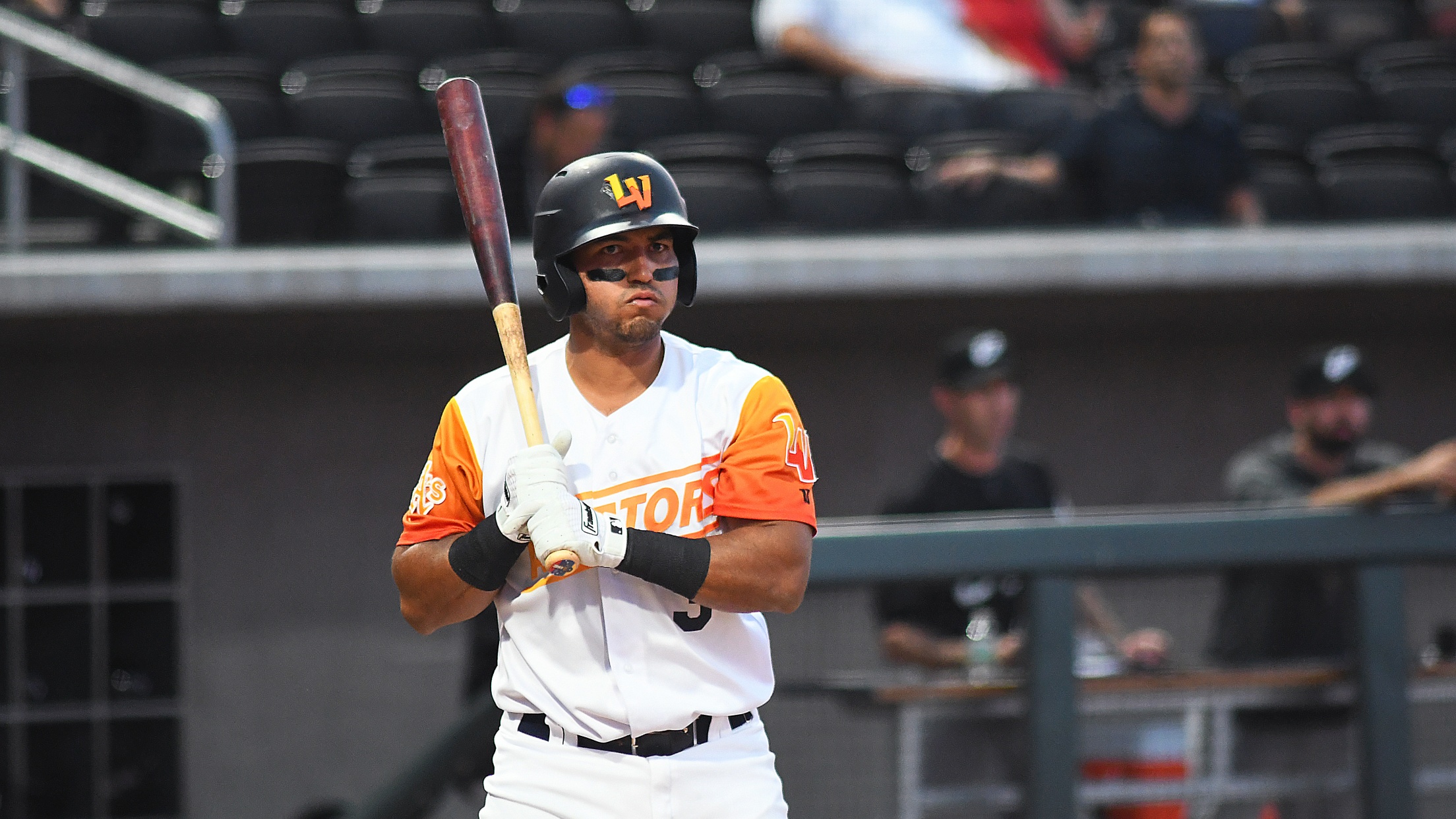 The Aviators entered Friday's game against the Albuquerque Isotopes at Las Vegas Ballpark with the same attitude they've had pretty much the entire season: Just find a way to secure a late-game lead, and we're home free. Why such a mindset? Because Las Vegas also entered Friday with a 36-4