Nine Questions with Justin Dean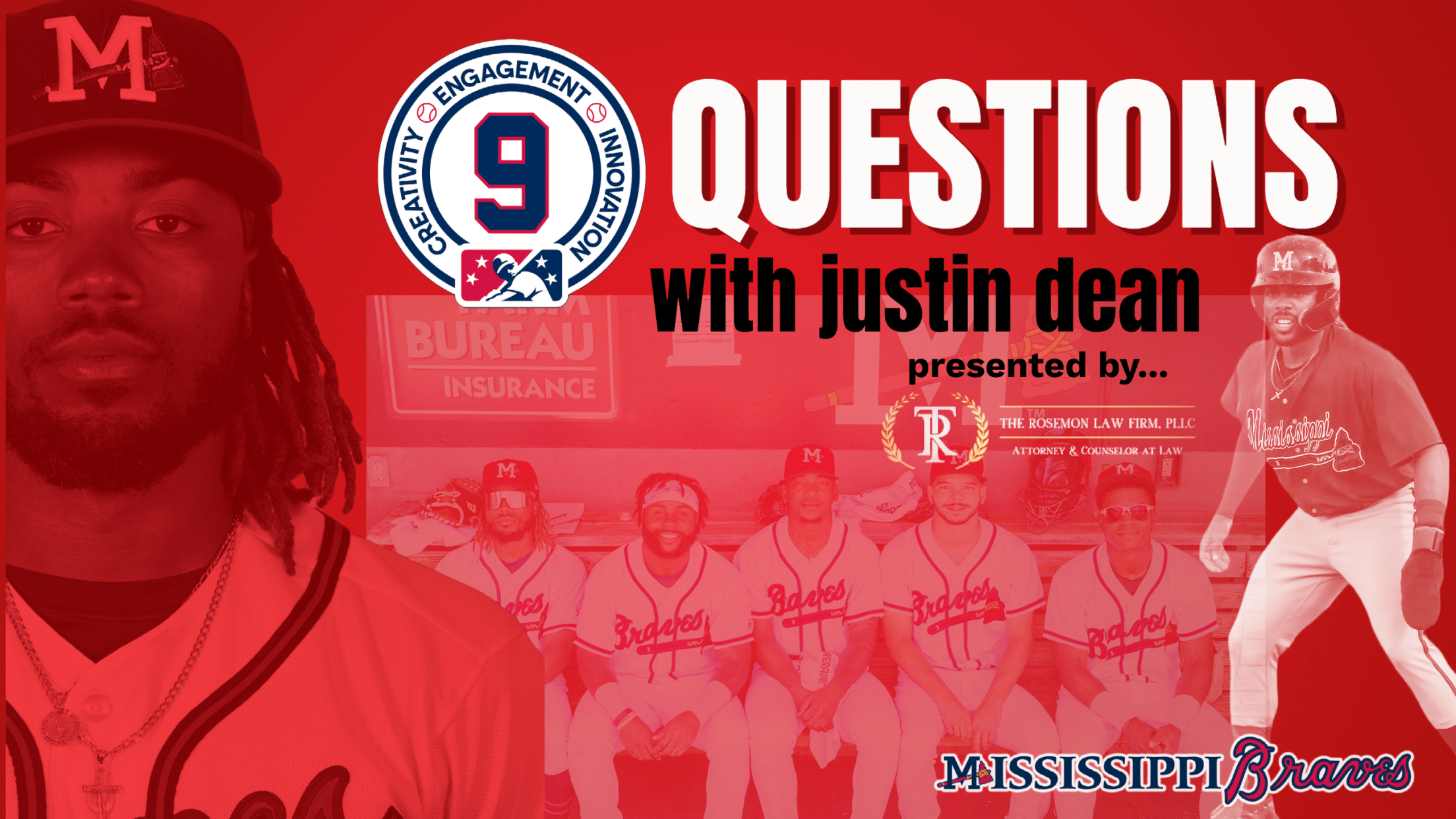 Justin Dean has had a busy but productive offseason leading into the 2023 season. The 26-year-old outfielder from Mauldin, SC, played for Caneros de Los Mochis in the Pacific Winer League, guiding them to a Mexican Pacific Winter League title and a berth in the Caribbean Series. He hit .343
Justin Dean has had a busy but productive offseason leading into the 2023 season. The 26-year-old outfielder from Mauldin, SC, played for Caneros de Los Mochis in the Pacific Winer League, guiding them to a Mexican Pacific Winter League title and a berth in the Caribbean Series. He hit .343 with two homers, 34 RBI, and 16 stolen bases in 67 games. Dean also received a major league invite to spring training.
The M-Braves outfielder has had an interesting road as a player, going from Division II to late-round pick, and is gaining name recognition with fans in different parts of North America.
Here is the conversation for Minor League Baseball's "The Nine" initiative:
1. It's been a busy but successful off-season for you. Talk about your decision to play winter ball and the run with Caneros de Los Mochis to win the Mexican Pacific Winter League to the Caribbean series.
JD: Yeah, this off-season was definitely a grind at some points, but on the other side, it was so much more rewarding than I thought it would be. I wanted to go to winter ball for more game reps and at-bats. I wanted to sure up my approach at the plate because many of my struggles from the previous year came from overthinking from a mechanical standpoint while in the game. So I wanted to develop a plan that works for me and stick to it. I didn't know if I would stay for the whole year because it's a lot of playing, but the guys on that team were so easy to be around, and we were playing so well together; I couldn't leave before we at least tried to finish the job. We ended up winning the championship and ending some tough previous years for the Cañeros, and it felt amazing. After that, our team got to represent Mexico in the Caribbean series in Caracas, Venezuela, which was another amazing experience. So I feel like I made the right decision with my winter.
2. You get the major league invite to spring training. How confident are you to compete for a spot?
JD: I'm super excited and thankful for the opportunity for big league camp. I'm very confident in the competition for a spot. If I control what I can and play my game, there isn't a better fit for the team.
3. You're known to have that lively, infectious energy. Where does that come from?
JD: My energy is made up of several things. I know God made me this way, so I try to be a light to whoever I come across and represent him well. I also get to do what I love daily, so I'm always excited to be around ball. Mix that in with some people I'm comfortable with and can be myself around, and you've got a great recipe for success.
4. Growing up in Mauldin, South Carolina, who were some of your idols and inspirations growing up in or out of sports?
JD: Guys like Cory Thompson, Wes Rodgers, and Grant Bodison were huge names in our area growing up. Seeing them play and hearing all the good things they would do, I wanted to be just like them cause I was friends with them, and it made it more realistic to me that I could do it too.
5. You attended Leonor-Ryne, an NCAA Division II school in North Carolina, and were drafted by the Braves in the 17th round. What would you say to other players at smaller schools that will help them believe the dream to play baseball at the highest level is attainable?
JD: Yeah, I'm forever grateful to Lenoir-Rhyne for giving me a walk-on opportunity to play college baseball because it was my only chance straight out of high school. I would tell other small school guys that anything is possible and keep going. At first, I was caught up in the big school hype and didn't think I would ever get noticed, and I even questioned if I deserved it. But if you are putting up consistent numbers and playing hard, I promise they will hear about you and find you.
6) Baseball wasn't necessarily your favorite sport growing up. Talk about the choice to give up skateboarding.
JD: I fell in love with skateboarding really fast, I want to say, around the 6th grade. I think I was burnt out with travel baseball at the time. My parents and I decided I needed a break for a year because it was expensive for us, and we have been going at it from age 7-13. After that, I had a ton of free time, skateboarding with my friends every day and practicing early morning and late night in the garage. Close to the end of that year off, I told my parents I didn't want to go back to baseball and wanted to go pro in skateboarding. My mom was fine with it, but my dad wasn't really having it. He said enjoy the skateboard, but you're a baseball player. So in the fall of my freshman year of high school, I started working on baseball again because I wanted to try out for the team. Immediately once I started practicing again, I realized how much I missed and loved the game, so I was ready to take it seriously again. I knew I was likely to get hurt skating and didn't want that to be the reason I didn't make the team, so I quit, but it will always have a place in my heart.
7. Last season, the M-Braves honored the Tougaloo Nine and wore special jerseys to honor the nine individuals and their families for their contributions to the civil rights movement. What was being a part of that like for you?
JD: Tougaloo 9 Night was a great experience. Until a week before the game, I had never been taught or heard of this specific event in the civil rights movement. Of course, many people have heard about Rosa Parks on the bus or some of the marches that took place, but it was nice to learn something completely new about the movement and see some of the people who made the sacrifice in the flesh.
8. You have been significantly involved in Mississippi's Gold Glove Charity nights the past few seasons. You wore Max Brayden Fullen's jersey and created an excellent relationship. He, unfortunately, lost his battle with cancer this off-season. What are some ways he inspired you?
JD: The work that the Gold Glove Charity does is amazing, and a lot of the players and staff love when they come in. Meeting Max and spending time with him helped put a bit of perspective on life and how good many of us have it. He inspired me to genuinely enjoy the gift of life and to spread love because his was cut so short, and nothing could be done. At times we're so worried about our careers and other small things we forget the simple gift of being alive. I was honored to wear his name on my jersey.
9. Last season, the M-Braves featured six black players on the roster, which is way over the percentage we see overall in pro ball. How can we continue to get that number higher in your mind?
JD: Until last year, the most black players I've ever had on a team at one time is three. Most of us immediately noticed it when we all got together because it's just something you don't see much in this sport. The easiest way to attract more people of all colors to the game is by letting the players have more fun while playing the game, which we are starting to do. It's not a quick fix, but it's one of the easiest. When a young kid sees Lebron slam dunk and hit his celebration or sees OBJ get in the end zone and have a dance ready, they want to do that immediately. In baseball, for so long, the game has been hit your homer, jog with a straight face, and act like you've been there before. The younger generation isn't really attaching to that anymore. Baseball has to build a more fun culture around it and do a good job of marketing that fun to its viewers.
The Mississippi Braves open the 2023 season on Friday, April 7, at Trustmark Park against the Biloxi Shuckers.