Biscuits Survive Late M-Braves Rally, 3-2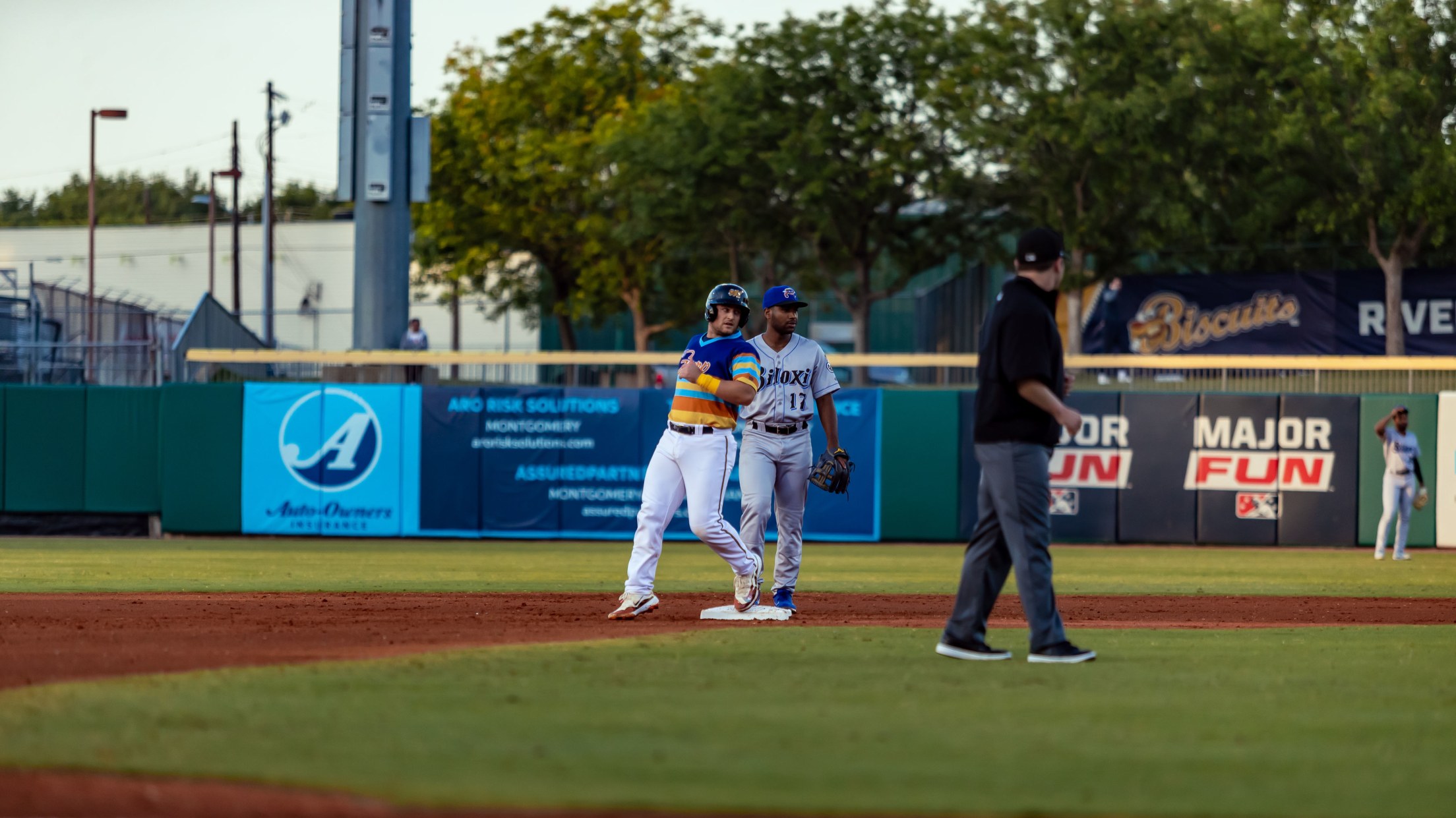 MONTGOMERY Ala. - The Biscuits (19-18) saw their three-run lead cut down to just one in the seventh inning, but the M-Braves (16-20) were unable to get any more runs in a 3-2 victory on Friday night at Riverwalk Stadium. Tonight was Montgomery's turn to break a scoreless streak, and
MONTGOMERY Ala. - The Biscuits (19-18) saw their three-run lead cut down to just one in the seventh inning, but the M-Braves (16-20) were unable to get any more runs in a 3-2 victory on Friday night at Riverwalk Stadium.
Tonight was Montgomery's turn to break a scoreless streak, and it would not take long as Ronny Simon reached home off a wild pitch from Domingo Robles (3-2) to make the score 1-0 at the end of the first.
Both teams went ice cold from there, but a bizarre sequence in the fifth inning would extend the lead for Montgomery. With two outs, along with runners on first and third, Robles balked to make the score 2-0. The lefty advanced Matthew Dyer to third with a second balk before balking once again, making the score 3-0 entering the sixth.
Robles was relieved by Coleman Huntley III after the sequence, finishing the evening with six strikeouts in 4.2 innings pitched. On the flip side, Carlos Garcia entered the game for Anthony Molina (1-2), who finished his eighth start of the season with seven strikeouts while allowing only two hits in six innings pitched.
Mississippi broke the cold streak in the top of the seventh after Cade Bunnell hit an RBI-single into center field, but the Braves were not done there. Beau Philip recorded a sacrifice fly to center field, bringing in Drew Lugbauer to cut the Biscuits' lead to one.
Austin Shenton reached base for the 16th-consecutive game after being walked in the seventh inning, claiming the team-high this season over Evan Edwards, who had a 15-game on-base streak earlier this season.
After a solid one-two-three inning for Chris Gau, the right-hander was tasked with closing the game for the Biscuits. With the score 3-2, Gau struck out Philip to secure the second victory of the series for Montgomery.
The Biscuits and the Braves enter the penultimate matchup of the six-game series on Saturday, May 20, with first pitch scheduled for 6:05 PM CT. It is Family Faith Night including MAX Fireworks, along with the pitching matchup of Nathan Wiles (0-1) for the Biscuits against Alan Rangel (1-3) for the Braves.
The series will close with a Lil' Crumbs Hat Giveaway along with Bark in the Park on Sunday, May 21st.