Blue Wahoos Hold Off Biscuits, 5-2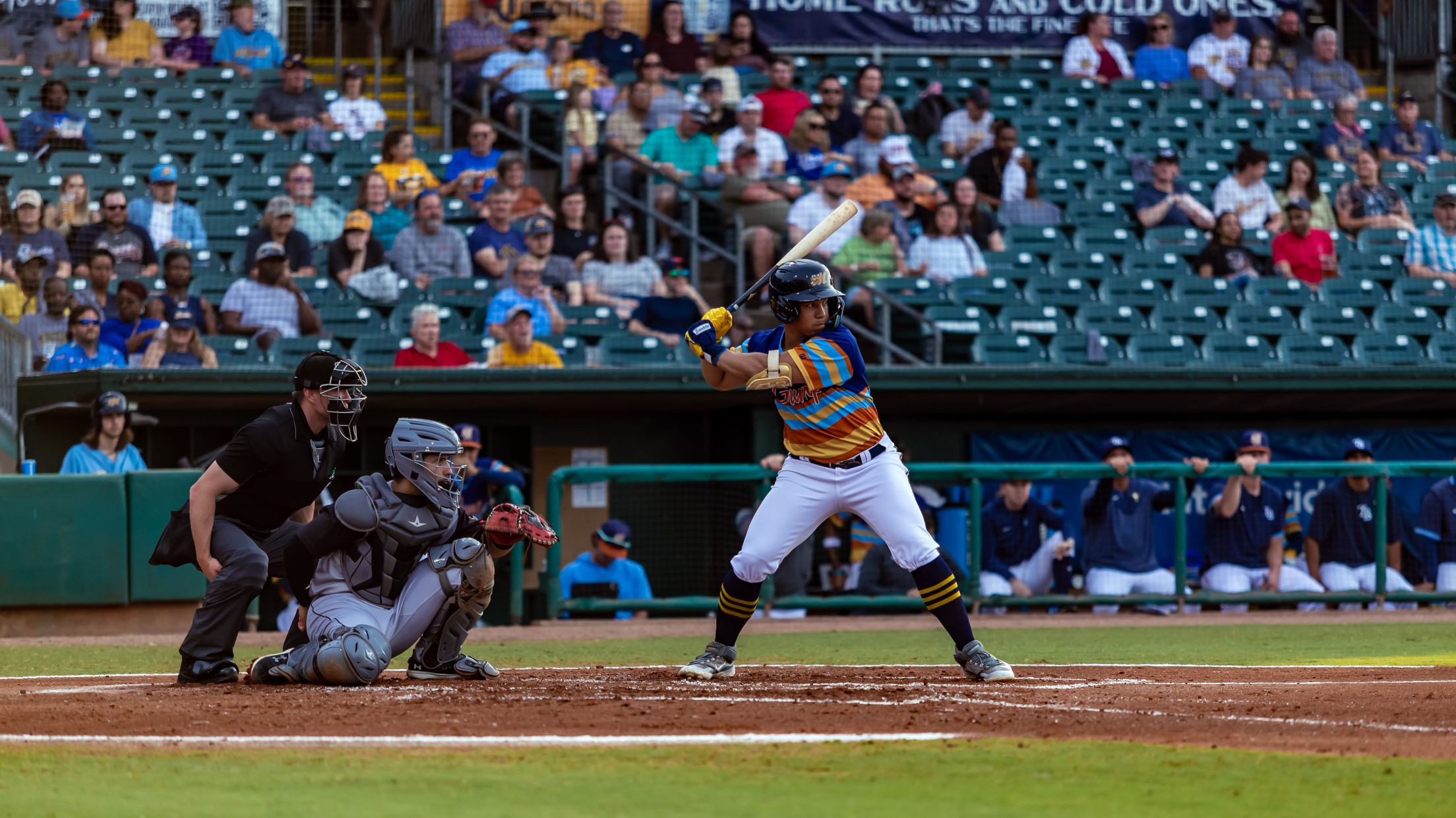 PENSACOLA, Fla. – The Biscuits (26-26) had scoring opportunities late in the ballgame, but the Pensacola Blue Wahoos (32-20) were able to hold off the rally and claim a 5-2 victory on Tuesday night at Blue Wahoos Stadium. Pensacola found success early in Anthony Molina's (2-4) 11th start of the
PENSACOLA, Fla. – The Biscuits (26-26) had scoring opportunities late in the ballgame, but the Pensacola Blue Wahoos (32-20) were able to hold off the rally and claim a 5-2 victory on Tuesday night at Blue Wahoos Stadium.
Pensacola found success early in Anthony Molina's (2-4) 11th start of the season after a sacrifice fly from Cody Morrissette and a two-run homer from Griffin Conine made the score 3-0 in the bottom of the second.
On the flip side, Montgomery struggled early against Luis Palacios (4-1) in his fifth start of the season. Palacios held the Biscuits hitless in the first three innings, but momentum would shift going into the fourth.
Diego Infante doubled on a sharp line drive to the left field wall, bringing in Junior Caminero to cut the deficit down to two runs. In the next at-bat, Heriberto Hernandez beat the throw to first for an RBI-single to make the score 3-2.
With the two RBIs, Infante and Hernandez have now accounted for eight of the nine RBIs in Montgomery's last two games.
The Blue Wahoos were able to extend their lead in the sixth and seventh innings after a pair of wild pitches from Graeme Stinson allowed Troy Johnston and Nasim Nunez to score.
Despite being down by three runs, the Biscuits did have a chance to mount a comeback. Junior Caminero walked and Mason Auer recorded a single to put two runners on base with only one out. However, Infante and Hernandez were unable to capitalize this time, with the former lining out and the latter being sent down on strikes.
After keeping the deficit at three entering the ninth, Montgomery had another chance to make a rally. Blake Hunt led off with a double followed by a single from Gionti Turner. With runners at first and third, a Ronny Simon groundout would be followed by a double play to end the ballgame.
Palacios earned his fourth win of the season while Molina recorded his fourth loss. Molina also finished the night with five hits and four runs allowed, along with two walks and three strikeouts.
The Biscuits and the Blue Wahoos return for the second matchup of a six-game series on Wednesday, June 7 and features a pitching matchup of Antonio Jimenez (0-0) for the Biscuits against Evan Fitterer (4-1) for Pensacola.
The Biscuits return to Riverwalk Stadium on June 13 to play the Biloxi Shuckers. The series will include a Hawaiian Shirt Giveaway presented by RTJ at Capitol Hill on Thirsty Thursday, June 15; Ladies Night on Friday, June 16; Outdoors Night presented by Outdoor Alabama feat. Specialty Jerseys and Max Fireworks on Saturday, June 17th; and a Father's Day Pint Glass Giveaway presented by Common Bond Brewers and Bark in the Park on Sunday, June 18th.