Blue Wahoos Walk Off Biscuits, 6-4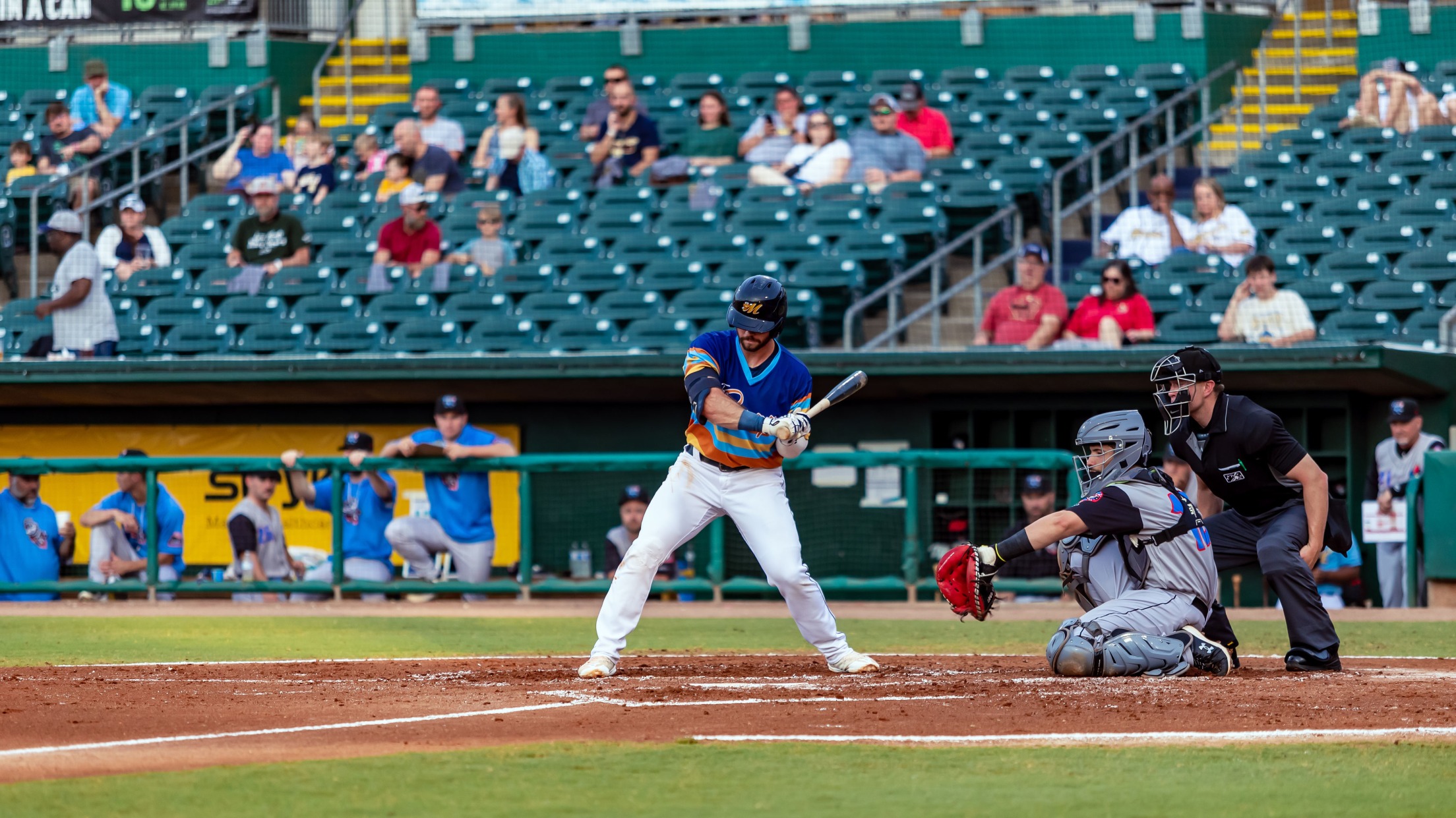 PENSACOLA, Fla – The Biscuits (27-28) tied the game late in the top of the ninth, but Dalvy Rosario hit a walk-off two-run homer to lift the Pensacola Blue Wahoos (34-21) to a 6-4 victory on Friday night at Blue Wahoos Stadium. Victor Muñoz and Patrick Monteverde both started strong
PENSACOLA, Fla – The Biscuits (27-28) tied the game late in the top of the ninth, but Dalvy Rosario hit a walk-off two-run homer to lift the Pensacola Blue Wahoos (34-21) to a 6-4 victory on Friday night at Blue Wahoos Stadium.
Victor Muñoz and Patrick Monteverde both started strong in their respective starts, with neither allowing a run until the third inning. Jose Devers put the first two runs on the board for Pensacola with a home run behind right field to make the score 2-0.
The top of the fourth saw Logan Driscoll and Mason Auer hit back-to-back doubles to make the score 2-1. However, An RBI-double from Cobie Fletcher-Vance extended the Blue Wahoos' lead back to two runs.
Auer now has an eight-game hitting streak following his RBI-double, which is the second-longest by a Biscuit this season and one short of tying Ronny Simon for the team lead. It is also tied for the second-longest active streak in the Southern League.
Devers struck again in the bottom of the fifth with another two-run shot behind right field, extending Pensacola's lead to 4-1.
Monteverde finished the evening with only two hits allowed and one earned run along with nine strikeouts in six innings pitched. His absence on the mound would immediately be felt in the seventh inning, as Diego Infante put Montgomery right back in the ballgame with a two-run shot over the center field wall to make the score 4-3.
Neither side could score going into the ninth inning, but with one out remaining in the top frame, Evan Edwards blasted a 461 ft. solo-homer over the scoreboard in right field to tie the game. The Blue Wahoos had a runner at third base with two outs in the bottom of the inning, but it would not matter as Rosario walked off the game with a two-run homer.
Brady Puckett (1-1) earned his first win of the season, while Graeme Stinson (1-4) recorded his fourth loss. Muñoz finished the evening with three runs allowed off six hits and two strikeouts in 4.2 innings pitched.
The Biscuits and the Blue Wahoos will play in the penultimate matchup of the six-game series on Saturday, June 10 with a featured pitching matchup of Mason Montgomery (0-2) for the Biscuits against Jonathan Bermudez (0-2) for Pensacola.
The Biscuits return to Riverwalk Stadium on June 13 to play the Biloxi Shuckers. The series will include a Hawaiian Shirt Giveaway presented by RTJ at Capitol Hill on Thirsty Thursday, June 15; Ladies Night on Friday, June 16; Outdoors Night presented by Outdoor Alabama feat. Specialty Jerseys and Max Fireworks on Saturday, June 17th; and a Father's Day Pint Glass Giveaway presented by Common Bond Brewers and Bark in the Park on Sunday, June 18th.