Birds Blowout Fireflies to Clinch Series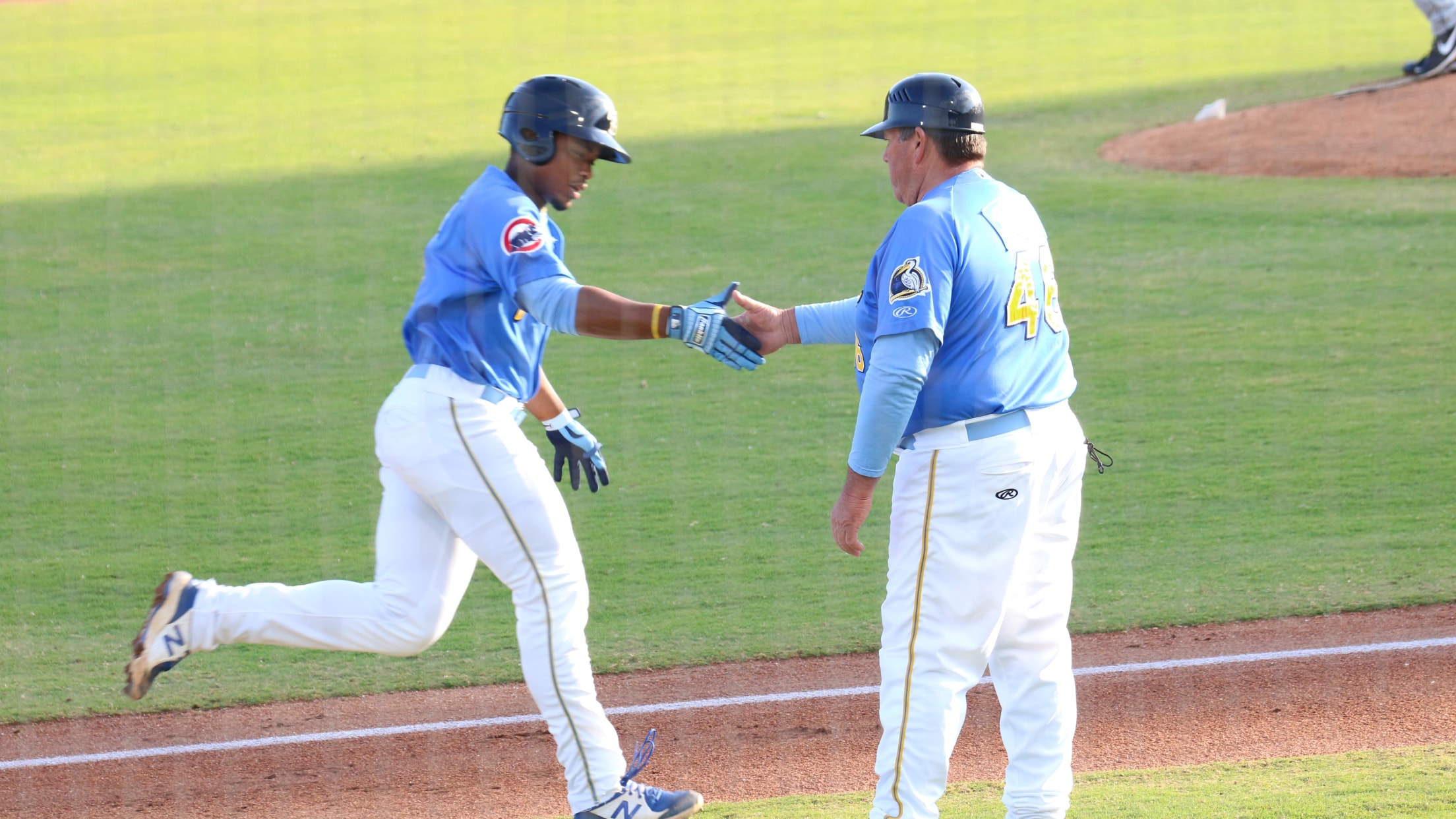 (Larry Kave/Myrtle Beach Pelicans)
The Pelicans have won three of the first four series this season
The Pelicans have won three of the first four series this season
By Sam Weiderhaft
With another double-digit hitting performance, the Myrtle Beach Pelicans won their fourth game of the week with a 9-1 route against the Columbia Fireflies on Saturday night. The win was Myrtle Beach's 11th in their last 13 games and pushed them to a 14-6 record. Columbia fell to 7-13 with their second loss in a row.
Four Pelicans collected multiple hits with BJ Murray Jr. (2-3, HR, 2B, RBI) powering the team with a pair of extra-base hits. Pete Crow-Armstrong (2-5, 2B, RBI) and Juan Mora (2-5, 3B, RBI, R) tacked on two of the five extra-base hits with each bringing home a run in the game. Liam Spence (1-3, 2 RBI, R) led the Birds with two runs batted in on a single and a groundout.
Luis Devers (1-2) became the third starting pitcher in a row for the Pelicans to last five innings. He let up just two runs in his five scoreless frames with a lone walk and five strikeouts. Jarod Wright gave up the earned run in his 2 2/3 and Sheldon Reed closed the game out with three strikeouts against four batters faced.
The Fireflies lineup came out flat with just five hits and one run. Enrique Valdez (1-3, 2B, RBI) brought home the only runner with a double in the seventh. River Town (2-4) was the only Firefly with multiple hits out of the leadoff spot.
Columbia starting pitcher Ben Hernandez (0-1) took the loss with five runs, three earned off seven hits in his 3 1/3 innings. As a team, the Fireflies committed two more errors, bringing their total for the series up to 15.
The Pelicans spread their nine runs across five innings starting in the second. After Hernandez retired the first two batters of the inning, Murray lifted a home run over the left-field wall for his first of the season. Ezequiel Pagan followed by rolling a single up the middle and stealing second in the next at-bat. Spence knocked him in with a slow-rolling ground ball to Francis Grullon at second to make it 2-0.
Another pair of Pelicans crossed home in the bottom of the third. Mora led off by reaching base on a hard-hit grounder to first that bounced off of Guillermo Quintana. After James Triantos popped out for the first out, Kevin Alcantara hit a triple to right field past Jaswel De Los Santos to bring in Mora. Alcantara came home on Malcom Quintero's sacrifice fly to left to make it a 4-0 Birds lead.
Murray continued his solid game by leading off the bottom of the fourth inning with a double off the right-field wall. Pagan hit an infield single to first in the next at-bat to place runners on the corners. After Spence struck out and Marlin Willis came on in relief, Crow-Armstrong smashed a double to deep center to score Murray for the fifth unanswered run for Myrtle Beach.
Another run came in the bottom of the sixth for Myrtle Beach. Spence walked with one out and swiped second on a stolen base. Crow-Armstrong followed with an infield single and Mora singled off new pitcher Isaiah Henry to bring in Spence for a 6-0 Birds lead.
Wright walked the first two batters of the Fireflies seventh before a mound visit. After striking out Omar Hernandez, Valdez doubled to center to bring in Quintana for Columbia's first run of the game.
The Pelicans responded with three more runs in the bottom of the seventh. Quintero singled to start the frame and came in to score on two wild pitches by Henry and a groundout by Miguel Fabrizio. Murray drew a walk and Pagan reached on a fielder's choice to put two runners on. Both moved up on another wild pitch by Henry and Murray scored on Spence's groundout to third. Henry threw the fourth wild pitch of the inning to score Pagan and push the Myrtle Beach lead to 9-1.
Sunday will feature the final game of the series between the Pelicans and Fireflies. First pitch is scheduled for 6:05 p.m.