Isotopes Top Dodgers in Extras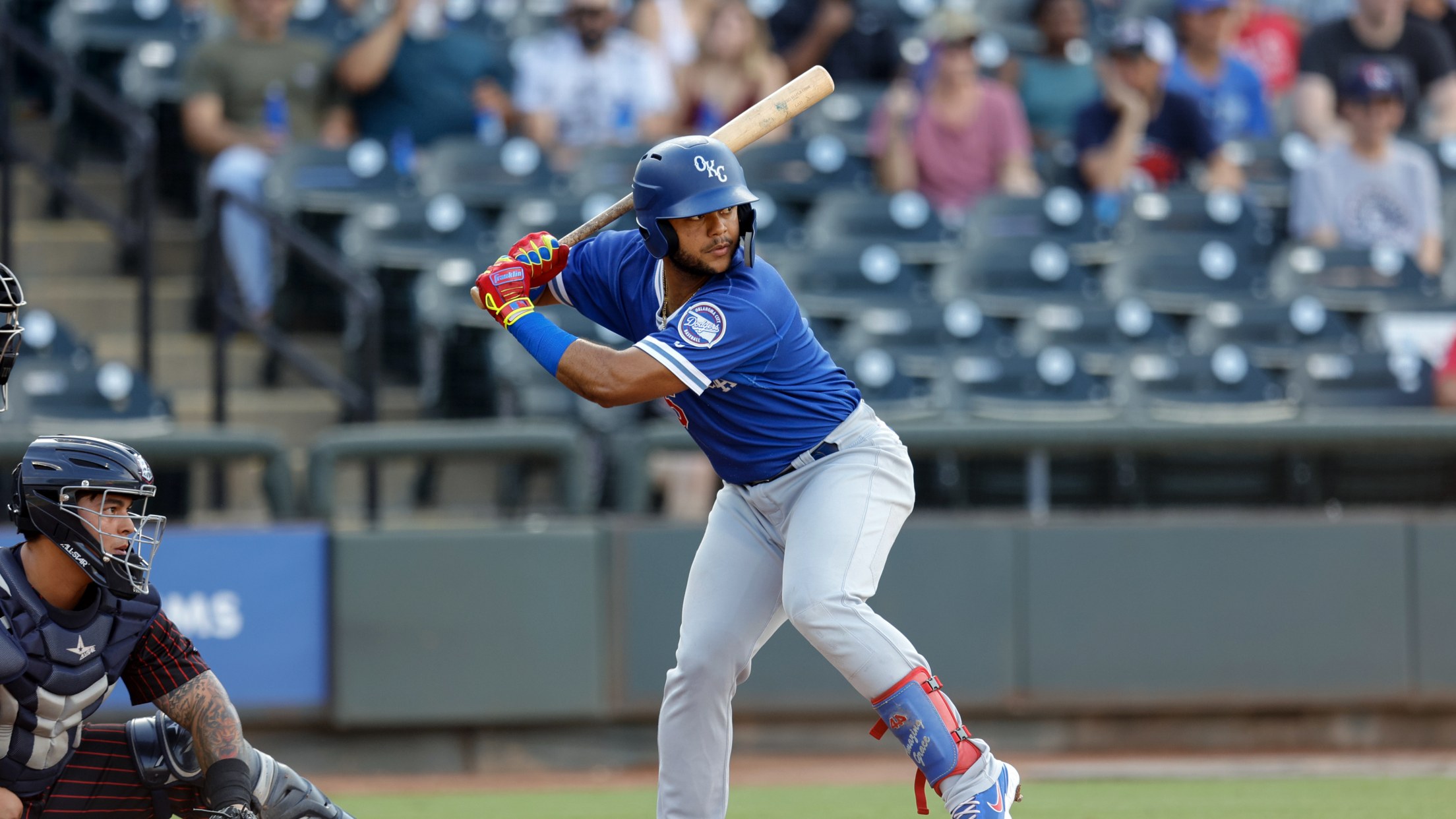 Hamlet Marte collected three extra-base hits Thursday night (Eddie Kelly/ProLook Photos)
Albuquerque Isotopes – 8 OKC Dodgers – 7 (10 innings) Thursday, Aug. 5, 2021 – Rio Grande Credit Union Field at Isotopes Park – Albuquerque, N.M. Game Summary: The Oklahoma City Dodgers overcame a late five-run deficit and took their first lead of the night in the 10th inning, but
Albuquerque Isotopes – 8
OKC Dodgers – 7
(10 innings)
Thursday, Aug. 5, 2021 – Rio Grande Credit Union Field at Isotopes Park – Albuquerque, N.M.
Game Summary: The Oklahoma City Dodgers overcame a late five-run deficit and took their first lead of the night in the 10th inning, but the Albuquerque Isotopes scored twice in the bottom of the 10th inning to win, 8-7, Thursday night at Rio Grande Credit Union Field. The Dodgers (41-38) were down, 6-1, heading into the seventh inning, but scored three runs to cut the deficit to two. Drew Avans connected on a solo homer, and Zach McKinstry and Matt Davidson each provided RBI's during the inning. Then in the eighth inning, Hamlet Marte hit a game-tying, two-run homer to center field for his third extra-base hit of the night. After neither team scored in the ninth, the Dodgers quickly took their first lead of the night when Yoshi Tsutsugo started the inning with a RBI double to score the automatic runner from second base. However, after Tsutsugo was at second base with none out and third base with one out, the Dodgers could not bring him home. The first batter of the bottom of the 10th inning was retired, but Taylor Snyder tied the game with a double and Dustin Garneau won the game for the Isotopes (36-42) on the very next pitch with a RBI single.
Of Note:
-With the loss, the Dodgers dropped to 1-4 in extra innings this season. Thursday's defeat also marked the first time all season the Dodgers carried a lead into their opponent's final at-bat and the opponent even as much as tied the game. It was OKC's third walk-off loss of the season and second in Albuquerque.
-Each team finished with eight extra-base hits at hitter-friendly Isotopes Park. It was the Dodgers' fourth game this season with eight or more extra-base hits, but also tied the team's season-high in extra-base hits allowed. OKC notched five doubles, one triple and two home runs. The Isotopes tallied five doubles, two triples and one home run.
-Hamlet Marte went 3-for-4 and finished a single shy of the cycle. His three hits set a season high and was the first game of his career with three extra-base hits. Marte tripled in the fifth inning, doubled in the seventh and homered in the eighth. He became the fifth OKC player this season with three or more extra-base hits in a game.
-Yoshi Tsutsugo finished 2-for-5 with two RBI, including a go-ahead RBI double in the 10th inning. Tsutsugo has now reached base safely in 19 of his last 21 games, batting .338 (24x71) with six homers, six doubles, 20 RBI and 20 runs scored. Over his last six games, Tsutsugo has nine hits, including a homer, five doubles, four multi-hit games, eight RBI, seven runs scored and four walks.
-Matt Davidson went 3-for-5 with two doubles and tallied his fourth game of the season with three or more hits. He picked up one RBI and scored twice.
-Cristian Santana extended his hitting streak to a season-high 10 games, going 1-for-5. During the hitting streak, Santana is 18-for-43 (.419) with nine RBI and seven multi-hit games. He has tallied two or more hits in six of his last eight games, seven of his last 10 games and eight of his last 12 games. He has also hit safely in 20 of his last 22 starts.
-Reliever Justin Bruihl threw 2.0 scoreless innings between the eighth and ninth, keeping the game tied. He allowed one hit and one intentional walk with three strikeouts. Bruihl has not allowed an earned run in his last 10 outings since July 3 (13.0 IP). Over the 10-game stretch, he's allowed nine hits with four walks and 15 strikeouts.
-The Dodgers scored at least seven runs for a fourth consecutive game and have scored 30 runs over the four contests with 22 extra-base hits.
-The Dodgers had a streak of six consecutive games scoring first and scoring in the first or second inning come to an end. With Thursday's loss, the Dodgers have now lost seven straight games when their opponent scored first.
What's Next: The Dodgers and Isotopes play next at 7:35 p.m. CT Friday at Isotopes Park. Live radio coverage of each OKC Dodgers game begins 15 minutes before first pitch on AM 1340 "The Game," 1340thegame.com and through the free iHeartRadio or MiLB First Pitch apps. All OKC Dodgers games are also available streamed live on MiLB.TV with a subscription.