Biscuits' burger contest a bang for community
Rays' Double-A affiliate helps raise money for local charities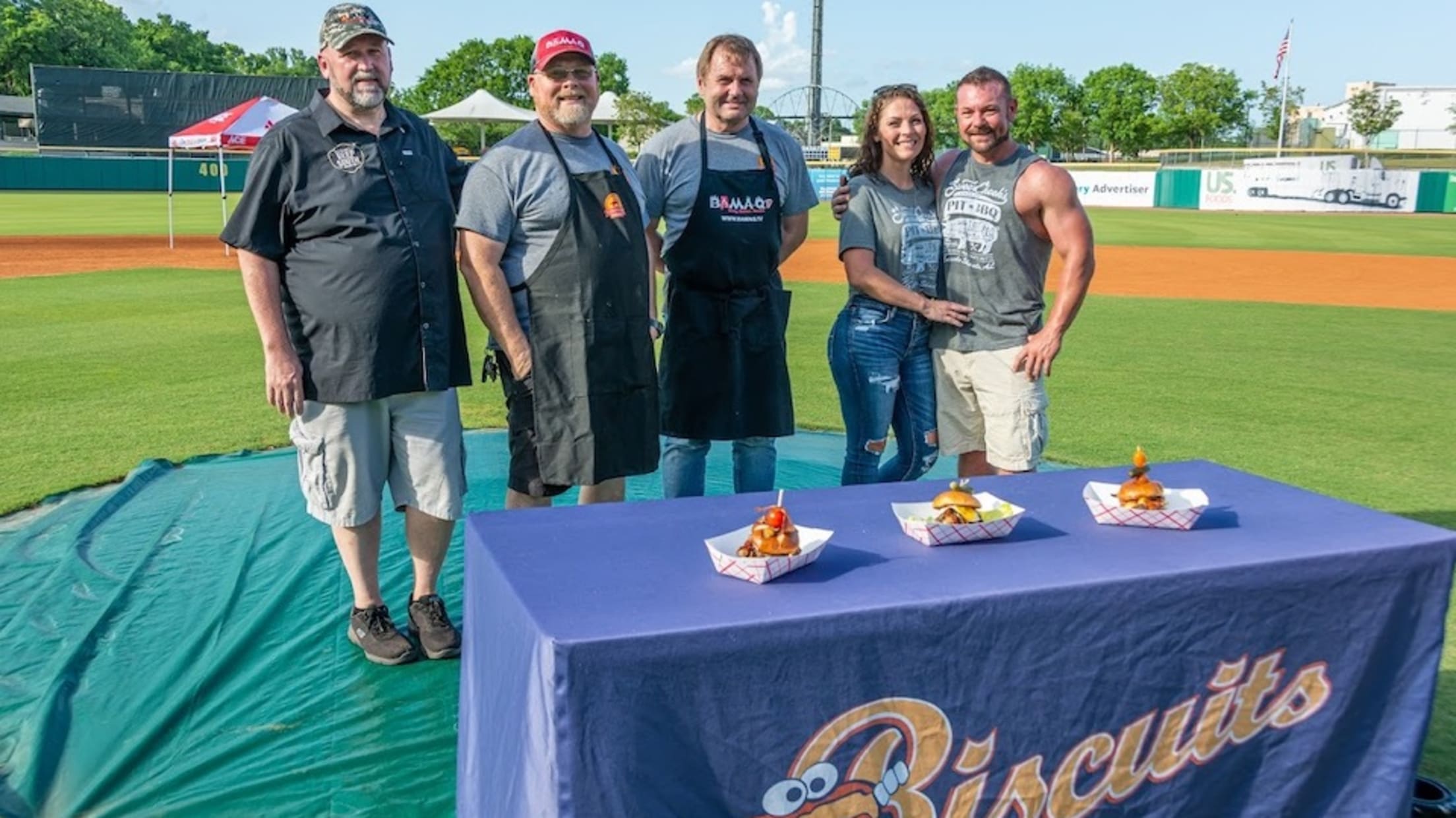 Competitors took part in the Bicuits' Burgers Up competition to raise money for COVID-19 relief. (Montgomery Biscuits)
If you had two of the region's top five burger chefs at your disposal, what would you do? That was the pleasant problem facing Montgomery Biscuits general manager Mike Murphy. With the Southern League team's season on hold, Murphy reached out to a community partner for suggestions on how to
If you had two of the region's top five burger chefs at your disposal, what would you do? That was the pleasant problem facing Montgomery Biscuits general manager Mike Murphy.
With the Southern League team's season on hold, Murphy reached out to a community partner for suggestions on how to use Riverwalk Stadium for a good cause.
"It was borne out of just a random conversation with this community partner that we called Bama-Q TV," Murphy said. "So Bama-Q TV is a cooking competition TV show with part of the Discovery Network. They're based out of Montgomery. We had some theme nights playing with them for later in the season. So this year was the year of chicken.
"We had planned with Bama-Q to bring their cook teams out here and do a wings competition. He said, 'Hey, we've been doing these virtual cook-off fundraiser things.' And it kind of went from there, I said, 'What if we did something out of the ballpark?'"
Three teams -- two from northern Alabama and one from Atlanta -- had taken part in the Bama-Q contests before and, with a change to the burger, some mighty competition was set up. The winner? Morgan Creek of Sweet Cheeks Pit BBQ, who won best burger in the world honors last year in Texas.
The club brought in propane grills from Blue Rhino Razor Griddles, a Bama-Q partner, and set up one at each base: to provide appealing visuals and maintain a safe distance between the competitors.
The cooks brought the beef. And it wasn't the run-of-the-mill kind you find at your local supermarket.
"First and foremost, they all say, 'Oh, it starts with the beef.'" Murphy said. "They had this place called Hassell Cattle [Company] out of Texas that donated Wagyu beef for it."
Then the burgers got even more exotic.
"I think that's some pretty high-quality stuff, but the guy who won was like, 'Oh, yeah, I put a fried egg on top,'" Murphy said. "He's like, 'No, that's a quail egg.' Where do you get quail eggs? He's like, 'I have quail.' He snuck quail eggs in somehow. So, yeah, they were good."
Of course, they were.
It was a great optical for the club, since the competition was broadcast on Facebook for folks stuck at home, unable to come to the ballpark.
"Hey, you're not in the ballpark, but sit at home and watch it and have that feel that you're in the ballpark and think something's actually happening on the field," Murphy said.
While the burgers were part of the attraction, the main thrust of the event was to raise money for local COVID-19 efforts. The club, using the Live Source app, auctioned specialty jerseys from years past and other items, including unique ballpark experiences, that had proven popular among bidders in the past.
"[The proceeds] went to the Biscuits Charitable Foundations," Murphy explained. "We have our own 501(c)(3) that we started about two years ago now. It's set up for general fundraising. So we're still working with some of our nonprofit partners in the community to see where the most need is. Right now, we've raised about $2,700 through it, so we want to make sure that that $2,700 goes as far as possible. So making sure that we're giving it to the organizations that are going to be able to stretch it the furthest."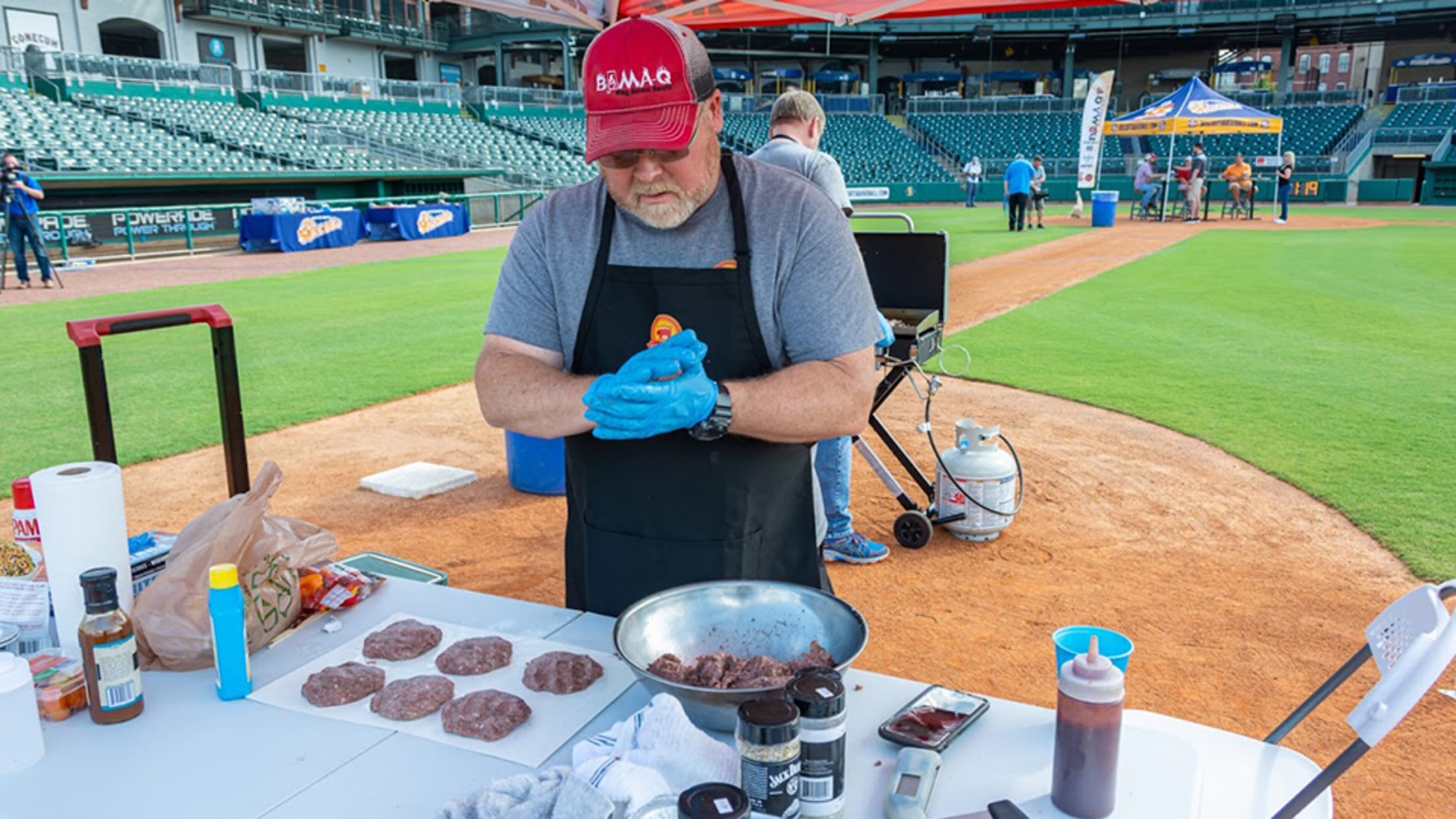 It also gave one of the Biscuits partners, who served as a judge during the competition, a platform to discuss what has been happening during the quarantine and now that Alabama restaurants have started to reopen.
"We're doing a cooking competition, we need to highlight the fact that restaurants are closed," Murphy said. "The restaurants had opened up a week or two before we actually did it. So he was able to speak on both sides of it. 'Hey, this is how we were impacted. While restaurants were closed, this is what we're going through now. Just want everybody to know we're open and ready to go.'"
Another judge, a representative of the Alabama Cattlemen's Association, helped stage another important event the night before the competition.
"We actually did a food donation to frontline workers," Murphy said. "With our healthcare partner, Baptist Health, right here in town, one of the larger hospital systems in town, we were able to donate 150 meals to one hospital [for] their night shifts. And like I said, I think hopefully we made their night, for those night-shift workers. I know it's something that we have a great relationship with Baptist Health. And they said, 'Hey, here's the group that has the most need.'"
And, like with the burgers prepared during the competition, the steak sandwiches that were served to the workers were top notch.
"They had 150 rib eye steaks and these things were massive. They were probably an inch thick and four inches wide," Murphy said. "And they said, 'Oh, we'll make sandwiches with them.' Honestly, we were thinking like, 'OK, they're going to cook these steaks and we're going to chop them up like a Philly cheesesteak that we'd get in the ballpark.' And they're like, no.
"We just cooked them and threw them on a bun. So you have this huge rib eye steak hanging off all sides of a hoagie roll."
Insert the drooling Homer Simpson GIF here.
Both events were major successes and, in lieu of actual baseball games, put Riverwalk Stadium to good use for good causes.
"It was a great thing," Murphy said.