Brickhouse's Three-Run Blast Fuels Hops to 6-5 Win
Hops Continue Dominance Over Canadians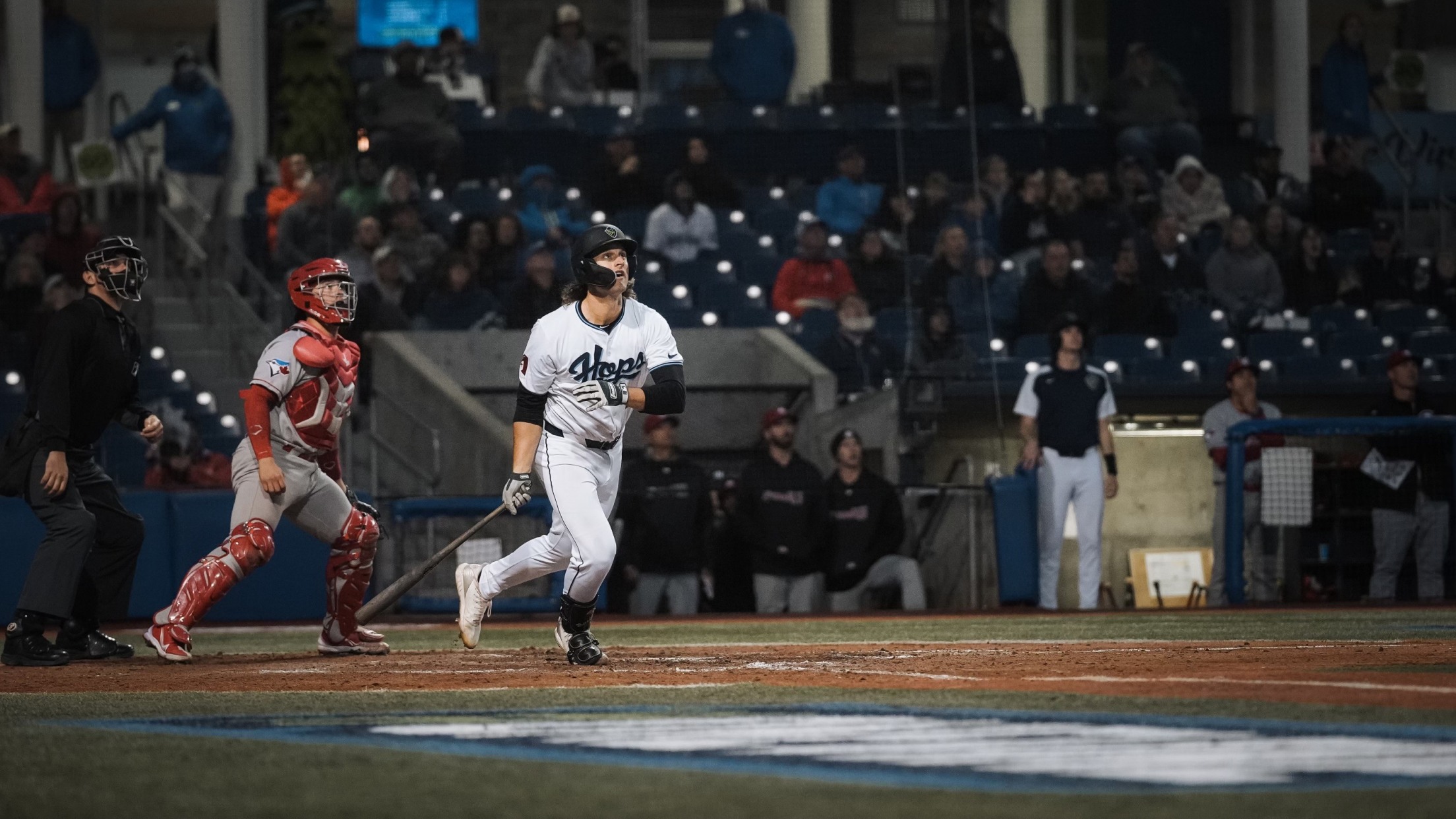 Hillsboro, OR (May 28, 2022) - Ross Carver made his return to the mound after a brief stint on the injured list and was fantastic once again. Carver only allowed two hits over five innings of work. Tim Tawa continued to fill the stat sheet, including a two-RBI triple and
Hillsboro, OR (May 28, 2022) - Ross Carver made his return to the mound after a brief stint on the injured list and was fantastic once again. Carver only allowed two hits over five innings of work. Tim Tawa continued to fill the stat sheet, including a two-RBI triple and steal of home. Harrison Ray had a three-RBI triple to give Vancouver their first lead of the game, but that would not last for long. Spencer Brickhouse blasted the Hops' third three-run home run of the series, which ended up being the difference in a 6-5 victory. With the win today, Hillsboro has now won their last four home series'.
The Canadians got a runner to third base in each of the first two innings, but Carver would escape without giving up a run.
Shane Muntz was hit-by-pitch to start the third inning, with the next hitter, Danny Oriente, reaching base via walk. Oriente has now walked once in all five games of the series. Muntz and Oriente completed a double-steal, with Muntz picking up his first career professional stolen base. Tawa crushed a ball to left field that got caught up in the wind, hitting it off the top of the wall and bringing in two runs. The triple was his first of the season and 11th extra-base hit. Tawa wasn't done there, as he stole home on a perfect read of a soft throw by the catcher Sosa to the pitcher Gregory. Hillsboro had a 3-0 lead after three.
Hunter Gregory started the game for Vancouver and pitched three innings, allowing two hits and three runs.
Hillsboro starter Ross Carver threw 67 pitches over five innings, only allowing two hits while striking out five. Carver has a 1.62 ERA and 0.87 WHIP over 33.1 innings this season, allowing just a .149 average against.
On his 25th birthday, Bobby Ay pitched a scoreless sixth inning, working around a pair of walks. The Hops lead would remain 3-0.
Vancouver scratched across a run in the seventh against Hugh Fisher, after a hit-by-pitch and pair of singles.
Fisher would come back out for the eighth inning, where things took a turn for the worse. Addison Barger singled, PK Morris walked and Miguel Hiraldo singled to load the bases. For the second time in as many days, the Canadians would come up with a late-inning, bases clearing extra-base hit. This time, it was Harrison Ray who coasted into third with a triple, giving Vancouver a 4-3 advantage. Mackenzie Mueller extended the lead with an RBI single later in the inning.
Naswell Paulino walked Adrian Del Castillo with two outs in the eighth and then a routine fly ball to center field off the bat of Tristin English was lost in the lights by Steward Berroa, extending the inning. Spencer Brickhouse took advantage of the miscue by Berroa, leaving the yard for a go-ahead three-run homer on a towering fly ball to right field.
Kyle Backhus pitched the eighth and ninth, securing the 6-5 win and getting his first win of the season.
Barger was three-for-five with a double, with Berroa, Ray and Hiraldo all adding two hits for the Canadians.
The top three hitters in the Hops order (Bliss, Vukovich and Tawa) all had a hit, with Tristin English having a two-hit night.
Hillsboro (22-20) and Vancouver (19-21) will play the series finale on Sunday at Ron Tonkin Field. Rich Burk and Matt Richert will have the call, with the pre-game show at 12:50 and first pitch at 1:05 on Rip City Radio 620 and MiLB.tv.