Cardinals corral Tortugas in opener, 9-8
Trautwein and Leyton power home runs, but Daytona can't complete comeback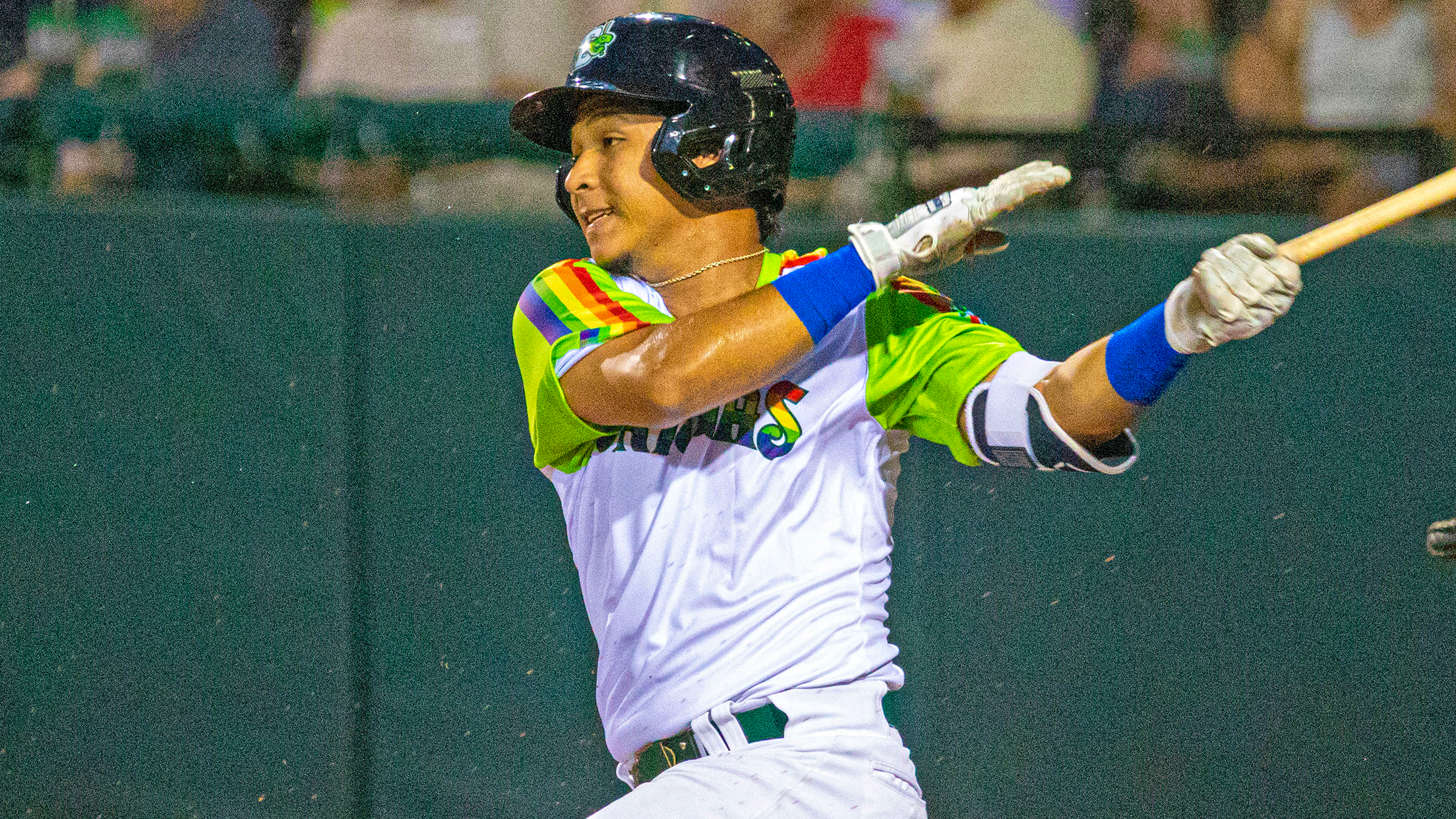 SS Steven Leyton picked up two more hits — including a three-run home run in the ninth — but Daytona's comeback effort fell a run short, as the Palm Beach Cardinals clipped the Tortugas, 9-8, in front of 2,307 fans at Jackie Robinson Ballpark on Friday night. (Aldrin Capulong)
DAYTONA BEACH, Fla. — In a game of runs, it was Palm Beach who was able to emerge victorious. Palm Beach erased an early four-run deficit, but Daytona nearly came from five runs behind late, as the Cardinals clipped the Tortugas, 9-8, in front of 2,307 fans at Jackie Robinson
DAYTONA BEACH, Fla. — In a game of runs, it was Palm Beach who was able to emerge victorious. Palm Beach erased an early four-run deficit, but Daytona nearly came from five runs behind late, as the Cardinals clipped the Tortugas, 9-8, in front of 2,307 fans at Jackie Robinson Ballpark on Friday night.
Daytona (7-14, 36-50) showed no signs of rust after the All-Star Break. SS Steven Leyton (2-5, 2 R, 2B, HR, 3 RBI, SO) poked a looping double to right with one out in the first and quickly came around to score on a triple into the right-center field gap from RF Jack Rogers (2-3, 2 R, 3B, RBI, BB). Following a strikeout, C Hayden Jones (1-3, R, RBI, BB, SO) slapped a run-producing knock to center, stretching the Tortugas' lead to 2-0.
LF Michael Trautwein (1-4, R, HR, 3 RBI) then powered a 1-0 pitch beyond the left-field wall for a two-run home run. The Johns Creek, Ga. native's second blast of the season doubled Daytona's advantage to 4-0.
Palm Beach (13-9, 43-43) started to chip away in the second. LF Matt Chamberlain (2-4, 2 R, 2B, 3B, 3 RBI, 2 SO) tripled down the right-field line on the second pitch of the frame and quickly was chased home on a sacrifice fly to right by 3B Sander Mora (1-3, RBI, BB).
The Cardinals pulled to within one in the fourth. 1B Thomas Francisco (1-4, 2 R, 2B, BB) slapped a double to left to start the inning, moved to third on a ground out, and scored on a sacrifice fly to left off the bat of Chamberlain.
RF Elijah Cabell (1-4, R, HR, RBI, BB, 2 SO) followed that run by producing one of his own. The Florida State alum cranked a 432-foot shot beyond the batter's eye in center field for a solo home run. Cabell's fifth of the year drew Palm Beach within a tally, 4-3.
In the fifth, the Redbirds jumped in front for good. CF Adanson Cruz (1-4, R, 2B, 2 SO) ignited a rally with a leadoff double to left and came across to tie the game at four on a pair of wild pitches.
Following back-to-back walks, C Aaron McKeithan (1-5, R, RBI) stroked a ground ball through the left side of the infield. SS Jeremy Rivas (1-3, R, RBI, 2 BB) scored easily from second, placing Palm Beach ahead, 5-4.
A two-run double to left from Chamberlain stretched the Cardinal advantage to three, 7-4. The former undrafted free agent would steal third and score on a wild pitch, capping Palm Beach's five-run frame with an 8-4 edge.
Behind 9-4 after an RBI single by Rivas in the sixth, the Tortugas started chipping closer in the eighth. Rogers was plunked by a pitch and 1B Michel Triana (1-5, 2B, SO) sent a double to right before a Trautwein ground out trimmed the deficit to four, 9-5.
Daytona had one last gasp effort in the ninth. DH Yassel Pino (1-3, R, 2B, BB) and 3B Austin Callahan (1-3, R, 2 BB) worked free passes to bring Leyton to the dish with one out. On a 2-2 offering, the León, Nicaragua native sent a towering drive off the Jeep Beach sign atop the batting cages in left. Leyton's three-run blast — his team-leading eighth of the year — cut the Tortugas deficit to one, 9-8.
That was as close as Daytona would get, though. RHP Roy García (3.0 IP, 2 H, 4 R, 4 ER, 3 BB, 4 SO) produced a pair of groundouts to second to seal the Cardinals' win and his seventh save of 2022.
After surrendering four runs in the first, RHP Carlos Guarate (6.0 IP, 8 H, 4 R, 4 ER, 2 BB, 5 SO) did not yield another tally over his final five frames, collecting his fifth win for Palm Beach.
Daytona's RHP Tanner Cooper (4.0 IP, 4 H, 3 R, 3 ER, 3 SO) departed after four innings, taking a no-decision. RHP Hunter Parks (0.2 IP, 3 H, 5 R, 5 ER, 2 BB, SO) was unable to escape the fifth inning out of the bullpen and was saddled with his fifth defeat.
One of the most popular giveaways of the season returns on Saturday, as the Tortugas celebrate Shelldon's Birthday with a Shelldon Bobble-legs Giveaway. The first 1,000 fans through the gates will take home Daytona's first bobblehead giveaway of the season. We encourage patrons to bring their furry friends to the ballpark for another Bark in the Park Night. Fans can purchase a 'Pooch Pass' for just $2 at the gate and a doggie yogurt (bananas, peanut butter, plain yogurt) at concession stands. Food and Drink Specials include a non-alcoholic, key-lime style Shellabration Punch with an alcoholic version available at the beer corner. Birthday funnel fries are also on the menu alongside Shelldon's Delight ice cream in the main concession stand to celebrate the festivities. The Tortugas salute our medical professionals with Healthcare Heroes Night featuring discounted tickets through the appropriate FEVO link. City of Deltona Night will also have discounted tickets for residents through the necessary FEVO link.
RHP José Franco (1-5, 4.76) — Daytona's leader in strikeouts (87) — is projected to take the hill in game two of the series. Palm Beach is scheduled to counter with LHP Alex Cornwell (3-3, 4.89). Coverage on the Tortugas Radio Network will begin on the MiLB First Pitch app and www.daytonatortugas.com at 6:50 p.m. leading up to the 7:05 p.m. first pitch from Jackie Robinson Ballpark.
Multi-game plans, group packages, and single-game tickets are currently available and can be purchased online at www.daytonatortugas.com or by calling the Tortugas' Ticket Office at (386) 257-3172
ABOUT THE DAYTONA TORTUGAS
The Daytona Tortugas are the Single-A Affiliate of the Cincinnati Reds and a member of Minor League Baseball's Florida State League. The Tortugas play at Jackie Robinson Ballpark in downtown Daytona Beach, Fla. Jackie Robinson Ballpark also plays host to Bethune-Cookman University, the Jackie Robinson Ballpark Museum, and many community events and initiatives of all sizes throughout the year.