Hammerheads hop over Tortugas, 5-3
Sebastian Almonte and Yassel Pino drive in runs in Daytona's defeat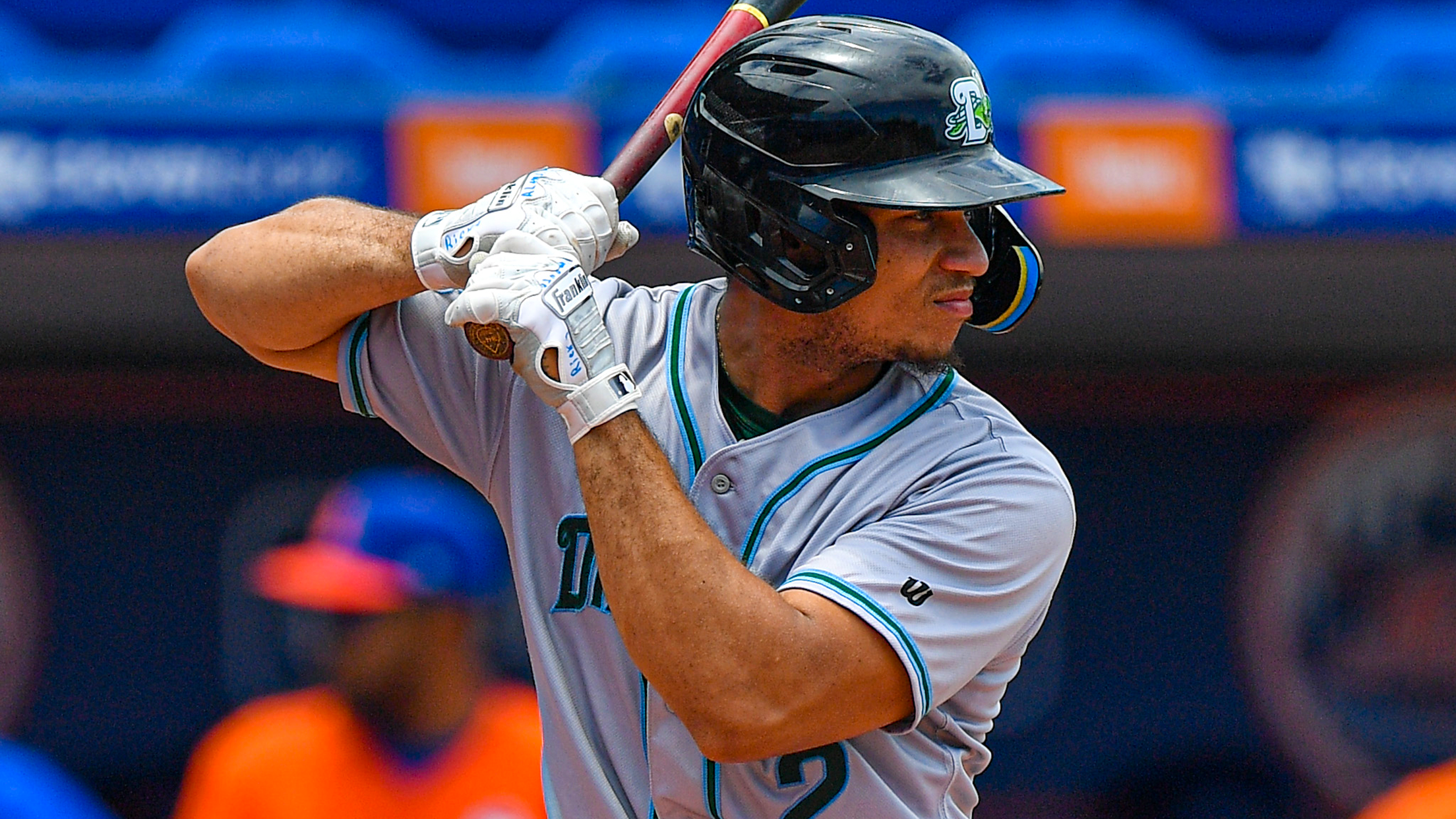 SS Sebastian Almonte ended an 0-for-19 skid with an RBI single in the second, but the Jupiter Hammerheads hopped over the Daytona Tortugas, 5-3, on Saturday night at Roger Dean Chevrolet Stadium. (Ryan Dowd)
JUPITER, Fla. — SS Sebastian Almonte and 1B Yassel Pino each registered an RBI, but it was not enough offense to overtake Jupiter and RHP Gabe Bierman. The Indiana University alum punched out eight over a career-high seven innings, as the Hammerheads collected a 5-3 victory over the Daytona Tortugas
JUPITER, Fla. — SS Sebastian Almonte and 1B Yassel Pino each registered an RBI, but it was not enough offense to overtake Jupiter and RHP Gabe Bierman. The Indiana University alum punched out eight over a career-high seven innings, as the Hammerheads collected a 5-3 victory over the Daytona Tortugas on Saturday night at Roger Dean Chevrolet Stadium.
Daytona (8-19, 37-55) jumped in front early in the second. With one out in the frame, 2B Jonathan Willems (1-4, R, SO) smashed a single to right-center field and moved to third after a stolen base and throwing error. Almonte (1-3, RBI) snapped an 0-for-19 skid at the plate with a looping liner into right-center. Willems scored on the single to put the Tortugas in front, 1-0.
The lead remained intact until Jupiter's (16-12, 50-42) offense emerged in the fifth. LF Tanner Allen (2-3, R, BB) and SS Yiddi Cappe (2-4, R, 3B, RBI, BB) registered back-to-back singles to start the inning and each moved up 90 feet on a walk to 1B Garrett Cooper (1-3, R, BB).
After a pitching change, a walk to 2B Kahlil Watson (0-3, RBI, BB, 2 SO) chased home a run and tied the game at one. C Joe Mack (1-3, BB) followed by hitting a weak ground ball to second. Daytona was able to turn a double play, but a run scored on the twin killing, putting Jupiter ahead, 2-1. DH Payton Henry (1-3, RBI, BB) made it a two-run contest, 3-1, with a two-out single to left.
Jupiter continued to tack on in the sixth. RF Jorge Caballero (1-3) began the inning with a single to center but left the contest with an apparent injury after stealing second base. With two out, pinch-runner Javier Sanoja (0-0, 2 R, BB) came around to dent the pentagon on a scalding triple into the left-field corner by Cappe.
The Hammerheads added one last run in the eighth. Sanoja worked a one-out walk and was able to advance to third on an errant pickoff throw. 3B Carlos Santiago (0-3, RBI, SO) powered a deep sacrifice fly to right-center to stretch Jupiter's cushion to four, 5-1.
In the ninth, the Tortugas mustered one last rally. DH Hayden Jones (1-4, R, SO) singled and advanced to third on a base-hit from 3B Michel Triana (1-4, R). A wild pitch enabled Jones to score, while Triana came home on a sacrifice fly to left by Pino.
RHP Cason Sherrod (1.0 IP, 2 H, 2 R, 2 ER) did not allow Daytona to draw any closer, though. The 26-year-old forced a fly out to center with the bases empty and two out to secure Jupiter's 5-3 triumph.
Bierman (7.0 IP, 3 H, R, BB, 8 SO) put together one of the best starts of his young career for the Hammerheads. The second-year pro fell two strikeouts shy of matching a career-high over a career-best seven innings, earning his sixth win of the season.
RHP Ryan Cardona (4.0+ IP, 5 H, 3 R, 3 ER, 3 BB, 3 SO) worked into the fifth inning for the first time in his career but finished on a sour note. The Livingston, N.J. native was charged with all three runs in the fifth and was saddled with his third defeat.
The Tortugas look to salvage the final game of the series with RHP José Franco (1-6, 4.96) expected to toe the slab on Sunday afternoon. RHP Juan Reynoso (0-2, 9.00) is scheduled to take the hill for the Hammerheads. Coverage on the Tortugas Radio Network will begin on the MiLB First Pitch app and www.daytonatortugas.com at 11:45 a.m. leading up to the 12 p.m. first pitch from Roger Dean Chevrolet Stadium.
The Tortugas will return to Jackie Robinson Ballpark on Tuesday, August 9, to open up a two-week homestand with six games against the Lakeland Flying Tigers, the Florida State League affiliate of the Detroit Tigers. The series opens with another Shell Yeah Cookout. The $15 add-on includes the full "Bases Loaded" menu during a 90-minute buffet with hot dogs, hamburgers, pulled pork, baked beans, cookies, Pepsi products, and more. It is also a Breast Cancer Awareness Night presented by Radiology Associates Imaging. The Tortugas will don unique pink-clad uniforms that will be auctioned off at the end of the season with all proceeds to raise money and awareness in the fight against breast cancer. Silver Sluggers Night presented by Conviva is a part of the festivities. The exclusive 60-and-older club features deals at the team store, concession stands for members, and more. The series opener also marks a Taco Tuesday with options at the concession stands starting at just $3.
Multi-game plans, group packages, and single-game tickets are currently available and can be purchased online at www.daytonatortugas.com or by calling the Tortugas' Ticket Office at (386) 257-3172.
ABOUT THE DAYTONA TORTUGAS
The Daytona Tortugas are the Single-A Affiliate of the Cincinnati Reds and a member of Minor League Baseball's Florida State League. The Tortugas play at Jackie Robinson Ballpark in downtown Daytona Beach, Fla. Jackie Robinson Ballpark also plays host to Bethune-Cookman University, the Jackie Robinson Ballpark Museum, and many community events and initiatives of all sizes throughout the year.