Hispanic, Latino/a, Latinx leaders share lessons
Vazquez, Yzaguirre, Richardson discuss identity in baseball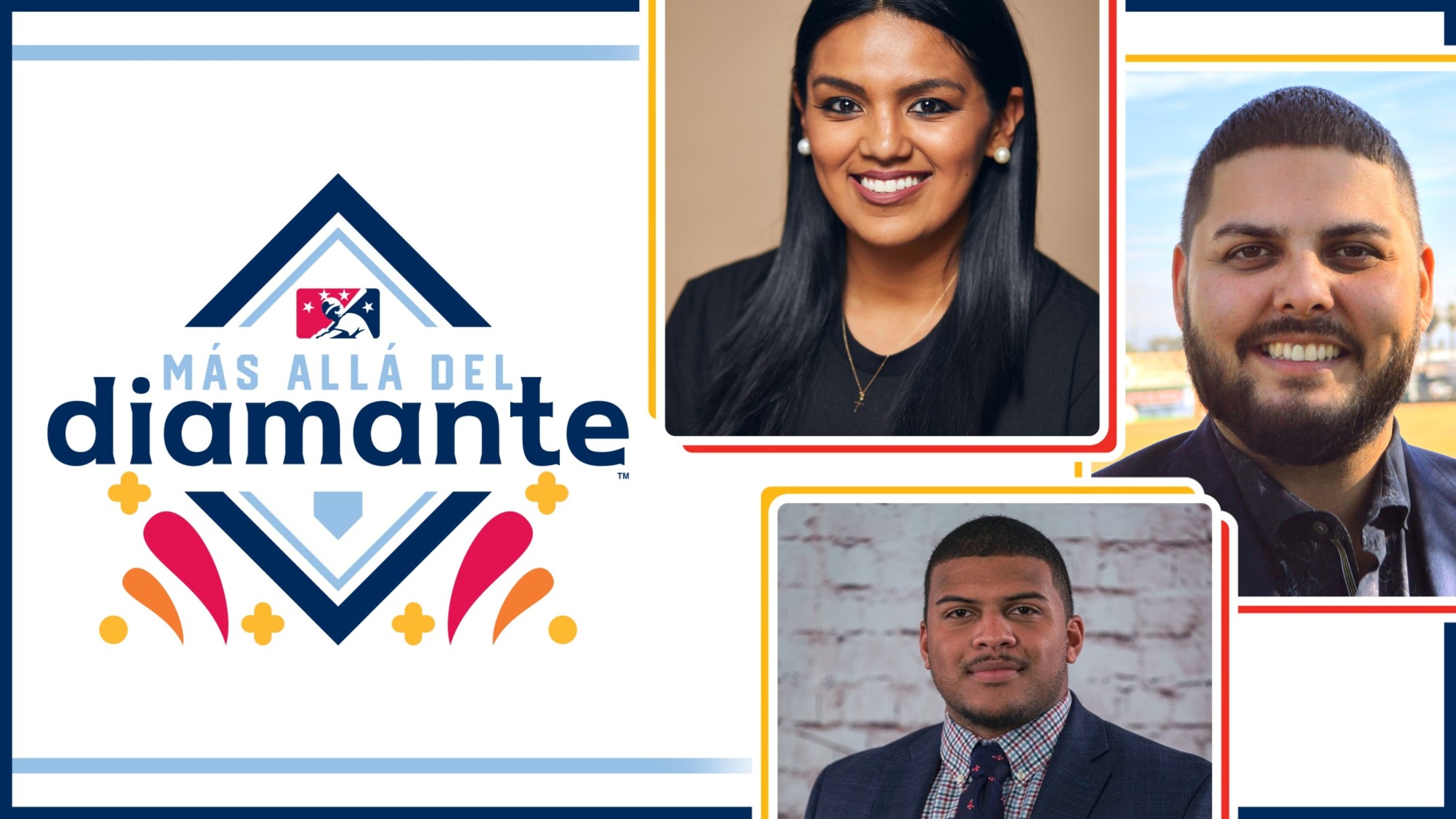 During Minor League Baseball's celebration of Hispanic Heritage Month and #ForTheLoveOfBéisbol from Sept. 15 to Oct. 15, Más Allá del Diamante will feature a Hispanic, Latino, Latina and Latinx leader from an MiLB community. In this edition, we visit with Daniel Vazquez, assistant general manager for the Inland Empire 66ers
During Minor League Baseball's celebration of Hispanic Heritage Month and #ForTheLoveOfBéisbol from Sept. 15 to Oct. 15, Más Allá del Diamante will feature a Hispanic, Latino, Latina and Latinx leader from an MiLB community. In this edition, we visit with Daniel Vazquez, assistant general manager for the Inland Empire 66ers of San Bernardino (Cucuys de San Bernardino, Copa de la Diversión); Yvette Yzaguirre, director of partner services for the Tacoma Rainiers (Familia de Tacoma, Copa de la Diversión) and Alex Richardson, community relations assistant for the Pawtucket Red Sox (Osos Polares de Pawtucket, Copa de la Diversión).
Minor League Baseball: What does it mean for you to be a Hispanic, Latino or Latinx working in professional baseball?
Daniel Vazquez: Honestly, I take being of Latino heritage and the opportunity to work in professional baseball very seriously. My first Winter Meetings in San Diego in 2014 was tremendously impactful on my career. There, I had a firsthand account of how different I was among the crowd. It became more than a job; not only did I feel the responsibility to bring in as many minorities as possible into this industry, but I also had the power to do so. Each following Winter Meetings was another opportunity to bring in not only people that looked like me, but individuals from different backgrounds, sexual orientations and experiences.
Yvette Yrizarry: I feel proud to not only be a Hispanic in professional baseball, but also to be a woman. My entire life goal was to work in baseball and now to be a director in Triple-A baseball has been so fulfilling. When I was helping my parents pick cherries, my dad would say, "If you don't like this, then make sure you go to college so you can sit in air conditioning in the summer and a heater in the winter," and on that day I decided I was going to go to college and reach all of my goals. That Latin work ethic really came through in multiple forms and could have even possibly prepared me for the crazy summer work hours that I'm missing these days.
Alex Richardson: From a young age, I instantly knew that my life's goal was to bring happiness and joy to people. Now in my professional career I am in position to use the most loved sport in the Latino culture as a vehicle to accomplish my life's mission.
MiLB: How do you feel about representing your country/heritage?
YY: I feel honored to represent my heritage. I just hope that I make them proud and continue to make everyone feel welcome at Cheney Stadium.
DV: I feel pressure.
AR: One of the fondest memories I had as a child was reading DK Readers: Roberto Clemente. When I learned about his story, the way he represented his heritage and community motivated me. My dream was to be a baseball player, but I have just as much pride in representing my heritage as a front office executive.
MiLB: What does Copa de la Diversión mean to you?
AR: When I first learned about Copa, the first phrase that popped up in my head was "culture education." MiLB has given clubs an opportunity to raise cultural awareness and educate people about the Hispanic, Latino or Latinx communities.
DV: It was so exciting when I first heard about Copa de la Diversión. At the time I was working for the San Antonio Missions. My boss, David Gasaway, brought the initiative up in a general meeting and asked for some feedback/ideas by end of the week. I spent the rest of the night at the ballpark thinking of ideas and had an extensive list ready for the next morning. We nailed it! We had a platform to honor our culture, our traditions, our history and most importantly, our mothers. We took a fun idea and gave it context, which really resonated with the city of San Antonio and Latinos throughout the country! It was a true team effort.
YY: Copa has made me feel so proud of who I am and who I set out to be. I posted on social media on the day we unveiled the logo last year. My entire career goal was to bring three loves of my lives together: my culture, community and baseball. Copa allowed me to do that, and it reignited my fire for what it means to work in baseball. I'm grateful for the opportunity to participate in this program, the support I have received from my coworkers, superiors and team, and for the chance to make my culture feel invited to the baseball community formed at Cheney Stadium.
Chanel Zapata is a Specialist, Marketing Strategy & Research with Minor League Baseball.