Hops Hang On For Fifth Straight Win
Hillsboro now 13-6 following 6-5 win at Vancouver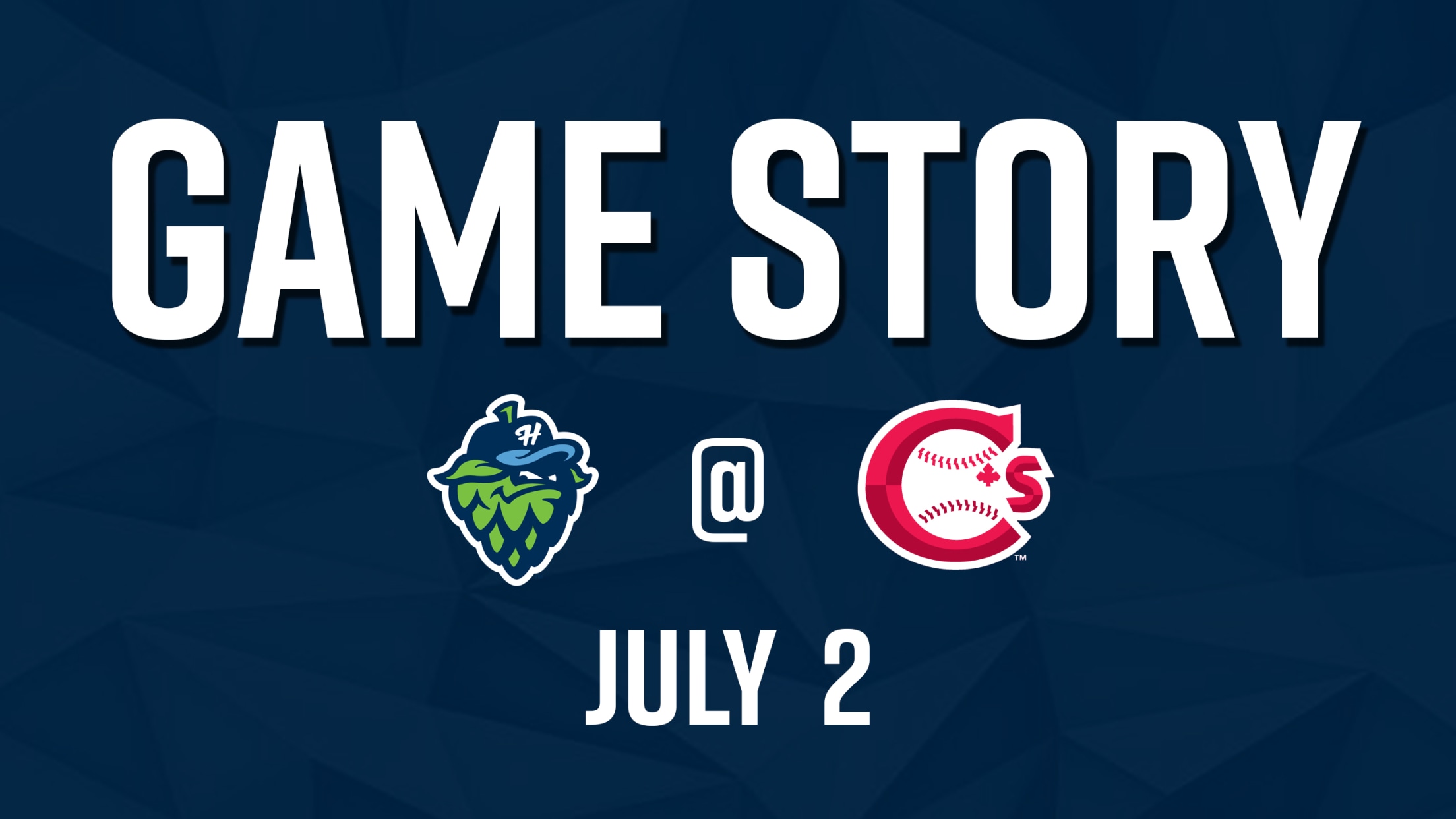 Wilfry cruised, Davis got off the Schneid and the Hillsboro Hops capitalized on Vancouver mistakes while surviving a bullpen collapse.Steven Leyton went 4-for-5 and hit his second home run of the season and Jose Cuas steadied a shaky Hillsboro bullpen, recording the final four outs for his third save as
Wilfry cruised, Davis got off the Schneid and the Hillsboro Hops capitalized on Vancouver mistakes while surviving a bullpen collapse.
Steven Leyton went 4-for-5 and hit his second home run of the season and Jose Cuas steadied a shaky Hillsboro bullpen, recording the final four outs for his third save as the Hops (13-6) defeated the Vancouver Canadians 6-5 in the second game of a three-game series at Nat Bailey Stadium in Vancouver. It was Hillsboro's fifth consecutive victory and the Hops improved to 5-1 against the Canadians (5-14) this season.
The Hops took command early on Leyton's two-run home run off Vancouver starting pitcher Adam Kloffenstein. A third round 2018 draft pick who signed for first-round money out of a Texas high school, Kloffenstein (0-2) was far from overpowering on this night. The 6-5, 245 pound righthander surrendered seven hits and six runs over four innings and did not record a single strikeout after he had fanned 14 over 11 1/3 innings coming in.
Meanwhile, Wilfy Cruz, making his first NWL start after a promotion from Missoula, breezed through five scoreless innings, running into trouble only once when he retired the NWL's leading hitter Yorman Rodriguez on a grounder to third with runners at the corners and two out in the third inning. Cruz (1-0) struck out five and walked two, allowing just two hits.
The Hops had taken a 3-0 lead on Tristin English's two-out RBI single in the third inning, then doubled their lead in the fourth when a leadoff error opened the door of a three-run frame. After Daniel Wasinger reached second on a wild throw by third baseman Luis De Los Santos, back-to-back singles by Lyle Lin and David Garza, Jr. plated Wasinger. After a force out at third left runners at first and second, Garza took off for third base on Kloffenstein's pitch to Ricky Martinez, but stopped halfway. Grande made a break for second after Garza put on the brakes, but Vancouver catcher Brett Wright threw to second base instead of third, too late to get Grande while Garza tiptoed into third to complete the double steal. A costly missed opportunity, as Martinez followed with a sacrifice fly to center to plate Garza and Leyton drove in his third run of the night with a base hit to right center, scoring Grande. To add insult to injury, nobody bothered to receive the throw from center field as Leyton cruised to second base on the error as the crowd of 5,322 grew ever more exasperated with the home team.
But Hillsboros 6-0 lead wouldn't last. Trevor McKenna came out of the pen to retire the first four batters he faced before running into trouble in the seventh, loading the bases on a single and back-to-back walks. Davis Schneider, Vancouver's nine-hole hitter who came into the game about eight straight hits below the Mendoza line, got hit by a McKenna pitch to force in a run. Leadoff batter Tanner Morris followed with an infield fly to third and Justin Garcie came on to record the final out of the inning, inducing a shallow fly out to center from De Los Santos.
The bullpen struggles continued in the eighth as Franklyn Soriano surrendered two hits and two walks before departing with two in, two on and two out. Again it was Schneider at the plate, facing Jose Cuas with runners at the corners. But the former South Jersey Player Of The Year delivered a double down the left field line, just his third hit of the season, as Wright and Adrian Ramos scored to make it a 6-5 game.
With the tying run at second, Cuas got Tanner Morris to ground into an inning-ending out at third, then retired the side in the ninth on three more harmless grounders to nail down the save.
Garza had two hits for the second consecutive night and Leyton scored two runs to go with three RBI's one night after going 0-for-5 and leaving 11 runners on base. English has hit in all four games since beginning his pro career at Hillsboro.
The Hops and C's wrap up their three-game set with a "Nooner At The Nat' on Wednesday. Pregame airtime on NBC Sports Northwest Rip City Radio is at 1 p.m. with first ptich at 1:05.