Multi-focused Montgomery earns industry honor
Director of diversity and inclusion recognized as Game Changer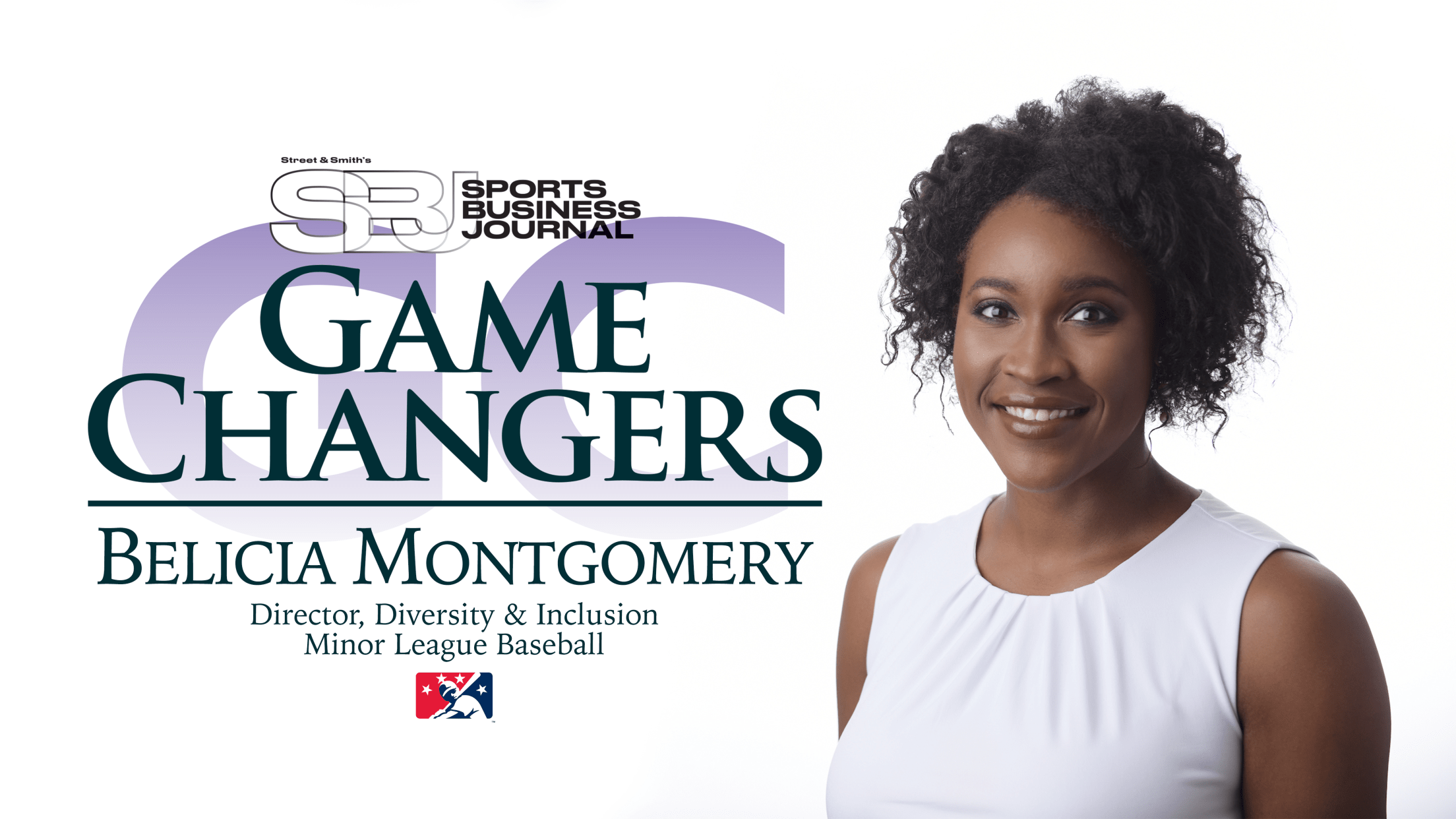 Belicia Montgomery has been a leader in several popular and important Minor League Baseball initiatives, including LIFT, Pride, Copa de la Diversión and more.
For the last few years, Belicia Montgomery has been working to improve the lay of the land in Minor League Baseball and beyond. On Monday, she was recognized for her vision and imprint by the Sports Business Journal as part of its 10th annual class of Game Changers, recognizing women
For the last few years, Belicia Montgomery has been working to improve the lay of the land in Minor League Baseball and beyond. On Monday, she was recognized for her vision and imprint by the Sports Business Journal as part of its 10th annual class of Game Changers, recognizing women who deliver and act upon ideas that make a positive impact on the industry and pave the way for women to make their own mark in important roles.
Minor League Baseball's director of diversity and inclusion surely fits the bill. Montgomery joined the organization in a marketing position in 2016 and was named manager of data and business processes in 2018 before being promoted to her current role last year. Along the way, she's been a key figure in some of MiLB's most popular and meaningful initiatives.
"It is very fitting that Belicia Montgomery has been selected as one of the Sports Business Journal Game Changers in 2020. She has made a tremendous impact on our diversity and inclusion efforts with our teams across the country as well as our staff in St. Petersburg," Minor League Baseball president Pat O'Conner said. "Her passionate and tireless work has led to positive change and has created opportunities for open and honest dialogue in the workplace regarding racial and social issues. She truly has been a game changer and we are so proud to have her receive this prestigious honor."
Game Changers are typically celebrated at a conference hosted by SBJ that Montgomery has attended. In fact, it was an SBJ program through which she was connected to her mentor (Beth Paretta of Grace Autosport). She's long been excited to see the publication of each year's Game Changers list for the sake of building relationships and connecting with inspiring women in the sports industry, but she wasn't looking for her own name to appear on it.
"I'm very surprised, honestly," Montgomery said. "I'm honored to be considered among an impressive group of women who have accomplished so much personally and within this industry. It just means a lot to be spoken of along the same lines as those women. ... It's always women who have been on my radar, who I've been following in their careers in general, and I'm honored and appreciative that the industry speaks of our organization as well as my work and what we've accomplished in the same light."
Given the scope of those accomplishments, it's easy to see that Montgomery deserves the honor and then some. Before the cancellation of the 2020 season, Montgomery and the staff in St. Petersburg were set to uncork #MiLBUnlimited, an initiative with a four-pronged approach to increasing disability inclusion. Last year, drawing on her treasured experience as a mentee, she created LIFT (Leaders Inspiring Future Talent), an MiLB-wide mentorship program for women that's grown from 70 participants in its inaugural season last year to 150 in 2020.
"In this industry, where we're all over the country, it can be very difficult to find people who look like you, people who've been in your shoes," Montgomery said. "We wanted to create a community where women can be connected throughout the year."
Her department also oversaw the second season of MiLB's Pride initiative and has led new Black fan engagement efforts in concert with the centennial celebration of the Negro Leagues.
And when she came to MiLB as a marketing research and strategy resident four years ago, she quickly became an instrumental force in the development of an initiative called MiLB es Divertido, better known today as the immensely popular Copa de la Diversión. Montgomery and the marketing strategy and research department worked closely with four pilot teams -- Las Vegas, San Antonio, Visalia and Kane County -- and set a tone that was respectful, rooted in authenticity and, of course, fun.
"I really enjoy history and cultural history, so I was excited to dig into the cultural influence of the Hispanic and Latino communities," she said. "When we built what would become Copa, what was then MiLB es Divertido, if we were going to create identities, we wanted to make sure that they would speak to not only Latino culture, but the culture within those specific markets. That was the ideation of that strategy, and it was one of my favorite projects. I'm still super-honored to be behind the research efforts for our first four [Copa] teams.
"I don't know if any of us expected it to turn into Copa and for Copa to turn into what it is today, but I'm so glad it has and that our industry and our communities have embraced it. And we're going to continue to enhance that platform as time goes by and the culture evolves. We're going to continue to be authentic in our approach in those identities."
A lot of what Montgomery does, though, can't be seen on alternate-identity hats or summarized with attention-grabbing initiative names. But it's every bit as important -- maybe even more so -- in terms of making sports welcoming to all. She's acting in creating opportunities and assuring success for people from all walks of life, both in the headquarters of Minor League Baseball and in ballparks from Vancouver to Jupiter.
"When I came into this role, that was one of my biggest goals. We did so much building of initiatives and programs that were outward-facing, and that's a foundation. You have to put those pillars in place," she said. "The first four years of the diversity and inclusion initiative were putting those pillars in place. Now, the foundation is there and I can shift our focus into addressing things internally, putting the focus on employees and business operations, looking at where we can improve.
"With the success of LIFT, I had a similar goal to address other opportunities ... when it comes to diversification. I wanted to enhance our diversity tracking and reporting, all the way down to the team level so that there could be a broader understanding of what we look like as a workforce. When you see exactly what your front office looks like and compare that to what your community looks like, it's easier to prioritize areas of improvement from there. You keep diversity top of mind and not just as a league initiative, but really make it something that people at the team level have a role in, as part of their job."
She also identified the importance of considering the societal role of sports in the wake of widespread outcry against police brutality following the senseless killing of George Floyd.
"With the tragic events that have created an increased awareness of the racial tension and social justice issues and police brutality, it really puts some attention on how much influence we have as members of the sports industry," she said. "We have an immense responsibility to be present and respond and to be engaged. ... We have to stand behind our communities and people in our industry. It caused our organization to have a lot of sobering internal reflection, and it's been one of most challenging but rewarding things I've been involved with.
"My goal is to continue to develop cultural competency in our industry and in particular among our executives, to hone in on continuing that education. When we do the outward-facing stuff, we want to make sure it's not just for show. It's why Copa matters, why Pride matters, why the history of the Negro Leagues and Black lives matter, why #MiLBUnlimited matters. We have to understand the 'why' and embrace and live it day in and day out through our actions. I have full faith that this industry and our organization can lead the way and help progress society in these times."
Of course, the recognition of Montgomery as a Game Changer comes during a year that's been particularly challenging for all of Minor League Baseball due to its lost season. A lifelong Birmingham Barons fan, Montgomery admits it's been tough, but she also said that bringing this honor to MiLB during a period of industry-wide hardship makes it all the more special.
"It speaks to our resilience and commitment to the space but also to us as individuals who make up the organization, where resilience is the best word," she said.
"That's what I live on, when I wake up and show up at work. I would not be who I am or where I am if not for this organization and these people. It means a lot to grow up [as a fan of Minor League Baseball] and having worked so hard as a part of this organization and having spent a long time working to become a part of this industry, to see my career come full circle."
Josh Jackson is an editor for MiLB.com. Follow and interact with him on Twitter @JoshJacksonMiLB.