Prospect Roundup: Games of July 16
O's Hall spins yet another gem; Calhoun pushes for Texas move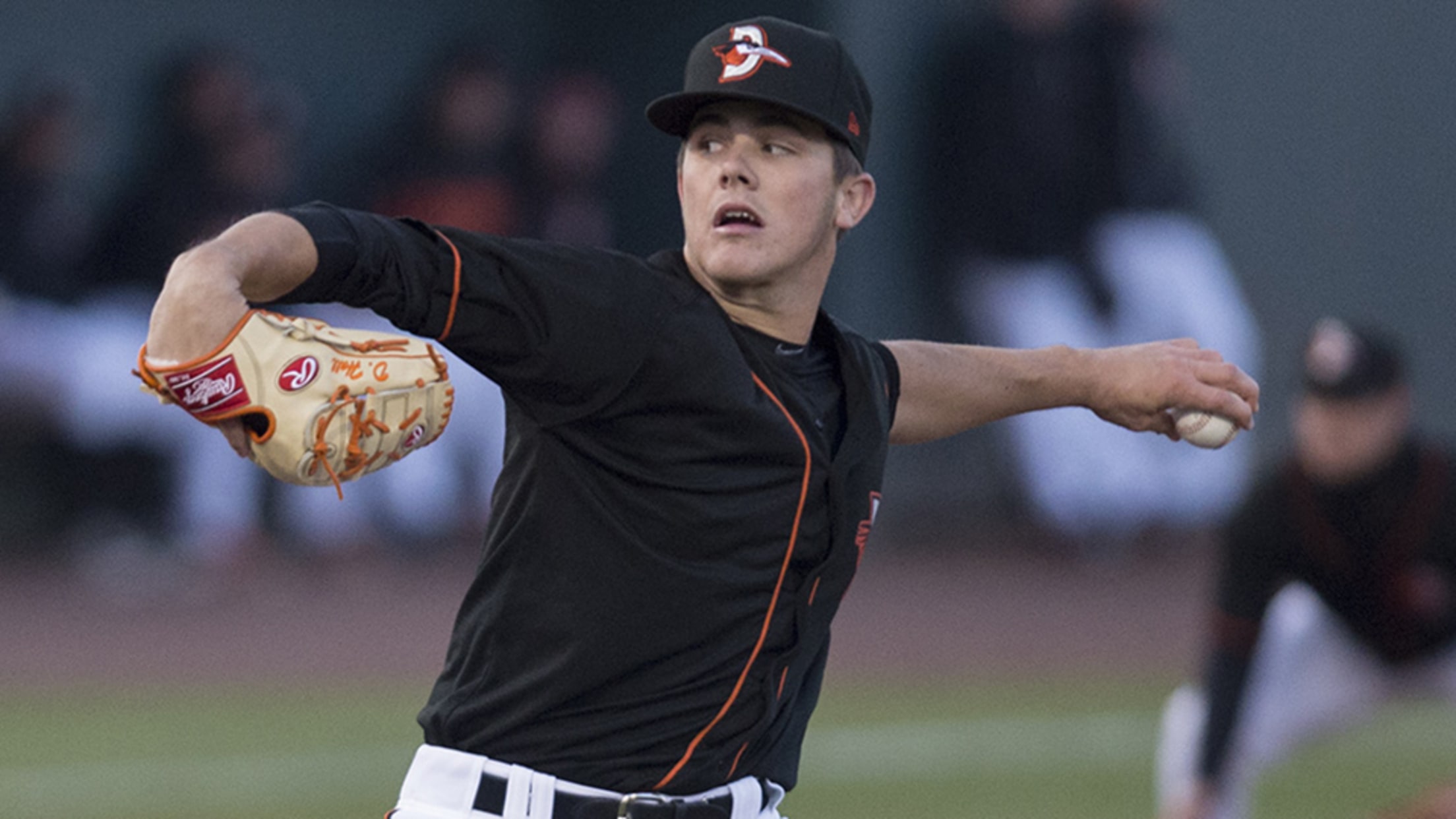 DL Hall has struck out 24.1 percent of the batters he's faced with Class A Delmarva this season. (Joey Gardner/MiLB.com)
Theme of the dayPower outside Washington: The baseball world's attention turned to the Home Run Derby as Bryce Harper went on a remarkable tear in the final round at his home park to down Kyle Schwarber. Prospects across the Minors showed off their own power in games that actually counted.
Theme of the day
Power outside Washington:
The baseball world's attention turned to the Home Run Derby as Bryce Harper went on a remarkable tear in the final round at his home park to down
Kyle Schwarber
. Prospects across the Minors showed off their own power in games that actually counted. Dodgers prospect
Jacob Scavuzzo
put together his
second straight two-homer game
for Double-A Tulsa, while
No. 15 Nationals prospect
Jakson Reetz
also went deep twice
for Class A Advanced Potomac. No. 3 D-backs prospect Jasrado Chisholm flirted with cycle but had to settle for
his own two-homer night
as he collected a career-high five hits and five RBIs for Class A Kane County.
Who stayed hot
Orioles LHP DL Hall, Class A Delmarva: 6 IP, 3 H, 1 R, 1 ER, 3 BB, 10 K, 80 pitches, 55 strikes --
Earlier in the day, the Orioles' No. 4 prospect was named the South Atlantic League Pitcher of the Week for the second time in a row. Then he made a bid for a third straight honor. The 2017 first-rounder's 10 strikeouts at West Virginia established a new career high, and the one earned run allowed ended a streak of four straight scoreless starts. Since June 10, the 19-year-old southpaw has put up a 0.55 ERA with 38 strikeouts and 14 walks in seven starts (32 2/3 innings), which included
a hitless outing on July 5
. No other South Atlantic League pitcher has an ERA lower than 1.33 over that span. The O's have brought Hall along conservatively in his first full season, only allowing him to complete six innings recently, but the 6-foot-2 left-hander, who earns above-average grades on his fastball and curveball, is dominating with Delmarva.
Who needed this one
Phillies 2B Daniel Brito: 4-for-4, 2B, RBI, 2 R, 3 SB --
The Phillies' No. 10 prospect is repeating Class A Lakewood after hitting .239/.298/.318 there last season, and even after his outburst against Columbia, he's hitting just .250/.315/.337 through 79 games. His 88 wRC+, up slightly from 81 in 2017, indicates that the 20-year-old second baseman is still a below-average hitter in the Sally League, and his strikeout rate has dipped only slightly from 19.3 percent to 18.4 percent. This was his first four-hit performance since July 1, 2017, and he added a career-high three stolen bases to bring his season total to 15. Brito's average has been climbing slowly but surely in each of the season's four months, and sustained improvement in the second half will show the Phillies that he's ready for Class A Advanced Clearwater in 2019.
The unexpected
Yankees OF Estevan Florial, Rookie-level GCL Yankees East: 2-for-4, HR, RBI, 2 R, 2 K, SB --
A dominant rehab performance in the Gulf Coast League by a player who opened the season at Class A Advanced usually isn't news. But on Monday, Florial homered in his second straight game and for the third time in five contests. That's notable because players typically coming back from hamate injuries, as Florial is doing, see their power come back slowly. The 20-year-old outfielder went deep only once in 36 games before going on the DL on May 18. Florial is 13-for-27 (.481) with the three homers, two doubles and five steals in his eight games rehabbing in the GCL.
Best matchup
Kyle Funkhouser vs. Scranton/Wilkes-Barre:
The Tigers' No. 7 prospect made his debut with Triple-A Toledo and was welcomed to the International League by a RailRiders lineup that featured the rehabbing
Gary Sánchez
, the comically misplaced
Brandon Drury
and 2018 Major Leaguers
Billy McKinney
and
Tyler Austin
. Funkhouser struck out McKinney and Sanchez swinging to begin the outing and largely held his own, though he did have some issues with his command. The 24-year-old right-hander finished with a quality start, having given up two earned runs on five hits over six innings, but he also walked five batters (two of which came against McKinney and Austin). Control was a concern during Funkhouser's time in the Eastern League, where he walked 10.3 percent of batters.
Who strengthened their promotion case
Rangers OF Willie Calhoun, Triple-A Round Rock: 2-for-3, 2B, RBI, R, 2 BB --
Calhoun is ready for his return to the big leagues. The Rangers' No. 2 prospect saw an 18-game hitting streak come to an end Sunday, but he rebounded to reach base four times at Colorado Springs. Since the hitting streak began on June 24, the left-handed-hitting slugger has produced a .418/.489/.582 line with two homers, seven doubles and only five strikeouts in 90 plate appearances. After struggles in April, Calhoun has his season line up to .306/.357/.446, and with a 123 wRC+ since the start of May, he's back to being a well-above-average hitter in the Pacific Coast League. Texas isn't about to turn away from
Joey Gallo
in left or All-Star Shin-Soo Choo at designated hitter to make room for Calhoun, but with the big club well out of the race in the American League West, it should give Calhoun a chance to see what he can do against MLB pitching.
Sam Dykstra is a reporter for MiLB.com. Follow and interact with him on Twitter, @SamDykstraMiLB.