Appel rolls to new heights with IronPigs
No. 19 Phillies prospect hurls shutout ball for pro-best 8 1/3 innings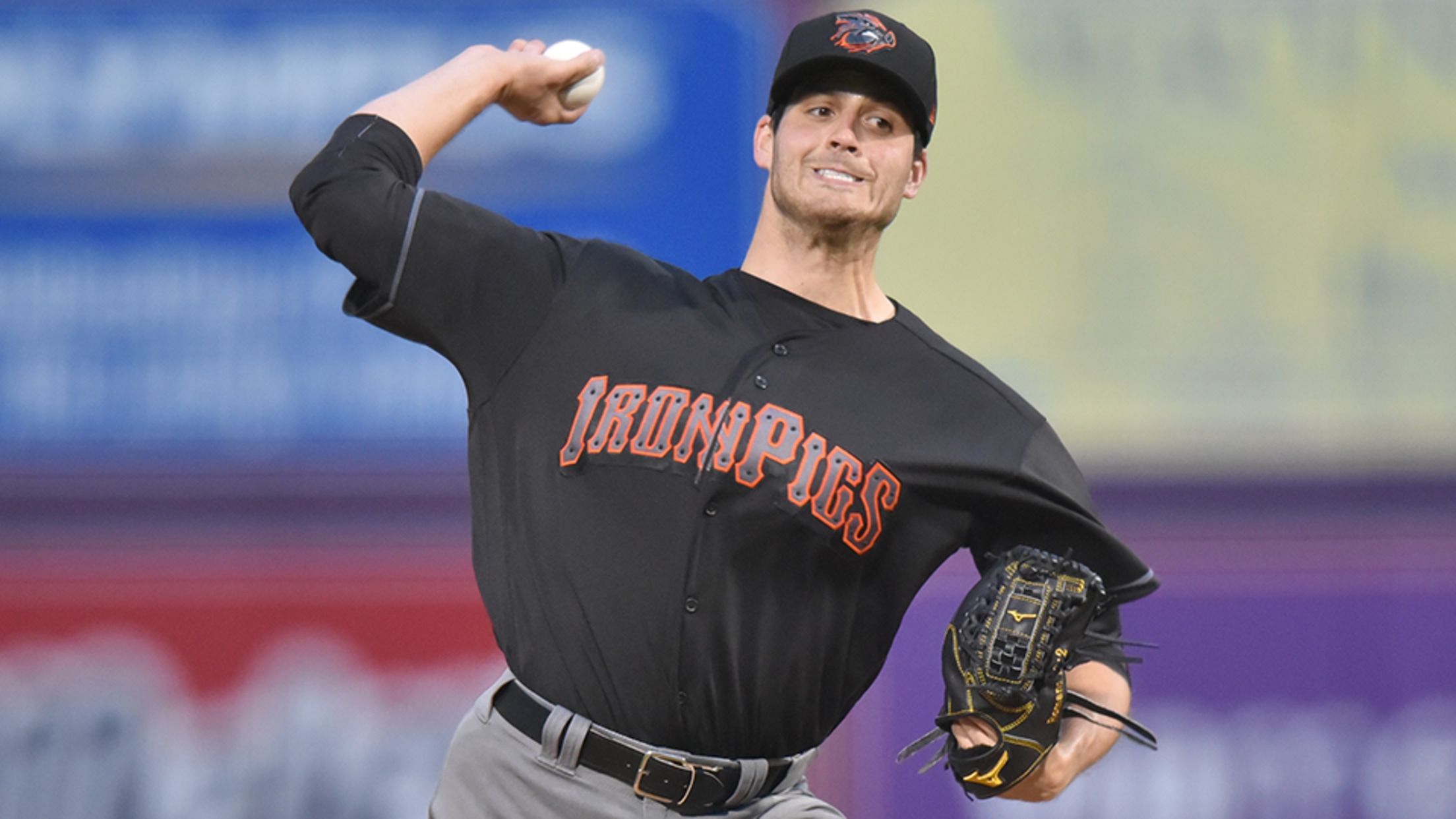 Mark Appel has posted a 1.74 ERA in his last five starts with 22 strikeouts over 31 innings. (Ken Inness/MiLB.com)
Coming off of right elbow surgery, Mark Appel knew that the first half of his 2017 season would probably include choppy waters. But after battling inconsistency for seven weeks, the right-hander finds himself in the midst of one of the best stretches of his professional career.Appel came within two outs
Coming off of right elbow surgery, Mark Appel knew that the first half of his 2017 season would probably include choppy waters. But after battling inconsistency for seven weeks, the right-hander finds himself in the midst of one of the best stretches of his professional career.
Appel came within two outs of his first nine-inning complete game as Triple-A Lehigh Valley blanked Pawtucket, 5-0, on Monday night at McCoy Stadium. He scattered five hits and three walks while striking out a season-high eight.
Gameday box score
After walking Brian Bogusevic to lead off the ninth inning, Appel fanned No. 3 Red Sox prospect Sam Travis but a single to Allen Craig ended his evening after 119 pitches. Ricardo Pinto preserved the scoreless effort for the No. 19 Phillies prospect, who tossed a career-high 8 1/3 innings to win for the fifth time in six decisions.
"I definitely wanted to be able to finish, but I wasn't disappointed," Appel said. "I knew my pitch count was up there, but [IronPigs pitching coach David Lundquist] asked me how I felt after the eighth and I felt good. It's [manager Dusty Wathan's] call, and he wanted me to have a shot at finishing the shutout. I'm thankful for that.
"I was just really pleased with my effort. The defense picked me up and [catcher Jorge Alfaro, Philly's No. 3 prospect] called a great game. All in all, it was a fun night."
Cameron Perkins' leadoff homer to left field for Lehigh Valley gave Appel (5-3) the only run he ultimately needed, although he benefited from an unassisted double play by second baseman Angelo Mora after putting two men on in the bottom of the frame. A third-inning walk to Rusney Castillo and a single by Craig in the fifth were the only baserunners Appel allowed from the second until Craig singled again with one out in the seventh.
The former No. 1 overall pick worked around a hit by Matt Dominguez in the eighth and took the mound in the ninth having thrown 102 pitches. His eight strikeouts were the most Appel's accumulated since Aug. 12, 2015 with Triple-A Fresno.
The longest scoreless outing of the 6-foot-5 hurler's career continued a stretch of impressive starts. Appel's ERA stood at 7.59 after he allowed six runs in 2 2/3 innings against Indianapolis on May 24, but he's amassed a 1.74 ERA in his last five outings, surrendering one earned run or less four times.
"I think consistency in my work, trusting my coaches and also getting back into good routine has been key," the Houston, Texas native said. "I'm getting close to the one-year anniversary of my surgery, so I'm still less than a year out. I didn't expect to start the season by going out and dominating or being very consistent at the beginning. I was hopeful and still worked towards that, but I wanted to give myself some grace and not feel pressure to go out every start and succeed.
"I've been able to learn how to bounce back and not take things so hard if I have a bad outing. I'm working on things between starts and getting good input and help from those around me."
Rhys Hoskins paced the IronPigs offense with a pair of solo homers. The Phillies' No. 13 prospect has three in his last four games and an International League-best 17 for the season, one more than Columbus' Richie Shaffer and teammate Dylan Cozens, Philadelphia's ninth-ranked prospect. It marked Hoskins' third multi-home run effort of the year and the seventh of his career.
Pinto worked out of a first-and-third, one-out jam to cap Lehigh Valley's ninth shutout of the season, matching Scranton/Wilkes-Barre for the most on the circuit. Philadelphia's No. 16 prospect is unscored upon in six appearances since moving from the rotation to the bullpen.