Phillies' Appel taking 'indefinite break'
2013 No. 1 pick stepping away from baseball after five seasons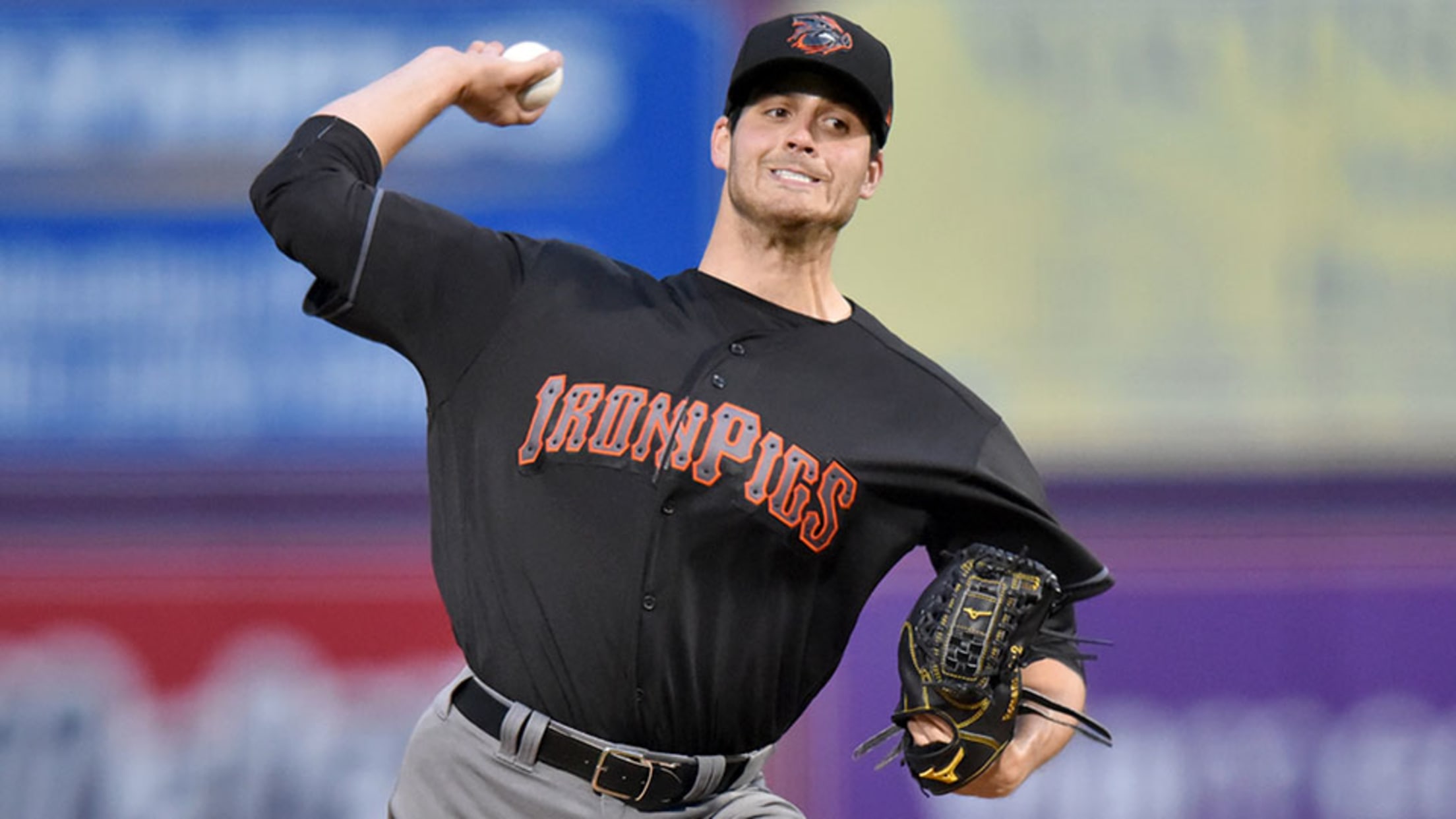 Mark Appel has posted a career 5.06 ERA over 375 1/3 innings in the Minor Leagues. (Ken Inness/MiLB.com)
What once looked like one of the most promising careers in the Minor Leagues might be coming to an end. It's at least being put on hold. Phillies right-hander Mark Appel, the No. 1 overall pick by the Astros in the 2013 Draft, is taking an "indefinite break" from baseball. He
What once looked like one of the most promising careers in the Minor Leagues might be coming to an end. It's at least being put on hold.
Phillies right-hander Mark Appel, the No. 1 overall pick by the Astros in the 2013 Draft, is taking an "indefinite break" from baseball. He told Philadelphia he won't be heading to Spring Training this month as he steps away from the game.
"I made the decision a couple of weeks ago to step away," Appel told MLB.com. "I kind of let it sit and told my family and a few close friends. … When you graduate from Stanford and you start having struggles in the Minors and you feel like you're older than everybody where you are, you're kind of wondering what's going on. I have interests outside of baseball, like business and things like that.
"I know that I need to take some time to just reevaluate some things and get healthy physically, emotionally, mentally, spiritually -- just all around want to have good practices in my life. I think there are times where playing baseball when you're hurt, when you're on the DL, even when you're playing and you're in the Minors and you're there for a while, it can feel pretty isolating. You're away from all the people that you love the most, and I think I just realized I wasn't excited about going back to play."
Appel was a two-time first-round pick, also going No. 8 to the Pirates in 2012 after his junior year at Stanford. He chose to return to school and was taken first overall by the Astros the following year, eventually signing for $6.35 million. He entered the 2014 season as MLB.com's No. 17 overall prospect but quickly encountered struggles. The former Cardinal ace posted a 9.74 ERA and a 1.92 WHIP over 44 1/3 innings with Class A Advanced Lancaster to begin his first full season. The Astros still promoted him to Double-A Corpus Christi -- getting him out of the hitter-friendly California League -- but the results never matched his potential.
After posting a 4.37 ERA in 131 2/3 innings between Corpus Christi and Triple-A Fresno in 2015, Appel was dealt to the Phillies as part of a five-player package that sent closer Ken Giles and infield prospect Jonathan Arauz to the Astros. He made only eight starts in his first season with his second club due to shoulder and elbow issues. He was nevertheless added to the Phillies' 40-man roster in November 2016, but posted a 5.27 ERA with 60 strikeouts and 53 walks over 82 innings for Triple-A Lehigh Valley in 2017. The Phillies designated him for assignment in late November, and no team opted pick him up on waivers or through the Rule 5 Draft. Philadelphia ultimately outrighted Appel to Lehigh Valley.
Instead of heading to Clearwater this spring, Appel told MLB.com he plans to apply to business school and has been looking for an internship in the business world. Though he does leave open the idea that he could return to pro ball at some point, it appears his priorities have, for the time being, moved away from the diamond.
"If I ever get to come back and pick up a baseball again, I'll do it when I'm excited and I'm ready to help a team win some games and do it when I want to do it and don't feel the burden and pressure of other people's expectations," Appel told MLB.com. "Going back to Spring Training and the season this year, that's what I think people expect me to do. I don't think that's a good enough reason."
Sam Dykstra is a reporter for MiLB.com. Follow and interact with him on Twitter, @SamDykstraMiLB.