Piscotty, Chiefs Sweep Thursday Double Header
Peoria has won four in a row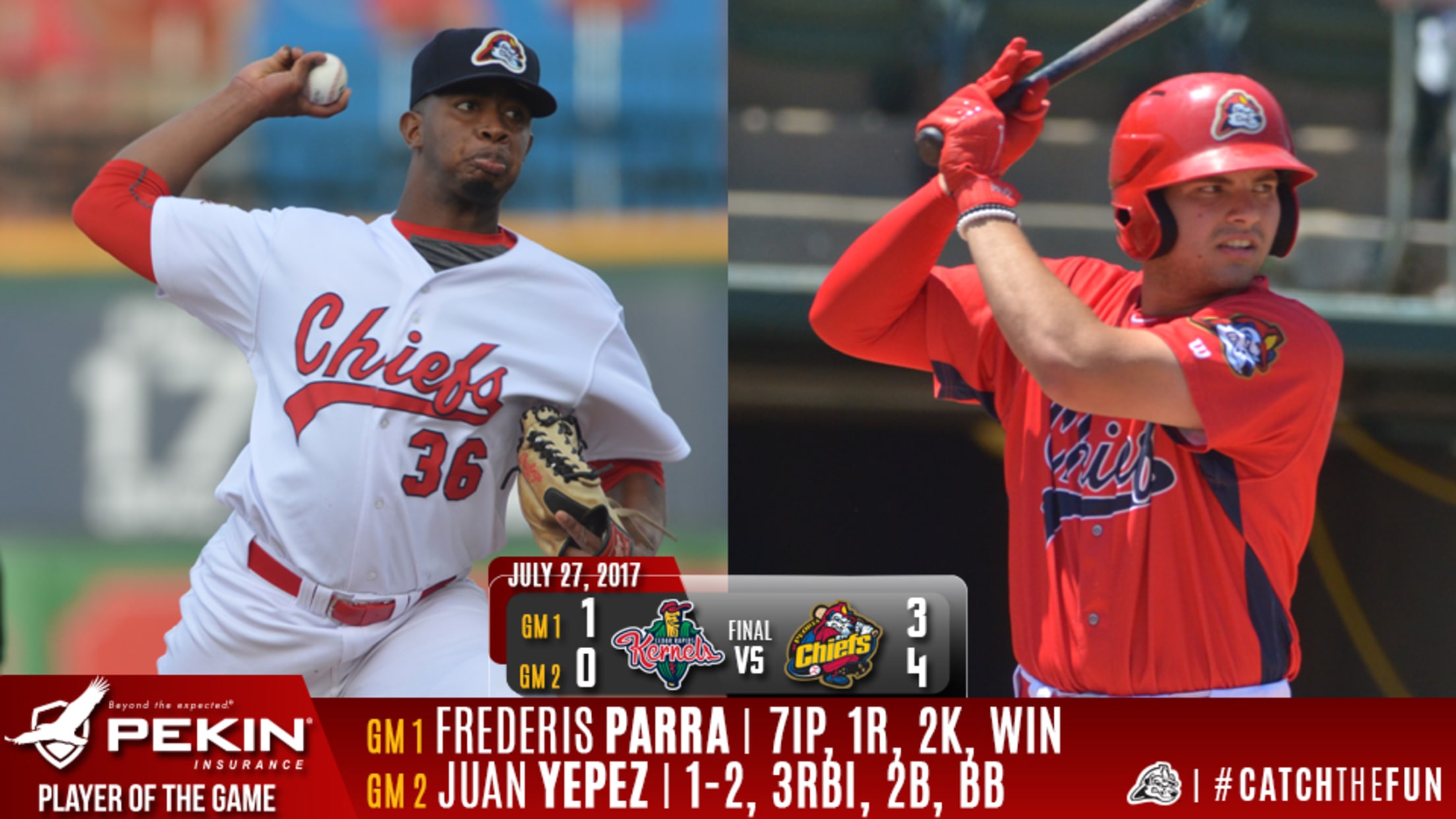 Peoria, IL- St. Louis Cardinals outfielder Stephen Piscotty made his first rehab appearance with the Peoria Chiefs in a double header sweep against the Cedar Rapids Kernels, 3-1 and 4-0 on Thursday night at Dozer Park. Peoria improves to 20-13 in the second half and 50-52 overall with the series finale
Peoria, IL- St. Louis Cardinals outfielder Stephen Piscotty made his first rehab appearance with the Peoria Chiefs in a double header sweep against the Cedar Rapids Kernels, 3-1 and 4-0 on Thursday night at Dozer Park. Peoria improves to 20-13 in the second half and 50-52 overall with the series finale set to be played on Friday night with a 7:00 p.m. first pitch.
In the first game of the double header, the Kernels took an early lead against Chiefs starter Frederis Parra. With two outs in the first Travis Blankenhorn doubled to right field and Lewin Diaz singled to right. Blankenhorn scored to put Cedar Rapids on top with a 1-0 lead.
The Chiefs strung together a two-out rally in the second to take the lead against Kernels starter Tyler Beardsley. Piscotty's first at-bat of his rehab resulted in a high-fly ball to right-center field for the second out of the inning. Stefan Trosclair singled to right and Vince Jackson doubled to right field to move both runners into scoring position. Brian O'Keefe singled through the right side of the infield to drive in both Trosclair and Jackson to give Peoria a 2-1 advantage.
Peoria only had one hit in the fourth inning against Beardsley, but it was an explosive one. With one out, Danny Hudzina powered a ball over the left field fence. The homer was his seventh of the season and extended the Chiefs lead to 3-1.
Piscotty finished the game 0-for-3, putting all three balls in play including two well-hit fly ball outs. The Cardinals rehabber left the game after the fifth inning, but will return to Dozer Park on Friday to continue his rehab with the Chiefs.
Parra (2-3) threw a complete game in the win, going seven innings while allowing one run on five hits, walking one with two strikeouts.
Game two was scoreless until the third inning, when the Chiefs got on the board against Kernels starter Evan Sanders. Matt Fiedler singled to shallow-center field and Nick Plummer was hit by a pitch. Fiedler tried to advance to third on a ball in the dirt, but was thrown out for the first out. Kramer Robertson walked to give Peoria runners at first and second again. Both moved up on a wild pitch, and Trosclair walked to load the bases. Jackson lined a ball to center field, and Plummer slid headlong to beat Aaron Whitefield's throw to give Peoria a 1-0 lead.
The Chiefs extended their lead in the fifth against Sanders and Patrick McGuff. Sanders walked Robertson, Trosclair, and Jackson to load the bases. McGuff entered the game and recorded the first two outs of the inning before Juan Yepez doubled to right-center field, clearing the bases and giving the Chiefs a 4-0 cushion.
Ronnie Williams threw four hitless in a no decision, issuing a walk with four strikeouts. Colton Thomson (1-0) went 1 1/3 innings in his first win of the season, allowing a hit with two strikeouts. Yeison Medina pitched 1 2/3 innings with two hits, a walk, and three strikeouts.
Notes… Piscotty is the third Cardinals player to rehab in Peoria this season, the other two were Kolten Wong and Tyler Lyons… Parra's complete game was the second of his career, the other was a seven inning start last season on August 8 for Johnson City… Jackson was the only Chiefs batter to have a multi-hit game in the first game of the double header, and has 14 multi-hit efforts this season… Jackson extended his hit streak to seven games while O'Keefe extended his to five games… Game two was Williams' first start since May 3 in Lansing… Plummer had an eight-game hit streak snapped in game one… Hudzina had hits in both games and now has a six-game hit streak but his five-game RBI streak was snapped in game two… McCarvel lost a six-game RBI streak in game two while Yepez extended his RBI streak to five games… This was the Chiefs third straight series win at Dozer Park and the first series win versus Cedar Rapids in 2017... The Chiefs last two shutouts against Cedar Rapids are the second game of Thursday's double header and Mike O'Reilly's 1- strikeout game on July 10… The Chiefs will play the series finale against Cedar Rapids on Friday with a 7:00 p.m. first pitch… Peoria will send LH Austin Warner (1-0, 0.00) to the mound against Kernels LH Dominick Carlini (3-8, 5.40)… There will be a post-game fireworks display… The Chiefs will celebrate their 35th anniversary on Friday, and the first 1,000 fans (ages 13 and up) will receive a Logo History Banner presented by CityLink… Dueling Pianos will make their second appearance of the season at Dozer Park… Friday is ALS night… The broadcast can be heard, starting with the pregame show at 6:45 p.m. on www.peoriachiefs.com/listenlive which also has downloads for a free app on the iPhone, iPad, Blackberry, and Android… The broadcast is also available on the Peoria Chiefs Radio Networkin the Tune-In Radio App.