Prospect Roundup: Games of July 31
Tate, Baez, Dunning dominate on hill; Alemais collects four hits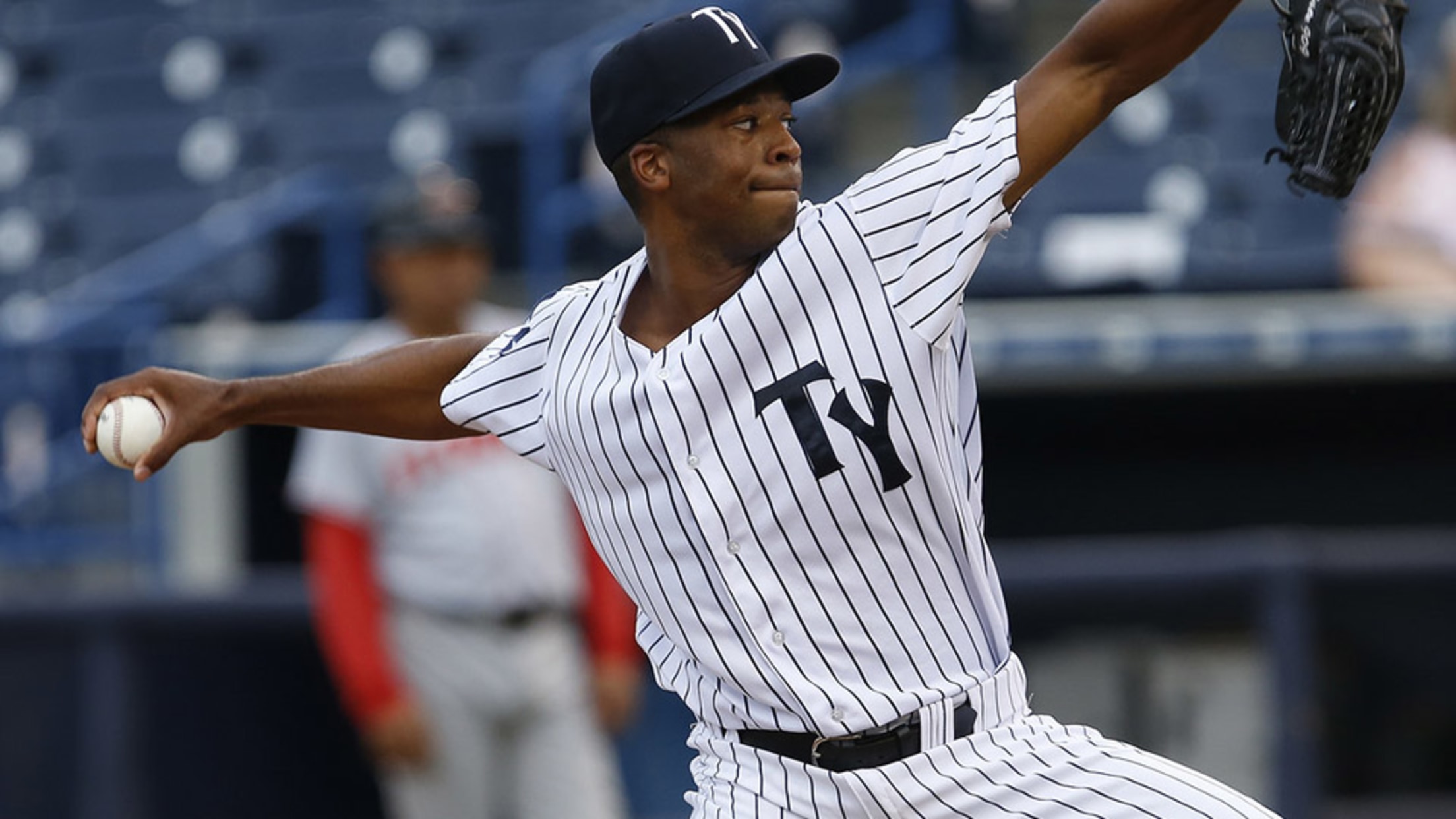 Dillon Tate has posted a 1.09 WHIP over 50 1/3 innings for Class A Advanced Tampa this season. (Mark LoMoglio/MiLB.com)
Angels RHP Jake Jewell, Double-A Mobile: 7 IP, 4 H, 0 R, 1 BB, 5 K, 87 pitches, 48 strikes -- The Angels' No. 23 prospect notched his first career shutout Monday with a 2-0 win over Mississippi in the opener of a doubleheader. It also marked the first time
Angels RHP Jake Jewell, Double-A Mobile: 7 IP, 4 H, 0 R, 1 BB, 5 K, 87 pitches, 48 strikes -- The Angels' No. 23 prospect notched his first career shutout Monday with a 2-0 win over Mississippi in the opener of a doubleheader. It also marked the first time he'd completed seven innings since joining Mobile on April 24 and the second time in 21 appearances this season. Jewell owns a 4.30 ERA and 1.36 WHIP with 67 strikeouts over 98 1/3 innings in the Southern League. Those numbers may not jump out, but they're a big improvement over a rough go in the California League last season (6.31 ERA, 1.87 WHIP over 137 frames). More than just getting out of the offense-rich environment of the Golden State, Jewell has shown improved control as his walk rate has dropped from 9.9 percent in 2016 to 6 percent in this campaign. The 24-year-old right-hander still doesn't miss as many bats as one would prefer, but his improvement in finding the zone gives him a shot as sticking as a starter going up the Angels' chain.
Yankees RHP Dillon Tate, Class A Advanced Tampa: 7 2/3 IP, 5 H, 0 R, 1 BB, 9 K, 109 pitches, 76 strikes -- The Yankees were big-time buyers at this year's trade deadline after being sellers just one year ago. Tate came over in 2016 in the deal that sent Carlos Beltrán to the Rangers, and he's starting to show flashes of why he was considered one of the top arms in the 2015 Draft. The Yankees' No. 15 prospect lasted a career-long 7 2/3 innings Monday and dropped his season ERA to 2.68 through eight starts with Tampa. He's also struck out 44 and walked only 14 over 50 1/3 innings during his first trip to the Florida State League. That's encouraging for a pitcher who saw his stock drop precipitously in 2016 and had moved to the bullpen, where he pitched at UC Santa Barbara. However, there's some context to consider. Tate didn't make his 2017 debut until June 20 due to shoulder issues, and at 23 with a college pedigree, he's a little behind schedule at Class A Advanced. But he looks healthy and more likely to stick as a starter than he did at the beginning of 2017, and that's good news for all involved.
Pirates SS Stephen Alemais, Class A Advanced Bradenton: 4-for-4, 2B, RBI, R, BB -- The Pirates have a glut of shortstop prospects with No. 5 prospect Cole Tucker, No. 6 Kevin Newman and No. 22 Alemais -- all of whom have dealt with various injuries this season. Alemais missed more than a month with a thumb/hand injury but has been hot since moving to Bradenton on July 20. Monday brought a career-high four hits, including a walk-off single in the 10th, making him 14-for-26 (.538) with a double, seven RBIs, six walks and five strikeouts in eight games for the Marauders. This hot streak comes after the 22-year-old hit just .223/.266/.380 in 29 games at Class A West Virginia before the injury. When he regained full health, the Pirates pushed the 2016 third-rounder up to the FSL as Tucker got his own bump to Double-A Altoona. Despite this hot run, Alemais' value isn't in his bat. He's got both the range and arm to stick at shortstop and be better than average at the position. He'll have to keep hitting to round out his profile and make his case in the years to come, but it's promising that he's showing no ill-effects from his injury earlier this year.
White Sox RHP Dane Dunning, Class A Advanced Winston-Salem: 7 IP, 3 H, 1 R, 1 ER, 1 BB, 11 K, 96 pitches, 64 strikes -- The No. 11 White Sox prospect continued to rack up K's Monday, matching his Class A Advanced high with 11 in a 2-1 win over Salem. Dunning would lead most other organizations in the category as his 129 strikeouts in 112 innings this season between Winston-Salem and Class A Kannapolis are tied for 11th-most in the Minors. Instead, he trails fellow White Sox prospects Alec Hansen (138) and Michael Kopech (134). That speaks more to the growing depth of Chicago's pitching prospect pool, and Dunning has certainly played his part after being acquired from the Nationals in the Adam Eaton deal last offseason. With three above-average pitches and solid control, the 22-year-old right-hander has all the makings of a mid-rotation starter.
Padres RHP Michel Baez, Class A Fort Wayne: 6 2/3 IP, 5 H, 1 R, 1 ER, 0 BB, 14 K, 1 HR, 100 pitches, 77 strikes -- Those who aren't already on the Baez train will want to get on after Monday's performance. The Padres' No. 7 prospect hit double-digit strikeouts for the first time in affiliated ball, whiffing 14 of the 25 Dayton batters he faced. Signed for $3 million out of Cuba last December, the 21-year-old right-hander has earned a plus-plus grade for a fastball that can reach triple digits, a 55 on his slider and an average 50 on his changeup from MLB.com. That mix has helped the 6-foot-8, 220-pound hurler record a 0.91 ERA with 47 strikeouts and only three walks in 29 2/3 innings with the TinCaps. That's a small sample, but a 44.3 percent strikeout rate and 2.8 percent walk rate are eye-popping no matter the size. The Padres already have a top-100 arm from the 2016-17 signing class in No. 80 prospect Adrian Morejon. Don't be surprised if Baez joins him on that list, if this run of dominance continues in his first stateside season.
Sam Dykstra is a reporter for MiLB.com. Follow and interact with him on Twitter, @SamDykstraMiLB.