Prospects in the Phillies' 2020 player pool
Top prospects Bohm, Howard followed by mix of bullpen candidates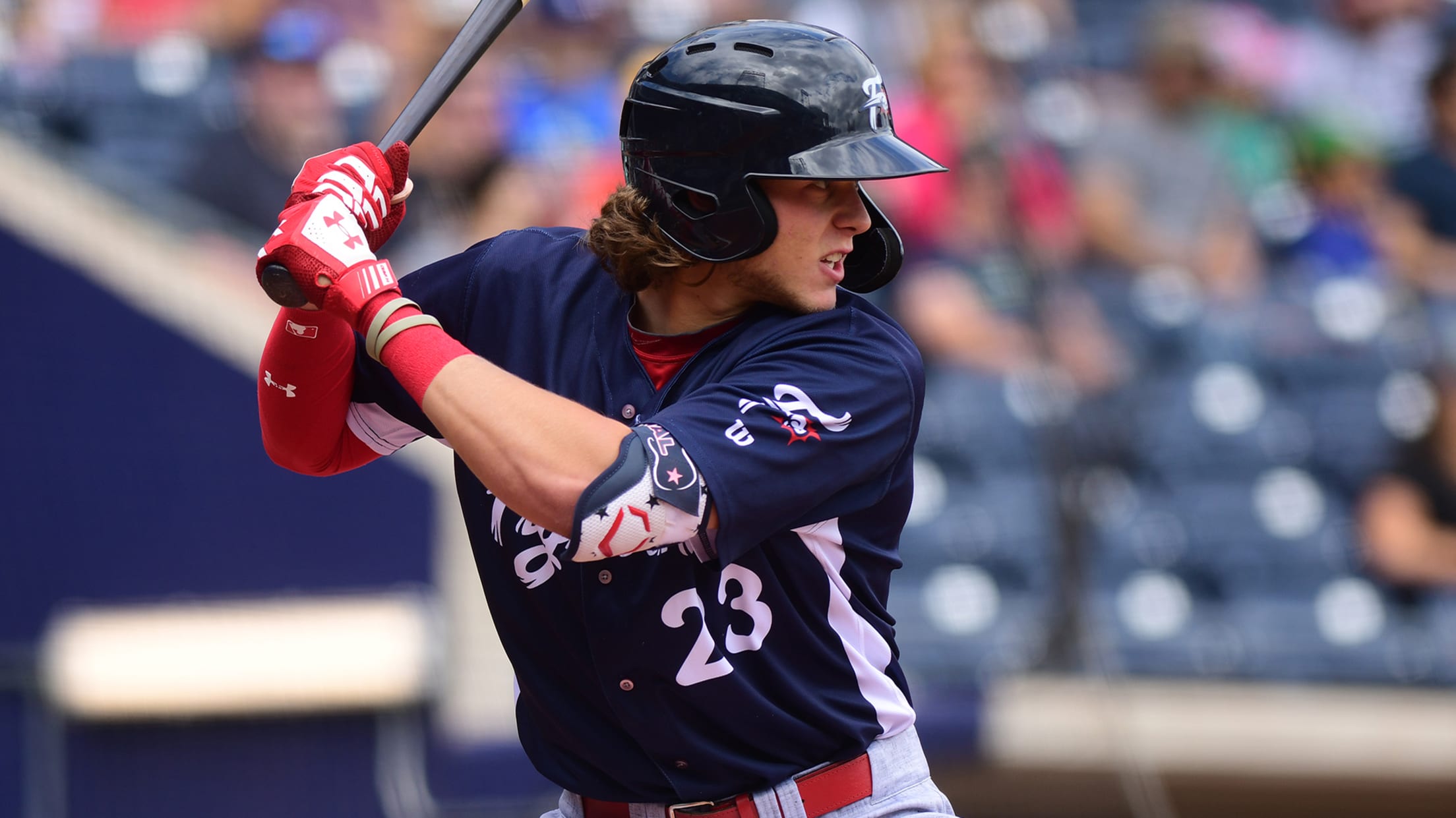 Top Phillies prospect Alec Bohm compiled a .305/.378/.518 slash line across three levels in 2019, rising from Class A Lakewood to Double-A Reading. (Kevin Pataky/MiLB.com)
As part of the new rules for the 2020 Major League season, each of the 30 organizations will maintain a 60-man player pool for the duration of the campaign. Some members of the player pool will feature on the active Major League roster while others will work out at an
As part of the new rules for the 2020 Major League season, each of the 30 organizations will maintain a 60-man player pool for the duration of the campaign. Some members of the player pool will feature on the active Major League roster while others will work out at an alternate training site in the hopes of staying fresh for a potential callup or getting in much-needed development time. The MiLB.com staff is rounding up the notable prospects in each organization's 60-man player pool and analyzing what the new system will mean for their 2020 seasons.
With baseball back in South Philadelphia, the Phillies selected 54 players -- 32 pitchers, three catchers, 10 infielders and nine outfielders -- to begin Summer Camp workouts. Fifteen of those players maintain rookie eligibility. Nine are ranked within the club's top 30 prospects, per MLB.com. All of them have a case to reach the Majors in 2020.
Philadelphia will use Citizens Bank Park for its primary training ground leading up to a July 23 or 24 Opening Day. But more room will be needed to meet health and safety requirements. Some players in the pool, likely Philadelphia's Minor Leaguers, will train at the Richie Ashburn Fields in nearby FDR park. The Phillies grounds crew maintains the fields. They're a 1.6-mile drive from CBP.
Once the season begins, Philly plans to relocate players not on the active roster to Triple-A Lehigh Valley's Coca-Coca Park in Allentown, Pennsylvania, a little less than 80 miles north of Philadelphia. Here's a look at the prospects who will be either there or on the Major League roster:
Alec Bohm, 3B: The No. 30 overall prospect's inclusion in the pool was no surprise. Bohm will appear in red pinstripes at some point in 2020, even if service-time reasons push his debut beyond Opening Day. He hit .305/.378/.518 with a system-best 21 homers across three levels in 2019, his first full season, climbing from Class A to Double-A. He could fill in at third base or first, but also presents one of the Phillies' better right-handed options at designated hitter. Perhaps that's where Bohm collects the bulk of his at-bats, barring any long-term injuries to a member of the Phillies' infield.
Spencer Howard, RHP: Much like Bohm, all signs point to Howard contributing in Philadelphia this season, so the No. 34 overall prospect was a lock for the Phillies' 60-player pool. He has yet to pitch above Double-A, but he cruised with a 2.35 ERA in 30 2/3 Eastern League innings to finish 2019 and followed that up with a 2.11 ERA and 27 strikeouts in 21 1/3 frames during Arizona Fall League play. Prior to the halting of baseball in March due to the COVID-19 pandemic, the plan was to take it slow with Howard, possibly even starting him in extended spring training before managing his innings at Triple-A. Now, though, the shortened season gives the Phillies and their 2017 second-rounder less need for restraint. He might not crack the Opening Day roster, but don't expect him to stay down long if that's the case.
Enyel De Los Santos, RHP: With 2019 somewhat of a lost year for De Los Santos, a spot in Philadelphia's initial pool means the Phillies haven't given up on their No. 8 prospect. After he impressed and made his Major League debut in 2018, his first season with the organization, the right-hander struggled to replicate his dominance at Triple-A the following year. He posted a 7.36 ERA in 11 Major League innings before being left off of the Phillies expanded roster in September. A starter in the Minor Leagues, De Los Santos could be better prepared for a possible relief role this year while staying ready at Lehigh Valley.
JoJo Romero, LHP: Philly challenged Romero with a Triple-A assignment to begin 2019 and it didn't work. He had a 9.64 ERA after seven starts and was sent back to Double-A Reading. He made adjustments and got back on track before gaining some velocity by putting up an 0.84 ERA in 10 2/3 AFL innings as a reliever. Maybe that was a breakthrough for Romero, and the Phillies could try him out of the bullpen this year. But the No. 13 prospect also could provide starting pitching depth in a season in which health is a major concern for everyone. Either way, a spot in the Phillies pool gives Romero a chance to keep the momentum going from last fall.
Damon Jones, LHP: An 18th-round pick in 2017, Jones used a breakout 2019 to put himself in the Phillies pitching mix and was an obvious choice for the 60-player pool. The No. 14 Phillies prospect was good in his first full season in 2018, posting a 3.41 ERA for Class A Lakewood. But he reached another level last year, dominating the Florida State League with a 1.54 ERA in 11 starts and the Eastern League with a 0.82 ERA in four starts. He had rough finish to the season at Triple-A, and starting isn't out of the question moving forward, but the southpaw possesses a fastball-curveball combo that could play out of the Phillies' bullpen should a spot be there.
Mauricio Llovera, RHP: At 5-foot-11, Llovera is smaller than the 6-foot-5 Jones. They both have outperformed expectations and find themselves in a similar position in the Phillies' pool, though. Llovera signed for just $7,500 in 2014. He didn't throw for an affiliate until 2017. But the No. 15 Phillies prospect sports a three-pitch mix that got him into Double-A Reading's rotation last season, and he posted a 4.55 ERA in 65 1/3 innings before a forearm injury ended his season. It would seem there are a handful of arms ahead of Llovera on the depth chart, but then again, there might be a handful of spots up for grabs on the big league pitching staff over the next few months. Llovera's in the mix.
Connor Seabold, RHP: To put Seabold's appearance in the initial pool into perspective, let's retrace the No. 21 Phillies prospect's last year or so. An oblique injury during 2019 Spring Training sidelined him until July. But once he returned to Double-A Reading on July 23, his 2.25 ERA through the rest of the season was fourth-best in the Eastern League. Then he struck out 22 batters and put up a 1.06 ERA in 17 AFL innings -- only to be left out of Major League camp this spring. One three-month layoff later, the 2017 third-round pick is part of a pool that really doesn't yet include any projects who can't help this year. Confusing? Maybe, but it would seem the Phillies feel better about Seabold now than they did before the shutdown. Whether that turns into anything more than development time in Lehigh Valley remains to be seen.
Cole Irvin, LHP: It's hard to say anyone was prepared for how baseball has turned out in 2020, but Irvin is at least well-suited for what's to come. After debuting last May and making three starts, the remainder of the left-hander's 16 Major League appearances in 2019 came in relief. Nine of them went longer than an inning. With Summer Camp lasting a little longer than three weeks, most starters will not have time to build up to the point at which their arms can go deep into games. There will be a greater need for relievers, hence the 30-man rosters to start the season. So consider Irvin, the No. 22 Phillies prospect, and his history of being able to throw multiple innings out of the 'pen. He'll be strongly considered for the Opening Day roster.
Deivy Grullon, C: Philly's initial pool included just three catchers. JT Realmuto, of course, will start with Andrew Knapp as the primary backup. But the No. 24 Phillies prospect is in line to travel with the team's taxi squad, which must have a catcher on it. Though general manager Matt Klentak recently indicated the Phillies will add another catcher, Grullon's the most likely candidate to fill in should Realmuto or Knapp go down. The 24-year-old earned the spot by batting .283/.354/.496 with 21 homers and 24 doubles at Triple-A last year before spending his first month in the Majors in September.
Other notables: The bullpen mix gets even thicker beyond the Phillies' top 30 prospects. Connor Brogdon and Garrett Cleavinger had 37.6 and 36.4 percent strikeout rates respectively in the Minors last season. ... Reggie McClain made a cameo with the Mariners last year and Philadelphia claimed him in January. ... Ramon Rosso created some headlines during Spring Training. ... Addison Russ excelled as a closer in Reading in 2019. Especially considering Philadelphia did not seek out any high-priced relievers in the offseason, some of these pitchers might find their way to Citizens Bank Park before October. Maybe none will. … Kyle Garlick, acquired from the Dodgers in February, has a shot as the final bench outfielder. He slugged .675 in Triple-A last year.
Joe Bloss is a contributor for MiLB.com. Follow him on Twitter @jtbloss.