July 17: Williams wins, three RubberDucks homer in 9-0 rout in Bowie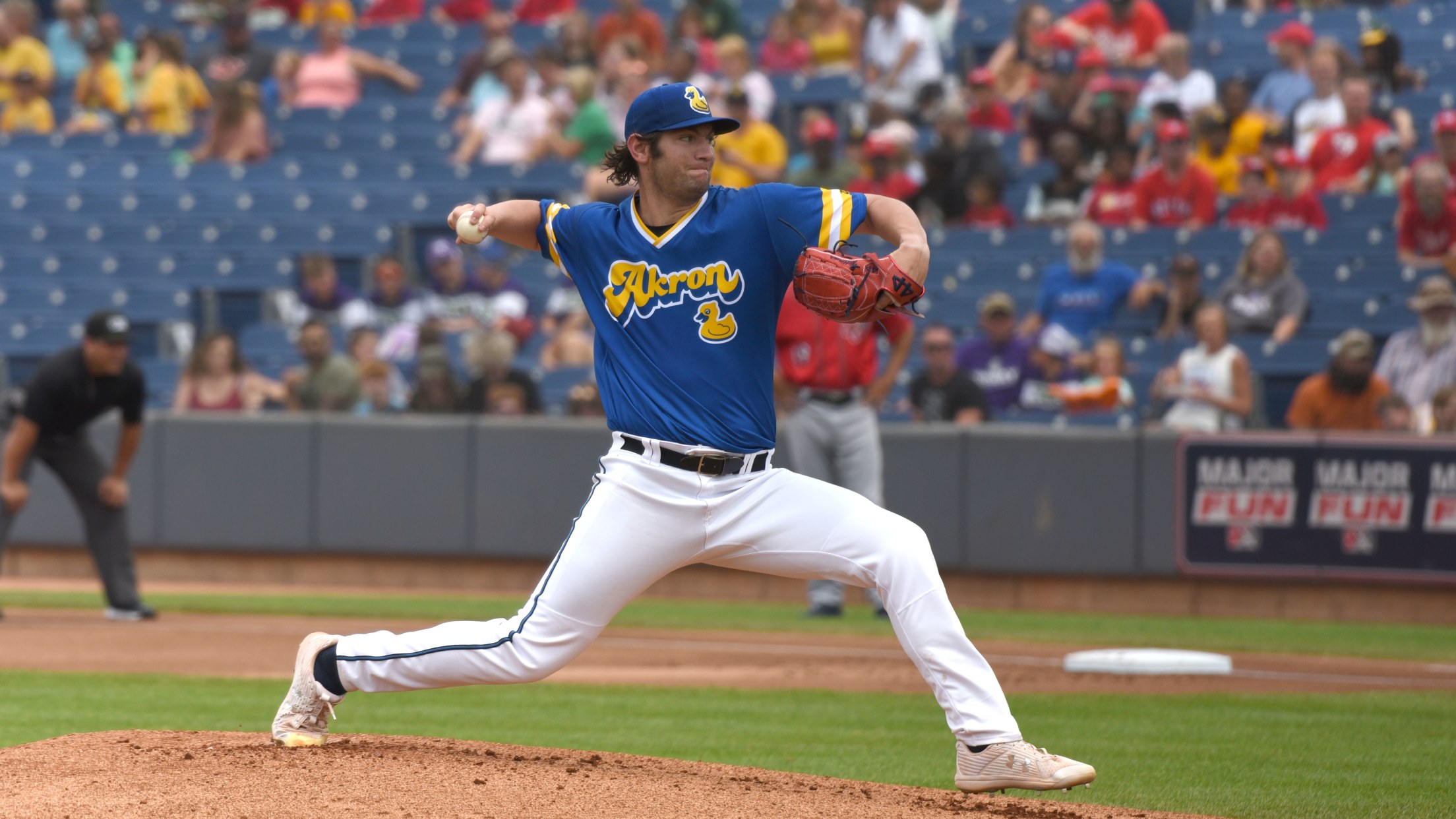 Gavin Williams earned his first Double-A win with five scoreless innings in Bowie Sunday afternoon. (Kayla McMillen)
July 17 RubberDucks Game Recap | Box Score Akron RubberDucks (5-11, 45-40) 9, Bowie Baysox (11-6, 38-48) 0 WP: Gavin Williams (1-2) LP: Ryan Watson (5-5) Save: None Summary RubberDucks right-hander Gavin Williams and three relievers pitched a four-hit shutout, while José Tena, Brayan Rocchio and Daniel Schneemann each homered
July 17 RubberDucks Game Recap | Box Score
Akron RubberDucks (5-11, 45-40) 9, Bowie Baysox (11-6, 38-48) 0
WP: Gavin Williams (1-2) LP: Ryan Watson (5-5) Save: None
Summary
RubberDucks right-hander Gavin Williams and three relievers pitched a four-hit shutout, while José Tena, Brayan Rocchio and Daniel Schneemann each homered and had three hits apiece in a 9-0 victory over the Bowie Baysox that snapped Akron's five-game losing streak in the finale of a five-game series at Prince George's Stadium Sunday afternoon.
Turning Point
Leading 2-0, the RubberDucks sealed the win with a seven-run eighth inning. Right fielder Quentin Holmes led off against right-hander Justin Armbruester with an infield single, Tena singled to left field, and Rocchio clubbed a three-run home run to right field – his sixth in 14 games – for a 5-0 lead. Catcher Brayan Lavastida reached on an error by third baseman Greg Cullen, first baseman Raynel Delgado walked with one out, and center fielder Julian Escobedo hit an RBI single. Schneemann pounded a two-out, three-run homer to center field off right-hander Tyler Burch, making it 9-0.
Top 8: Daniel Schneemann says liftoff! The lead is now 9 runs!

Akron 9 | Bowie 0 pic.twitter.com/XeCV1iFDz8

— Akron RubberDucks (@AkronRubberDuck) July 17, 2022
Mound Presence
Williams struck out two batters in each of the first three innings without a hit. He allowed a fourth-inning leadoff single, but got a double play when left fielder Micah Pries caught a flyout and threw to Delgado at first base. Williams finished five innings with eight strikeouts – his most for Akron – three walks and one hit. Right-hander Manuel Alvarez pitched a scoreless sixth inning around a walk, left-hander Eli Lingos pitched two scoreless innings around two hits and two strikeouts, and right-hander Robert Broom pitched a scoreless ninth with a hit and two strikeouts for Akron's fifth shutout.
Duck Tales
Tena led off the game with his fourth home run in his last eight games – an opposite-field home run to left field off right-hander Ryan Watson. In the third inning, Schneemann hit a leadoff single to center field, went to second on Tena's one-out single and scored on Rocchio's RBI single to left field for a 2-0 lead.
Top 1: Jose Tena with the 3 iron slice! Tena hits an oppo homer 357 that just sneaks over the LF wall to get us started!

Akron 1 | Bowie 0 pic.twitter.com/DISsDAbntL

— Akron RubberDucks (@AkronRubberDuck) July 17, 2022
Top 3: Just put the ball in play and see what happens! @rocchio05 muscles a ball to shallow left and puts us up two!

Akron 2 | Bowie 0 pic.twitter.com/07LT9Dlc94

— Akron RubberDucks (@AkronRubberDuck) July 17, 2022
Notebook
Escobedo hit safely in each of the five games in the series and is 6-for-12 in a season-long five-game hitting streak…The RubberDucks pitched their fifth shutout of the season and first since June 16…Akron had been outscored, 30-8, and allowed 12 home runs in the five-game losing streak…After a ninth-inning, walk-off, two-run double on Wednesday, Bowie went 0-for-17 with runners in scoring position in the final four games of the series…The Baysox lead the season series, 8-3, with 13 games remaining between them, all at Canal Park…Game Time: 2:39…Attendance: 2,217.
On the Pond
The RubberDucks begin a nine-game homestand at Canal Park with the opener of a three-game series with the Erie SeaWolves at 7:05 p.m. EDT Friday. The game broadcast, powered by FirstEnergy, is on 640 WHLO, the 640 WHLO iHeartRadio channel, and akronrubberducks.com, and available on MiLB.TV. Tickets for RubberDucks home games are available at akronrubberducks.com/tickets.