Aug. 2: RubberDucks score four in third inning, bullpen seals 5-2 win in Altoona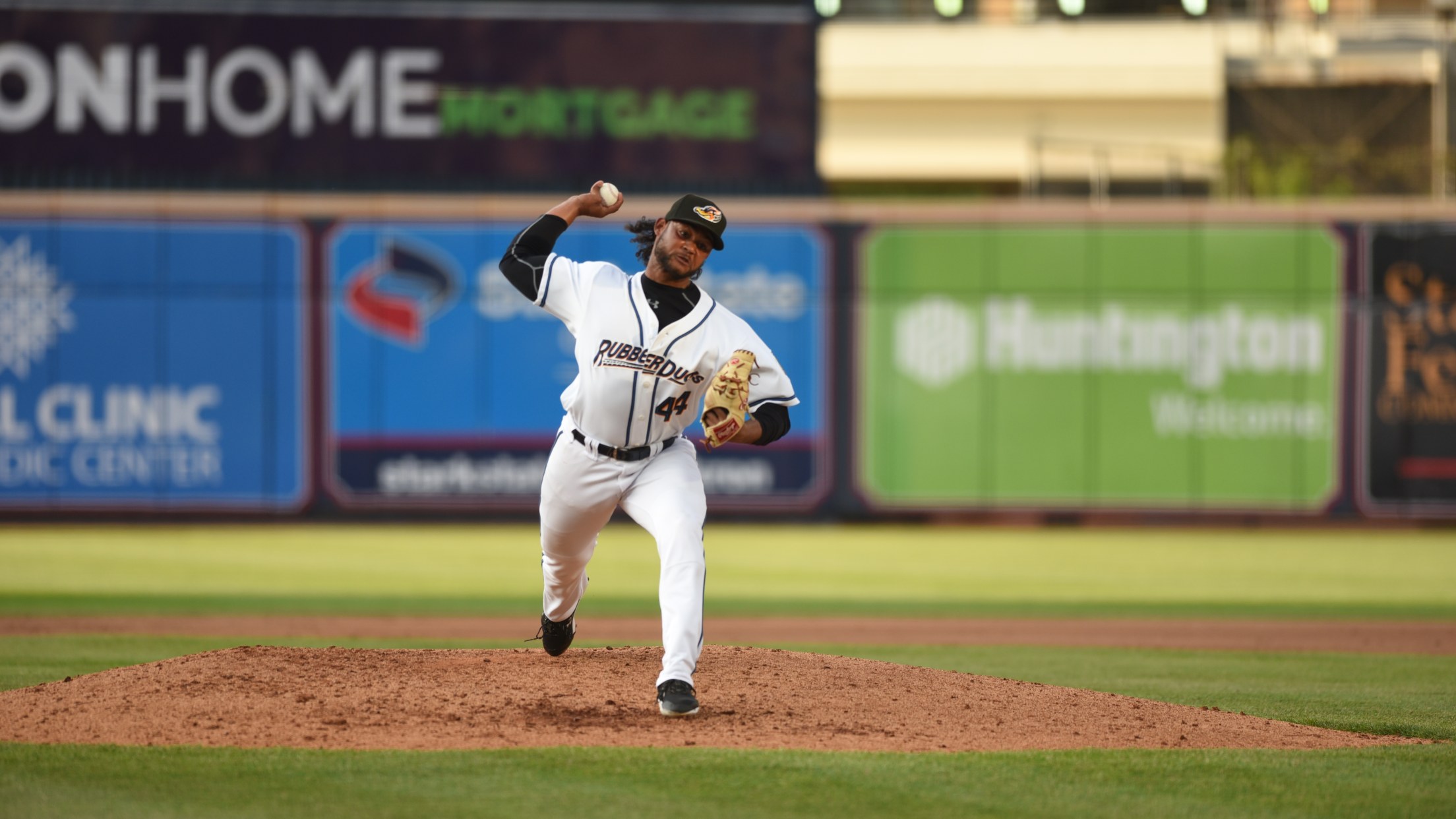 Manuel Alvarez pitched his second straight two-scoreless-inning appearance Tuesday in Altoona to earn his first win since April 29 (also against Altoona). (Kayla McMillen)
Aug. 2 RubberDucks Game Recap | Box Score Akron RubberDucks (11-15, 51-44) 5, Altoona Curve (14-14, 47-50) 2 WP: Manuel Alvarez (2-3) LP: Aaron Shortridge (0-2) Save: Thomas Ponticelli (2) Summary The RubberDucks batted around in a four-run third inning, and three relievers combined for five scoreless innings in a
Aug. 2 RubberDucks Game Recap | Box Score
Akron RubberDucks (11-15, 51-44) 5, Altoona Curve (14-14, 47-50) 2
WP: Manuel Alvarez (2-3) LP: Aaron Shortridge (0-2) Save: Thomas Ponticelli (2)
Summary
The RubberDucks batted around in a four-run third inning, and three relievers combined for five scoreless innings in a 5-2 victory over the Altoona Curve in the opener of a six-game series at Peoples Natural Gas Field Tuesday night.
Turning Point
Akron sent 10 to bat in the third inning. With Altoona leading 1-0, right-hander Aaron Shortridge walked second baseman Brayan Rocchio, catcher Bryan Lavastida singled to right field, and right fielder George Valera walked. With one out, left fielder Micah Pries grounded to first base, resulting in a fielder's choice at second base, but shortstop Liover Peguero's errant throw to first base allowed both Rocchio and Lavastida to score for a 2-1 lead. With Pries at second base, third baseman Daniel Schneemann hit an RBI single to center field to make it 3-1. First baseman Raynel Delgado hit an infield single, and center fielder Julian Escobedo walked, ending the night for Shortridge. Right-hander Enmanuel Mejia entered and walked shortstop José Tena, forcing a run home to make it 4-1.
That ball has some bounce to it! @micahpries with the good wheels down the line forces a wild throw that gives us the lead!

TOP 3: Akron 2 | Altoona 1 pic.twitter.com/IB1dyrd7yQ

— Akron RubberDucks (@AkronRubberDuck) August 2, 2022
He stays hot! @Schneemann55 keeps coming through in big spots as a liner extends the lead!

TOP 3: Akron 3 | Altoona 1 pic.twitter.com/0ceevF5ig8

— Akron RubberDucks (@AkronRubberDuck) August 2, 2022
We're walking on sunshine!

Jose Tena works a walk with the bases loaded to bring home another run!

TOP 3: Akron 4 | Altoona 1 pic.twitter.com/aMBXzMghg1

— Akron RubberDucks (@AkronRubberDuck) August 2, 2022
Mound Presence
Right-hander Tanner Bibee, named Eastern League Pitcher of the Week on Monday, allowed a pair of solo home runs to second baseman Andres Alvarez for Altoona's runs in the first and third innings. With a 4-2 lead in the third, Bibee stranded the tying runs on base. He worked four innings, allowing five hits and one walk with six strikeouts. Right-hander Manuel Alvarez allowed a walk and double to start the fifth before retiring six batters in a row for two scoreless innings. Right-hander Carlos Vargas stranded two runners each in the seventh and eighth. Right-hander Thomas Ponticelli pitched a scoreless ninth for his second save and first since June 14, the last time Akron won a road series opener.
Duck Tales
Akron left fielder Micah Pries led off the fifth inning with a solo home run to right-center field off right-hander Carmen Mlodzinski. With his first homer since July 8 against Altoona, Pries tied Valera for the team lead with 15 homers.
Look out on the roller coaster! @micahpries launches a solo shot to extend the lead!

TOP 5: Akron 5 | Altoona 2 pic.twitter.com/lwJz5eDTlT

— Akron RubberDucks (@AkronRubberDuck) August 2, 2022
Notebook
Schneemann has 11 RBI in his last 12 games…Lavastida had his first multi-hit game with Akron this season and first three-hit game since Sept. 15, 2021, while reaching base all five plate appearances…Alvarez and Vargas each have not allowed a run in their last four innings…Akron leads the season series, 7-6…Game Time: 2:48…Attendance: 5,880.
On the Pond
The RubberDucks continue their series in Altoona at 6 p.m. EDT Wednesday. Akron left-hander Jaime Árias (0-1, 5.19 ERA) is scheduled to face Curve right-hander Luis Ortiz (3-7, 5.21 ERA). The game broadcast, powered by FirstEnergy, is on 640 WHLO, the 640 WHLO iHeartRadio channel, and akronrubberducks.com, and available on MiLB.TV. Tickets for RubberDucks home games are available at akronrubberducks.com/tickets.