Sept. 8: RubberDucks break strikeout record, win in Harrisburg, 3-2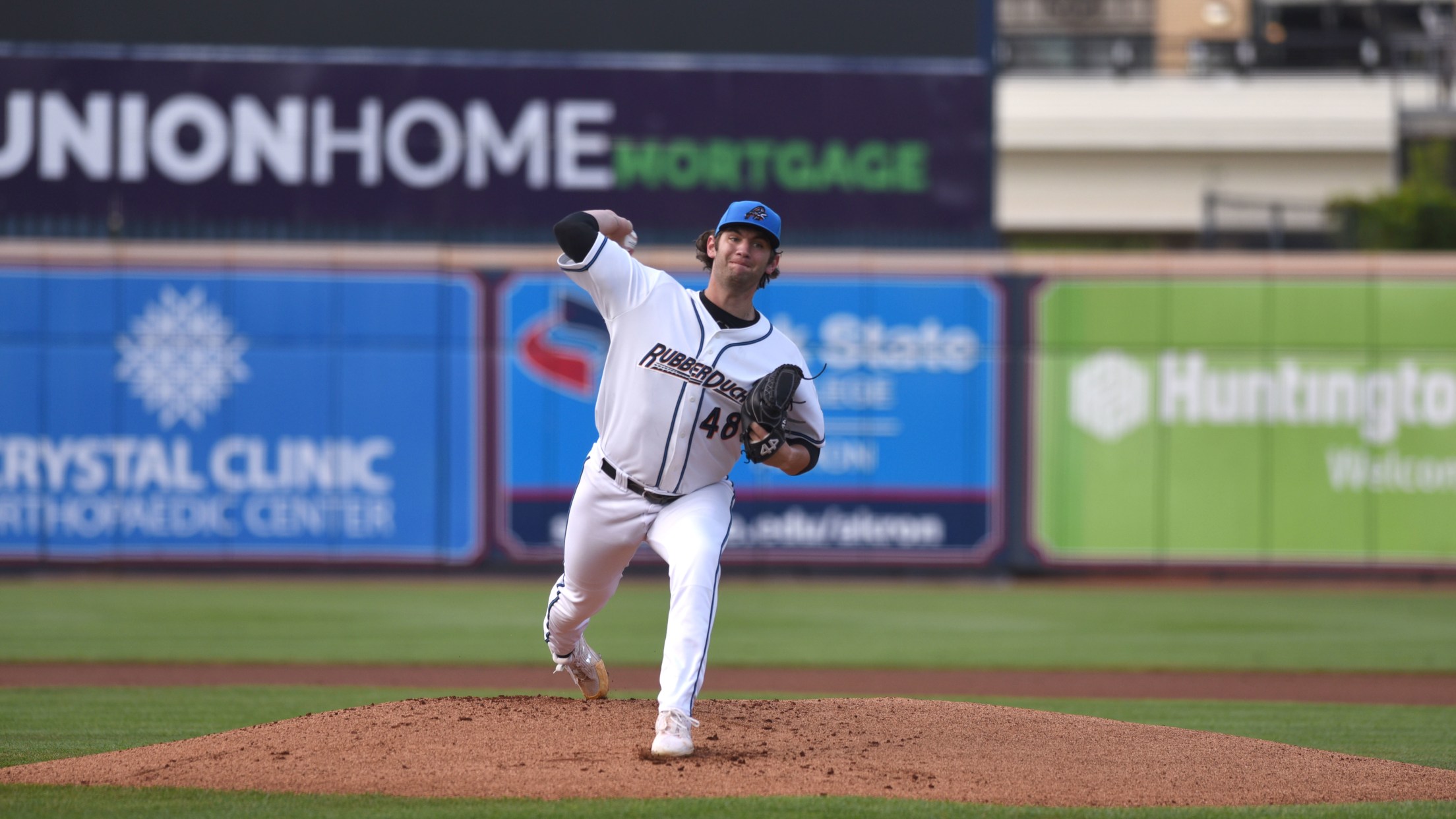 Gavin Williams struck out seven batters, helping Akron break the Eastern League record for strikeouts by a team in one season. (Kayla McMillen)
September 8 RubberDucks Game Recap | Box Score Akron RubberDucks (33-27, 73-56) 3, Harrisburg Senators (21-38, 51-77) 2 WP: Robert Broom (4-2) LP: Garvin Alston (0-1) Save: Brett Daniels (3) Summary After breaking the Eastern League strikeout record by a pitching staff earlier in the game, the Akron RubberDucks had
September 8 RubberDucks Game Recap | Box Score
Akron RubberDucks (33-27, 73-56) 3, Harrisburg Senators (21-38, 51-77) 2
WP: Robert Broom (4-2) LP: Garvin Alston (0-1) Save: Brett Daniels (3)
Summary
After breaking the Eastern League strikeout record by a pitching staff earlier in the game, the Akron RubberDucks had three straight hits to open the eighth inning and score two runs to tie the game and take the lead in a 3-2 win over the Harrisburg Senators in the third game of a six-game series at FNB Field Thursday night.
HISTORY!

In the second inning of our game tonight, @16gavinwilliams picked up his first strikeout of the game and K number 1,301 for our pitching staff on the season, which sets a NEW @EasternLeague record!@LaNaveMarco on the 🎙 pic.twitter.com/NTQTUDx7jm

— Akron RubberDucks (@AkronRubberDuck) September 8, 2022
Turning Point
After Harrisburg took a 2-1 lead in the bottom of the seventh inning, third baseman Daniel Schneemann hit a leadoff double to left field against left-hander Garvin Alston. Center fielder Chris Roller hit a game-tying double down the left-field line. First baseman Raynel Delgado grounded an infield single to shortstop Jackson Cluff, whose errant throw past first base allowed Roller to score the go-ahead run for Akron's first lead of the night, 3-2.
We're going back-to-back! @ChrisRoller_7 and @Schneemann55 each knock doubles to tie this game back up!

TOP 8: Akron 2 | Harrisburg 2 pic.twitter.com/Z13KWGdcZy

— Akron RubberDucks (@AkronRubberDuck) September 9, 2022
Scoring is fun! @RayDelgado15 with an infield single to put us in front!

TOP 8: Akron 3 | Harrisburg 2 pic.twitter.com/DgH3cJWEeb

— Akron RubberDucks (@AkronRubberDuck) September 9, 2022
Mound Presence
Right-hander Gavin Williams began with three scoreless innings. His second-inning strikeout of left fielder Yasel Antuna was the 1,301st by RubberDucks pitchers this season, breaking the Eastern League record for team strikeouts. In the fourth inning, Williams allowed a run on two hits around a balk. He lasted through six innings, striking out seven batters while allowing five hits and one walk. Right-hander Robert Broom allowed two hits and the go-ahead run on a sacrifice fly in the seventh inning. Right-hander Brett Daniels worked around a hit with three strikeouts in two scoreless innings for his third save. With 10 strikeouts, the RubberDucks pushed their Eastern League record to 1,310 for the season.
Duck Tales
After being held scoreless through 5 2/3 innings by right-hander Ronald Herrera, Akron tied the game in the sixth inning. With two outs, shortstop José Tena hit his team-high sixth triple of the season to right-center field. Catcher Bryan Lavastida followed with an RBI triple to right field, tying the game, 1-1.
We are just so fast, we make fast teams look…not fast!! Back-to-back triples by Jose Tena and @Lavastida_ get us on the board!

TOP 6: Akron 1 | Harrisburg 1 pic.twitter.com/CgV8FscjZH

— Akron RubberDucks (@AkronRubberDuck) September 9, 2022
Notebook
Johnathan Rodríguez went 0-for-3, ending his six-game hitting streak…Akron held Wilson Garcia, a 2019 RubberDuck, hitless for the Senators, ending his 17-game hitting streak one game shy of tying the league's longest this season…The RubberDucks remained four games behind Bowie and Erie (37-23) in the second-half Southwest Division standings with nine games remaining…Akron leads the season series with Harrisburg, 9-6…Game Time: 2:31…Attendance: 3,846.
On the Pond
The RubberDucks continue the series in Harrisburg at 7 p.m. EDT Friday. Akron left-hander Doug Nikhazy (0-1, 37.80 ERA) is scheduled to face Senators left-hander Seth Romero (0-0, 4.91 ERA). The game broadcast, powered by FirstEnergy, is on Fox Sports 1350 The Gambler, the Fox Sports 1350 The Gambler iHeartRadio channel, and akronrubberducks.com, and available on MiLB.TV. Tickets for RubberDucks home games are available at akronrubberducks.com/tickets.