Avila limits JetHawks to one hit in seven innings
Padres No. 26 prospect strikes out four, delivers bounce-back start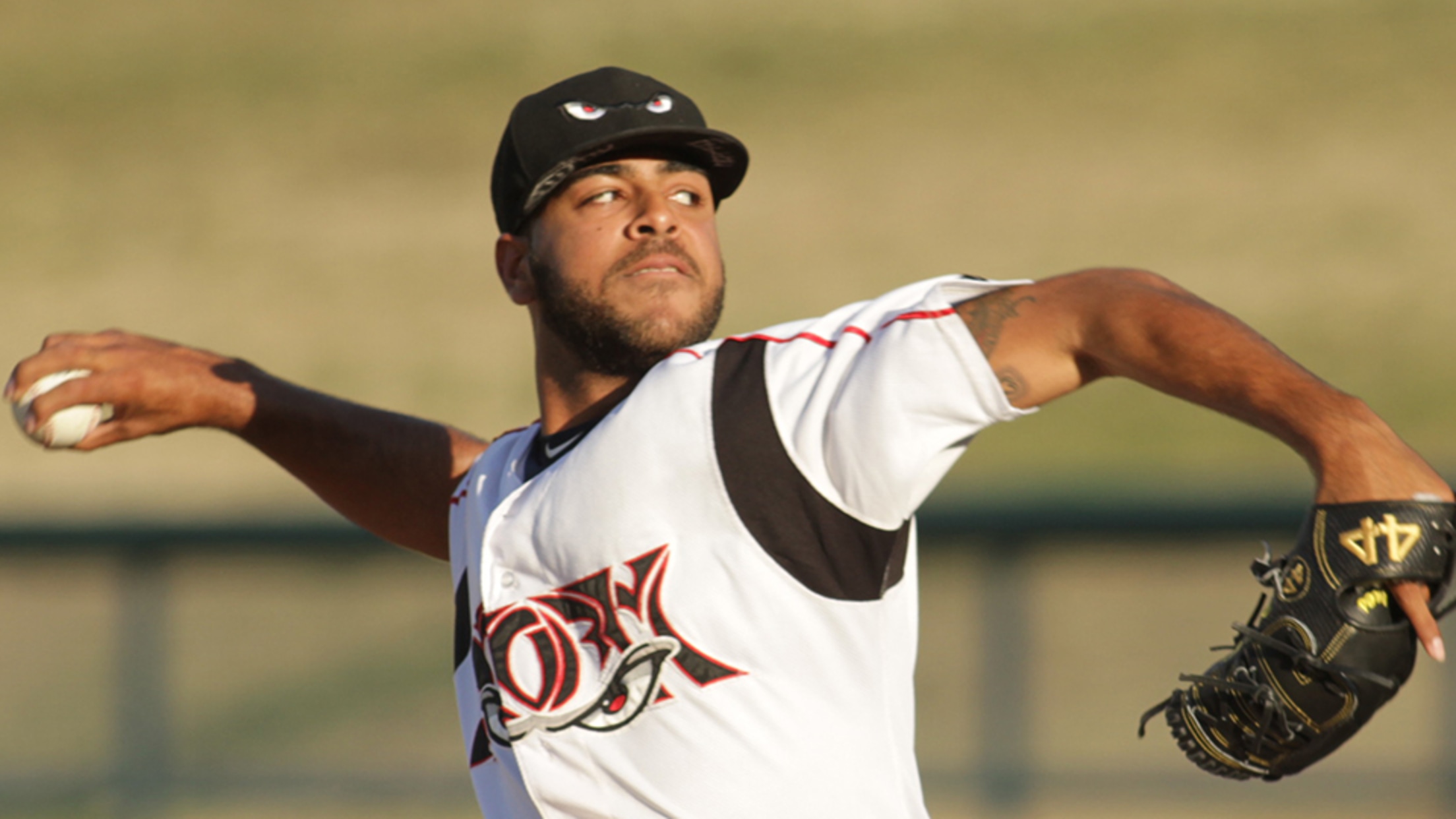 For the third time in his career, Pedro Avila completed seven innings without giving up a run. (Lake Elsinore Storm)
Pedro Avila faced the minimum against Lancaster the first time through the lineup Saturday. It didn't get much better for the JetHawks the rest of the night against the Padres' No. 26 prospect. Avila allowed one hit over seven scoreless innings, facing four batters over the minimum and pitching Class A Advanced
Pedro Avila faced the minimum against Lancaster the first time through the lineup Saturday.
It didn't get much better for the JetHawks the rest of the night against the Padres' No. 26 prospect. Avila allowed one hit over seven scoreless innings, facing four batters over the minimum and pitching Class A Advanced Lake Elsinore to a 9-1 victory at The Diamond.
After walking the second batter of the game, the right-hander coaxed a double play ball. Avila went on to retire the next eight batters before a throwing error by shortstop Kelvin Melean snapped the streak.
Gameday box score

The 5-foot-11, 190-pound right-hander gained an 0-2 advantage against the first two batters before slipping to a full count on both.
"We discussed that after the first inning," Storm pitching coach Pete Zamora said. "I said, 'That's not who you are, you're a strike-thrower.'"
The pitching coach sent Avila with instructions to establish his fastball, then work in his secondary pitches.
"There's going to be nights where he has dominant stuff and strikes everyone out," Zamora said. "Tonight was just a crisp night and throwing strikes."
The Caracas, Venezuela, native put runners aboard in each of the next two innings, facing his toughest test in the sixth. With one out, he issued back-to-back walks before hunkering down to get two flyouts and preserve the shutout.
"I saw a kid that was able to mess with the hitter's timing of a pretty veteran lineup over there," Zamora said. "He was able to throw all three pitches for strikes. When they were sitting on one pitch, he was throwing the other one. He and his catcher [Marcus Greene Jr.] had a very good game plan and they used it for seven strong. Nothing was overly nasty, but everything was really good and he threw everything over the plate."
Avila capped his outing with a 1-2-3 seventh. Nine of the 21 outs he recorded came on fly balls.
"He's a strikeout guy with a breaking ball," Zamora said. "He was able to get lazy fly balls against power hitters who were a little tardy on the fastball due to the fact he was able to pitch backwards when he needed."
He was efficient, too, throwing 53 of 82 pitches for strikes. Learning that he doesn't have to strike everyone out will be a challenge for Avila, who Zamora projects as a starter through the next levels of the Minors.
"You can't just be a one-style guy," Zamora said. "You have to be a two- or three-style guy to finish at the next level. ... It doesn't have to be a strikeout every time. Outs are very important at the next level. It doesn't matter how you get them -- you have to get them.
"Maybe early on he's trying to strike people out, getting him in long counts, throwing a lot of pitches, not being efficient."
Zamora said he had no qualms stretching Avila into the seventh but couldn't pull the prospect without working in a jab.
"I kind of joked with him," he said. "I said, 'You don't walk those three guys, we could send you out there for the eighth.'"
Padres No. 20 prospect Edward Olivares led off the bottom of the first with his second homer of the season and finished 4-for-5 with three singles and three runs scored. Hudson Potts, San Diego's 17th-ranked prospect, singled twice and scored two runs.
Roberto Ramos' solo homer in the ninth helped Lancaster avoid a shutout.
Tension between the teams were riding high all night, with an argument in the fifth prompting the ejection of JetHawks starter Logan Longwith and manager Fred Ocasio.
Chris Bumbaca is a contributor for MiLB.com based in New York. Follow him on Twitter @BOOMbaca.