Trash Pandas Struggle at Plate in 2-0 Loss
Rocket City shut out for second time in four games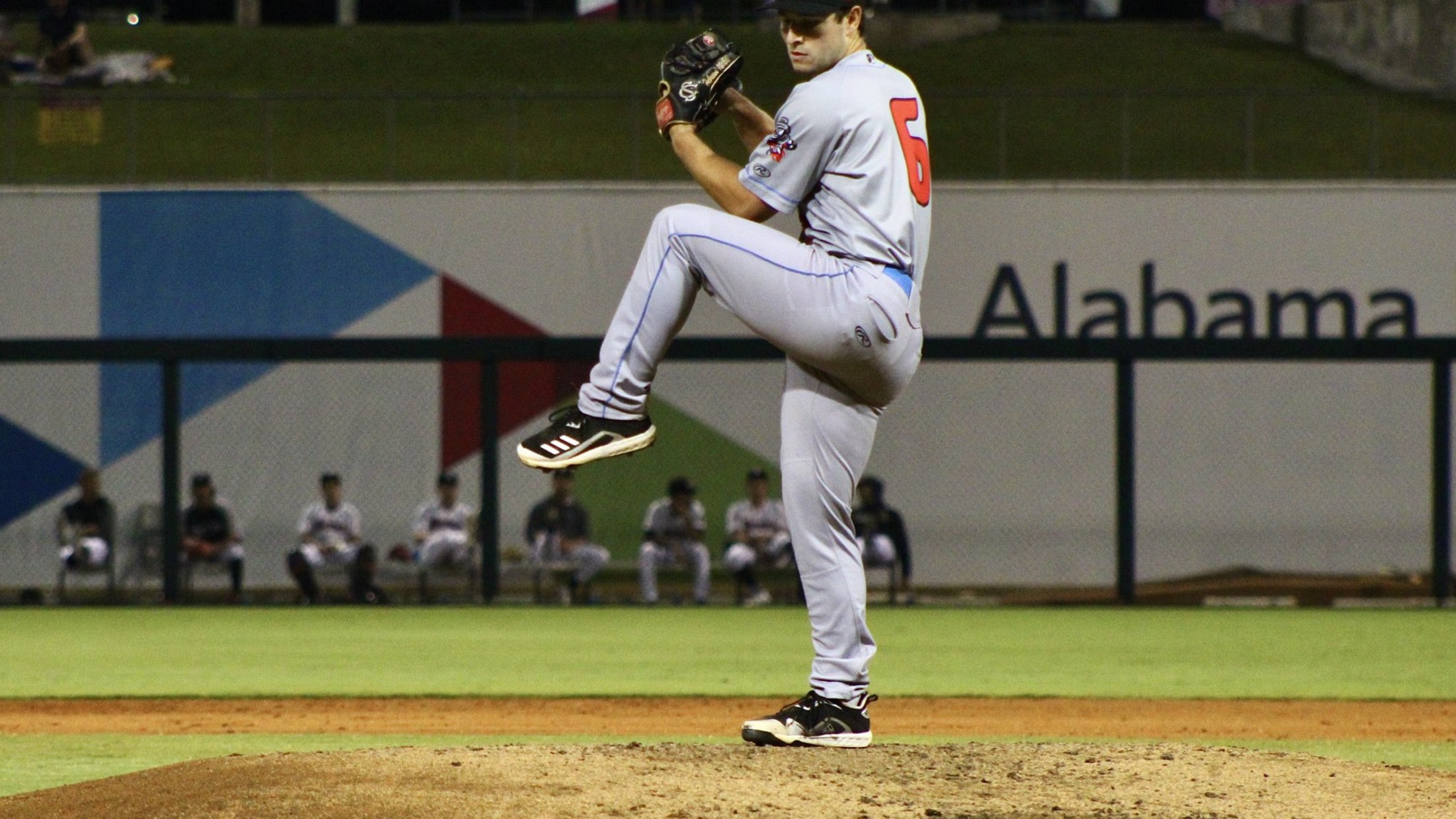 Brett Kerry struck out two in his Double-A debut. (Lucas Dolengowski/Rocket City Trash Pandas)
BIRMINGHAM, Alabama – Despite a strong start from their newest pitcher, the Rocket City Trash Pandas were stymied at the plate in a 2-0 loss to the Birmingham Barons on Friday night at Regions Field. The loss extends the Trash Pandas' losing streak to a season-high five games and puts
BIRMINGHAM, Alabama – Despite a strong start from their newest pitcher, the Rocket City Trash Pandas were stymied at the plate in a 2-0 loss to the Birmingham Barons on Friday night at Regions Field.
The loss extends the Trash Pandas' losing streak to a season-high five games and puts Rocket City four games behind Birmingham for the final playoff spot in Double-A South with eight games remaining in the regular season.
Making his Double-A debut in his fifth professional appearance, Rocket City righty Brett Kerry was stellar. He began the game by retiring the Barons one, two, three with two ground outs and a strike out.
In the second, Kerry worked out of a jam with two runners on base by inducing an inning ending double play from Xavier Fernandez. After a leadoff walk in the third, Kerry induced another double play to end the frame keep the game scoreless. Kerry ended his start by retiring the final eight hitters he faced, including all three in a six-pitch bottom of the fifth.
Over five scoreless innings, Kerry gave up just two hits and one walk with two strikeouts to keep the Trash Pandas in the game.
However, Birmingham starter Davis Martin was equally as impressive. With the Trash Pandas threatening in the fifth, Martin struck out Luis Aviles Jr. and got Mitch Nay to fly out to end the inning. Martin also pitched five clean innings in the scoreless pitcher's duel
In the sixth, the Barons took the lead against reliever Boomer Biegalski (L, 3-5) with a sacrifice fly from Tyler Neslony before Jameson Fisher doubled the lead to 2-0 with a solo homer in the seventh.
Zach Linginfelter pitched a clean eighth inning to keep the deficit at two, but the Trash Pandas could never muster a comeback.
The Birmingham pitching quartet of Martin, Jake Elliott (W, 4-2), Zach Muckenhirn, and Caleb Freeman (S, 3) combined to hold the Trash Pandas to five hits in their second shutout in four days.
Michael Cruz went 2-for-4 for the Trash Pandas in the loss while the Trash Pandas tied a season high with three defensive double plays.
Rocket City (53-53) and Birmingham (60-52) continue their series on Saturday night. First pitch at Regions Field is set for 6:30 p.m. Josh Caray will be on the call for 103.9 FM THE UMP and 730 AM SportsRadio.