Sod Poodles Drop Finale, Split Series With Hooks
Barrosa & Canzone Account For All Four Hits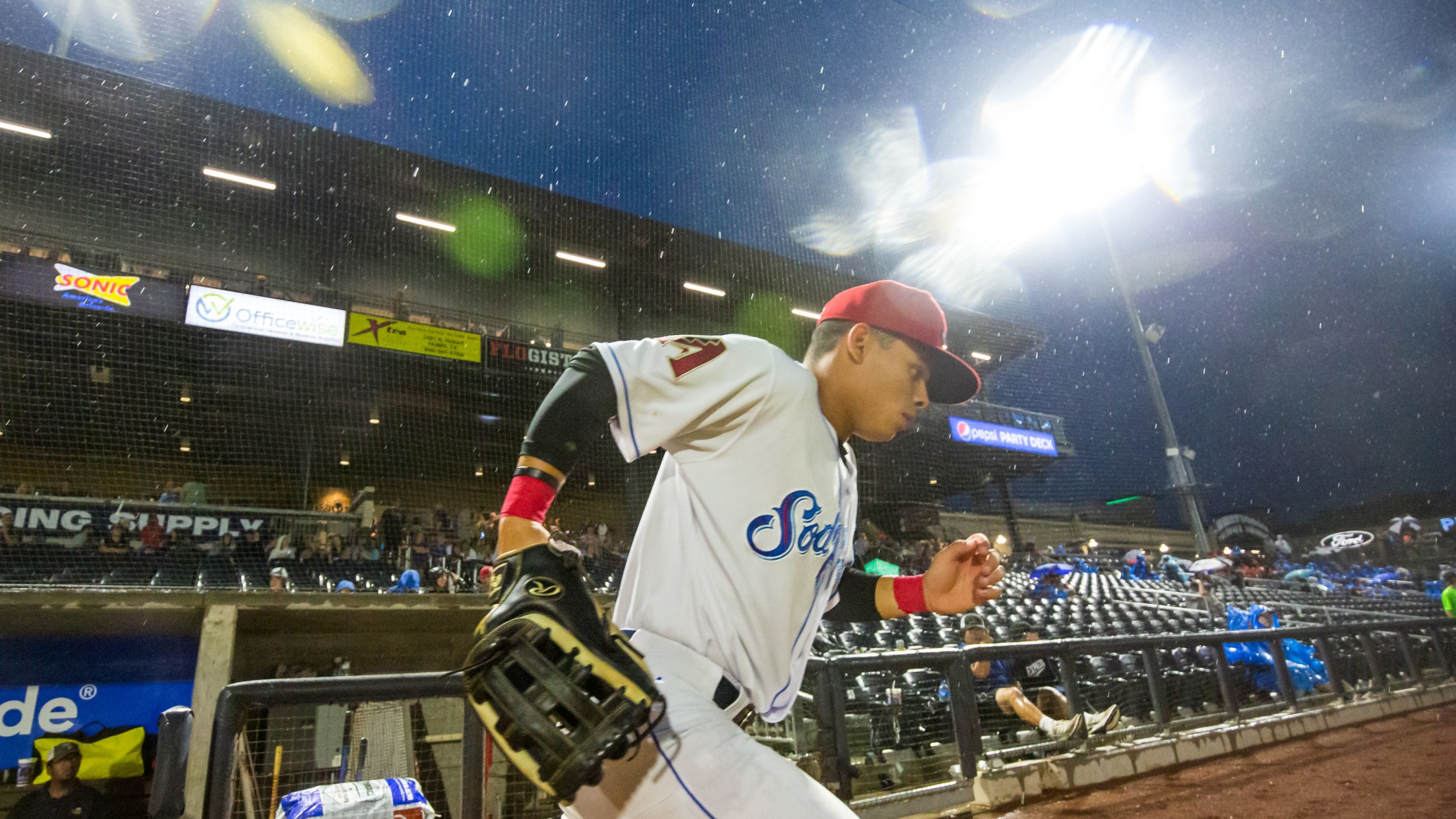 (John Moore)
Amarillo, Texas – The Amarillo Sod Poodles (47-49) dropped the final game of the series against the Corpus Christi Hooks (43-53) on Sunday night, 13-4. The Soddies and Hooks split their six-game series, 3-3. RHP Ross Carver made his Double-A debut on the mound tonight for Amarillo, but was not
Amarillo, Texas – The Amarillo Sod Poodles (47-49) dropped the final game of the series against the Corpus Christi Hooks (43-53) on Sunday night, 13-4. The Soddies and Hooks split their six-game series, 3-3.
RHP Ross Carver made his Double-A debut on the mound tonight for Amarillo, but was not welcomed kindly by the Hooks. The leadoff batter launched a solo home run to take a 1-0 lead on the third pitch of the game, the first of four Hooks home runs in the game. Jorge Barrosa made it to third after leading off the bottom of the inning with a single, but he was stranded to end the frame.
After the early homer, Carver bounced back in a strong way, picking up four straight strikeouts while striking out the side in the 2nd. He ended up picking five punchouts in his Double-A debut after ranking third in the Northwest League (High-A) with 97 strikeouts at the time of his promotion.
The Sod Poodles tied the game with a run in the bottom of the 2nd. Tim Tawa led off the frame with a walk and, after advancing to second on an error, scored on an RBI groundout from Nick Dalesandro.
Both squads homered in the 3rd inning to make it a 3-2 game. Corpus Christi led off the frame with their second leadoff homer to reclaim the lead, and a two-out solo home run three batters later made it 3-1. Dominic Canzone led off the bottom of the inning with a solo home run of his own, his third long bomb of the series.
With a home run in 4 of his last 5 games wearing a Sod Poodles jersey we can say WITH CONFIDENCE he is in a Can-Zone@dacanzone pic.twitter.com/8wnWiNryPd

— Amarillo Sod Poodles (@sodpoodles) July 31, 2022
The Hooks batted around in the 4th inning, plating five runs to make it an 8-2 game to break the game open and spoil Carver's debut. The leadoff batter singled and stole his way to third before the bases were loaded on a hit-by-pitch and a walk. Carver picked up his fifth strikeout to record the first out, but a single and another walk plated two.
The jam ended the night for Carver, who was relieved by Josh Green with the bases loaded and one out. Green allowed three more runs to score before ending the inning with a strikeout, leaving Carver with a line of 3.1 IP, 6 H, 8 R, 8 ER, 2 BB, and 5 K.
Amarillo battled back in the bottom of the frame and cut into the lead with two runs. After a pair of walks, Canzone delivered a two-out, two-RBI single to make it 8-4. It was the third time that Canzone reached in as many plate appearances and gave him seven RBI in the series.
Austin Pope relieved Josh Green after a scoreless 5th inning but allowed two runs in the 6th. A pair of singles scored two after a one-out walk, extending Corpus Christi's lead to 10-4.
Andrew Saalfrank inherited two runners in the top of the 7th after relieving Pope and allowed a three-run homer to the first batter he faced. Justin Lewis entered in the 8th and pitched a scoreless frame, and Blake Rogers tossed a 1-2-3 9th.
The Sod Poodles were held without a hit over the final three innings as they dropped the series finale to tie the Hooks 3-3 over their six-game tilt. They were out-hit 11-4 in tonight's contest, led by two-hit performances from Barrosa and Canzone. The pitching staff racked up 13 strikeouts and the Sod Poodles did not commit an error.
Amarillo will head to Frisco for a six-game series before returning to HODGETOWN on August 9 for a six-game series against the Springfield Cardinals. It will be a crucial series for both the Sod Poodles and RoughRiders, who are tied for second in the Texas League South second-half standings at 15-12, four games behind the 19-8 Midland RockHounds.
Notes:
Dom Bomb: OF Dominic Canzone was excellent in tonight's series finale, reaching three times in a 2-for-4 effort with a home run and three RBI. He led off the 3rd inning with a solo home run, his third homer in four games since returning to Amarillo. He was a big bat in the series, finishing 8-for-17 (.471) with three home runs, two doubles, seven RBI, and five runs scored. His power has been on display through 15 games in Double-A games with six home runs, including one in six of his last eight games.
Can't Stop Jorge: OF Jorge Barrosa picked up two hits tonight to extend his active hitting streak to 10 games. He has been outstanding since the All-Star break, batting .515 (17-for-33) over his eight games since the break and .512 (21-for-41) over his streak. His season-long batting average has taken off over the hot stretch, from .223 back on July 13 to .270 today. In tonight's game, the leadoff man went 2-for-3 with a double and a run scored.
Take A Stroll: The Sod Poodles drew 10 walks tonight, tied for their most in any game this season. Seven different starters drew a base-on-balls, led by two apiece from Eduardo Diaz, Tristin English and Tim Tawa. The last time the Sod Poodles drew a decade of walks was on June 2 against Midland, where they were defeated 9-5.
Welcome To Amarillo: RHP Ross Carver racked up five strikeouts tonight in his Double-A debut. He ended up allowing eight earned runs on six hits but eclipsed the century mark with 102 Ks this season after notching 97 in 15 starts with High-A Hillsboro.
Diamond In The Rough: RHP Josh Green had a quality outing in relief tonight, throwing 1.2 innings with one hit and two strikeouts. He has been used primarily as a long reliever this season with 1.0+ IP in 15 of his 21 appearances, and tonight was his third appearance in a row without an earned run.
Off To Frisco: The Sod Poodles will travel to Frisco next to take on the RoughRiders in a six-game series. Amarillo and Frisco are tied for second in the Texas League South second-half standings at 15-12, trailing first-place Midland by four games (19-8). The Sod Poodles took four of six from the RoughRiders the last time they met on June 7-12 at HODGETOWN.