T-Rat Talk: Tristan Peters
Former Canadian Amateur Thriving in Midwest League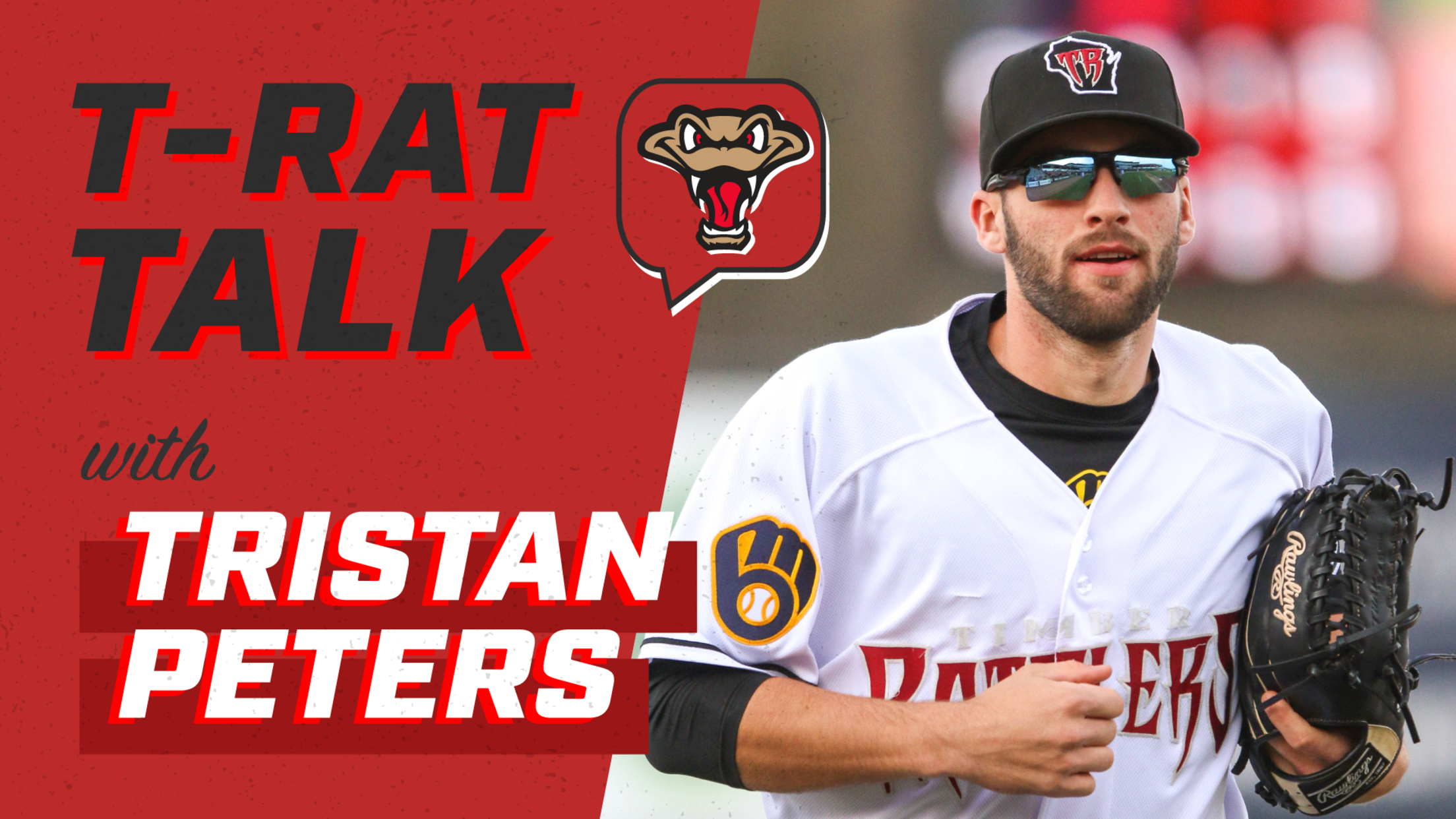 Every professional baseball player follows their own unique path, but Timber Rattlers outfielder Tristan Peters' route to the Midwest League covered more miles than most.
Every professional baseball player follows their own unique path, but Timber Rattlers outfielder Tristan Peters' route to the Midwest League covered more miles than most.
Born in Winkler, Manitoba, about 90 minutes southwest of Winnipeg, at 16 years old Peters made the roughly 13-hour trip west to attend the Dawgs Baseball Academy in Okotoks, Alberta, just south of Calgary. Peters said it was about that time that he realized he might get to play professional baseball someday.
"I think it started just before I moved out, I heard about this guy at Okotoks that was probably going to get drafted out of high school, his name was Clayton Keyes. And sure enough, he did. He turned it down and went to college, but that's how I got motivated. I was like, 'I want to do that.' It didn't happen in high school for me, so I had to take a little longer path, but it was a good path," Peters said.
Peters went undrafted out of high school, but his baseball story continued. He started his college career at Chandler-Gilbert Community College in Arizona, then transferred to Southern Illinois University before the Brewers selected him in the seventh round of the 2021 draft. Along the way, he returned to Okotoks to play for the program's summer college league team in the Western Canadian League in 2019.
The previous summer Peters had spent time with the team as an "affiliate," a player on the high school team allowed to practice and play with the college team on his off days. In 2019 he took a huge step forward, batting .397 with a .444 on-base and .661 slugging in 52 games for the college team and winning both the team and league Most Valuable Player Awards.
Brewers fans will almost certainly remember another Okotoks alum: Pitcher and former Timber Rattlers pitching coach Jim Henderson played in the league in 2003.
Congratulations to Dawgs Academy & Dawgs WCBL standout, Tristan Peters, on being selected in the 7th round, 207th overall pick, of the 2021 MLB Draft!

We are so proud of you, Tristan! Well deserved!#dawgsbaseball #onceadawgalwaysadawg #wcbl #megatron pic.twitter.com/9Poh8XLCQ5

— Okotoks Dawgs Baseball (@Okotoks_Dawgs) July 12, 2021
"That was so much fun," Peters said of the experience. "I always dreamed of playing for the college team after high school. I got that opportunity in 2019 and it was so much fun. They get a sold out crowd every game, about 4000+ people, and it was just a lot of fun. "
Peters' head coach during his time with the Dawgs was Mitch Schmidt, who is also the associate head coach at Bellevue University. When asked about his memories of managing Peters, Schmidt started right from the beginning.
"First of all, his walkup song was one of the better walkup songs you're ever going to find (Dermot Kennedy's <a href="https://www.youtube.com/watch?v=ooXGj4RGrLs" target="blank" title="Power Over Me">Power Over Me_)," Schmidt said. "It was probably about two or three weeks in before the fans started to figure out that hey, this kid's a dude, and he's got a legit walkup song. And next thing you know, every time he came up everybody was on their feet, they were clapping along with the song, and he became a fan favorite real quick."
Peters' play on the field gave fans plenty to be excited about. In 70 career games across two collegiate summer leagues he batted .385 with a .452 on-base and .615 slugging. In his lone season at Southern Illinois he played in 60 games and batted .355/.463/.548.
Congrats to @tristandpeters on being drafted by the @Brewers. Highest drafted Saluki since Sam Coonrod in 2014. #Salukis x #ProDawgs pic.twitter.com/fNXcpx4HFL

— Saluki Baseball (@SIU_Baseball) July 12, 2021
Peters didn't make his professional debut until late August last year and played in just 13 games for the Arizona Complex League's Brewers Blue team before the end of the season. Despite only having about a dozen professional games under his belt, however, the Brewers skipped Peters past the Low-A level and sent him straight to Wisconsin to open the 2022 campaign.
"It's a lot more fun," Peters said of the transition from the complex league to the Midwest League. "There's fans, so that's nice. It was cool to play in those stadiums (ACL teams largely play in their affiliates' spring training parks), but these stadiums have different atmospheres, it's a lot more fun. The competition is great. Honestly, the pitching is a little, I wouldn't say easier, but they throw a lot more strikes, so I appreciate that."
Peters made an immediate impression at the plate with the Timber Rattlers, reaching base in 26 of his first 28 games. Through Sunday he's reached successfully in 23 of his last 24 contests, with the only exception being a game on May 8 where he entered as a pinch runner and never came to the plate. During Wisconsin's recent trip to Quad Cities he had a game where he reached base six times, something he said he's never done before, along with a game where he had two triples.
"I've just been trying to better myself every day, be better than the next guy. Just being around better players, it motivates me to learn from them. Joe Gray is one guy, I've picked his brain quite a bit, even Ernesto Martinez while he was here, I talked to him about stolen bases. There's just so much to learn, I'm trying to learn as much as possible, see how I can be better in every area," Peters said.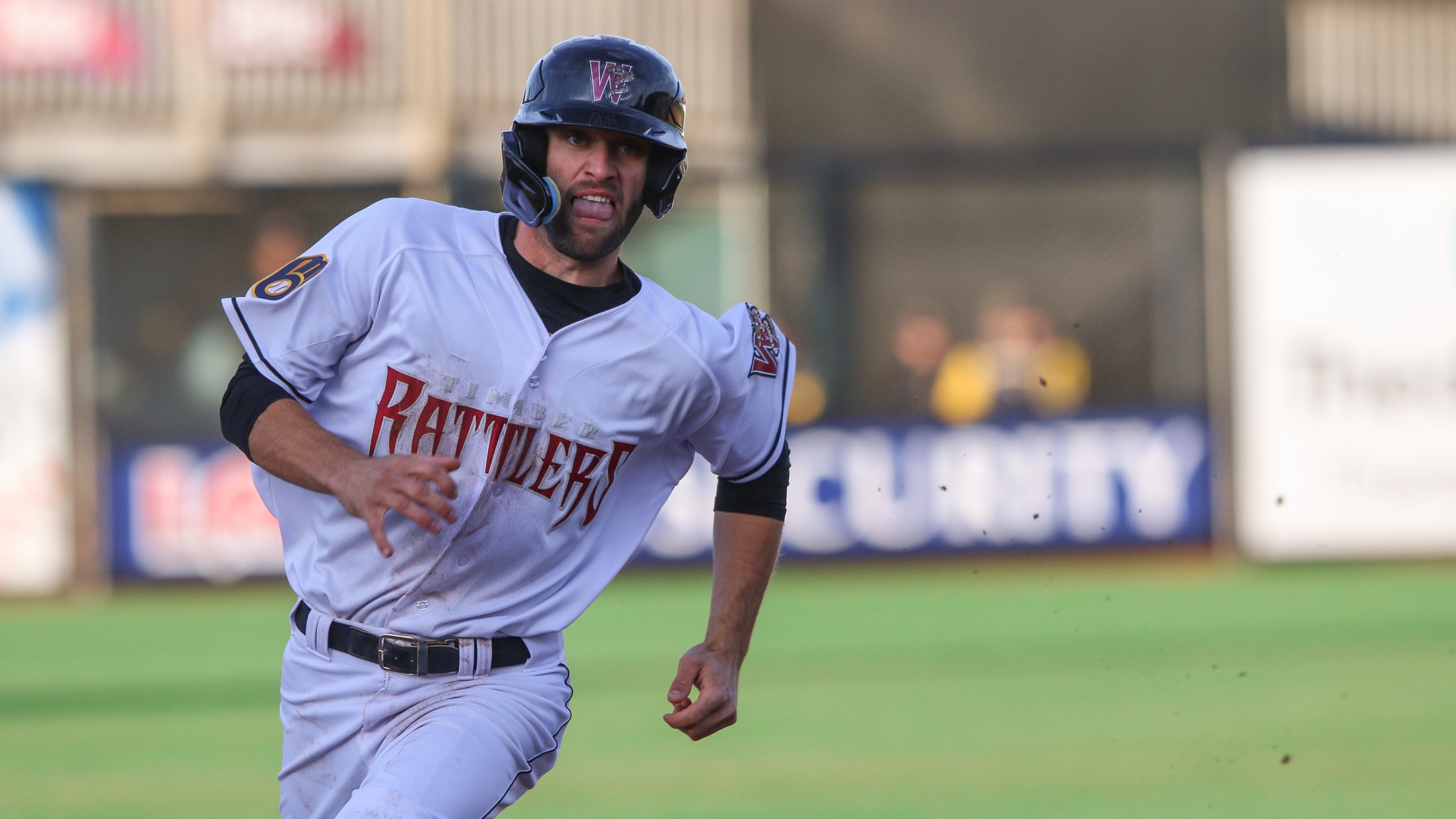 In about a month with Wisconsin Peters has already played alongside several highly regarded outfielders, including former first round pick Sal Frelick, second round picks Joe Gray, Jr. and Micah Bello and top international prospect Carlos Rodriguez. Being on the same team as so many top prospects has its advantages and challenges, but Peters said the positives outweigh the negatives.
"I'd say the pros are there's definitely a lot to learn from. The competition, you're trying to be better than each other and that makes the team better, too. So there's that. The cons, it's harder, especially for me I was not as high of a pick as some of them, but it just motivates me to work harder too. So I see it as a good thing," Peters said.
Peters is one of just a handful of Rattlers who didn't play for manager Joe Ayrault last season when he was with Carolina. He's wasted no time making a good impression on his new skipper, however.
"Grinder," Ayrault said when asked to describe Peters on the May 7 edition of the Rattler Radio postgame podcast. "Dude's a baseball player. Very tough, hockey guy. He and (Tyler) Black, they're two hockey guys and they're both cut from the same cloth. They get after it, grindy, edgy guys. They're going to do anything they can to beat you."
As is often the case for players making the jump from a successful amateur career to professional baseball, Peters has had to learn how to make the adjustment from being a featured player on his previous teams to being one of many with the Rattlers. He mentioned that mental adjustment as his biggest point of pride from this season.
"Something I've been working on a lot is just staying mentally tough. Sometimes when I'm not playing I find it hard to just sit there and watch. I get very anxious, and then when I do have a bad game, I've handled it a lot better this year. It's been a key point in my game, I think. I'm proud of myself for that, but I've had a lot of teammates have my back too, which has helped a lot," Peters said.
Tristan Peters ripped a HR, a 3B, and walked FOUR times last night — He has now reached base safely in 18 straight games, and in 21 of 22 this year 👀

His season so far: .404 OBP/.500 SLG/.904 OPS, 8 XBH, 6 SB, and a 13/13 K/BB pic.twitter.com/038Fqoyyoj

— Brewers Player Development (@BrewersPD) May 11, 2022
Overall, Peters said his game now is very similar to what made him successful years ago in Okotoks, just with some added muscle.
"I stick with my roots. I don't try to do too much with the ball, I'm not much of a home run hitter, I hit a few in high school. I'm trying to get stronger, I think I've gotten a lot stronger, too, so I do have a lot more power and extra base hits and stuff like that," Peters said.
Meanwhile, Schmidt spends an hour each day checking up on his former players, and said he's "not at all" surprised by the success Peters is experiencing.
"Here's the deal: In my opinion Tristan, he's going to make it to the big leagues," Schmidt said. "He's going to make some money in the bigs, because physically he's an athlete that you don't see a lot, but mentally he's even stronger and that's what's going to get him there. The ups and downs that he has throughout the minors, he's going to last through it while some other guys are going to go, 'Enough, I can't deal with this anymore.' He's one of those special guys, and that's one of the reasons the Brewers picked him up in the draft. They knew that he's got some intangibles that weren't out there in some other hitters."