Tortugas erase three-run deficit to earn series victory over Marauders
Steiger extends multi-hit streak to four, drives in two; Confidan homers, as Daytona wins 7-5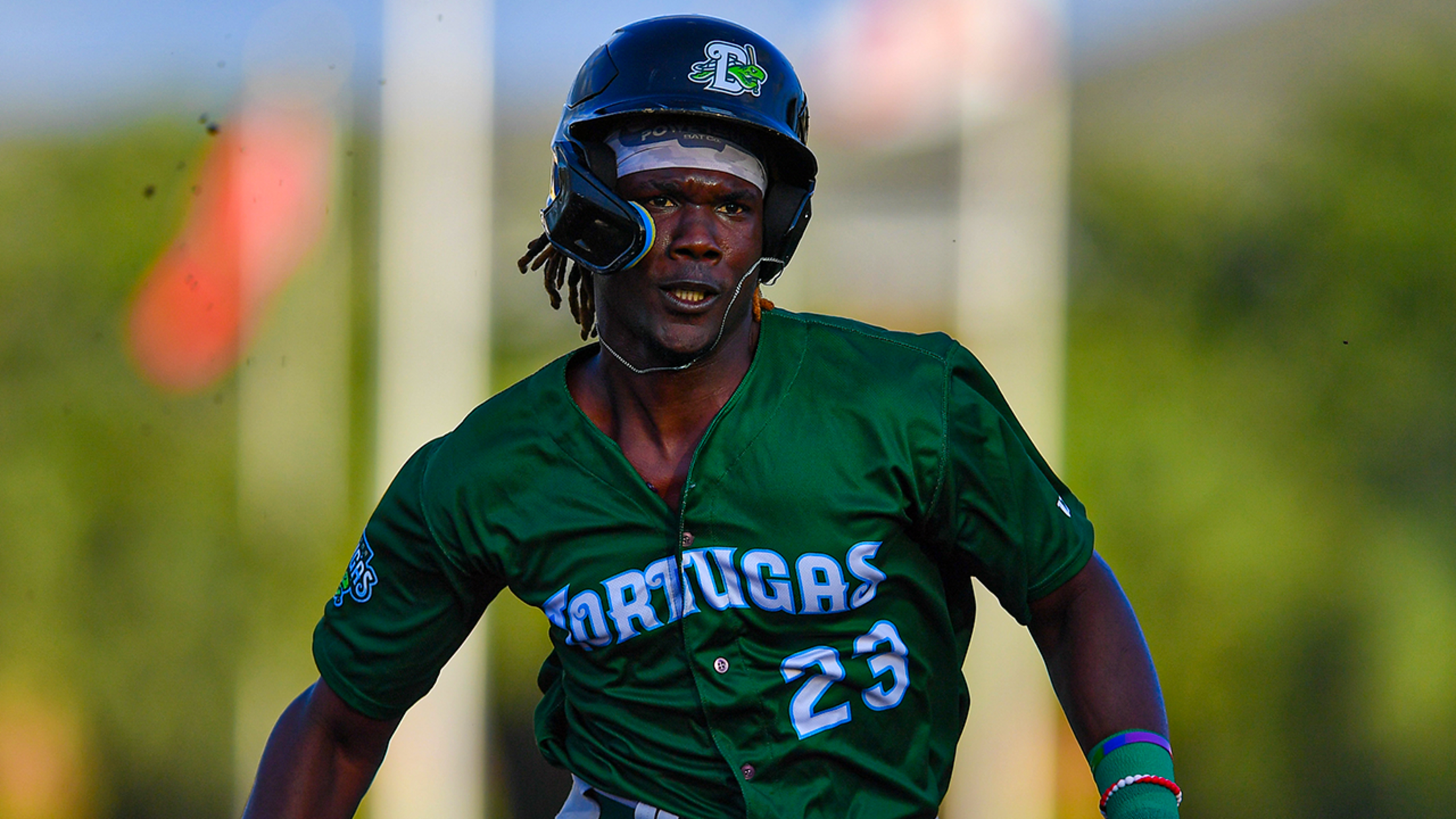 LF Yerlin Confidan drove in a pair of runs — including a solo shot for his first home run of the season in the seventh — as the Daytona Tortugas captured a series victory with a 7-5 win over the Bradenton Marauders in front of 1,572 fans at Jackie Robinson Ballpark on Saturday night. (Ryan Dowd)
DAYTONA BEACH, Fla. — After being held to no runs and two hits through the first four innings, Daytona's offense broke out in a big way over their final four trips to the plate. The Tortugas scored at least one run in each of those frames and erased a three-run
DAYTONA BEACH, Fla. — After being held to no runs and two hits through the first four innings, Daytona's offense broke out in a big way over their final four trips to the plate. The Tortugas scored at least one run in each of those frames and erased a three-run deficit, securing a series victory for the first time in 2022 with a 7-5 win over the Bradenton Marauders in front of 1,572 fans at Jackie Robinson Ballpark on Saturday night.
Bradenton (8-6) wasted no time jumping in front. With the bases empty and one out, 1B Jacob Gonzalez (1-5, R, HR, RBI) launched a towering drive to deep left field. The 23-year-old's shot barely cleared the fence for a solo home run. Gonzalez's second of the series and fourth of the year put the Marauders ahead 1-0.
In the second, the visitors loaded the bases on a 2B Brenden Dixon (3-5, R, 2 2B, SO) double, a plunking of DH Jakob Goldfarb (0-1, R, BB), and a base-hit to left from C Wyatt Hendrie (1-3, BB, 2 SO). With one out, LF Luke Brown (1-3, 2B, RBI, BB, SO) and SS Mike Jarvis (0-3, R, RBI, 2 BB, SO) earned bases-loaded walks to chase in a pair and stretch the Bradenton lead to 3-0.
2B Reyny Reyes (1-3, R, BB) ignited Daytona's (7-7) rally in the fifth with a leadoff single and C Andruw Salcedo (1-3, R, RBI, BB, SO) followed with a free pass. After a balk advanced the runners to second and third, SS Gus Steiger (2-5, R, 2 RBI) broke up the shutout with a run-producing single to right.
Following a pitching change, 3B Michel Triana (2-4, RBI, BB, SO) uncorked the first offering he saw at 111 mph into right field for another knock. Salcedo scored, as Steiger went first to third, pulling the Tortugas within a tally, 3-2. 1B Ruben Ibarra (1-3, R, 2B, RBI, BB) subsequently poked a sacrifice fly to left to draw Daytona even at three.
An inning later, the 'Tugas squeaked ahead for good. With the bases empty and two out, CF Jay Allen II (0-4, R, BB, 2 SO) reached on a fielding error and promptly swiped second base. After taking third on yet another Marauder balk, Steiger rifled another hit into right. Allen touched the dish on the hit to put Daytona in front, 4-3.
LF Yerlin Confidan (1-4, R, HR, 2 RBI, BB) put his power on display to begin the seventh. On the first pitch of his at-bat, the 19-year-old launched a delivery off the top of the manual scoreboard in left field for a solo home run. The 400-foot shot — Confidan's first home run of the season — stretched the Tortugas' advantage to a pair, 5-3.
Daytona kept the rally brewing with a walk, a fielder's choice, another balk, and yet another free pass. With men at first and second and two retired, Salcedo clocked a single into left. RF Danny Lantigua (1-5, R, 2 SO) crossed home on the one-base hit to extend the lead to 6-3.
Ibarra helped create one last insurance run in the eighth. The 2021 fourth-round pick pummeled a 114 mph line drive down the left-field line for a ground-rule double and quickly took third on a wild pitch. A soft ground out to the pitcher by Confidan brought Ibarra home, making it a four-run Daytona lead, 7-3.
The Marauders would not go quietly in the ninth. A four-pitch walk began the frame and, after a wild pitch, CF Jase Bowen (1-5, R, HR, 2 RBI, 3 SO) powered a colossal two-run home run beyond the batting cages in left field. The 440-foot clout — the Ohio native's fourth of the year — drew Bradenton with two, 7-5.
After a two-out double to left by Dixon, RHP Dennis Boatman (0.1 IP, SO) was summoned from the bullpen to register the game's final out. The Roseville, Calif. native struck out pinch-hitter Tsung-Che Cheng swinging to end the ballgame, securing his third save of the year.
Neither starter received a decision on Saturday evening. RHP Hunter Parks (3.0 IP, 5 H, 3 R, 3 ER, 3 BB, 4 SO) battled through three frames for Daytona, while Bradenton's RHP Po-Yu Chen (4.1 IP, 4 H, 3 R, 3 ER, 3 BB, 5 SO) failed to escape Daytona's three-run fifth.
RHP Alex Johnson's (3.2 IP, 2 H, 2 R, 2 ER, 2 BB, 3 SO) line was dampened by Bowen's two-run shot, but the Buffalo, N.Y. resident did not allow a base-hit over his first three innings of relief. Johnson earned his first victory of the year with the 'Tugas for his efforts.
Despite permitting only one unearned run, RHP Dante Mendoza (1.2 IP, 2 H, R, 2 BB, 2 SO) suffered his first loss of the season with the Marauders.
The six-game series comes to a close on Sunday with Shelldon's Family Fun Night. Members of the brand-new kids and family plan receive tickets to every Sunday home game in addition to a Tortugas' hat, a meal voucher — good for a free hot dog, popcorn, and small fountain drink — at the gates, and exclusive access to special events like postgame Kids Run The Bases presented by Neighbor's Ice Cream Parlor.
RHP Tanner Cooper (1-0, 0.00) — who earned his first career win of the year in relief on Tuesday night — is expected to make his second start of the season as the Tortugas. The Marauders are scheduled to counter with RHP Joelvis Del Rosario (0-0, 10.50). Gates open at 4:30 PM ET. Coverage on the Tortugas Radio Network and www.daytonatortugas.com will begin at 5:20 p.m. ET from Jackie Robinson Ballpark, leading up to the first pitch at 5:35.
Season tickets, multi-game plans, group packages, and single-game tickets are currently available and can be purchased online at www.daytonatortugas.com or by calling the Tortugas' Ticket Office at (386) 257-3172.
ABOUT THE DAYTONA TORTUGAS
The Daytona Tortugas are the Single-A Affiliate of the Cincinnati Reds and a member of Minor League Baseball's Florida State League. The Tortugas play at Jackie Robinson Ballpark in downtown Daytona Beach, Fla. Jackie Robinson Ballpark also plays host to Bethune-Cookman University, the Jackie Robinson Ballpark Museum, and many community events and initiatives of all sizes throughout the year.