Hendrick, Ibarra ignite Tortugas to 10-6 win over Hammerheads
Both collect multi-hit efforts, adding home runs, as Daytona sets season-highs in runs and hits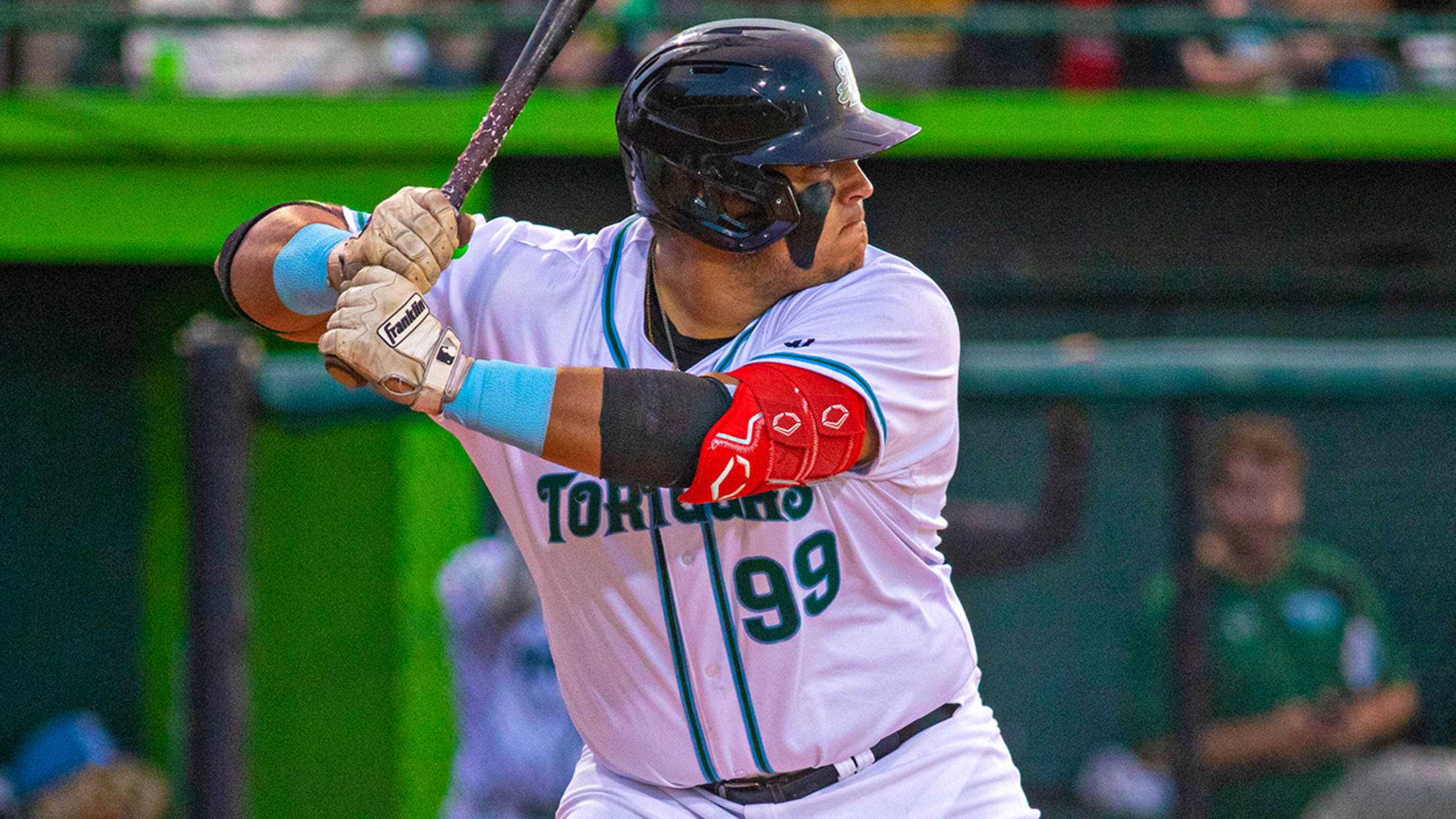 1B Ruben Ibarra smashed his first home run of the season and scored twice as part of a two-hit night, as the Daytona Tortugas drubbed the Jupiter Hammerheads, 10-6, in front of 1,575 fans at Jackie Robinson Ballpark on Tuesday night. (Aldrin Capulong)
DAYTONA BEACH, Fla. — Despite trailing 2-0 and 4-2 early in the game, Daytona's offense awoke from its slumber with a bang. RF Austin Hendrick and 1B Ruben Ibarra each collected multi-hit games and a home run, as the Tortugas slugged their way past the Jupiter Hammerheads, 10-6, in front
DAYTONA BEACH, Fla. — Despite trailing 2-0 and 4-2 early in the game, Daytona's offense awoke from its slumber with a bang. RF Austin Hendrick and 1B Ruben Ibarra each collected multi-hit games and a home run, as the Tortugas slugged their way past the Jupiter Hammerheads, 10-6, in front of 1,575 fans at Jackie Robinson Ballpark on Tuesday night.
Jupiter (11-11) scooted out to an early lead in the first. With men at first and third and one out, CF Osiris Johnson (1-3, R, RBI) pounded an RBI ground out to short, while LF Kyler Castillo (3-3, R, 2B, RBI, 2 BB) scalded a run-scoring double to left to put the Hammerheads in front, 2-0.
In the home half of the inning, Daytona (10-12) wasted no time in retaliating. SS Gus Steiger (1-4, 2 R, BB, SO) earned a leadoff walk and quickly stole second before moving to third on a ground out. CF Jay Allen II (2-4, 2 R, RBI) put the Tortugas on the board with a single through the middle and LF Yerlin Confidan (1-2, 2B, RBI) tied the game with a ringing double off the wall in right-center field.
Now even at two, the Hammerheads squeaked in front once more in the third. Johnson started a rally with a one-out knock to left and moved up 90 feet on another base-hit from Castillo. 3B Cristhian Rodríguez (1-5, 2B, RBI, 3 SO) put Jupiter ahead, 3-2, with a towering two-bagger that clanged off the wall in left-center. A walk and a sacrifice fly to left off the bat of C Cameron Barstad (1-2, R, 2B, RBI, BB, SO) created a two-run cushion once more, 4-2.
Daytona took the lead for the first time in the fifth. DH Jamal O'Guinn (1-4, R, 2B, SO) jump-started a rally with a ground-rule double to left and C Hayden Jones (2-4, R, RBI, SO) reached as the tying run with a single to right. 2B Reyny Reyes (1-3, 2B, RBI, SO) drew the Tortugas a run closer, 4-3, with a sacrifice fly to center.
After a bunt single from Steiger extended the inning, Hendrick (2-5, R, 2B, HR, 3 RBI, 2 SO) punished a line drive to deep center field. The 20-year-old's shot ricocheted off the padded wall and came to a halt on the warning track. Both baserunners scored easily, while Hendrick was given the windmill around third. Hendrick slid in safely, feet first, with a three-run, inside-the-park home run. The Oakdale, Pa. native's fourth home run of the season gave Daytona their first lead, 6-4.
The back-and-forth affair continued, as Jupiter responded with two of their own in the sixth. Barstad picked up a leadoff walk and DH Javeon Cody (2-3, R, BB, SO) reached safely on a bunt single to third. With two out in the frame, RF-CF Brady Allen (2-5, R, 2 RBI, 3 SO) slapped a two-run single to left, tying the game at six.
With the game even, Ibarra (2-4, 2 R, HR, RBI, SO) began Daytona's half of the sixth with a 116 mph single to right and promptly took second on a ground out to first. Jones put the Tortugas back in front, 7-6, with an RBI one-base hit to right with two retired.
A frame later, Daytona put the game on ice. With the bases empty and two out, Allen II started a rally with a single up the middle. On the first pitch he saw, PH-LF Danny Lantigua (1-2, R, HR, 2 RBI, SO) powered a drive beyond the Daytona Beach News-Journal signage in right-center for a two-run home run. The switch-hitter's first of the season extended the 'Tugas advantage to three, 9-6
Five pitches onward, it was Ibarra's turn. The 2021 fourth-round pick hit a heat-seeking missile over the Daytona State College advertisement in right-center for a solo home run. Ibarra's first long ball of the campaign made it a four-run contest, 10-6.
LHP Jayvien Sandridge (1.0 IP, BB, 3 SO) entered for RHP Dennis Boatman (1.1 IP, H, 2 SO) in the ninth and slammed the door shut. The Hagerstown, Md. resident struck out three in the inning to seal the victory for Daytona.
RHP Chase Petty (3.0 IP, 6 H, 4 R, 4 ER, 2 BB, 4 SO) tied a career-best with four strikeouts in a no-decision. RHP Arij Fransen (3.2 IP, 3 H, 2 R, 2 ER, 3 BB, 6 SO) followed and punched out a season-best six en route to his first victory of 2022.
Jupiter's LHP Luis Palacios (5.2 IP, 9 H, 7 R, 7 ER, BB, 6 SO) permitted more runs on Tuesday (7) than he had in his first three outings and 17.0 innings this season (5). The 21-year-old was saddled with his first defeat of the season.
May the food be with you as the series continues with a Belly Buster Wednesday presented by Marco's Pizza. A long-standing fan favorite, starting at just $14, patrons will receive a bracelet and may indulge in all-you-can-eat hot dogs, hamburgers, pizza, and popcorn at concession stands all evening long.
The Tortugas are expected to give the ball to RHP Julian Aguiar (1-1, 2.12). The Hammerheads are projected to counter with RHP Edgar Sánchez (2-0, 1.80). Coverage on the Tortugas Radio Network will begin on the MiLB First Pitch app and www.daytonatortugas.com at 6:50 p.m. leading up to the 7:05 p.m. first pitch from Jackie Robinson Ballpark.
Season tickets, multi-game plans, group packages, and single-game tickets are currently available and can be purchased online at
www.daytonatortugas.com or by calling the Tortugas' Ticket Office at (386) 257-3172.
ABOUT THE DAYTONA TORTUGAS
The Daytona Tortugas are the Single-A Affiliate of the Cincinnati Reds and a member of Minor League Baseball's Florida State League. The Tortugas play at Jackie Robinson Ballpark in downtown Daytona Beach, Fla. Jackie Robinson Ballpark also plays host to Bethune-Cookman University, the Jackie Robinson Ballpark Museum, and many community events and initiatives of all sizes throughout the year.