Big innings highlight twinbill split for 'Tugas
Four-run third guides Daytona in game one; Mets utilize five-run third in game two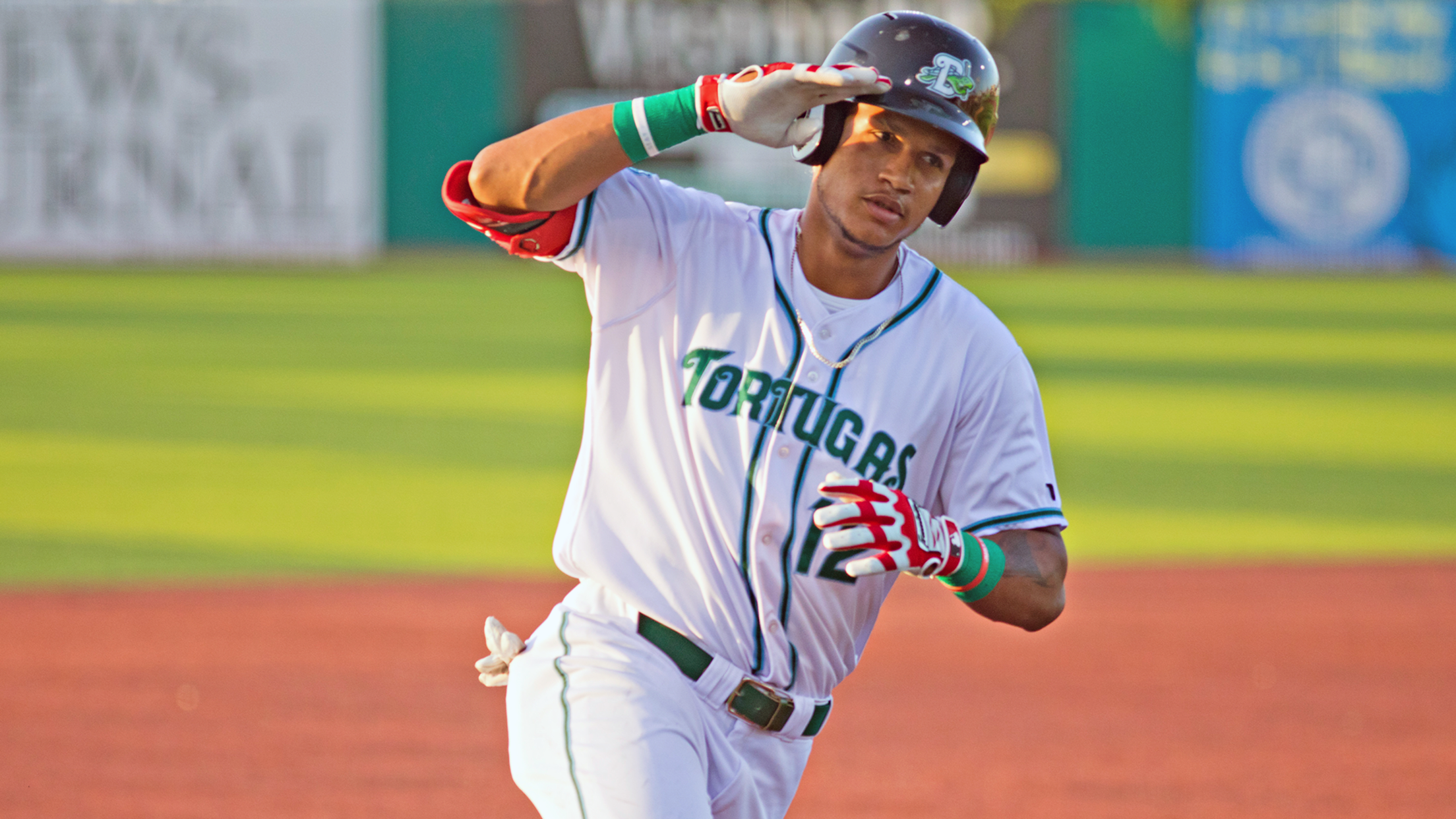 RF Danny Lantigua reached base three times and drove in a pair of runs in Daytona's, 5-3, game one victory over St. Lucie on Saturday night. The Mets defeated the Tortugas, 9-3, in game two at Clover Park. (Aldrin Capulong)
PORT ST. LUCIE, Fla. - Crooked numbers in the third were the theme of Saturday's twinbill, as the Daytona Tortugas pushed four across in the frame to snatch game one, 5-3. In the nightcap, the St. Lucie Mets shuffled across five in their portion of the third, leading to a
PORT ST. LUCIE, Fla. - Crooked numbers in the third were the theme of Saturday's twinbill, as the Daytona Tortugas pushed four across in the frame to snatch game one, 5-3. In the nightcap, the St. Lucie Mets shuffled across five in their portion of the third, leading to a 9-3 triumph at Clover Park.
The first four Daytona (12-11) batters were retired to start the lid-lifter before CF Allan Cerda (0-2, R, BB, SO) was hit by a pitch to start a rally. Following a double by C Daniel Vellojín (1-2, 2B, RBI), RF Danny Lantigua (1-1, 2 RBI, BB) lofted a sacrifice fly to left, giving the Tortugas a 1-0 lead.
An inning later, the offense erupted. LF Wendell Marrero (0-1, R, BB) walked to leadoff before scooting to second on a balk and then third on a ground out. Daytona went ahead, 2-0, when SS Gus Steiger (1-4, R, RBI, SO) rifled a base-hit to center.
The South Dakota State alum took second on a wild pitch and then slapped the white-shaded pentagon himself on a knock through the left side from 3B Rece Hinds (2-3, R, 2B, RBI, BB).
With the bases loaded courtesy of a 1B Michel Triana (1-3, R, 2B, 2 SO) and a walk to Cerda, Vellojín provided a sac fly to left and Lantigua prodded a single to left-center to pad the Tortugas early edge, 5-0.
St. Lucie (15-8) fought back in the latter three frames via the long ball. 2B José Peroza (3-3, R, HR, RBI) cranked a solo shot to left in the fifth and SS Shervyen Newton (1-3, R, HR, RBI, SO) golfed one to center in the sixth, trimming the Mets deficit to three, 5-2.
In the seventh, RF Cole Kleszcz (1-3, R, HR, RBI) added a one-RBI homer of his own to left-center. Yet, 19-year-old RHP Luis Mey (1.0 IP, 3 H, R, ER) stayed calm and stranded the tying runs aboard to garner his professional save in his Daytona debut.
RHP José Franco (3.0 IP, 3 H, 2 R, 2 ER, 4 SO) yielded the initial two solo blasts, but punched out four in his own team debut, garnering the victory. Starter RHP James Proctor (3.0 IP, H, 3 SO) took a no-decision and permitted only one baserunner in a planned shortened outing.
St. Lucie's RHP Luis Moreno (2.1 IP, 4 H, 5 R, 5 ER, 2 BB, 3 SO) was taxed for five runs and suffered his first defeat of the campaign.
Behind 1-0 in the nightcap, Daytona jolted ahead in the top of the second. CF Allan Cerda (0-2, R, BB) walked to start the frame before moving to second on a wild pitch and then scoring on a double to right by C Garrett Wolforth (1-3, R, 2B, RBI).
Following a strikeout, 3B Debby Santana (1-3, R, RBI, SO) gave the Tortugas the lead, 2-1, on a single up the middle. 2B Reyny Reyes (0-3, RBI, SO) stretched it to 3-1 on a fielder's choice after a LF Wendell Marrero (1-3, SO) single.
St. Lucie mimicked Daytona's game one outburst in the third to take the lead for good. A one-out fielding error and back-to-back singles from DH José Colina (1-2, 2 R, BB, SO) and 2B Jaylen Palmer (2-4, R, RBI, SO) slashed the 'Tugas lead to one, 3-2.
3B José Peroza (2-4, 2 R, HR, 5 RBI, SO) proceeded to wallop a 3-1 offering beyond the fence in left-center for a three-run blast. His second home run of the day put the Mets back ahead, 5-3.
The home squad tacked on an additional tally later in the inning on a fielder's choice off the bat of LF Brandon McIlwain (0-3). In the sixth, St. Lucie added three on a two-run Peroza single and an RBI double from SS Jimmy Titus (3-3, R, 2 2B, RBI, BB).
RHP Austin Faith (4.0 IP, 3 H, 3 R, 2 ER, BB, 5 SO) settled down after the second but did not go the requisite five innings to earn the victory. RHP Drake Nightengale (2.0 IP, H, 4 SO) stranded a baserunner to take home his second victory for the Mets.
Tortugas RHP Case Williams (2.1 IP, 4 H, 5 R, 3 ER, 2 BB) was saddled with his first defeat of the campaign.
Daytona will look to take the series on Sunday afternoon, as RHP Tanner Cooper (0-1, 2.84) is expected to make his first professional start. The Mets are projected to counter with RHP Junior Santos (1-0, 7.50)
After the road trip, the 'Tugas will return to Jackie Robinson Ballpark for a six-game series against the Clearwater Threshers, Low-A affiliate of the Philadelphia Phillies, on Tuesday, June 1. It will be Opening Night 2.0, as the Tortugas roll out the green carpet to celebrate Jackie Robinson Ballpark's return to full capacity. It is also a Breast Cancer Awareness Night presented by Radiology Associates Imaging, as Daytona players and coaches will don special pink-tinted uniforms to mark the occasion. Silver Sluggers Night — the best club in baseball for fans 60-and-over — presented by Conviva Cares Solutions will also be a part of the festivities.
Season tickets, multi-game plans, group packages, and single-game tickets are currently available and can be purchased online at www.daytonatortugas.com or by calling the Tortugas' Ticket Office at (386) 257-3172.
ABOUT THE DAYTONA TORTUGAS
The Daytona Tortugas are the Low-A Affiliate of the Cincinnati Reds and a member of Minor League Baseball's Low-A Southeast. The Tortugas play at Jackie Robinson Ballpark in downtown Daytona Beach. Jackie Robinson Ballpark also plays host to Bethune-Cookman University, the Jackie Robinson Ballpark Museum, and many community events and initiatives of all sizes throughout the year.