More heartbreak for Tortugas, as Marauders walk-off, 6-5
Eli Wilson game-winning single in the ninth spoils valiant effort from banged-up pitching staff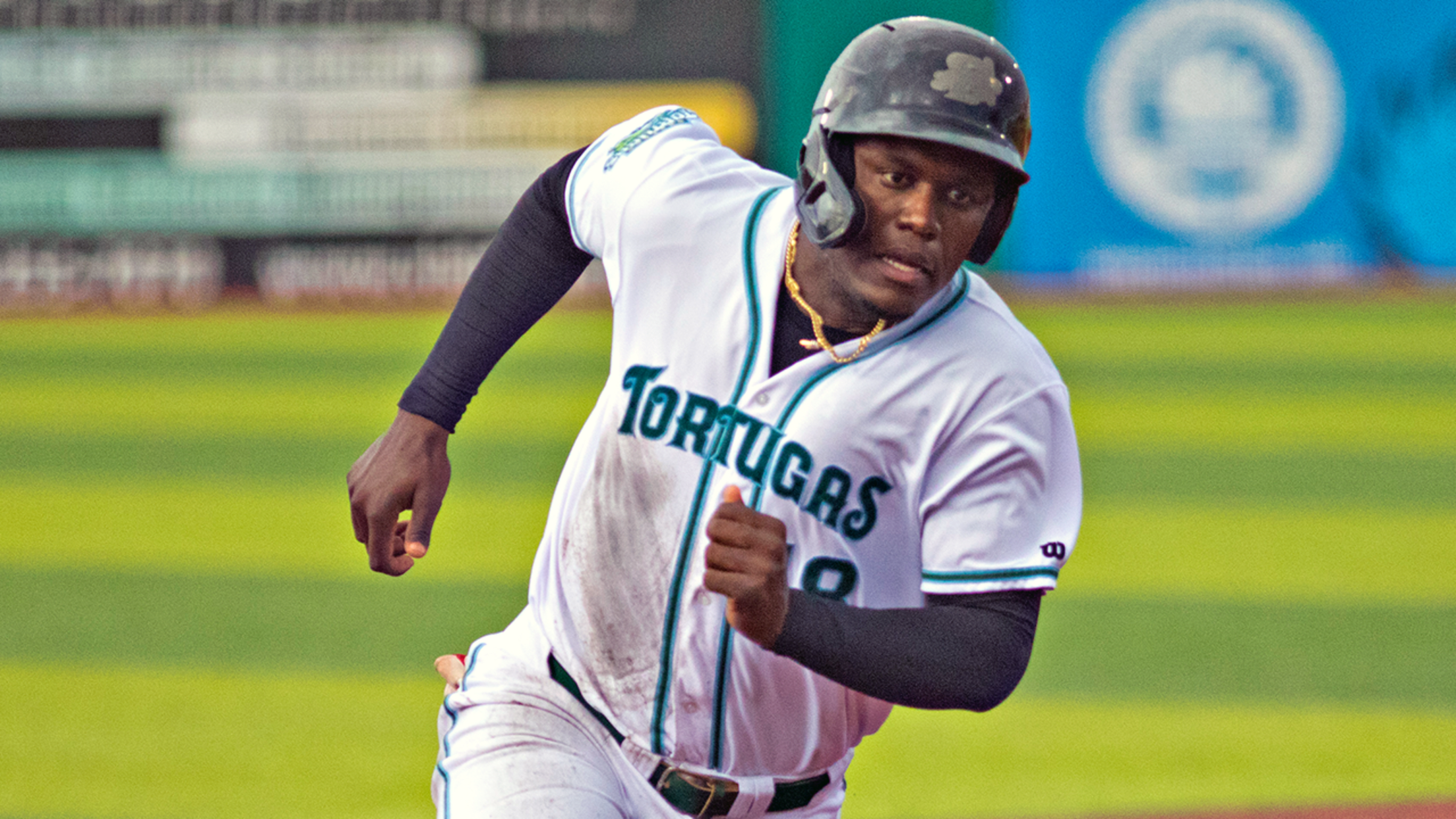 1B Michel Triana picked up two more hits and drove in a pair, but Bradenton scored two in the ninth and walked-off Daytona, 6-5, on Friday night at LECOM Park. (Aldrin Capulong)
BRADENTON, Fla. - Two outs away from evening the series, heartbreak set in again for the Tortugas. SS Dariel López tied it on a swinging bunt single and C Eli Wilson won it with a grounder through the middle, as the Bradenton Marauders stunned Daytona, 6-5, on Friday night at
BRADENTON, Fla. - Two outs away from evening the series, heartbreak set in again for the Tortugas. SS Dariel López tied it on a swinging bunt single and C Eli Wilson won it with a grounder through the middle, as the Bradenton Marauders stunned Daytona, 6-5, on Friday night at LECOM Park.
After four innings of impressive relief, RHP Frainger Aranguren (4.1 IP, 5 H, 3 R, 3 ER, 2 BB, SO) came back out to try and finish the contest in the ninth. On a two-strike count, leadoff batter 1-2, 2B-LF Jase Bowen (2-4, 2 R, 2B, SO) was plunked to start the rally. After a one-out single to DH Ernny Ordóñez (2-5, R, 3B, RBI) placed runners at first and third, Daytona (14-20) made a call to the bullpen.
RHP Brett Lockwood (0.1 IP, 2 H, SO) entered and surrendered a dribbler up the third-base line. The 24-year-old tried to make a barehand play, but couldn't find the grip. López (1-5, RBI, SO) reached on an infield single, tying the game at five.
Following a strikeout, Wilson (1-3, RBI, 2 BB) stung a ground ball through the middle for a base hit. Jake Snider (0-0, R) — who entered as a pinch-runner for Ordóñez — scampered home from to second to score the winning run, providing the Marauders (22-12) a 6-5 victory.
The evening started on a positive note once again for the 'Tugas courtesy of DH Garrett Wolforth (1-3, 2 R, HR, RBI, BB, SO). The switch-hitter blasted a ball from the left-hand side over the boardwalk in right for a 418-foot solo home run. His third of the year gave Daytona a 1-0 lead.
In the second the Tortugas made it a two-run edge. LF Wendell Marrero (2-4, R, 3B, RBI, 2 SO) rifled a triple into the right-center field gap before scoring on a ground-rule double to right from SS Gus Steiger (2-3, 2B, RBI, BB, SO).
Bradenton retaliated to jump in front 3-2 via an RBI double to center from 3B-2B Yoyner Fajardo (2-4, 2B, RBI) in the second, and solo blasts to right and center, respectively, by LF Sammy Siani (2-5, R, HR, RBI) and 1B Alexander Mojica (1-3, R, HR, RBI, BB).
1B Michel Triana (2-4, 2B, 2B, 2 RBI, SO) put Daytona back in the driver's seat in the fifth. After three free passes loaded the bags, the Cuban native served a knock to center — scoring two, 4-3. Two batters later, Marrero made it a 5-3 contest when he scalded an RBI single to right.
The last run accrued by the Marauders before the ninth came on an RBI ground out from Ordóñez in the bottom of the fifth.
RHP José Franco (4.0 IP, 4 H, 3 R, 2 ER, 2 BB, 3 SO) — thrust into the starting role after RHP Carson Rudd was scratched and placed on the injured list Friday — gave the Tortugas just what they needed. The 20-year-old whiffed three over a season-long four frames in a no-decision. Bradenton's RHP Domingo González (4.1 IP, 4 H, 3 R, 3 ER, 2 BB, 5 SO) took a no-decision, as well.
RHP Logan Hofmann (4.0 IP, H, BB, 9 SO) was next to untouchable out of the bullpen for the Marauders. The former fifth-round pick struck out a career-high nine, earning his third win of the year. Aranguren — despite going a season-high 4.1 innings and tossing a career-most 82 pitches — was saddled with his second defeat.
It will be a battle of teenage top prospects, as the Tortugas look to get back in the series on Saturday night. 18-year-old RHP Case Williams (0-2, 5.89) — Cincinnati's No. 22 prospect per MLB Pipeline — is expected to get the ball for the Tortugas. Pittsburgh's No. 17 farmhand — 19-year-old RHP Jared Jones (1-0, 1.17) projects to start for the Marauders. The first pitch is set for 6:05 p.m. Coverage on the Tortugas Radio Network and www.daytonatortugas.com will begin with the Pregame Show starting at 5:50 p.m.
Baseball returns to Jackie Robinson Ballpark on Tuesday, June 15, as the 'Tugas will square off against the Palm Beach Cardinals, Low-A affiliate of the St. Louis Cardinals. It will be a Breast Cancer Awareness Night presented by Radiology Associates Imaging, as Daytona players and coaches will don special pink-tinted uniforms to mark the occasion. Silver Sluggers Night — the best club in baseball for fans 60-and-over — presented by Conviva Cares Solutions will also be a part of the festivities. Fans can get in on deals at the concession stand with $2.50 Michelob Ultra draft beers.
Season tickets, multi-game plans, group packages, and single-game tickets are currently available and can be purchased online at www.daytonatortugas.com or by calling the Tortugas' Ticket Office at (386) 257-3172.
ABOUT THE DAYTONA TORTUGAS
The Daytona Tortugas are the Low-A Affiliate of the Cincinnati Reds and a member of Minor League Baseball's Low-A Southeast. The Tortugas play at Jackie Robinson Ballpark in downtown Daytona Beach. Jackie Robinson Ballpark also plays host to Bethune-Cookman University, the Jackie Robinson Ballpark Museum, and many community events and initiatives of all sizes throughout the year.