Tortugas tame Cardinals with three-hit shutout, 4-0
Julian Aguiar, Reynardo Cruz, and Luis Mey unite to blank Redbirds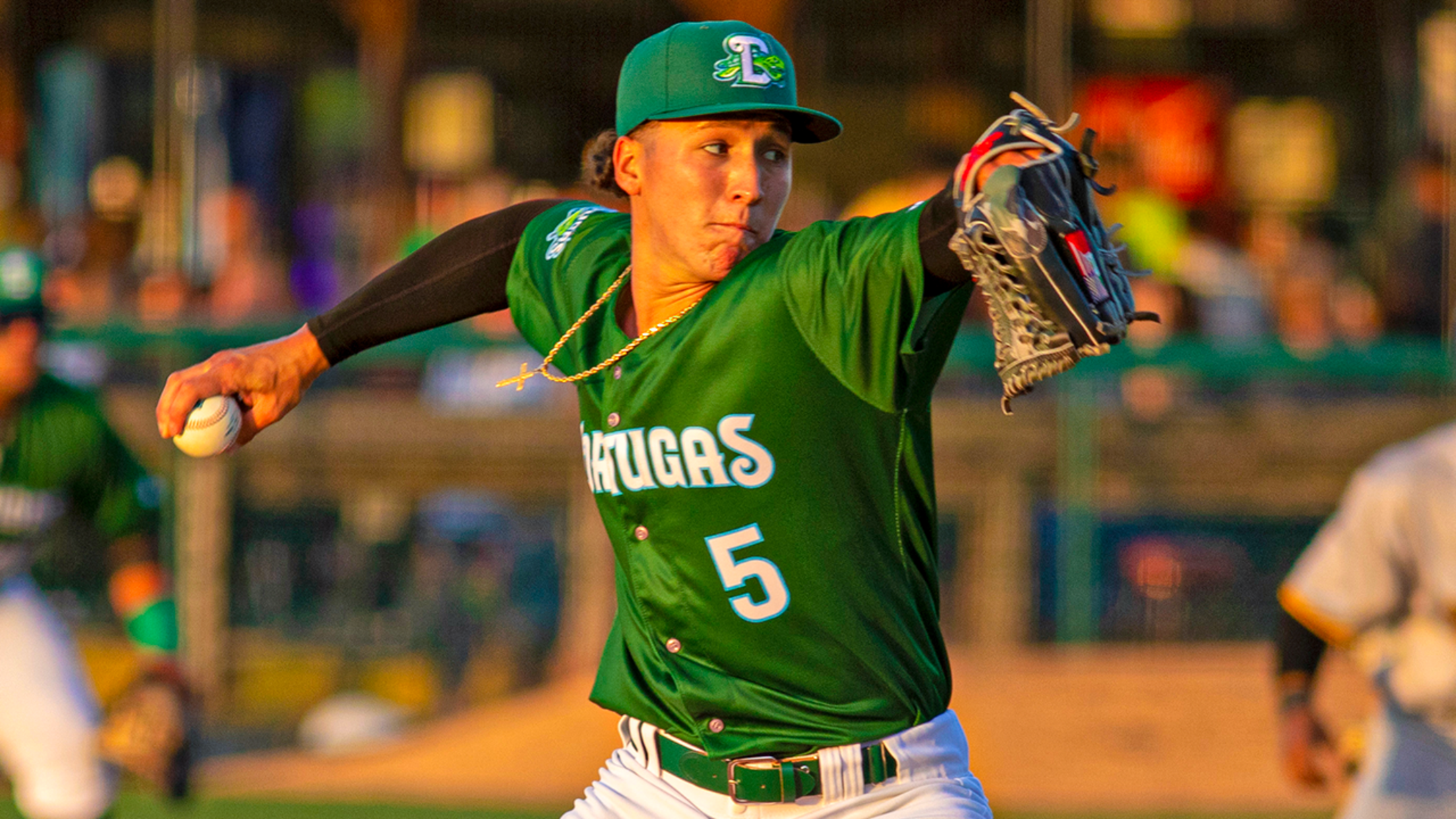 RHP Julian Aguiar tossed five shutout innings of two-hit ball en route to his team-leading fifth win, as he and RHPs Reynardo Cruz and Luis Mey united on a three-hit blanking in the Daytona Tortugas' 4-0 win over the Palm Beach Cardinals on Wednesday night at Roger Dean Chevrolet Stadium. (Aldrin Capulong)
JUPITER, Fla. — Pitching was the propeller for Daytona's dominance on Wednesday night. RHPs Julian Aguiar, Reynardo Cruz, and Luis Mey combined to limit Palm Beach to just three hits, as the Tortugas blanked the Cardinals, 4-0, at Roger Dean Chevrolet Stadium. Scoreless through three innings, Daytona (2-3, 31-39) finally
JUPITER, Fla. — Pitching was the propeller for Daytona's dominance on Wednesday night. RHPs Julian Aguiar, Reynardo Cruz, and Luis Mey combined to limit Palm Beach to just three hits, as the Tortugas blanked the Cardinals, 4-0, at Roger Dean Chevrolet Stadium.
Scoreless through three innings, Daytona (2-3, 31-39) finally broke through after Palm Beach (4-1, 34-35) made a pitching change.
With the bases empty and one out, 1B Michel Triana (1-3, R, HR, RBI, 2 SO) unloaded on a 1-0 pitch. The Cuban-born infielder's shot sailed on top of a tent by the Cardinals' offices in right for a solo home run. Triana's third blast of the season put the Tortugas ahead, 1-0.
The attack did not stop there, as DH Hayden Jones (1-4, R, 2B, 2 SO) pounded the very next pitch over the centerfielder's head for a double. After a passed ball moved him to third and a free pass to 3B Austin Callahan (1-3, 2B, BB, 2 SO), C Wilfred Astudillo (2-4, 2B, RBI) made it a 2-0 affair with a run-scoring ground out to short.
In the seventh, the 'Tugas added their final touches. RF Jack Rogers (0-4, R, BB, 3 SO) started the inning with a walk and, on another 1-0 pitch, SS Steven Leyton (1-5, R, HR, 2 RBI) punched a delivery to deep left. The shot sailed out by the Marlins' offices beyond the left-field wall for a two-run home run. The León, Nicaragua native's fifth blast of the campaign doubled Daytona's lead to 4-0.
That was more than enough run support for Daytona's pitching on Wednesday.
Aguiar (5.0 IP, 2 H, 6 SO) pieced together one of the best starts of his season, hurling five two-hit shutout innings en route to his team-leading fifth victory.
Cruz (3.0 IP, 1 H, BB, 2 SO) scattered one hit over three spotless frames, retiring the last five hitters he faced in order.
Mey (1.0 IP) entered in the ninth and quietly retired Palm Beach on 11 pitches to seal Daytona's four-run victory.
Palm Beach's best opportunities to score came in the sixth and seventh. CF Matt Chamberlain (1-4, 2B) doubled to center with two-out and took third on a wild pitch before being stranded in the sixth on a line out to right.
An inning later, SS Jeremy Rivas (0-2, BB) walked and scooted over two bases to third on a wild pitch. However, that would be the Cardinals' last baserunner of the night, as Cruz registered a fly out to center and a grounder to third to end the threat.
RHP Tink Hence (3.0 IP, H, 8 SO) was marvelous for Palm Beach in his three innings of work. The 19-year-old recorded his last seven outs via the strikeout en route to a career-best eight punchouts.
After being removed due to an innings limit, Minor League rehabber RHP Jack Ralston (1.0 IP, 2 H, 2 R, 2 ER, 3 BB) surrendered a pair of runs in the fourth and suffered his first loss.
The Tortugas will try to make it back-to-back triumphs on Thursday. RHP Tanner Cooper (4-1, 3.46) is projected to take the hill for Daytona. Palm Beach is scheduled to counter with RHP Carlos Guarate (3-3, 4.01). Coverage on the Tortugas Radio Network will begin on the MiLB First Pitch app and www.daytonatortugas.com at 6:15 p.m. leading up to the 6:30 p.m. first pitch from Roger Dean Chevrolet Stadium.
After the six-game road swing, the Tortugas will return to Jackie Robinson Ballpark on Monday, July 4, to open up a series against the St. Lucie Mets, the Florida State League affiliate of the New York Mets. It will be an Independence Day Celebration in Daytona Beach featuring patriotic, red-white-and-blue Best Dressed Uniforms that will be auctioned off throughout the season. There will be special on-field games and activities around the ballpark and, after the final out, fans are encouraged to stick around for a fabulous Fourth of July Fireworks Show. Gates open at 6 p.m. and first pitch is scheduled for 7:05 p.m.
Season tickets, multi-game plans, group packages, and single-game tickets are currently available and can be purchased online at www.daytonatortugas.com or by calling the Tortugas' Ticket Office at (386) 257-3172.
ABOUT THE DAYTONA TORTUGAS
The Daytona Tortugas are the Single-A Affiliate of the Cincinnati Reds and a member of Minor League Baseball's Florida State League. The Tortugas play at Jackie Robinson Ballpark in downtown Daytona Beach, Fla. Jackie Robinson Ballpark also plays host to Bethune-Cookman University, the Jackie Robinson Ballpark Museum, and many community events and initiatives of all sizes throughout the year.