Tortugas tripped up by Mets, 3-0, in season series finale
Acuña tosses four perfect innings of relief, Allen II picks up two hits, throws out runner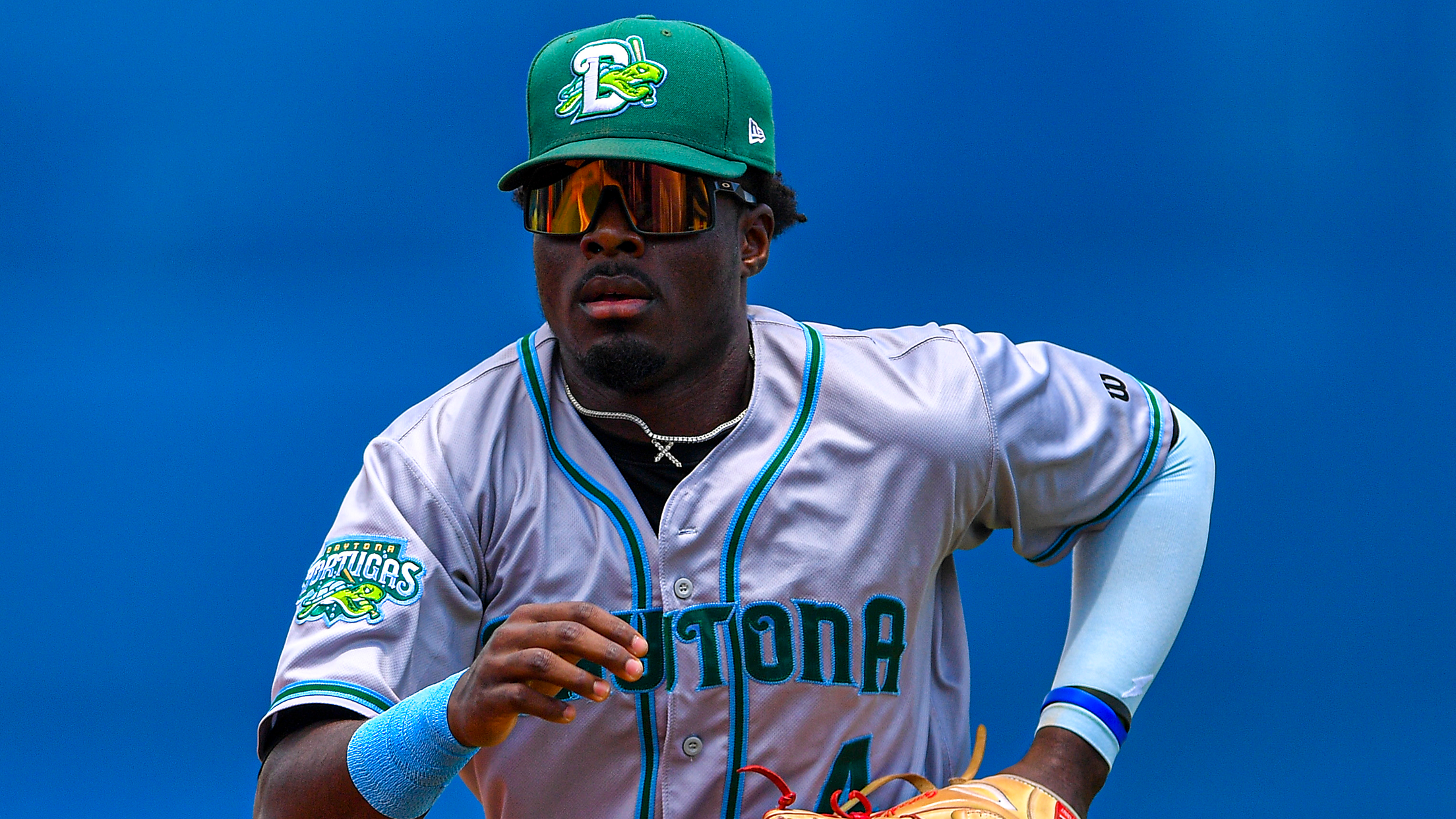 CF Jay Allen II collected two hits and threw out a runner trying to score, but the St. Lucie Mets blanked the Daytona Tortugas, 3-0, on Sunday afternoon at Clover Park. (Ryan Dowd)
PORT ST. LUCIE, Fla. — RHP José Acuña continued his dazzling entrance to the Cincinnati Reds' organization with four perfect innings of relief, while CF Jay Allen II collected two hits and threw out a runner trying to score. However, St. Lucie made their three-run first inning hold up, as
PORT ST. LUCIE, Fla. — RHP José Acuña continued his dazzling entrance to the Cincinnati Reds' organization with four perfect innings of relief, while CF Jay Allen II collected two hits and threw out a runner trying to score. However, St. Lucie made their three-run first inning hold up, as the Mets shutout the Daytona Tortugas, 3-0, on Sunday afternoon at Clover Park.
St. Lucie (20-16, 60-41) started quickly, as SS William Lugo (2-4, R, 2B) doubled into the gap in right-center field and 2B Junior Tilien (0-3, R, BB, SO) followed with a walk. CF Carlos Domínguez (1-4, R, RBI, 3 SO) subsequently poked a single to right to bring in a run, giving the Mets a 1-0 advantage.
With runners at the corners, Domínguez broke towards second base during the next plate appearance. The throw down to second squirted into center field allowing Tilien to score and the 22-year-old to take third, stretching St. Lucie's lead to 2-0.
The next batter, RF Raúl Beracierta (0-3), fell behind in the count 0-2 and then hit a soft tapper to third. Domínguez was too far off the bag and was chased into a rundown towards home plate. During the sprint in that direction, the third baseman dropped the ball out of his mitt. The eventual throw home was late, permitting the Mets to jump ahead 3-0 on the error.
LF Eduardo Salazar (1-3) attempted to increase St. Lucie's cushion in the first, but Daytona's (10-24, 39-60) defense stepped up. On a single to center, Beracierta rounded third and broke for the plate, but a precise toss in from center field by Allen II was in plenty of time to erase the run and end the rally.
The Mets offense was unable to produce much else from that point forward. Lugo garnered a two-out single to center in the bottom of the second, which ended up being St. Lucie's final hit of the afternoon.
However, the Tortugas' lineup was unsuccessful in matching their pitcher's success. Despite multi-hit games from Allen II (2-4, SO) and 1B Michel Triana (2-3, BB, SO), Daytona put just two men in scoring position throughout the contest.
Allen II smacked a two-out single to center in the eighth and reached second on a wild pitch, but a fly out to foul ground in left field ended the threat. Triana picked up a one-out walk in the ninth and took second on a passed ball, yet a pair of strikeouts ended the game.
RHP Harol González (3.1 IP, 2 H, BB, 4 SO) posted 3.1-scoreless innings for St. Lucie in his second rehab start of the series, taking a no-decision. RHP Christian Scott (3.0 IP, 2 H, 3 SO) hurled three spotless innings of relief to accrue his third win of the season. RHP Joshua Cornielly (0.1 IP, SO) entered with two out in the ninth and struck out the game's final batter to earn his third save.
Despite yielding just one earned run, RHP Julian Aguiar (4.0 IP, 4 H, 3 R, ER, 3 BB, 3 SO) was saddled with his seventh defeat of the season for Daytona. Acuña (4.0 IP, 4 SO) retired all 12 hitters he faced, striking out four, in his second appearance since being acquired from the New York Mets last week. In his first two appearances (one start), the 19-year-old has not allowed an earned run or a walk, adding 10 strikeouts, in nine innings.
Following the league-wide off day on Monday, the Tortugas will return to Jackie Robinson Ballpark on Tuesday, August 9, to open up a two-week homestand with six games against the Lakeland Flying Tigers, the Florida State League affiliate of the Detroit Tigers. The series opens with another Shell Yeah Cookout. The $15 add-on includes the full "Bases Loaded" menu during a 90-minute buffet with hot dogs, hamburgers, pulled pork, baked beans, cookies, Pepsi products, and more. It is also a Breast Cancer Awareness Night presented by Radiology Associates Imaging. The Tortugas will don unique pink-clad uniforms that will be auctioned off at the end of the season with all proceeds to raise money and awareness in the fight against breast cancer. Silver Sluggers Night presented by Conviva is a part of the festivities. The exclusive 60-and-older club features deals at the team store, concession stands for members, and more. The series opener also marks a Taco Tuesday with options at the concession stands starting at just $3.
Neither team has announced a probable starter for the series opener. Coverage on the Tortugas Radio Network will begin on the MiLB First Pitch app and www.daytonatortugas.com at 6:50 p.m. leading up to the 7:05 p.m. first pitch from Jackie Robinson Ballpark.
Multi-game plans, group packages, and single-game tickets are currently available and can be purchased online at www.daytonatortugas.com or by calling the Tortugas' Ticket Office at (386) 257-3172.
ABOUT THE DAYTONA TORTUGAS
The Daytona Tortugas are the Single-A Affiliate of the Cincinnati Reds and a member of Minor League Baseball's Florida State League. The Tortugas play at Jackie Robinson Ballpark in downtown Daytona Beach, Fla. Jackie Robinson Ballpark also plays host to Bethune-Cookman University, the Jackie Robinson Ballpark Museum, and many community events and initiatives of all sizes throughout the year.