Thunder's Herrera continues EL dominance
Yankees prospect allows one hit over seven scoreless innings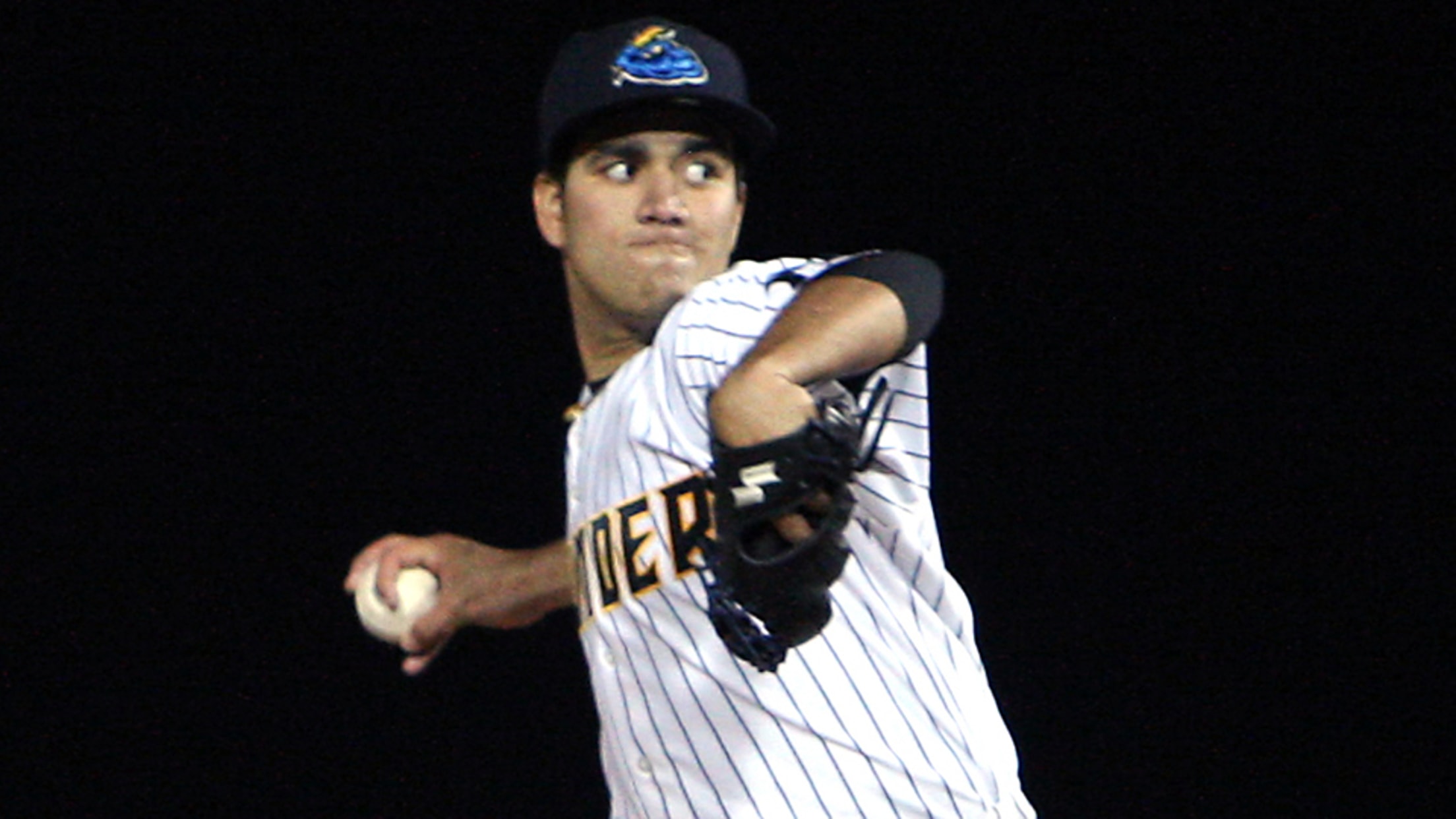 Ronald Herrera has surrendered six earned runs in seven starts after since returning from a shoulder injury. (Rudy C. Jones/MiLB.com)
Jose Rosado had a sense of how Ronald Herrera was going to perform for Double-A Trenton on Saturday long before the right-hander took the mound."As a pitching coach, you know how your pitchers are going to do when they start playing catch before the game even starts," Rosado said. "[Herrera's]
Jose Rosado had a sense of how Ronald Herrera was going to perform for Double-A Trenton on Saturday long before the right-hander took the mound.
"As a pitching coach, you know how your pitchers are going to do when they start playing catch before the game even starts," Rosado said. "[Herrera's] warmups looked great and his first two innings were very sharp, so I knew he was going to do pretty well for himself and for the team."
The Yankees prospect proved Rosado right by taking a no-hitter into the seventh inning and allowed one hit, struck out six and walked two in the Thunder's 6-5 win over Richmond at The Diamond.
Gameday box score
Herrera (6-0) set the tone by fanning four of the first six batters.
"As soon as he went out there and put up those two innings with those strikeouts, it looked to me like we are going to have ourselves a great ballgame," Rosado said.
Relying on command and movement of his fastballs, according to Rosado, Herrera didn't let a runner reach base until C.J. Hinojosa drew a one-out walk in the fifth.
"He was working ahead of the count and he was able to use all of his pitches," Rosado said. "We always say when you work ahead in the count, it's not comfortable of the hitters."
The 22-year-old also walked Slade Heathcott with two outs in the sixth, but he was thrown out by catcher Jorge Saez while trying to steal second.
The native of Venezuela, who tossed eight hitless innings for Trenton on April 26, 2016, saw his no-hit bid end when Myles Schroder led off the seventh with a double off the right-field wall, but he was stranded after Herrera induced two popups and a groundout.
"I know him pretty well and he's pretty good at not letting his emotion get to him. He's always the same guy," Rosado said. "One thing that we do as coaches is to teach them that there's nothing you can do about what happened already and just focus on the present. He did exactly that."
Herrera needed only 80 pitches as he went seven innings for the third time this season. Rosado and the Thunder thought better of letting him continue.
"We felt like he already did what we asked for, so we decided to bring in the other guys who need to pitch, too," Rosado said. "It was a decision we made and I'm good with that."
Despite giving up five runs in the ninth, the Thunder preserved the win for Herrera, who has a 1.24 ERA despite missing the first month of the season with a shoulder injury.
"This guy never tries to do too much," Rosado said. "He's very simple. He throws strikes, he's going to work ahead in the count and so far, he's been able to do that. I'm so happy to see him healthy and be able to bounce back and be who he really is."
Yankees No. 29 prospectThairo Estrada and Billy Fleming each collected three hits and Abiatal Avelino drove in two runs for Trenton.
Michael Peng is a contributor to MiLB.com. Follow him on Twitter @MichaelXPeng.