OKC Dodgers Release Preliminary 2023 Roster
Roster features three top prospects and several returning players from 2022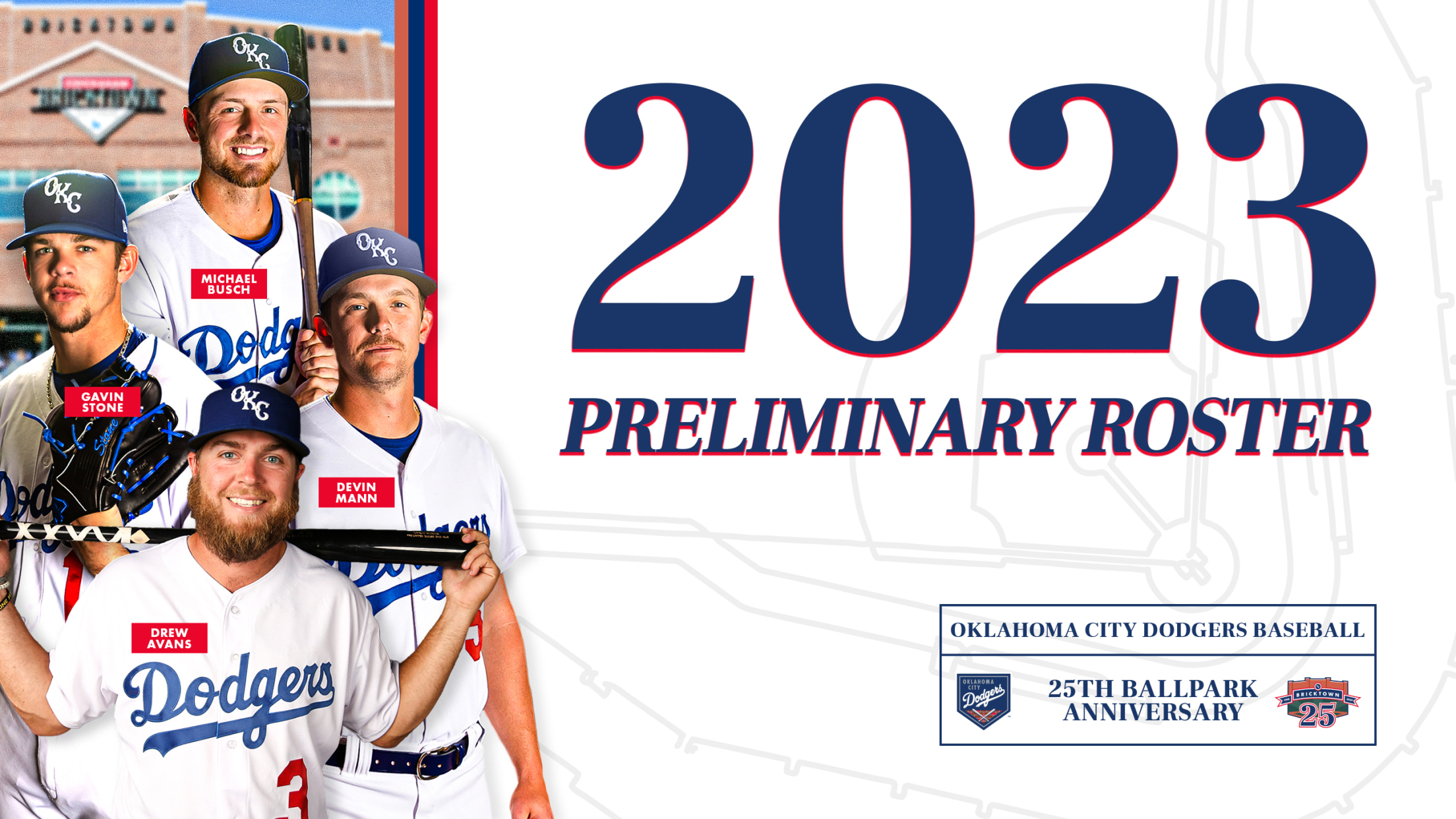 OKLAHOMA CITY – The Oklahoma City Dodgers and Los Angeles Dodgers have announced the OKC Dodgers' preliminary roster as the team opens its 2023 season Friday at Chickasaw Bricktown Ballpark. The OKC Dodgers' preliminary roster has 29 total players, but the preliminary roster is not considered the official Opening Day
OKLAHOMA CITY – The Oklahoma City Dodgers and Los Angeles Dodgers have announced the OKC Dodgers' preliminary roster as the team opens its 2023 season Friday at Chickasaw Bricktown Ballpark.
The OKC Dodgers' preliminary roster has 29 total players, but the preliminary roster is not considered the official Opening Day roster. The maximum amount of active players per Triple-A roster is 28, and the official roster will be determined prior to Friday's season opener.
The roster features two of the Los Angeles Dodgers' top six prospects, per Baseball America: Infielder Michael Busch (No. 4) and starting pitcher Gavin Stone (No. 6). Busch opened last season with Double-A Tulsa but primarily was a mainstay in Oklahoma City's lineup. Between the two levels, Busch tied for the overall Minor League lead with 118 runs scored, while ranking third overall in the Minors in total bases, tied for third with 70 extra-base hits and was fifth with 108 RBI. His 32 home runs tied for the Dodgers' organizational lead and was tied for sixth overall in the Minors.
Stone is coming off a breakout season which saw him honored as the 2022 Los Angeles Dodgers Branch Rickey Minor League Pitcher of the Year. The right-handed pitcher dominated at three different levels, rising from High-A to Triple-A throughout the season, and his cumulative 1.48 ERA was best in the Minors. Stone registered 168 strikeouts over 121.2 innings, tying him for ninth overall in the Minors. Of his 26 outings, he allowed two or fewer runs in 24 games, including 15 scoreless performances. Stone is scheduled to be the team's Opening Night starter Friday.
Another player ranked on Baseball America's top Dodgers prospects is infielder Devin Mann (No. 22). Mann spent most of 2022 with Tulsa before joining OKC for the final two months of the season. Between the two levels, Mann posted an .844 OPS with 16 home runs while setting career highs in runs scored and walks.
In addition to Busch, three other players are on the Los Angeles Dodgers' 40-man roster: relief pitchers Justin Bruihl and Victor González and infielder Yonny Hernández. Bruihl shuttled back and forth between Los Angeles and OKC last season, making 24 appearances in the Majors and 25 appearances with OKC. González was limited to 12 appearances with OKC in 2022 due to injury, but between the 2020-21 seasons, he pitched in 59 regular-season games for Los Angeles and was a member of the 2020 World Series Championship roster. Hernández was acquired this past offseason and has spent time in the Majors with the Texas Rangers and Arizona Diamondbacks over the last two seasons.
A total of 12 players spent at least part of the 2022 season with OKC, including pitchers Robbie Erlin, Justin Hagenman, Jake Reed, Nick Robertson and Mark Washington, catcher Hunter Feduccia, and outfielder Drew Avans. Last season Avans was the team's principal center fielder and leadoff hitter, setting team records during the Bricktown era (since 1998) for most triples in a season (12) and longest on-base streak (50 games).
Of the 29 players on the preliminary roster, 17 have previous Major League experience, with three appearing for the Los Angeles Dodgers in 2022 (Bruihl, Erlin and Reed) and seven others appeared in the Major Leagues last season with a different organization: pitchers Tyler Cyr (Philadelphia/Oakland), Adam Kolarek (Oakland) and Tayler Scott (San Diego), catcher Patrick Mazeika (New York-NL), infielder Luke Williams (San Francisco/Miami) and outfielders Steven Duggar (San Francisco/Texas/Los Angeles-AL) and Bradley Zimmer (Toronto/Philadelphia).
Others who have appeared in the Majors throughout their careers are pitchers Matt Andriese, Dylan Covey and Wander Suero, catcher David Freitas and infielder Jahmai Jones.
The reliever trio of González, Kolarek and Suero all have the distinction of pitching for a World Series-winning team, with González and Kolarek both part of the Dodgers in 2020 and Suero with the Washington Nationals in 2019.
Both Andriese and Covey return to the United States after spending 2022 overseas. Andriese was in Japan with the Yomiyuri Giants and Covey played in Taiwan with the Rakuten Monkeys.
Only two players on the preliminary roster have never played above Double-A in their careers: Infielder Justin Yurchak and outfielder Ryan Ward. In 2021, Yurchak led all full-season players in the Minors with a .365 batting average between the High-A and Double-A levels before spending all last season in Tulsa. Ward led Tulsa and finished second in the Texas League in home runs (28) and also ranked within the top seven in the league in total bases, slugging percentage and extra-base hits.
Other newcomers to the roster are pitcher Bryan Hudson and outfielder Michael Reed. Both spent time in Triple-A last season with the Cubs and A's organizations, respectively.
The Oklahoma City Dodgers open play Friday at Chickasaw Bricktown Ballpark against the Tacoma Rainiers at 7:05 p.m. The three-game series will feature postgame fireworks on Opening Night and a chance for kids to run the bases following the series finale Sunday afternoon.
For more information or to purchase tickets, visit okcdodgers.com/tickets or call (405) 218-2182.