¡Celebración Cielo Azul! Returns Thursday
Dodgers to play as Cielo Azul de Oklahoma City Sept. 16-21; Alternate identity part of Minor League Baseball's "Es Divertido Ser Un Fan™" ("It's Fun to Be a Fan™") initiative since 2018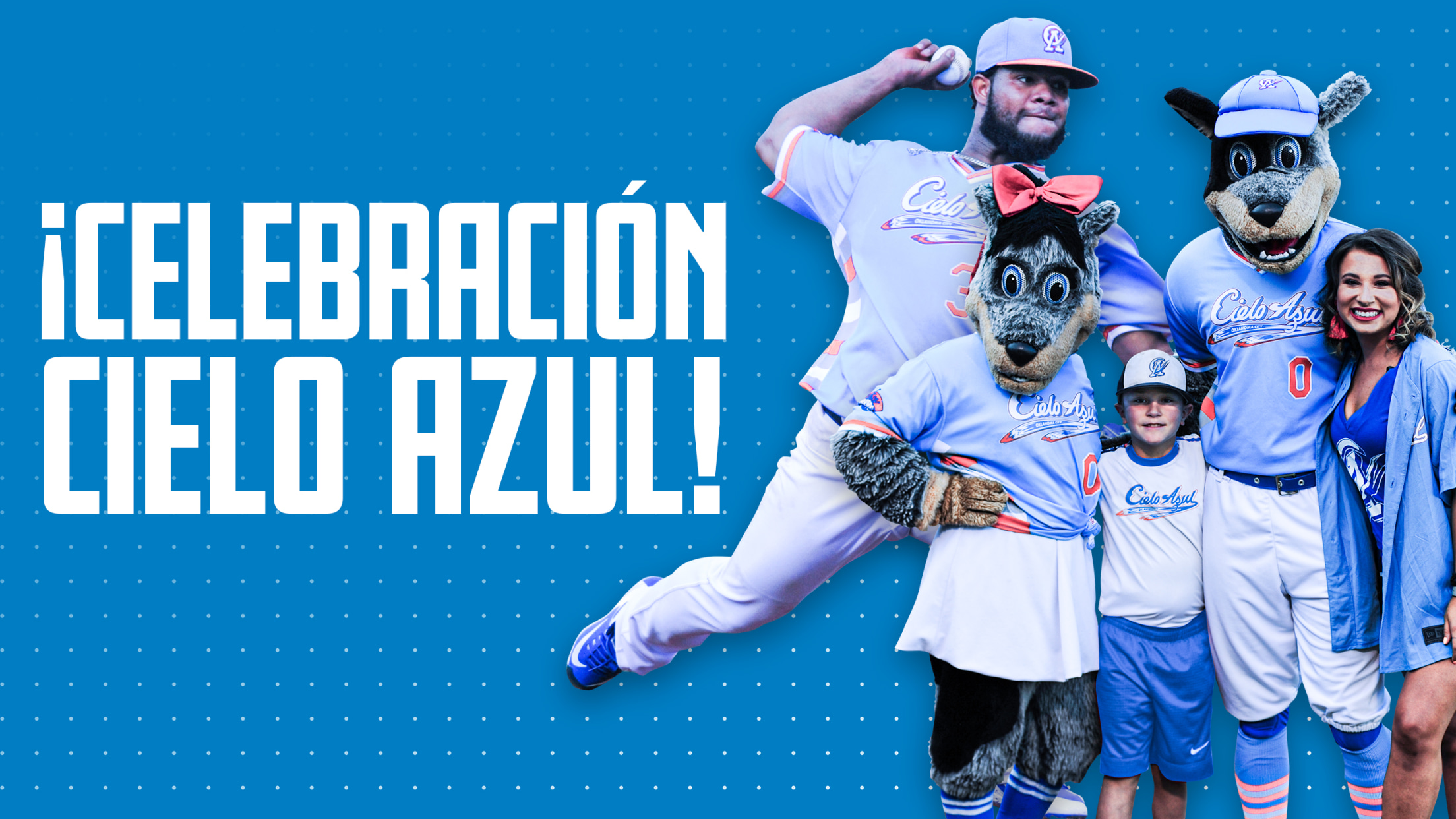 OKLAHOMA CITY – The Oklahoma City Dodgers will take the field as Cielo Azul de Oklahoma City for their upcoming home series against Los Chupacabras de Round Rock starting Thursday, Sept. 16 through Tuesday, Sept. 21 at Chickasaw Bricktown Ballpark during ¡Celebración Cielo Azul!, presented by OG&E.­ In addition to
OKLAHOMA CITY – The Oklahoma City Dodgers will take the field as Cielo Azul de Oklahoma City for their upcoming home series against Los Chupacabras de Round Rock starting Thursday, Sept. 16 through Tuesday, Sept. 21 at Chickasaw Bricktown Ballpark during ¡Celebración Cielo Azul!, presented by OG&E.­
In addition to players and coaches wearing Cielo Azul jerseys and hats during the series, the gameday environment during ¡Celebración Cielo Azul! will include Latin music, colorful and festive concourse decorations, unique entertainment, live performances and a Spanish-speaking public address announcer for select games. Specialty concession items will be available for purchase throughout the series at Chickasaw Bricktown Ballpark as well as Cielo Azul merchandise in the OKC Dodgers Team Store.
Since 2018, the Dodgers have participated in MiLB's "Es Divertido Ser Un Fan™" ("It's Fun to Be a Fan™") campaign, which aims to celebrate each participating community's Hispanic and Latino fans, create a culturally relevant gameday experience and develop special alternative team identities. MiLB's Hispanic and Latino fan engagement initiative expanded to 76 teams this season and is celebrating five years in 2021. Cielo Azul de Oklahoma City was established in 2018.
"During ¡Celebración Cielo Azul! we aim to showcase and celebrate Oklahoma City's diversity by creating a gameday experience that encompasses the vibrancy of our Cielo Azul identity," OKC Dodgers President/General Manager Michael Byrnes said. "We have worked closely with leaders in our local Hispanic and Latino communities to incorporate entertainment and gameday elements that make our Cielo Azul games fun, engaging and distinct."
In addition to the game action on the field, entertainment throughout the series is scheduled to include various performance groups, such as Yúmare Mexican Folkloric Dancers, Clips N Hips salsa dancers and Ballet Folclórico Xochipilli OKC. Prior to Saturday's game, lowrider cars from Oklas Finest C.C. will drive around the warning track during pregame festivities.
New and unique food options will also be available for purchase throughout ¡Celebración Cielo Azul! at Chickasaw Bricktown Ballpark.
The limited-edition concession items include a churro plate at Sweet, a chorizo burger at Ballpark Classics, adding chorizo as a meat option at Salsa in addition to a new rice bowl at Salsa. Chihuahua Cerveza will be available at Margaritaville and sangria will be available in the COOP Beer Garden.
Community initiatives are also a key component of ¡Celebración Cielo Azul! and throughout the series, Cielo Azul will celebrate and recognize the 30th anniversary of the Latino Community Development Agency (LCDA) in Oklahoma City. The LCDA's mission is to improve the quality of life in the Latino community through education, leadership, services and advocacy.
The name Cielo Azul – translated to "Blue Sky" – was derived from three key factors: Incorporating the color blue, which is a key component of the Dodgers organization; the vibrancy of Oklahoma's blue skies, and the breadth of the diversity of Hispanic and Latino culture that resides under those skies; and as a tribute to Dodgers legendary pitcher Fernando Valenzuela, who looked up at the sky during his windup.
Cielo Azul was named one of five finalists for the inaugural "Copa de la Diversión" by MiLB in 2018. The trophy is awarded to the participating MiLB club that most successfully builds and expands connections within its local Hispanic and Latino communities throughout the season.
Thursday, Friday, Saturday and Monday night's ¡Celebración Cielo Azul! games have a scheduled 7:05 p.m. first pitch.
Gates open at 6 p.m. and a mystery bobblehead, presented by Lime, will be given out to the first 1,000 fans in attendance Friday. Fireworks are also scheduled to follow Friday's game. During the game, the Clubhouse Collectibles silent auction for game-used OKC Dodgers memorabilia will take place, and the final INTEGRIS "Home Run For Life" honoree of the season will be recognized.
Following Sunday's 2:05 p.m. game, kids can run the bases. Tuesday's 12:05 p.m. series finale falls on a $2 Tuesday, featuring $2 select beer, soda and bottled water from a line of Budweiser and Pepsi products. COOP Ale Works draft beer will also be available at a special rate of $3.
Tickets are available by visiting okcdodgers.com/tickets. For additional information about Cielo Azul de Oklahoma City and the OKC Dodgers' 2021 season, please visit okcdodgers.com or call (405) 218-2182.