Barrage of runs help Chasers split series 
Dungan & Massey combine for 9 RBIs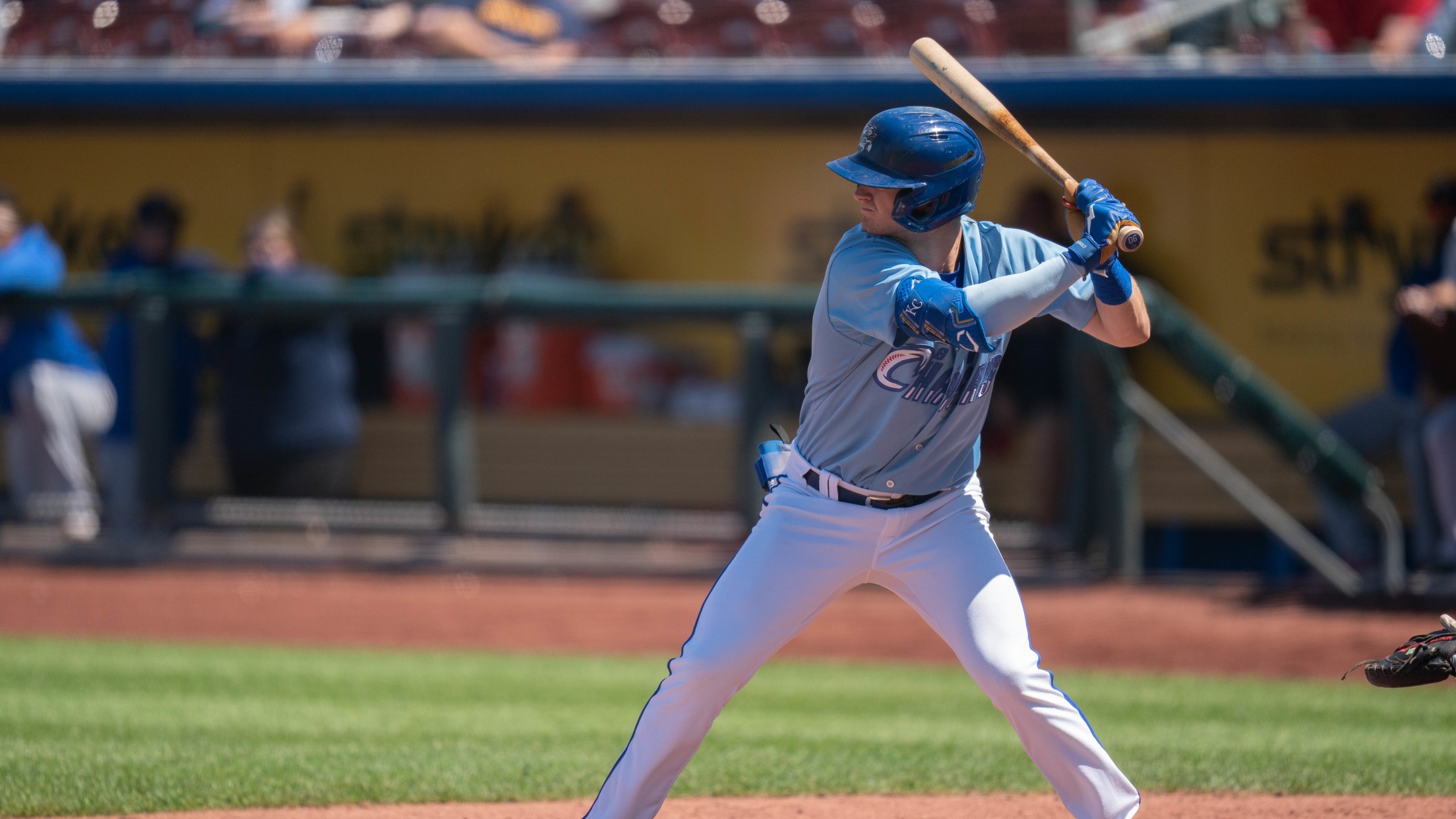 OMAHA, NEB. -- The Omaha Storm Chasers combined for seventeen runs on sixteen hits. Clay Dungan and Michael Massey both went 4-for-5, as Dungan collects four RBIs and Massey collects five. Omaha (34-36) beat Columbus (41-31), 17-14, on Sunday at Werner Park, to split the series. The Storm Chasers jumped
OMAHA, NEB. -- The Omaha Storm Chasers combined for seventeen runs on sixteen hits. Clay Dungan and Michael Massey both went 4-for-5, as Dungan collects four RBIs and Massey collects five. Omaha (34-36) beat Columbus (41-31), 17-14, on Sunday at Werner Park, to split the series.
The Storm Chasers jumped out to an early 1-0 lead against the Clippers in the first inning when a walk to first basemen Nick Pratto and a single from Designated Hitter Vinnie Pasquantino put two on with two outs. Michael Massey followed that up with his first double of the day that scored Pratto.
Columbus answered back in the second inning after outfielder Nolan Jones hit a solo shot to center field.
Omaha added two more runs on two hits in the second inning to extend the lead to 3-1. After third baseman Clay Dungan led off with a solo home run, his fourth of the season. Catcher José Briceño was walked, and outfielder Dairon Blanco laced an RBI double to bring in Briceño.
The Clippers take over the lead in the fourth inning against left-hander Marcelo Martinez. He allows six runs after giving up a double to Will Brennan, a walk to David Fry, Jones reached on a fielder's choice and Brennan scored off an error by Pratto. Bo Naylor hit his first Triple-A home run and it was a three-run shot to clear the bases. Martinez went 3.2 innings and was pulled for right-hander Joel Payamps, who walked Will Benson, allowed an RBI double to Alex Call and an RBI single to Will Brennan before getting out of the seven-run Columbus inning.
Columbus added two more runs in the fifth, to make it 10-3, after a Tolman double and Brooks home run.
Massey collects another RBI after hitting his second double on the day to score Nate Eaton in the fifth to bring the score to, 10-4.
Omaha comes back with a seven-run sixth inning. After Dungan led off with a double and Briceño, pinch ran for by William Hancock, walked to put two on for Angelo Castellano, who laced an RBI single. With two outs the Chasers got a rally going, which began with an RBI single from Eaton, followed by a walk from Vinnie Pasquantino, Massey hit his third double of the night and cleared the bases. Brewer Hicklen was hit by a pitch, which put players on first and second. Dungan collects two more RBIs, after hitting a double into right field, to bring the score to, 11-10.
The Clippers answered back with three runs in the seventh off right-hander Collin Snider (Win, 1-1). Brooks started the hits with a single, Jose Fermin followed with an RBI double, Will Benson was intentionally walked and would then score off a Will Brennan double.
The Chasers got to Adam Scott (Loss, 3-3) early in the seventh off four extra base hits. Dairon Blanco hit a one out double, Nick Pratto followed that up with an RBI double to bring the Chasers back within one. Scott threw a wild pitch, which brought Pratto home and tied the game. Pasquantino walked and Massey singled, they would come around to score off a Brewer Hicklen three-run home run. Dungan would follow that with a home run of his own. He would finish the day 4-for-5 with four RBIs.
Columbus put pressure on the Chasers in the ninth. Brooks reached base off an error by Massey, Fermin hit into a force out, Alex Call singled, Brennan grounded into a force out and scored Fermin. The Chasers got out of the inning and beat Columbus 17-14, to split the series.
The Storm Chasers go on the road to Saint Paul Tuesday to begin a six-game series against the St. Paul Saints. First pitch is slated for 7:07 p.m. and coverage beings at 6:45 p.m. with the Sarpy County Tourism Pregame Show on 1180 The Zone.
The full 2022 schedule can be found here and single-game tickets are now available here.
For more tickets and more information, please visit omahastormchasers.com, call the Werner Park Ticket office at (402) 738-5100, and follow the team on social media. You can follow the team on Twitter @omastormchasers, on Instagram @omahastormchasers, and "like" the team on Facebook at facebook.com/omahastormchasers.