Nine Days, 28 Games Equates Into Big Impact With Studer's Blue Wahoos Challenge Event At Ballpark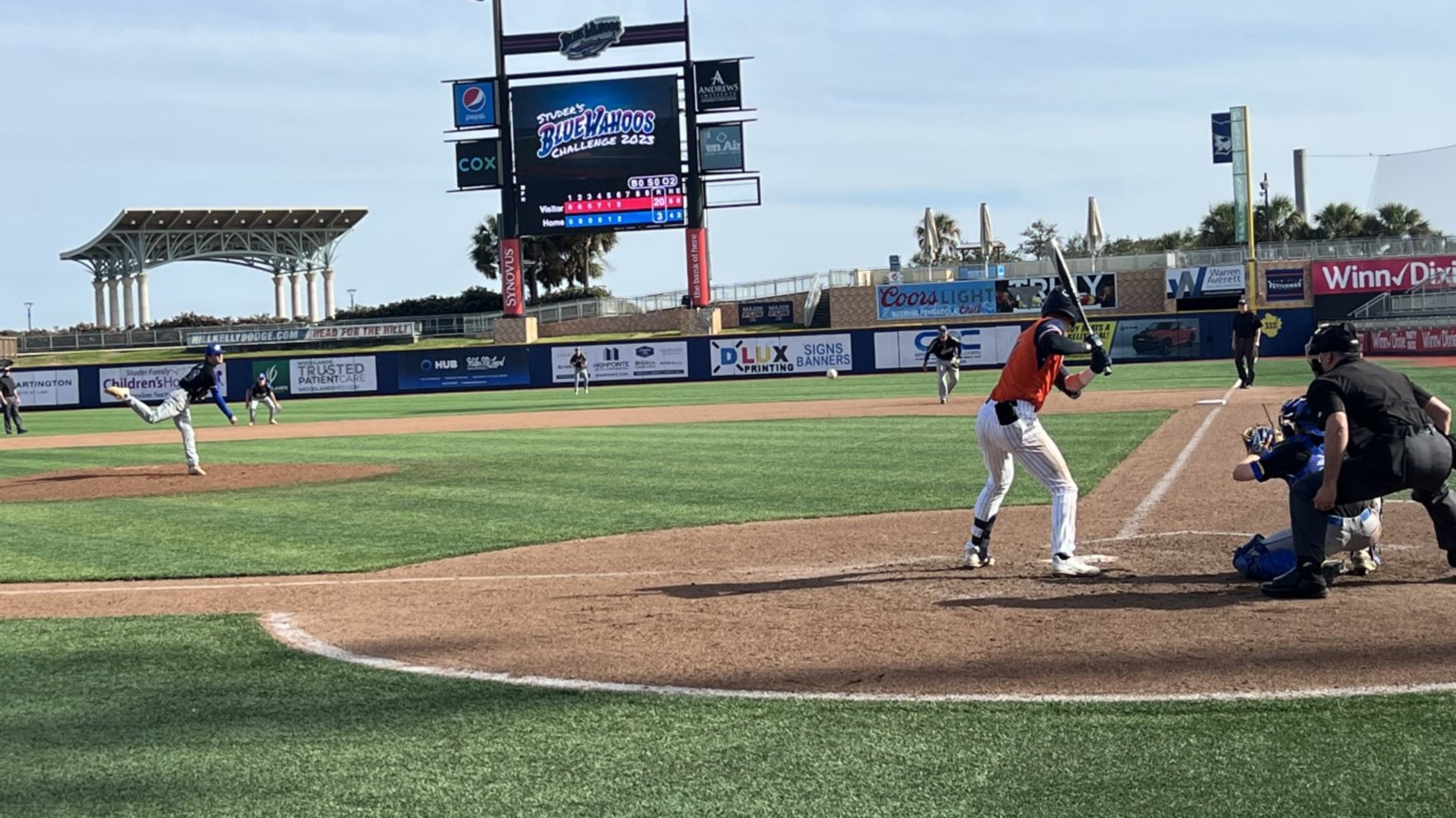 A Carroll University batter prepares for pitch from Spalding University's pitcher during the first game on March 14 of the third Studer's Blue Wahoos Challenge collegiate tournament at Blue Wahoos Stadium.
The first stop for the Carroll University baseball team, after traveling by plane from Waukesha, Wisconsin, was the nearest supermarket to the team's Pensacola hotel. Players have got to eat, of course. Head coach Stein Rear stacked five shopping carts to the brim and now faced a dilemma. "I know
The first stop for the Carroll University baseball team, after traveling by plane from Waukesha, Wisconsin, was the nearest supermarket to the team's Pensacola hotel.
Players have got to eat, of course.
Head coach Stein Rear stacked five shopping carts to the brim and now faced a dilemma.
"I know I've gotta go through one of the lines, so I'm trying to figure which (checkout) person might not too upset with five carts of groceries to ring up," he said, laughing.
Turns out, the woman handling the massive haul was interested in why the baseball team was in town. When she heard they were playing at Blue Wahoos Stadium in this week's third annual Studer's Blue Wahoos Challenge college tournament, she excitedly told Rear, "Oh, I know Quint Studer. He's great. Tell him, Kitty said hello."
That kind of hospitality is part of the lure, part of the reason why eight NCAA Division III college teams from five states have traveled this far to play baseball on spring break.
The nine-day, 28-game event began Tuesday with Carroll facing Spalding University from Louisville, Ky. Four games are set for Wednesday. Tickets are $10 for each day, allowing fans readmission for games.
"When you ask these guys about it, they will say, 'Gosh, Pensacola is really cool.' The parents come too and they are excited," said University of Wisconsin-Whitewater coach John Vodenlich, the host school and tournament coordinator, who is in his 20th season with the Warhawks.
"What you all have really done is you continue to put Pensacola on the map," he said. "That for me is the main impact on these teams. There are many other spring break type of tournaments these teams could travel to play. They could go to Orlando, they could go to Arizona.
"But what they appreciate here is everyone is so welcoming and it's such a amazing facility and the experience is going to be engrained in their heads forever."
Wisconsin-Whitewater, a school located 52 miles west of Milwaukee, is the alma mater of Quint and Rishy Studer. The couple did not meet in college, but both earned degrees there.
For Quint Studer, it was the one university that gave him a chance, accepted his application, after his high school grade point average wasn't high enough for admission to other colleges.
He never forgot what Whitewater did. His loyalty, his gratitude to the university and his position as Blue Wahoos team owner enabled him to arrange for Whitewater's baseball team to host a tournament where the team could shake off winter frost and play a full week of games.
When the Warhawks left campus Monday to catch a flight to Pensacola, there was eight inches of snow on their baseball field. The team has practiced just four times outside, which is still more than normal by mid-March. The Warhawks will play their season-opening game Wednesday against Spalding at Blue Wahoos Stadium.
"This would be a cool experience no matter what, but the cherry on top is that it's all because of Quint, a very generous and awesome alum who has allowed this to happen," said Vodenlich, who visited with Quint Studer prior to his team's practice Tuesday.
"When you're doing this (trip), because of someone who has been where you have been and who cares… that means a lot to our players," said Vodenlich, whose program won NCAA D-3 national titles in 2005 and 2014. "We are going to spend as much time outdoors as we can. We are really pumped.
"Our guys are grateful. For all of us up north, it gives them a better experience than they would feel anywhere else in the country."
Besides playing baseball, the economic impact of this event is far-reaching. The Spalding Golden Eagles are spending seven nights and taking 17 hotel rooms at the Holiday Inn off Davis Highway.
Hendrix College in Arkansas rented two homes this week in Gulf Breeze. Edgewood College from Wisconsin is spending seven nights and taking 12 rooms at the Fairfield Inn and Suites. Wisconsin-Whitewater is renting four homes.
A full week of hotel stays, plus food, plus fuel, plus excursions, plus having families and players' friends travel to Pensacola all equate into a sizeable amount of money. With the weekend ahead being St. Patrick's Day weekend and height of spring break, more people are expected to visit the stadium.
The tournament will conclude March 22 with Whitewater facing Grinnell College from Grinnell, Iowa.
The first year of the event was 2019. The next two years were cancelled due to the ongoing coronavirus pandemic. Last year it returned. This year, Vodenlich hopes can be even greater.
"I want to commend the Blue Wahoos staff and Quint to take that side of things to help get this done," he said. "We all worked hard to make it a reality. I think the ultimate goal is to increase the size of this tournament and the quality. And I think we have done that again.
"Hopefully it will be easier with everyone involved in it and hopefully more exposure for the games and the teams. At the center of that, is the fact the teams are playing at a first class venue and they will be treated better than they typically are.
"And they will get a feel for what it's like to be a pro style athlete in a community-based atmosphere."
The amount of baseball played at the ballpark also gives new head groundskeeper Scotty Atkins a chance to see how the field handles the play.
"To me there is nothing worse than an empty ballpark that just sits idle through the offseason," said Atkins, who joined the Blue Wahoos from Richmond, Va., where he prepped The Diamond ballpark for its Double-A team, the Richmond Flying Squirrels. "So to have this group of teams come in and play is great.
"I am a big fan of the game anyway. And I can't wait to see them all play here. When the tournament is over, it will be my hardest week to get things ready for (Blue Wahoos) opening week (April 7-9)."
WANT TO GO?
WHAT: Studer's Blue Wahoos Challenge
WHO: Eight NCAA Division III teams: (Host) University of Wisconsin-Whitewater, Spalding University (Louisville, Ky), Carroll University (Waukesha, Wisc.), Edgewood College (Madison, Wisc.), University of Wisconsin-Platteville, Grinnell College (Grinnell, Iowa), Hendrix College (Conway, Arkansas), Birmingham-Southern (Birmingham, Ala.).
WHEN: Wednesday through March 22 (There will be 3-4 games per day through March 21, beginning at 10 a.m. each day) then two games March 22).
WHERE: Blue Wahoos Stadium
TICKETS: $10 per-day, re-admission permitted for all games.
INFO: www.bluewahoos.com/tickets.