Chiefs Announce 2022 Schedule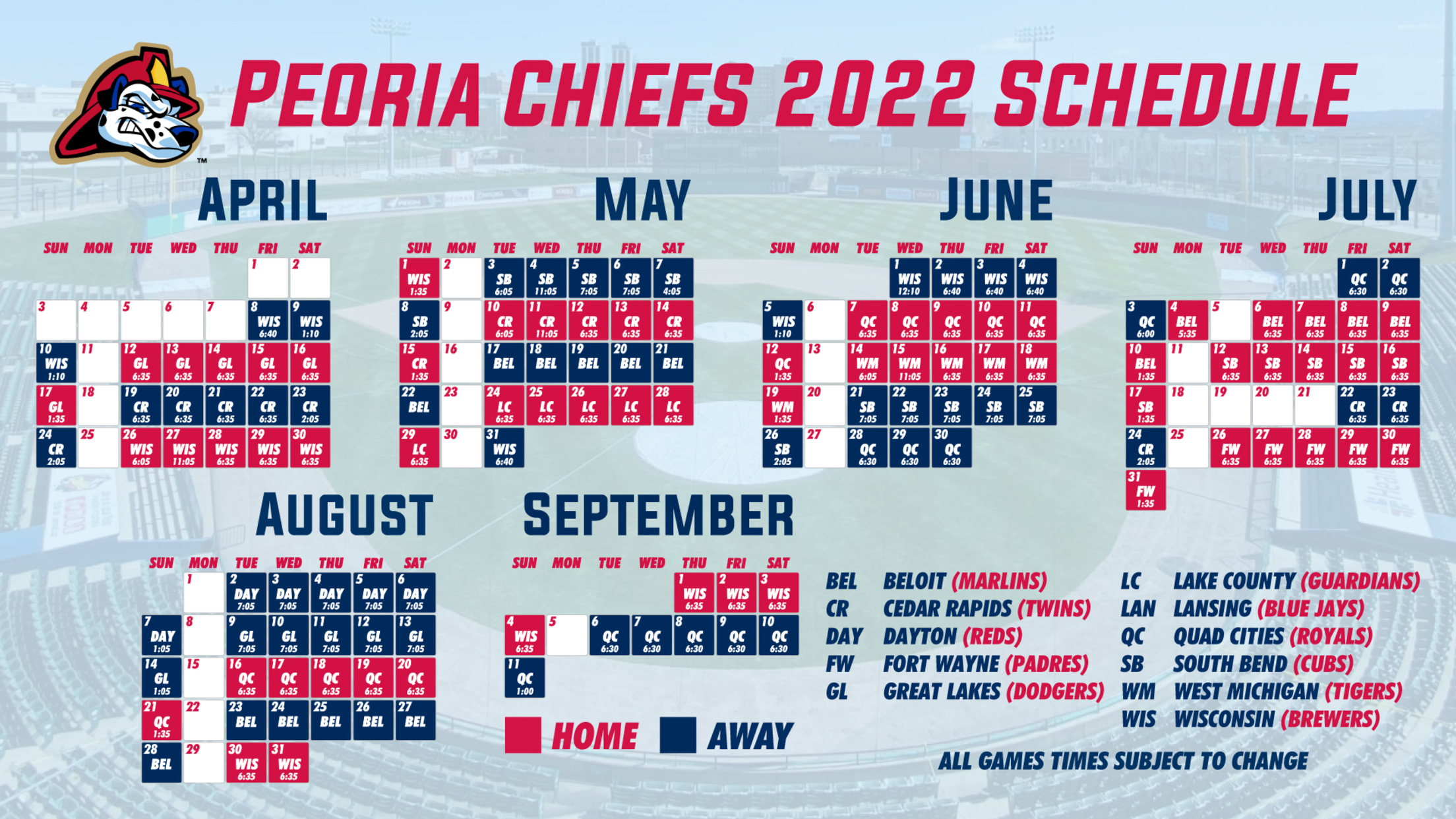 'Peoria, IL-- The Peoria Chiefs announced their 2022 schedule Tuesday, in conjunction with Minor League Baseball. The 2022 slate will increase from 120 games to 132 games and will run to September 11. The 39th season of Chiefs baseball in Peoria begins Friday, April 8 at Wisconsin. The Chiefs will
'Peoria, IL-- The Peoria Chiefs announced their 2022 schedule Tuesday, in conjunction with Minor League Baseball. The 2022 slate will increase from 120 games to 132 games and will run to September 11. The 39th season of Chiefs baseball in Peoria begins Friday, April 8 at Wisconsin.
The Chiefs will open the home schedule on Tuesday, April 12 against the Great Lakes Loons, the High-A affiliate of the Los Angeles Dodgers. It will be the first series against Great Lakes since 2019, when the Loons came to Dozer Park. All told, the Chiefs will play 66 home games in 2022, an uptick from 60 in 2021.
Of those 66 home contests, nearly a third of them will be played in July. The Chiefs are home for 18 games in the month and will be at Dozer Park on Monday, July 4, as they welcome in the Beloit Snappers. Additionally, the Chiefs will be home on Memorial Day weekend and Labor Day weekend.
No team will face off with the Chiefs more than the Quad Cities River Bandits in 2022. The two teams will meet 24 times, concluding with the final series of the regular season in September at Modern Woodmen Park. Peoria will play 72% of their games against the West Division in 2022, including 18 contests against the rival South Bend Cubs. South Bend will make their only trip to the River City from July 12-17.
A year after playing just 12 games against the East Division, the Chiefs will play 36 contests against teams from the opposite division next season. Peoria will play host to Great Lakes, Lake County, West Michigan and Fort Wayne as part of next year's slate. They will also travel to Great Lakes and Dayton. All told, the Chiefs will travel 4,718 miles as part of the 2022 season.
Season ticket packages and other promotional details will be announced later during the off-season. Game times are currently TBA.