Fresno Grizzlies To Honor Buster Posey's Legendary Career With Bobblehead Giveaway
Posey's Fresno career featured a .337 AVG with 82 appearances during the 2009 and 2010 seasons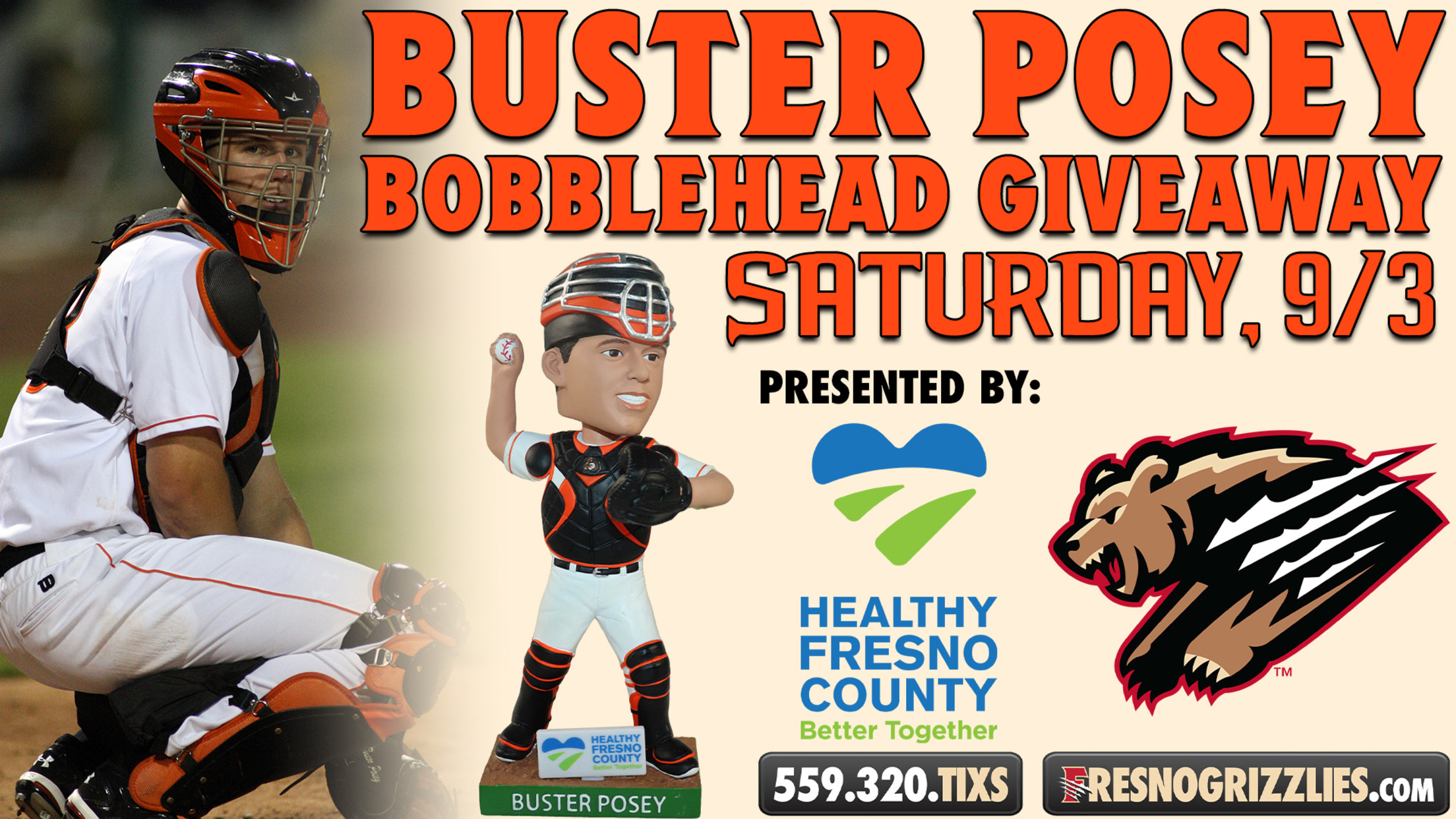 Fresno, CA - The Fresno Grizzlies announced this morning that the organization will honor Buster Posey's retirement from professional baseball with an exclusive bobblehead giveaway on Saturday, September 3. This giveaway, presented by Healthy Fresno County, will be the organization's fourth time producing a bobblehead for the San Francisco Giants
Fresno, CA - The Fresno Grizzlies announced this morning that the organization will honor Buster Posey's retirement from professional baseball with an exclusive bobblehead giveaway on Saturday, September 3. This giveaway, presented by Healthy Fresno County, will be the organization's fourth time producing a bobblehead for the San Francisco Giants legend and can be picked up by being one of the first 3,000 fans in attendance at the game.
Prior to starting his illustrious Giants career, Buster Posey spent parts of two seasons in a Fresno Grizzlies uniform. Posey played 82 games with Fresno, batting .337 with a .535 slugging percentage and .956 OPS. He blasted 11 homers and drove in 54 runs over those 82 games before making the Bay Area his permanent home.
"Buster created countless memories for our entire fanbase during his stint with our organization," said Derek Franks, Fresno Grizzlies president. "We feel that celebrating his storied career with a bobblehead giveaway is truly something all Grizzlies fans can rally around."
Fans can purchase tickets to the September 3 game starting at $15 at FresnoGrizzlies.com, at the Chukchansi Park Ticket Office, or by calling the Grizzlies at 559-320-8497(TIXS). The team is also offering a limited number of Buster Posey Tribute ticket packages. Purchasing this bundle will guarantee a bobblehead and also includes tickets to 2 Friday Night Fireworks games (July 22 & August 5) and the Buster Posey Bobblehead Giveaway game (September 3) for only $37, a nod to Posey's .337 batting average with the Grizzlies. This special 3-game package can be purchased at FresnoGrizzlies.com/Offers
#Growlifornia
ABOUT THE FRESNO GRIZZLIES
The Fresno Grizzlies are the reigning Low-A West regular-season champions and a proud affiliate of the Colorado Rockies organization. The team plays at Chukchansi Park in Downtown Fresno, which is also a year-round community venue that hosts a myriad of other special events including concerts, high school sporting events, and over 100 non-profit community events annually. The 2022 season will mark the team's 20th year in Downtown Fresno and 24th baseball season since their inception in 1998.