R-Phils Thank the Commonwealth of Pennsylvania for Funding for FirstEnergy Stadium Improvements
Commonwealth of PA Joins the City of Reading, County of Berks, and Reading Fightin Phils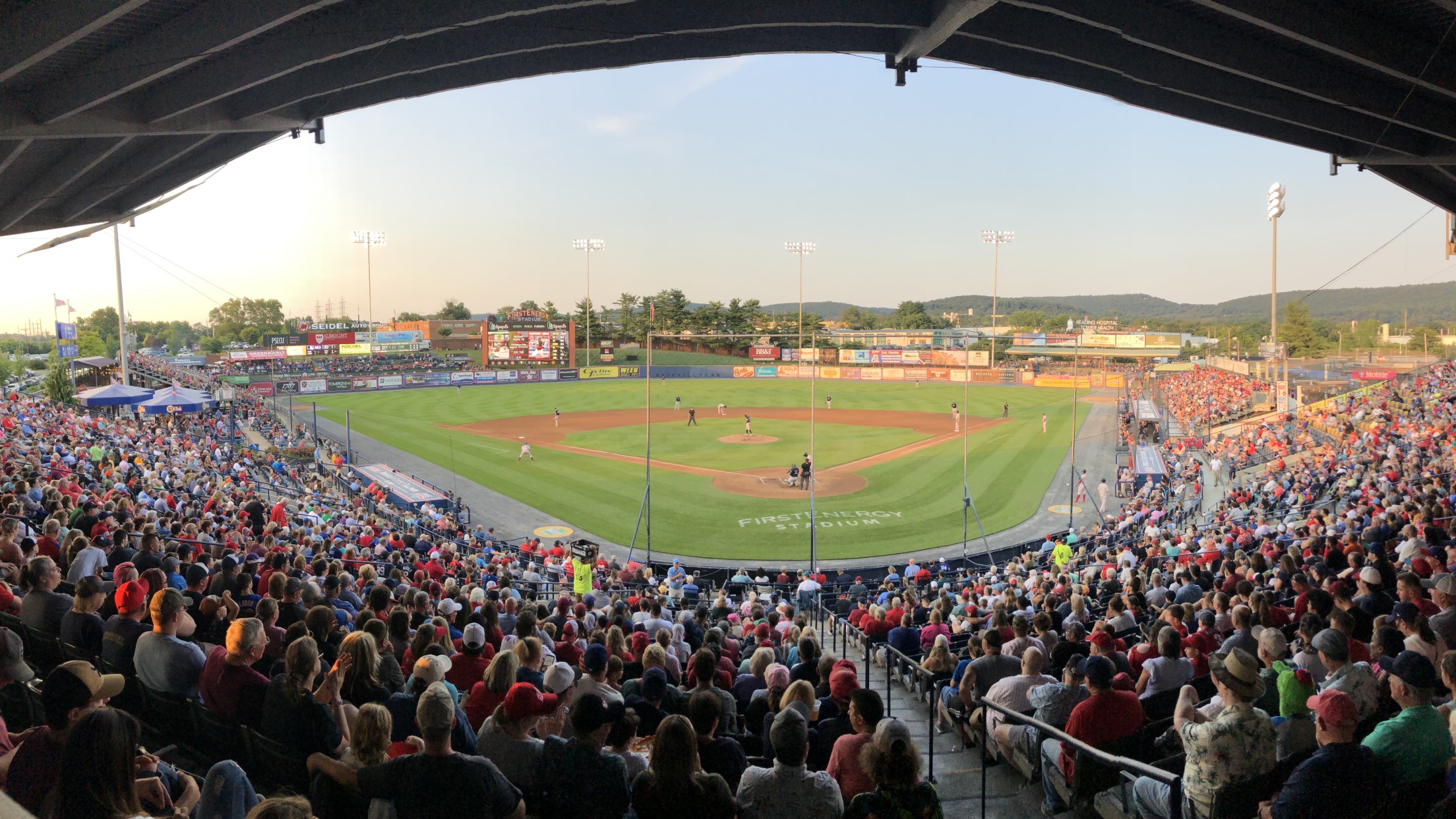 (Reading, PA) – The Reading Fightin Phils appreciate today's awarding of $7.5 million in Redevelopment Assistance Capital Program (RACP) funding by Governor Tom Wolf in support of the new facilities, and improvements, at FirstEnergy Stadium. The Commonwealth of Pennsylvania's investment of $7.5 million in the project, combined with investment of
R-Phils to Host Job Fair for Upcoming Season
Aspiring Interns and Game Staff Welcome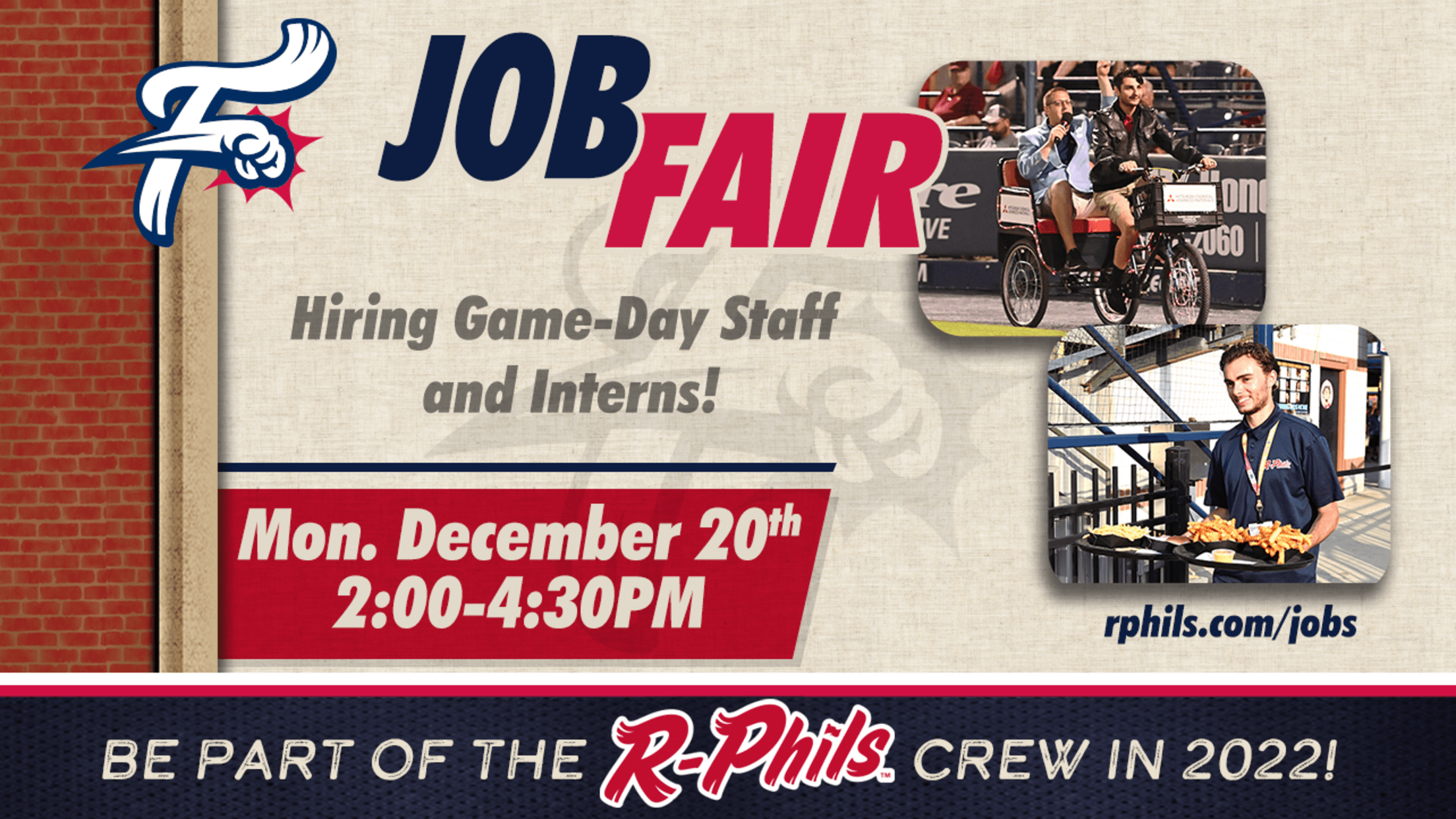 (Reading, PA) – The Reading Fightin Phils are hiring interns and gameday employees for the 2022 season! Join us at our first Job Fair for the 2022 season on Monday, December 20th from 2:00-4:30 pm at FirstEnergy Stadium. The R-Phils offer a variety of positions that make great first jobs,
Baseballtown Advertises Game Times, Ticket Packages & Group Outings!
Fightins release first pitch times at FirstEnergy Stadium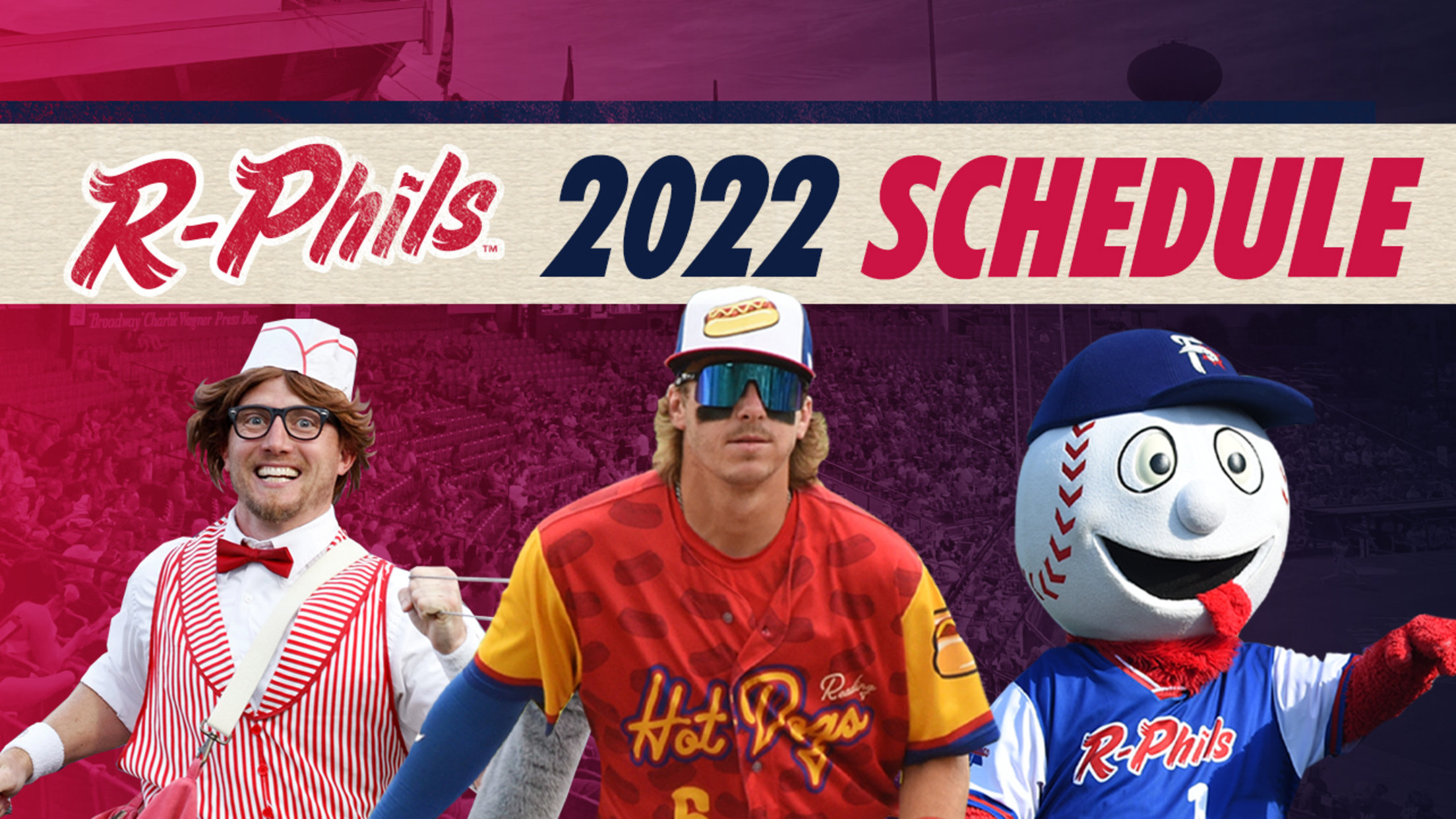 The Reading Fightin Phils are pleased to publicize their home game times for the 2022 season at FirstEnergy Stadium, America's Classic Ballpark. The organization is excited to welcome back fans for Phillies Double-A professional baseball, where the Stars of Tomorrow play today. The R-Phils season is presented by Pepsi! CLICK
Reading Baseball to Hall of Fame Candidacy
Numerous players you might have seen in Baseballtown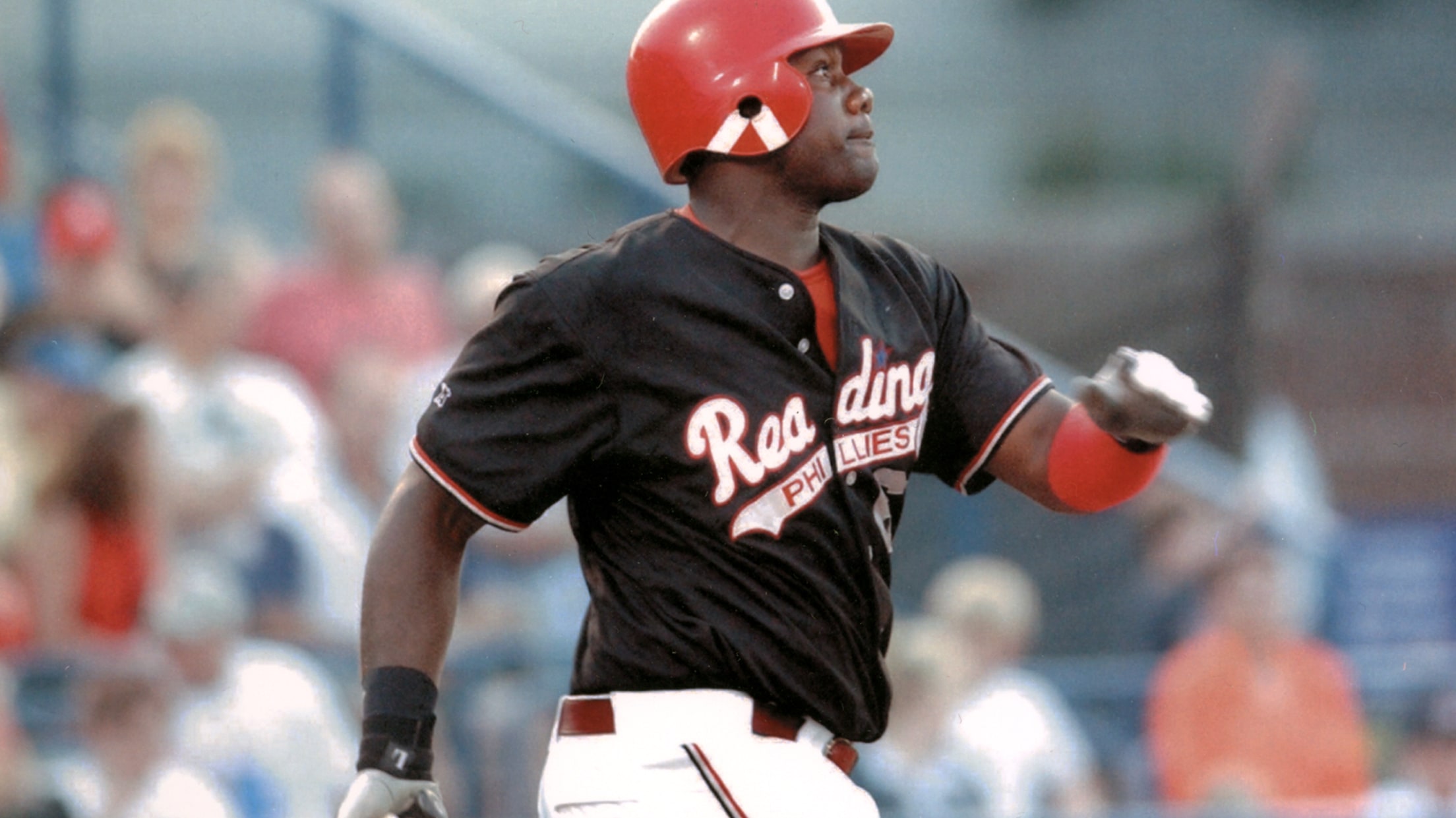 The National Baseball Hall of Fame celebrates the highest achievement for those within the sport. Each year members of the Baseball Writers' Association of America have the opportunity to vote on and elect new and current candidates into the HOF. This year there are 13 newly eligible players along with
R-Phils Open Winter Internship Program
Seek Enthusiastic and Hard-Working Interns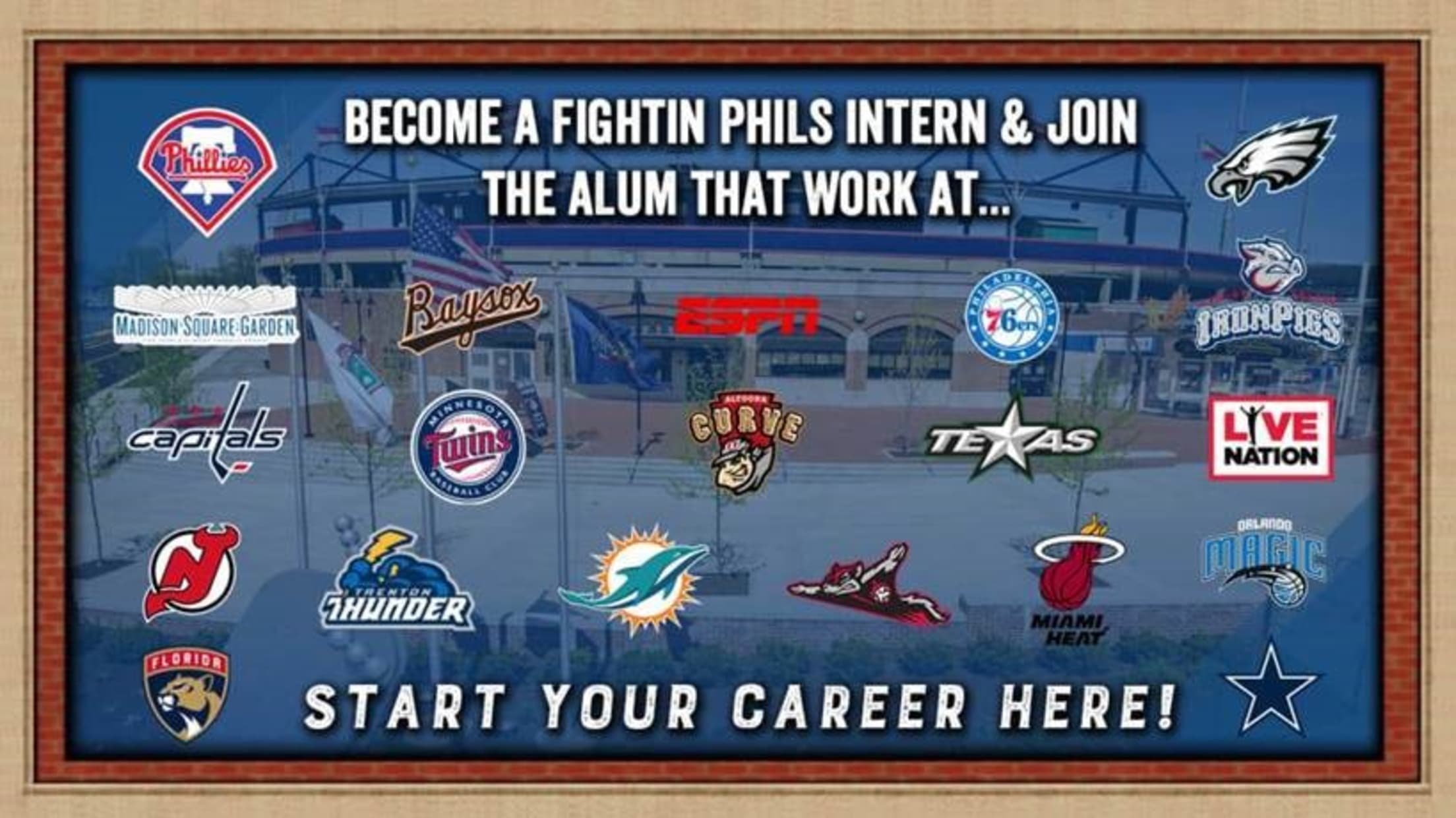 The Reading Fightin Phils, Class AA affiliate of the Philadelphia Phillies, are seeking hard working, goal-oriented and enthusiastic individuals for our 2022 internship program. Interns will handle day-to-day operational tasks and learn how the organization prepares for the upcoming season. The Internship program will provide a great opportunity for interns
The 2022 R-Phils Schedule is Out!
Reading will open season at home on Friday, April 8 vs. Somerset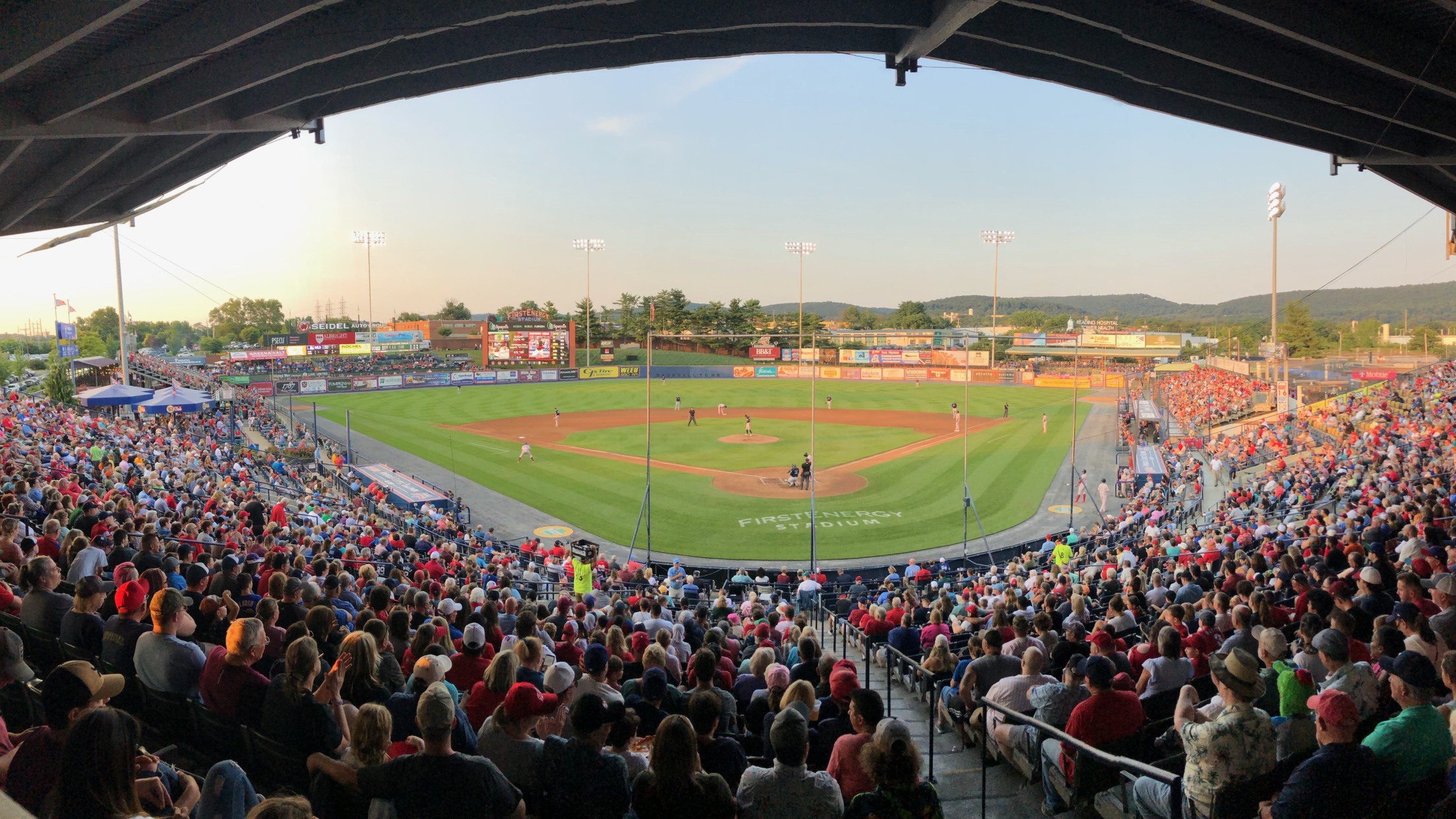 The Reading Fightin Phils, in conjunction with Major League Baseball, have announced their home schedule for FirstEnergy Stadium during the 2022 season! Game times, road trips, and a full R-Phils promotional schedule consisting of giveaways, appearances, and more will be announced at a later date. CLICK HERE FOR THE 2022
Stott named Phillies MiLB Player of the Year
Shortstop wins 2021 Paul Owens Award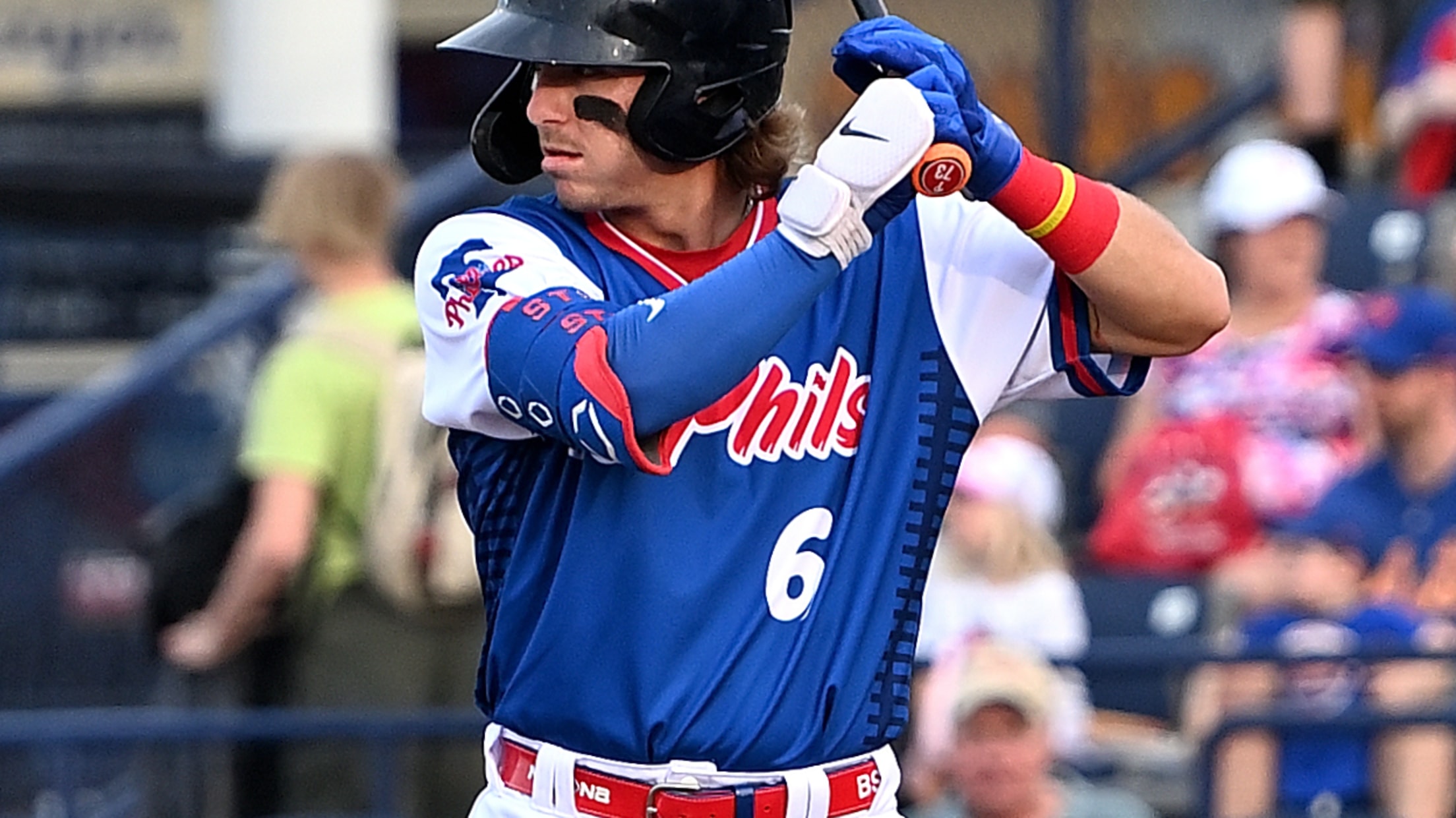 The Reading Fightin Phils are excited to announce that 2021 MVP Bryson Stott has been named the Philadelphia Phillies Paul Owens Award winner. This honor is given to one player and one pitcher who has led the farm system throughout the season. Bryson Stott, 23, split time this summer between
Reading's Crowd LARGEST in MiLB Sunday night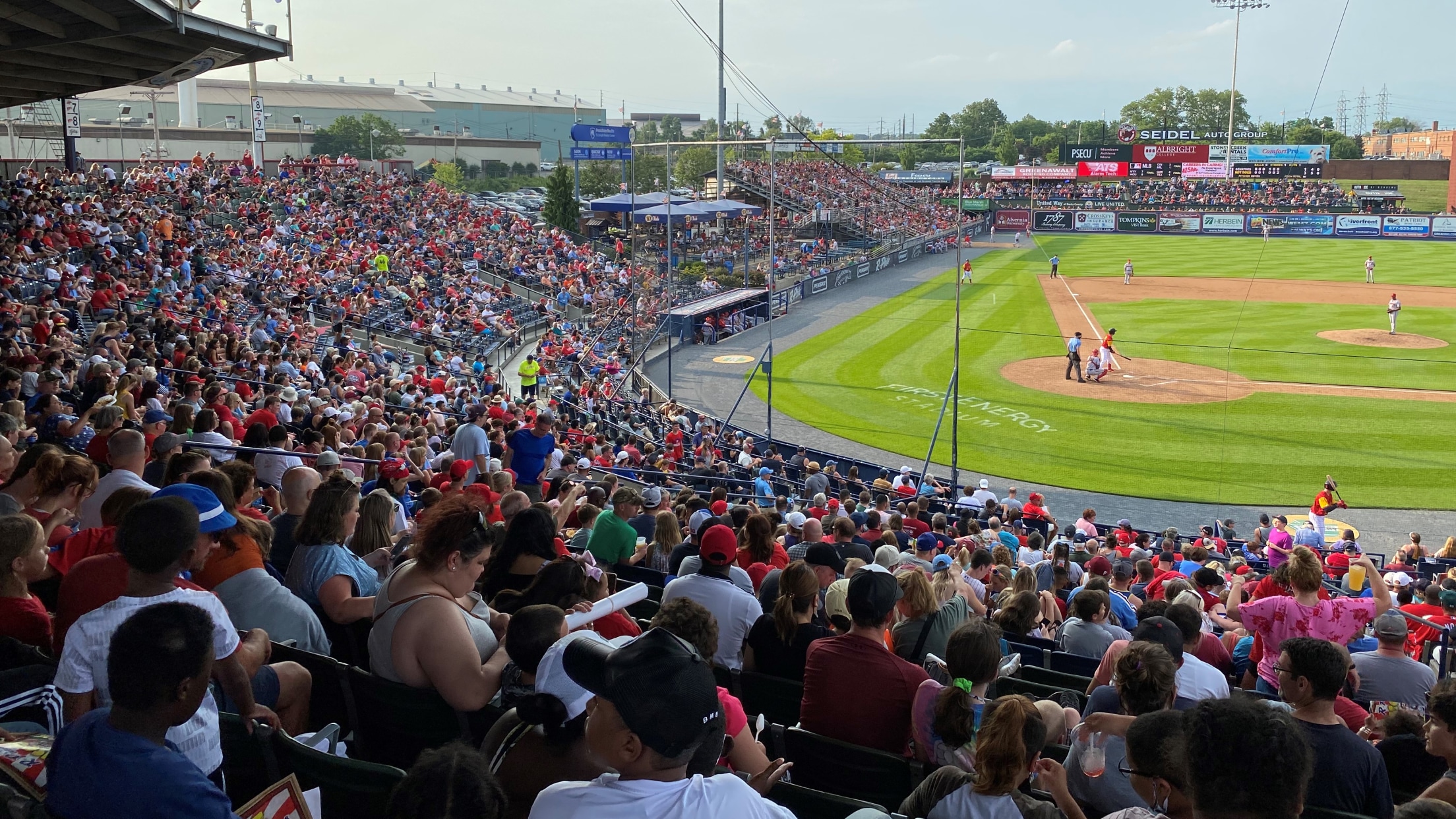 The Reading Fightin Phils posted an official attendance of 9,165 for their Sunday, July 11th home game vs. the Harrisburg Senators. The R-Phils attendance was the highest mark in ALL of Minor League Baseball on Sunday. Sixty (60) Minor League stadiums across the country had games scheduled on July 11th,
Fightins Add Two to Front Office Staff
Stephen Thomas returns and Matt Koch Joins Fightins Full-Time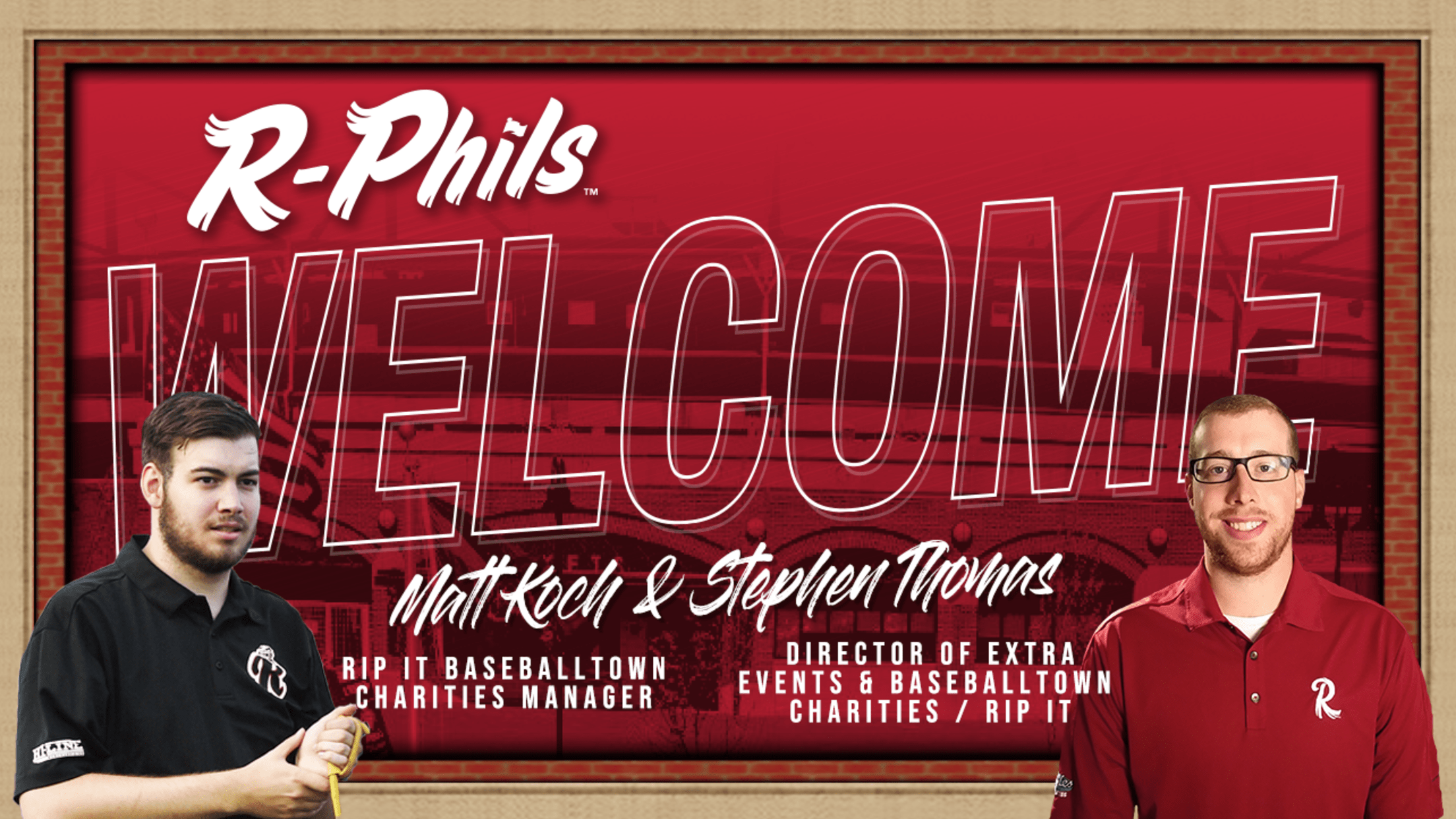 (Reading, PA) - The Reading Fightin Phils have announced two new full-time additions to their front office staff, as Matt Koch has been hired as the Rip it Baseballtown Charities Manager, and Stephen Thomas has been added as the R-Phils Director of Extra Events and Baseballtown Charities/Rip It. Matt Koch
R-Phils Announce End of the Year Player Awards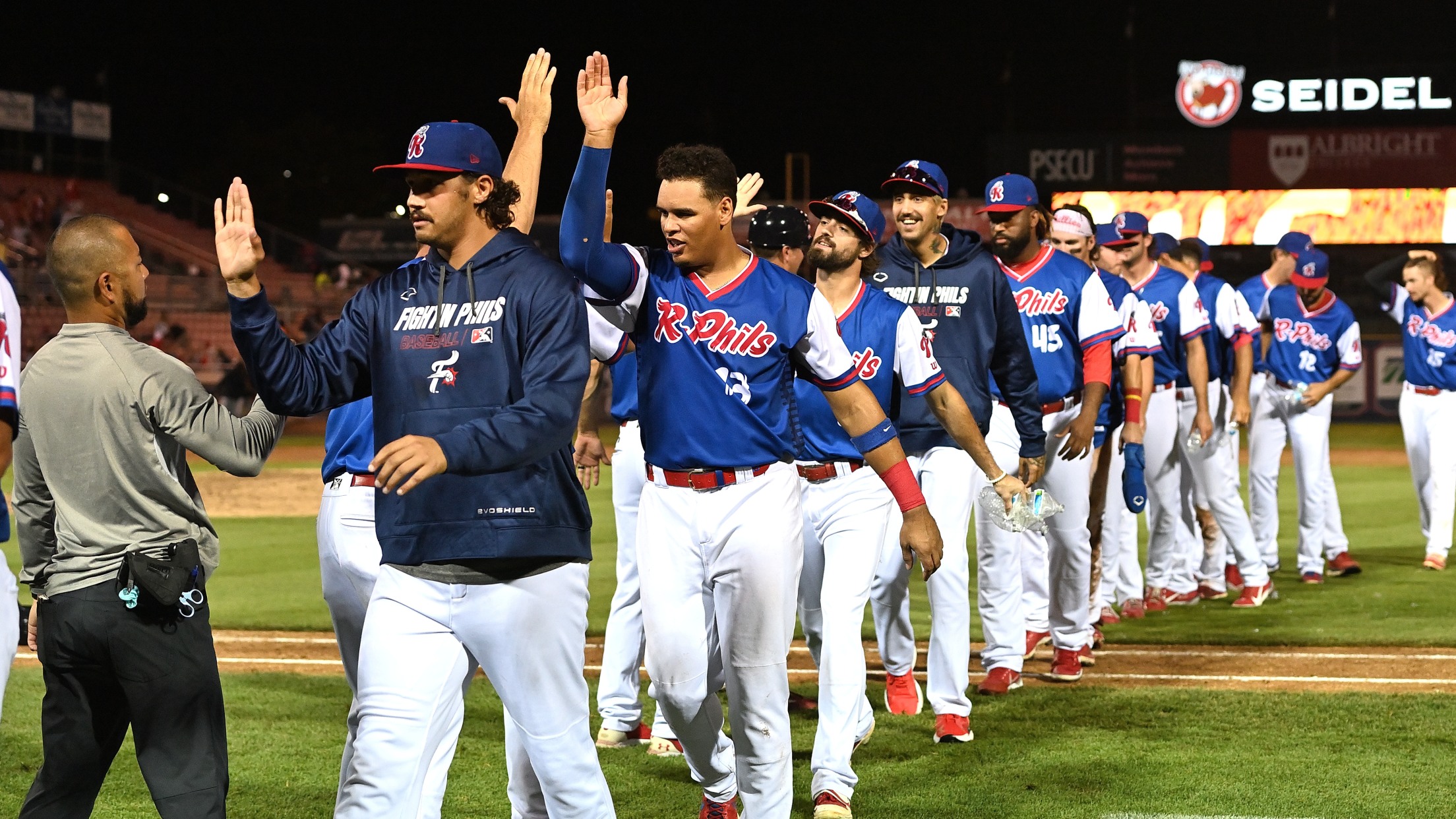 The Reading Fightin Phils have announced their end-of-season player awards with their homestands complete Below are some of the biggest contributors to the R-Phils in 2021. Broadway Charlie Wagner Un-Sung Hero Award: Madison Stokes Madison Stokes has been a day in, day out contributor to the Fightins since Opening Day.
Marconi named All-Star, League's Top Reliever 
Brian Marconi saved 15 games as Reading's closer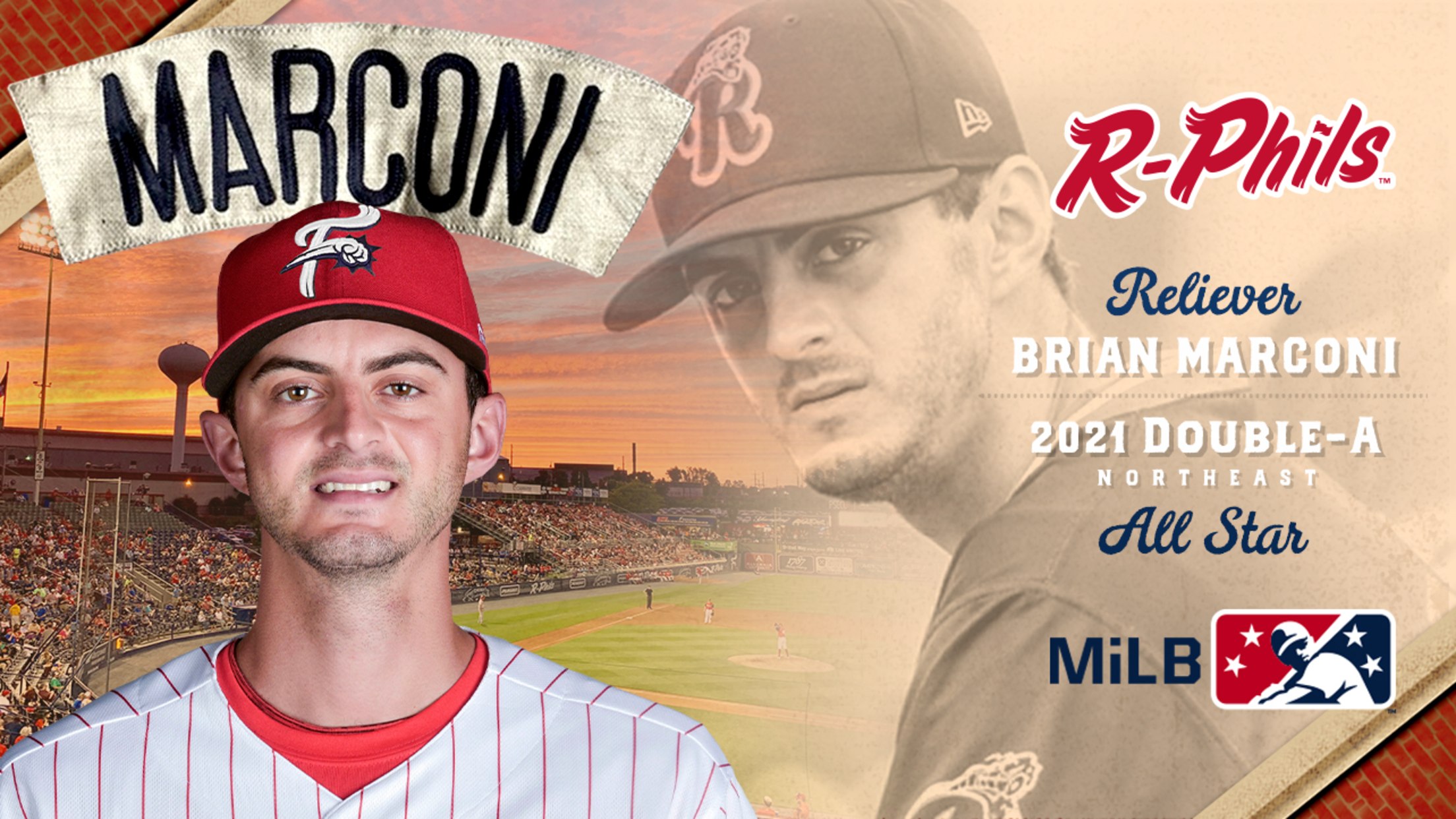 The Reading Fightin Phils are pleased to announce that Brian Marconi earned the Double-A Northeast League Reliever of the Year Award. He was selected to the All-Star team because of his prowess late in the game as the R-Phils saves leader. The southpaw from Marlton, NJ was selected thanks to
Beer Fest Added on November 7th Toy Drive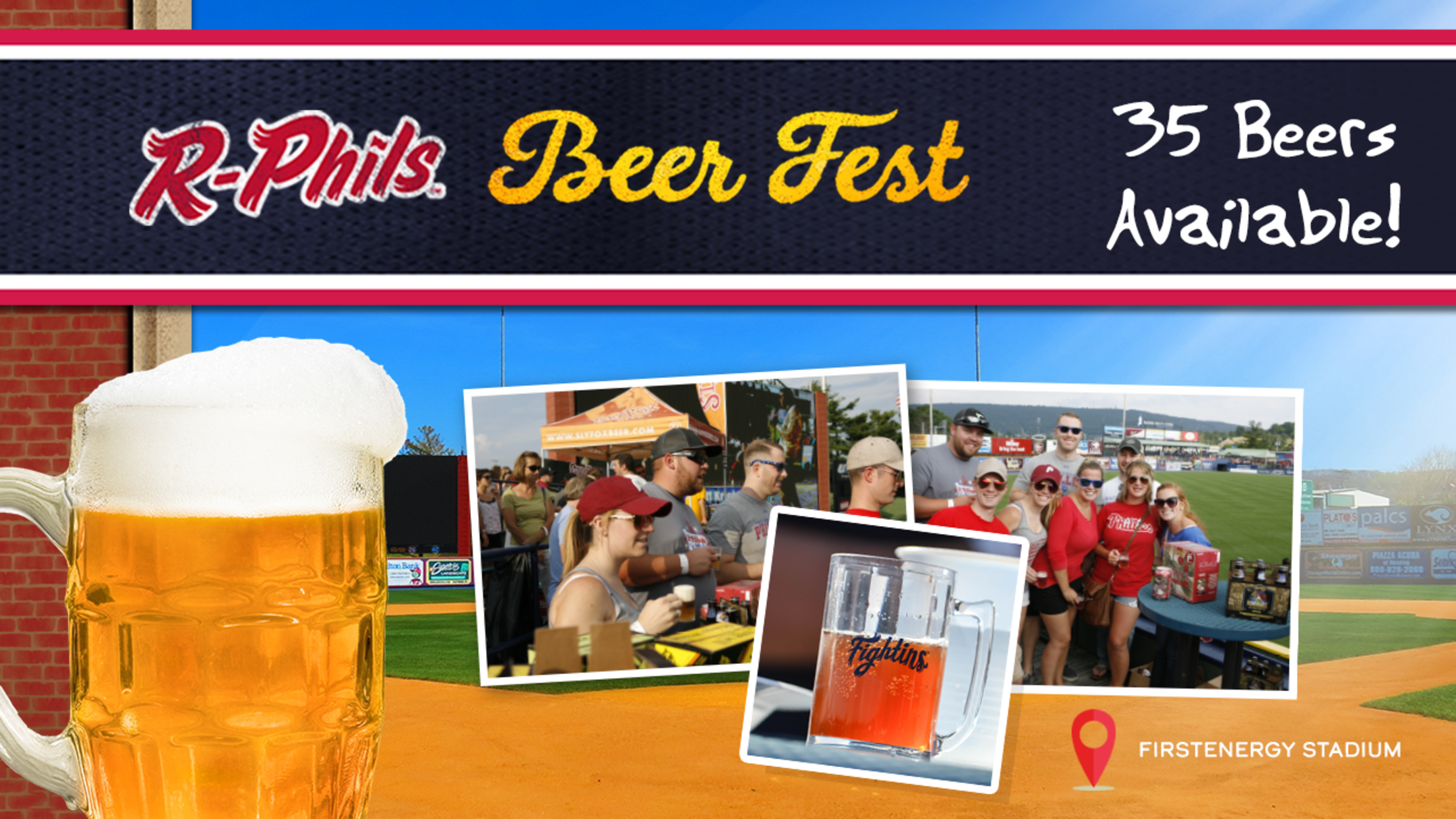 (Reading, PA) – The Reading Fightin Phils are excited to add a Beer Festival on Sunday, November 7th. This festival will follow our 15th Annual Toys for Tots event, thanks to Classic Harley-Davidson, where guests are encouraged to donate a toy for a child in need. In return, they will
FirstEnergy Stadium to Host 15th Annual Eastern PA Toy for Tots
Classic Harley-Davidson to lead donations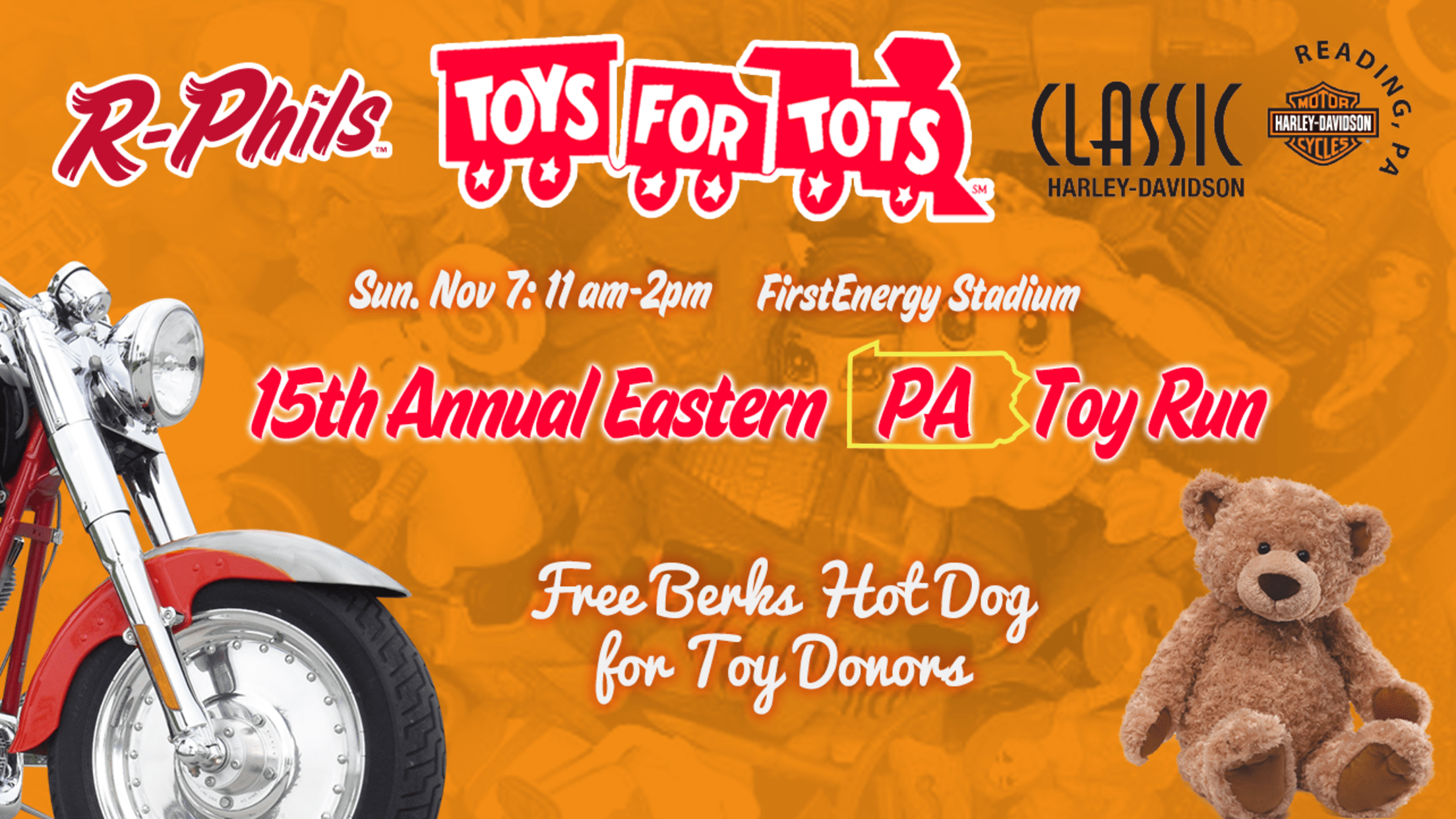 (Reading, PA) - FirstEnergy Stadium will welcome the 15th Annual Eastern PA Toy Run, presented by Classic Harley-Davidson, on Sunday, November 7th from 11 a.m. to 2 p.m. in the Tompkins VIST Bank Plaza. Please note this is Daylight Savings so make sure to turn your clocks back and join
Safe Trick-Or-Treat Night Oct. 23 at FirstEnergy Stadium
"It's A Great Pumpkin Charlie Brown" movie to air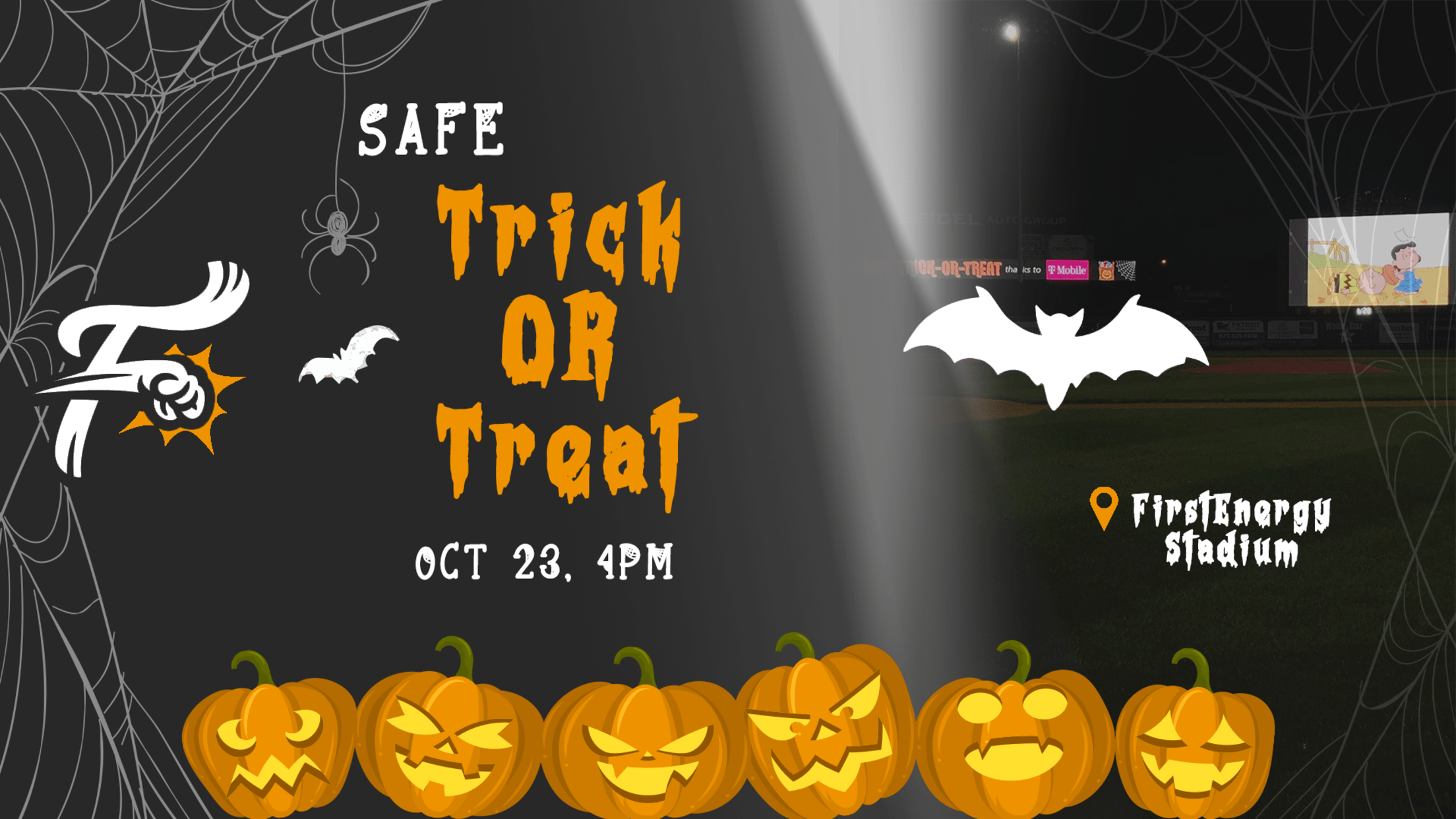 The Reading Fightin Phils are excited to offer another safe Trick-or-Treat opportunity for the community. On Saturday, October 23rd, fans can experience a safe Halloween at FirstEnergy Stadium filled with lots of fun, candy, and the perfect movie. Join us for our Halloween at the ballpark thanks to Tomkins VIST
T-Mobile and the R-Phils Celebrate First Responders Day
Free lunch to support local responders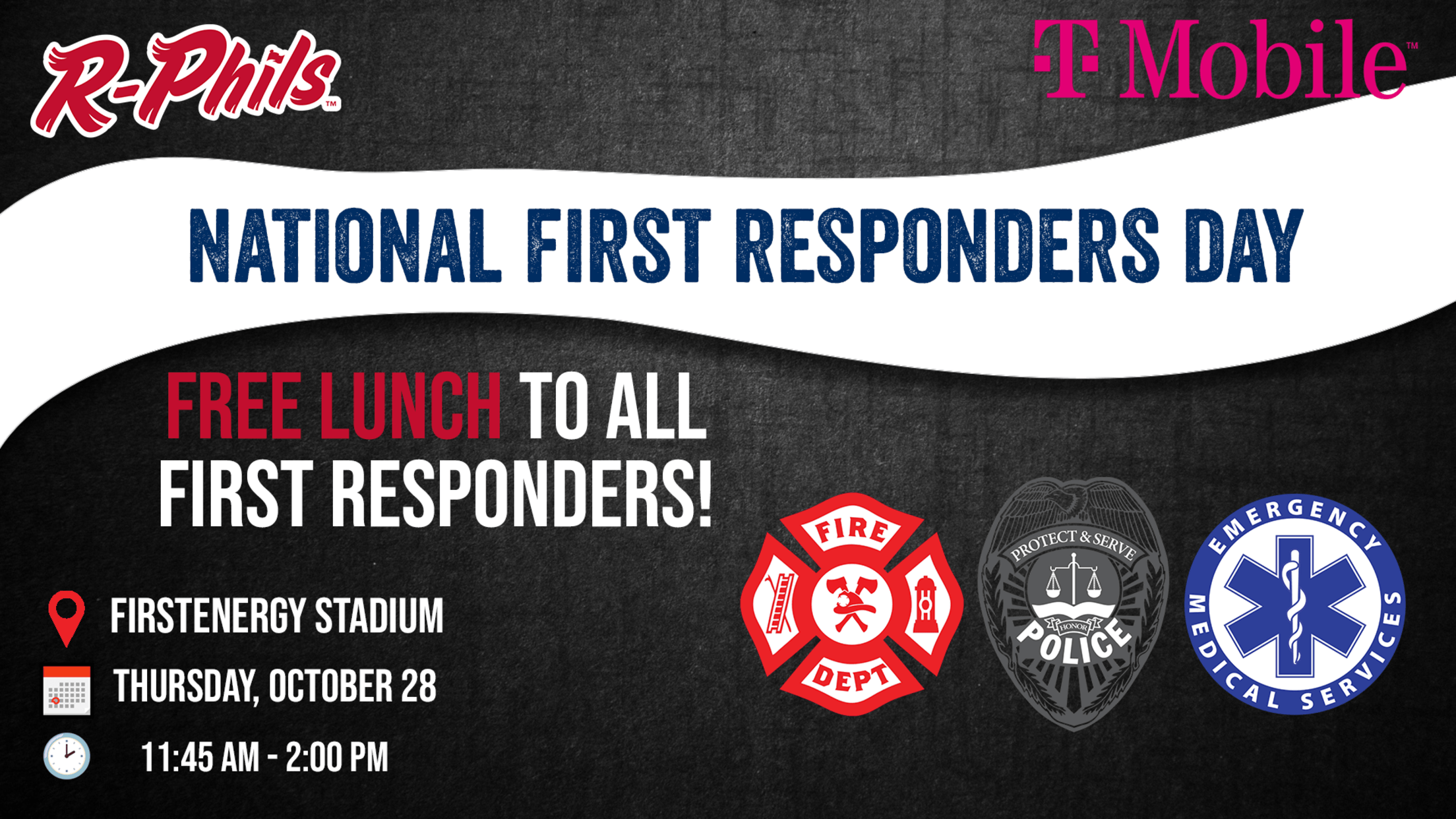 The Reading Fightin Phils are partnering up with T-Mobile to commemorate National First Responders Day. On Thursday, October 28, they will host a FREE lunch at FirstEnergy Stadium for all first responders in the area. From 11:45AM-2PM, T-Mobile will be providing a FREE lunch to support our police, firefighters, and
Stott and McArthur Atop the Farm's August Players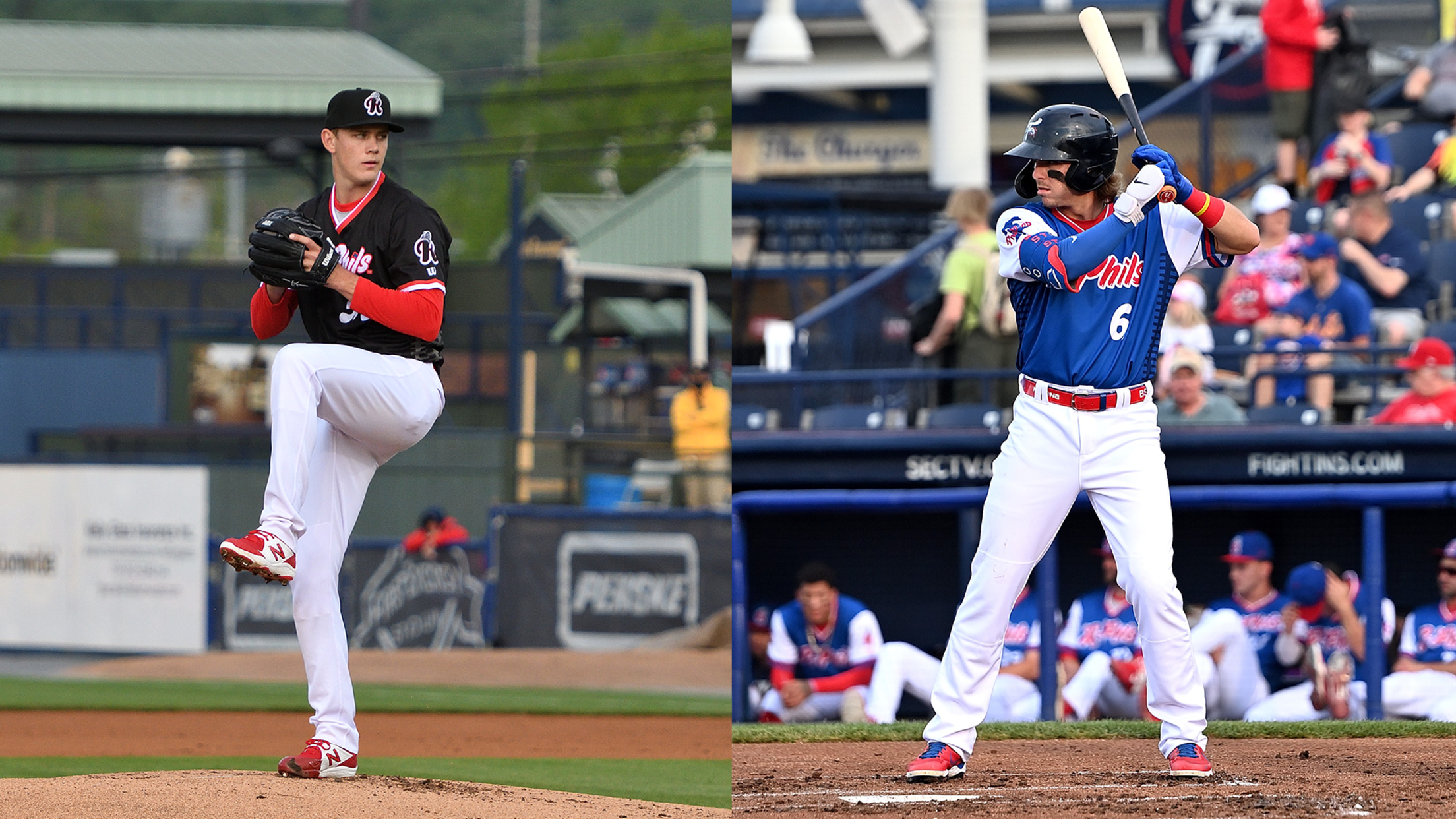 The Philadelphia Phillies have announced their monthly award winners for the top players around their farm system. Bryson Stott was named Hitter of the Month for August, while teammate James McArthur received the Pitcher of the Month Award. Up in Lehigh Valley, Matt Vierling was named Defender of the Month.
Crouse Stellar as R-Phils Shutout Binghamton in Season Finale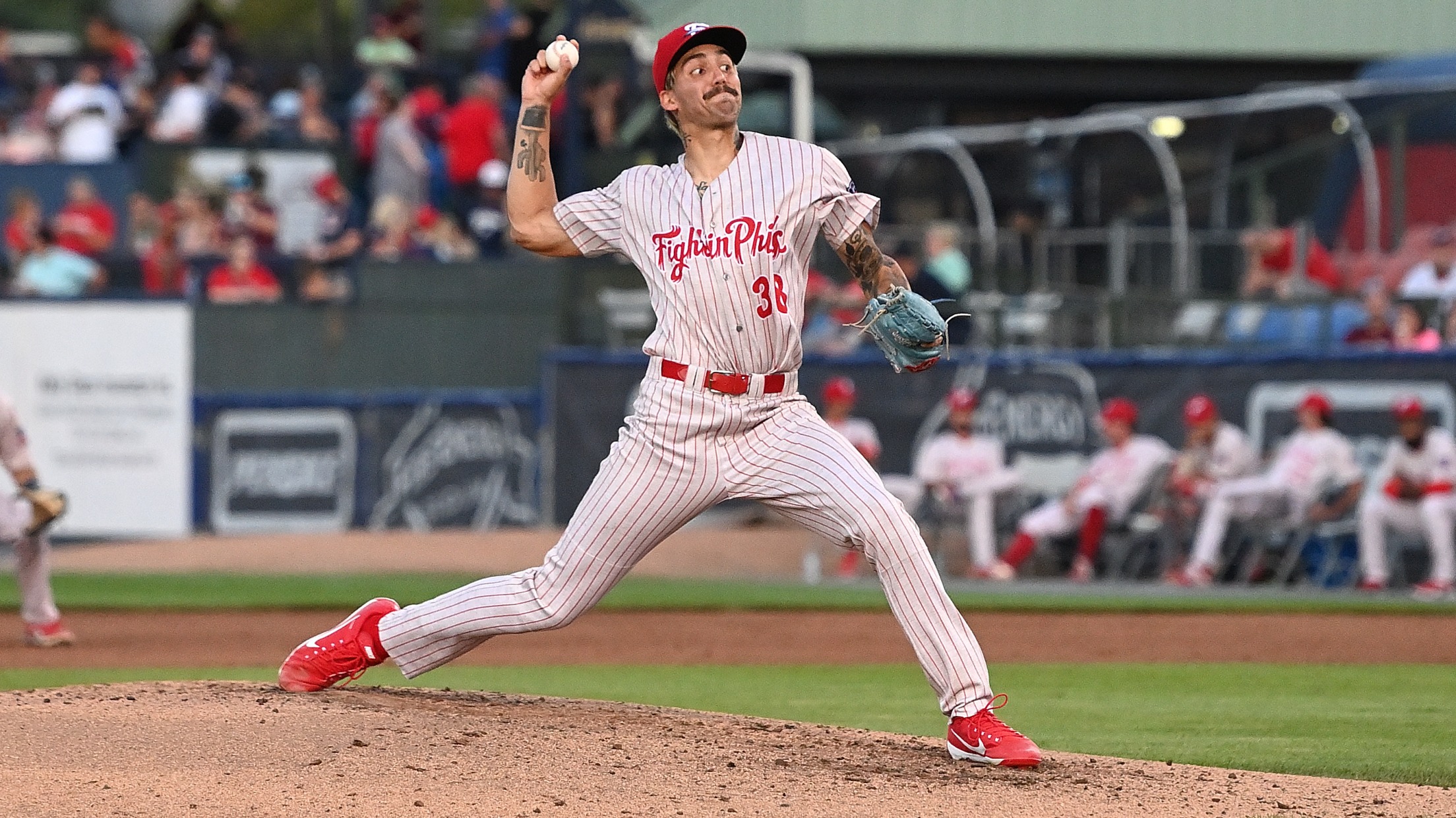 BOX SCORE - Reading 4, Binghamton 0 The Reading Fightin Phils shutout the Binghamton Rumble Ponies 4-0 on the final night of the 2021 season. Dalton Guthrie, Josh Stephen, and Grenny Cumana had two-hit contests, while Brock Stassi launched his second home run of the season. Reading scored early in
Ticket Exchange / Ticket Refund Information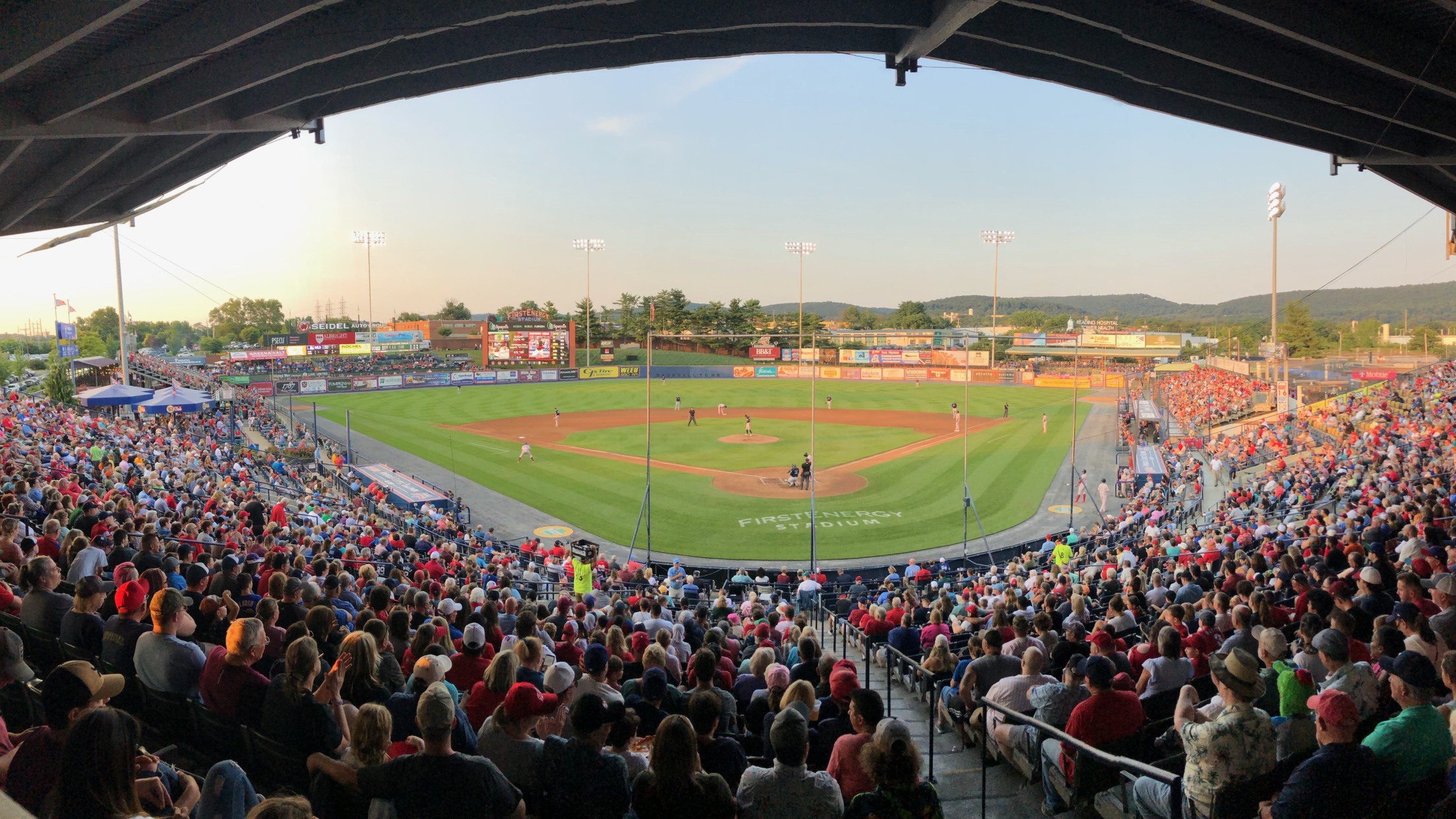 The R-Phils September 7 thru September 12 games have been cancelled due to Covid related protocols with our scheduled opponent. Those who purchased single game tickets dated for September 7th thru the 12th will be able to exchange their tickets for a game in 2022, or receive a refund. Those
Morales Garners Pitcher of the Week in Final Start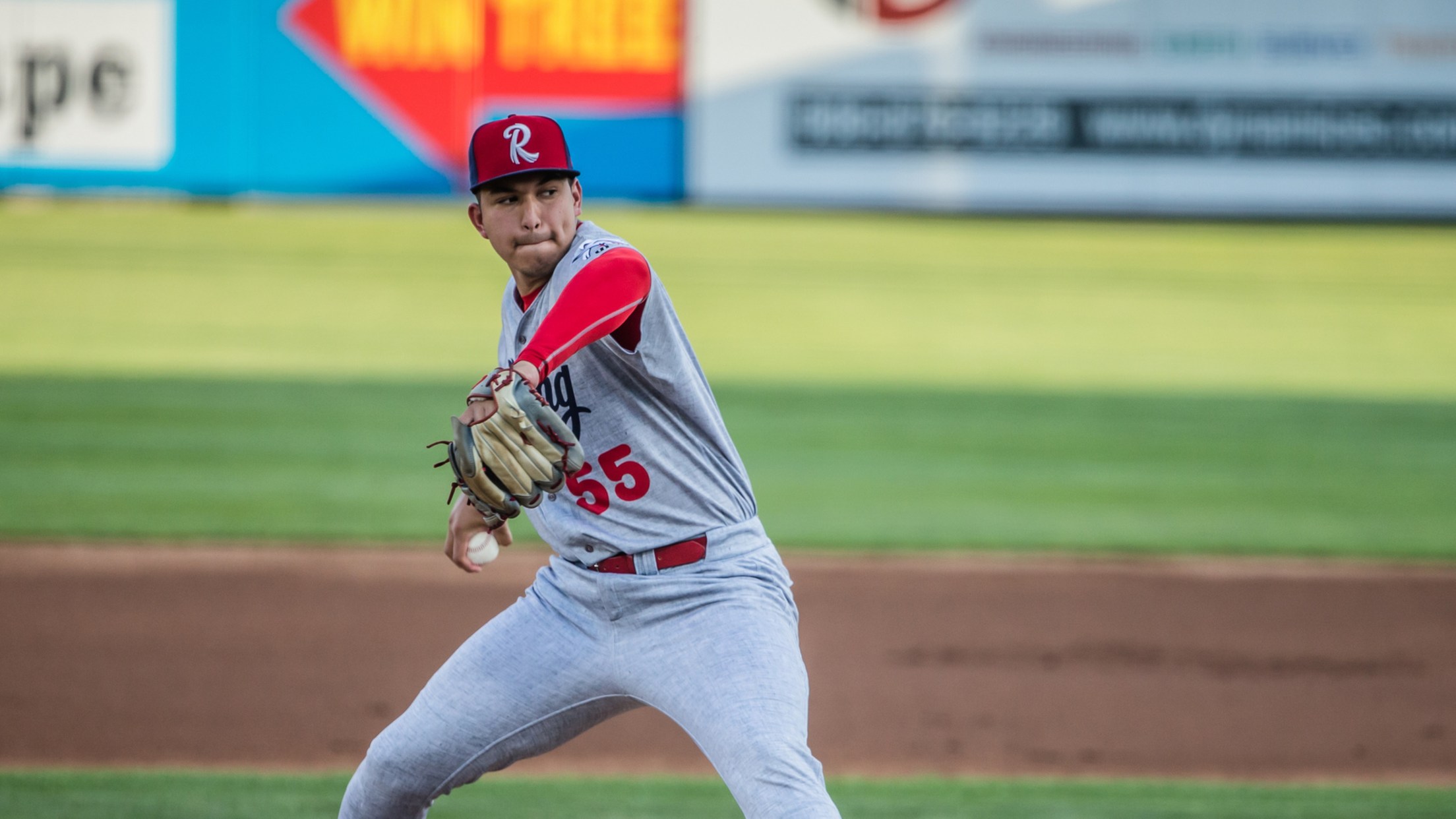 The Reading Fightin Phils are excited to announce that the Phillies #5 prospect Francisco Morales has been named the Double-A Northeast Pitcher of the Week. Morales, 21, threw five innings of just one-hit ball. He gave up no earned runs to earn his fourth win of the season. Reading went
Muzziotti, Stott Impress in R-Phils Victory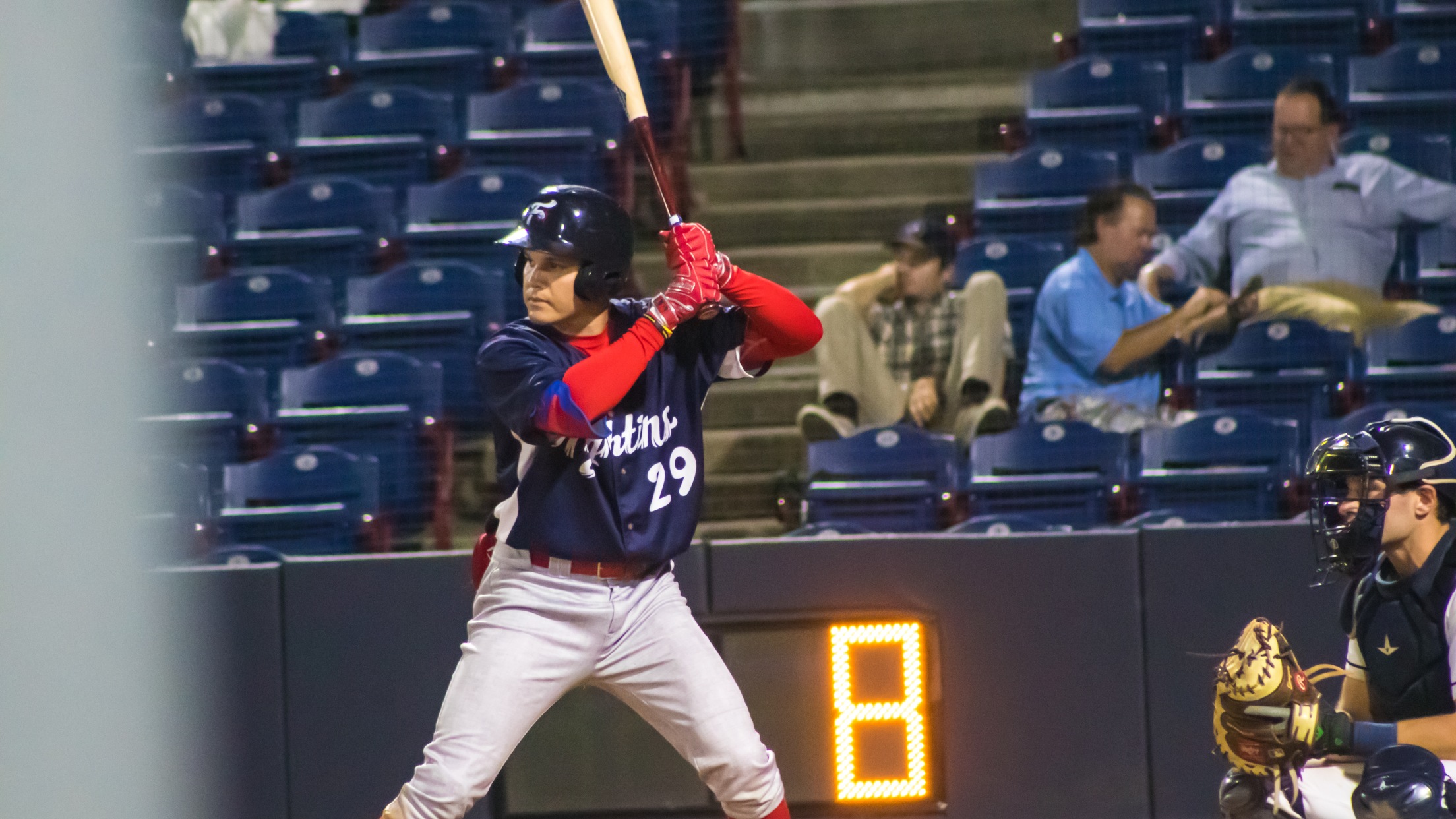 BOX SCORE - Reading 5, Binghamton 2 The Reading Fightin Phils took the Binghamton Rumble Ponies 5-2 on the final Saturday game of the season. Bryson Stott had a three-hit game, while Simon Muzziotti had a two-hit contest. Matt Kroon reached three times as he was hit by a pitch
Pitching and Defense Powers R-Phils to Victory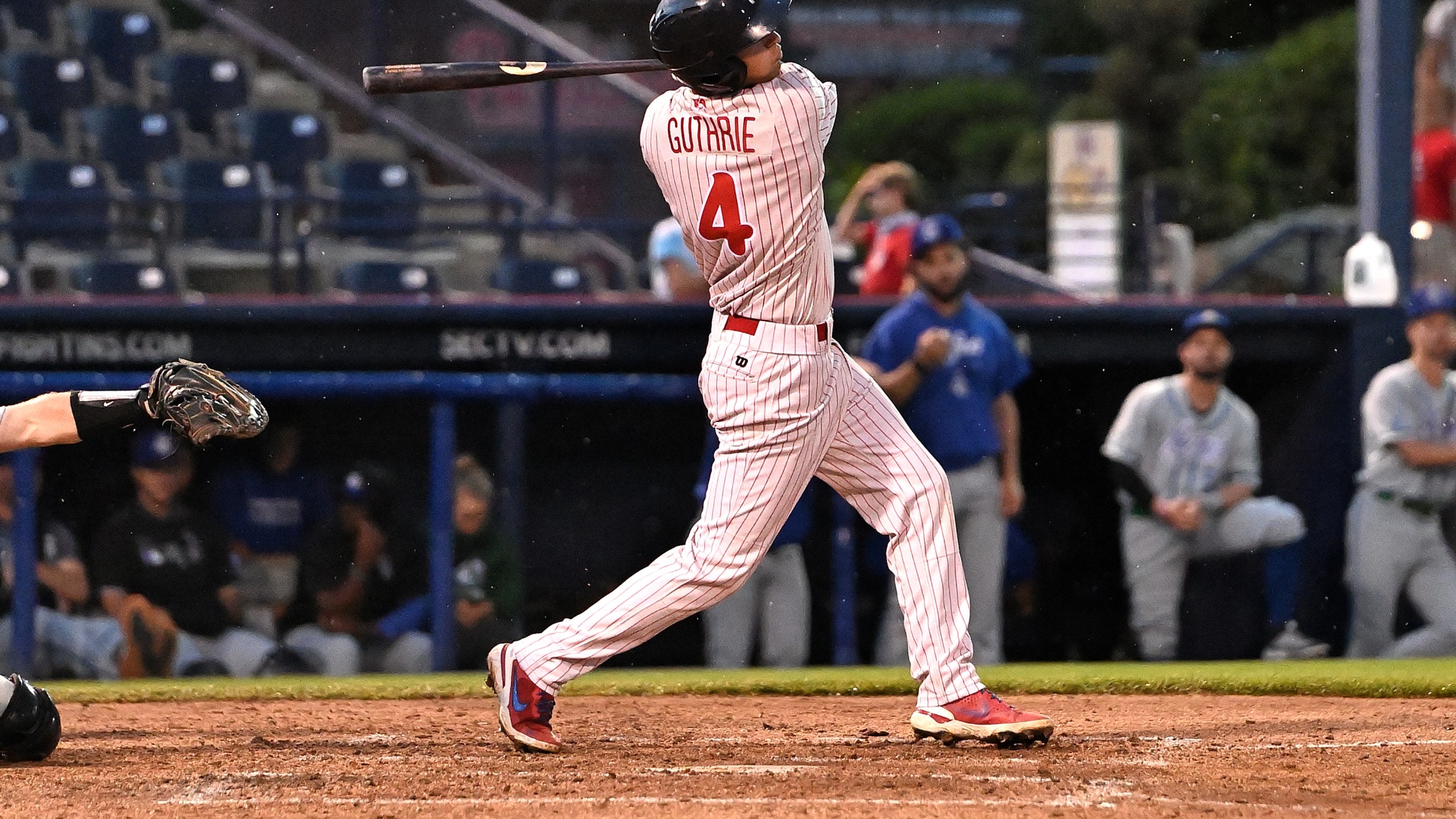 BOX SCORE - Reading 4, Binghamton 1 The Reading Fightin Phils beat the Binghamton Rumble Ponies 4-1 on Friday night under the lights at Mirabito Stadium. Chris Cornelius and Dalton Guthrie both had two hit contests. Jack Conley caught a runner stealing at second and tagged another one out trying
Stephen's Homer Not Enough in R-Phils Loss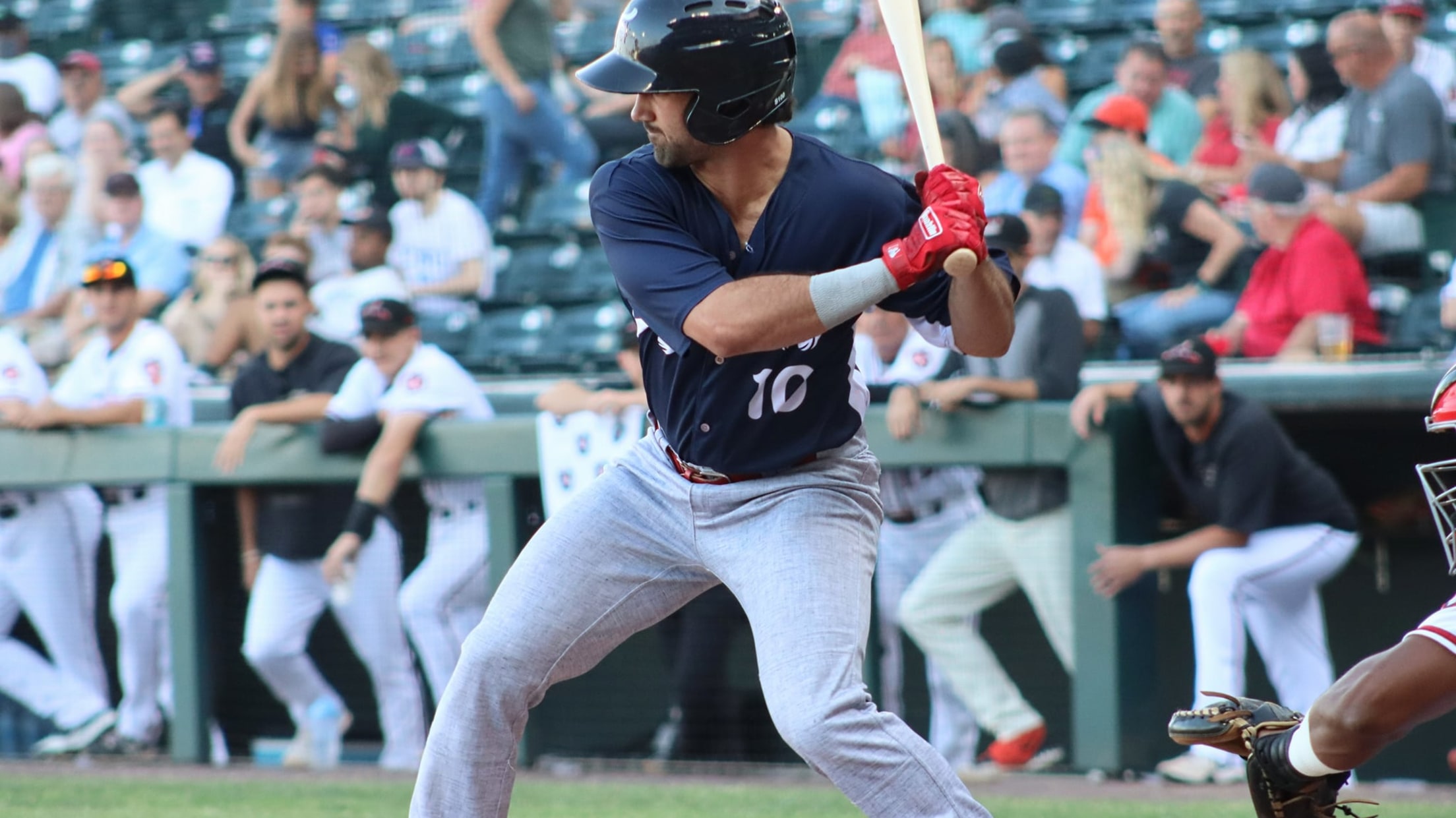 BOX SCORE - Reading 2, Binghamton 6 The Reading Fightin Phils fell to the Binghamton Rumble Ponies 6-2 on Thursday night in the final series of 2021. Josh Stephen recorded two hits, while Dalton Guthrie notched three on the night. The Rumble Ponies scored in the bottom of the first
FINAL homestand with September Promotions!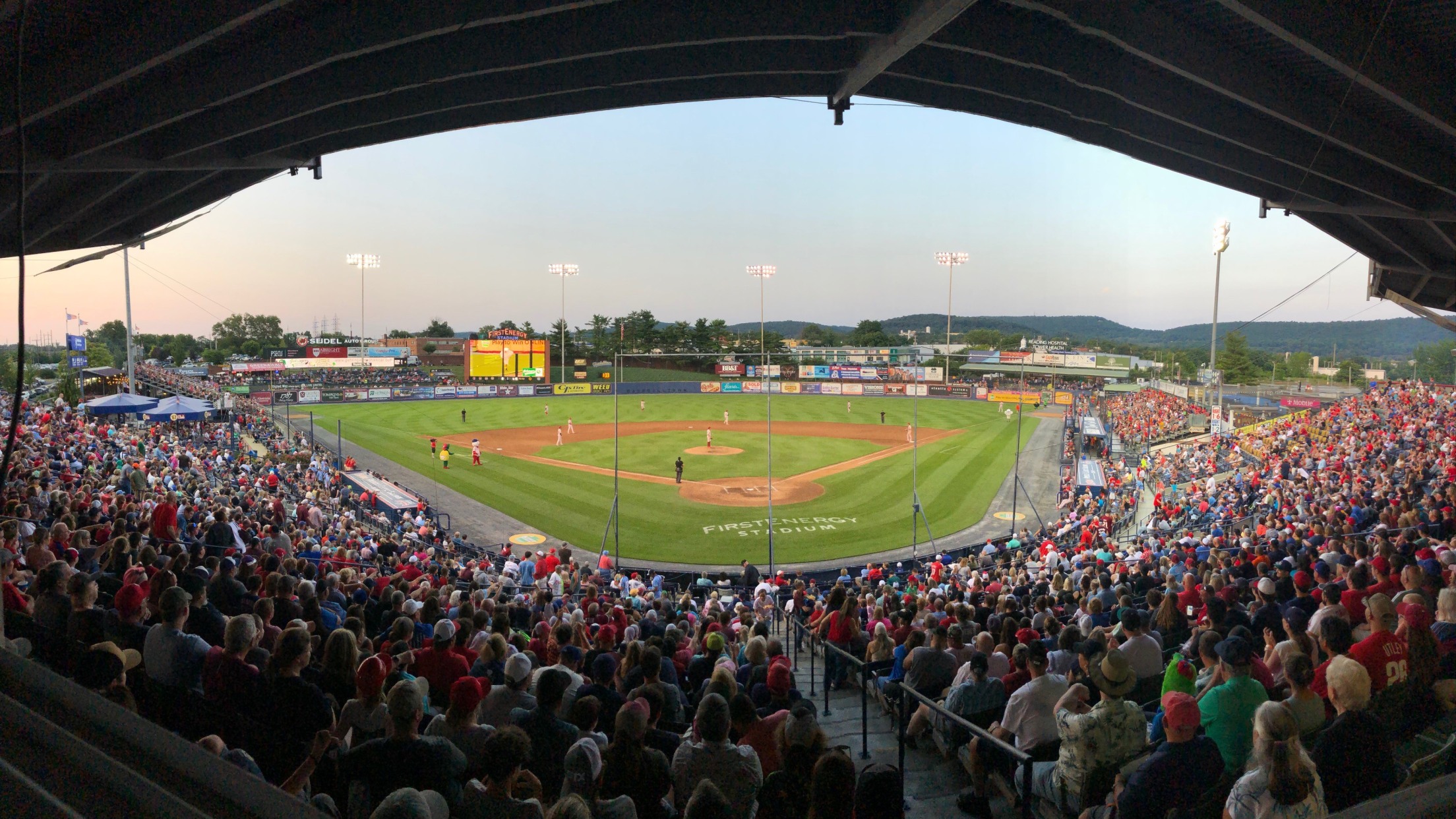 Fireworks! Giveaways! Theme Nights! Professional Baseball! The Reading Fightin Phils are excited to release promotional information and game tickets for our final homestand this summer in September! With group packages, daily tickets, and buffets available, there's a spot for every kind of fan! Now's the time to get up, get
This Thursday's game has been postponed to allow for additional testing and contact tracing of the New Hampshire Fisher Cats.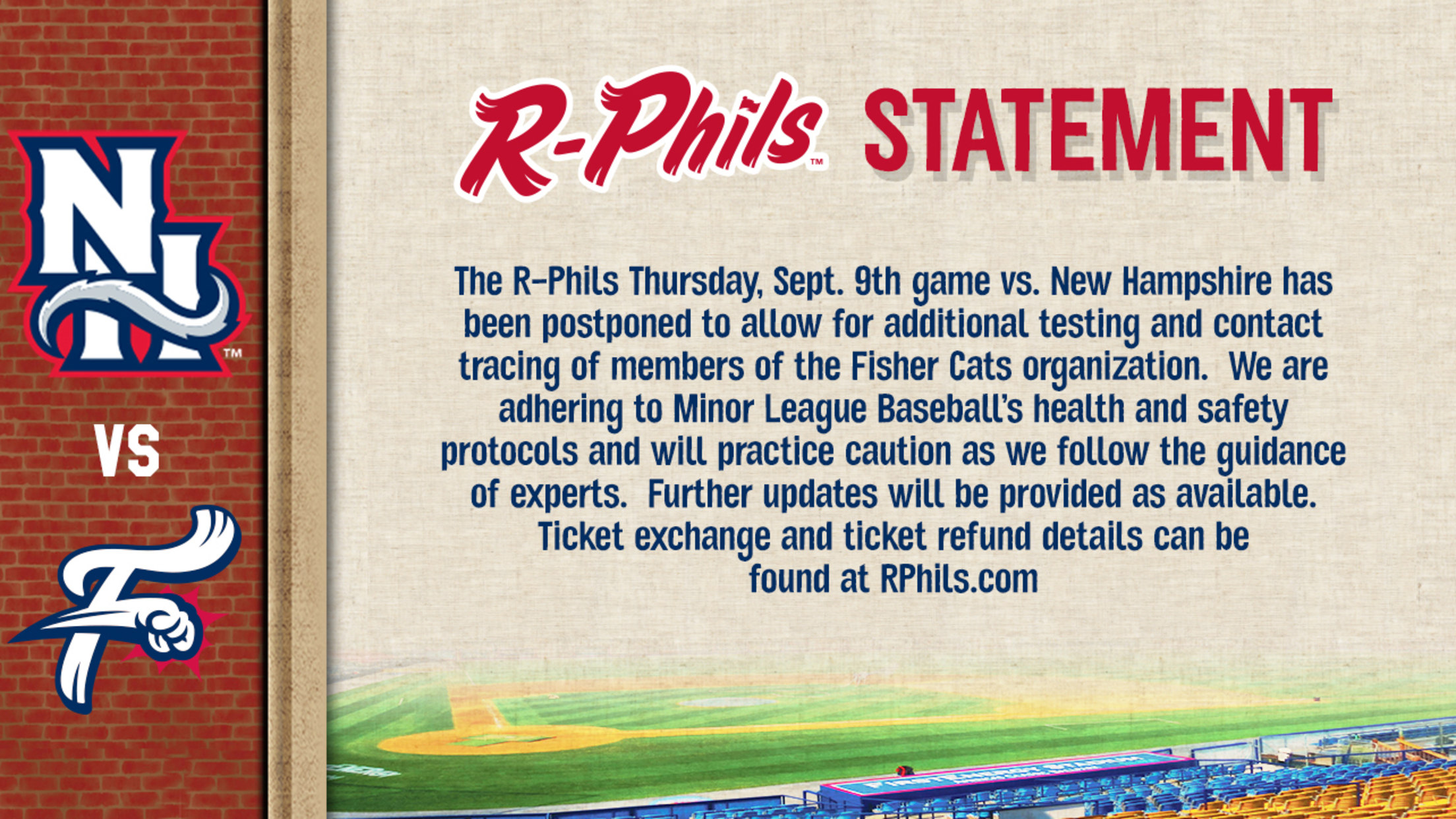 The Friday, September 9th R-Phils games has been postponed to allow for additional testing and contact tracing of members of the Fisher Cats organization. We are adhering to Minor League Baseball's health and safety protocols and will practice caution as we follow the guidance of experts. Further updates will be
Morales, Muzziotti Power R-Phils to Victory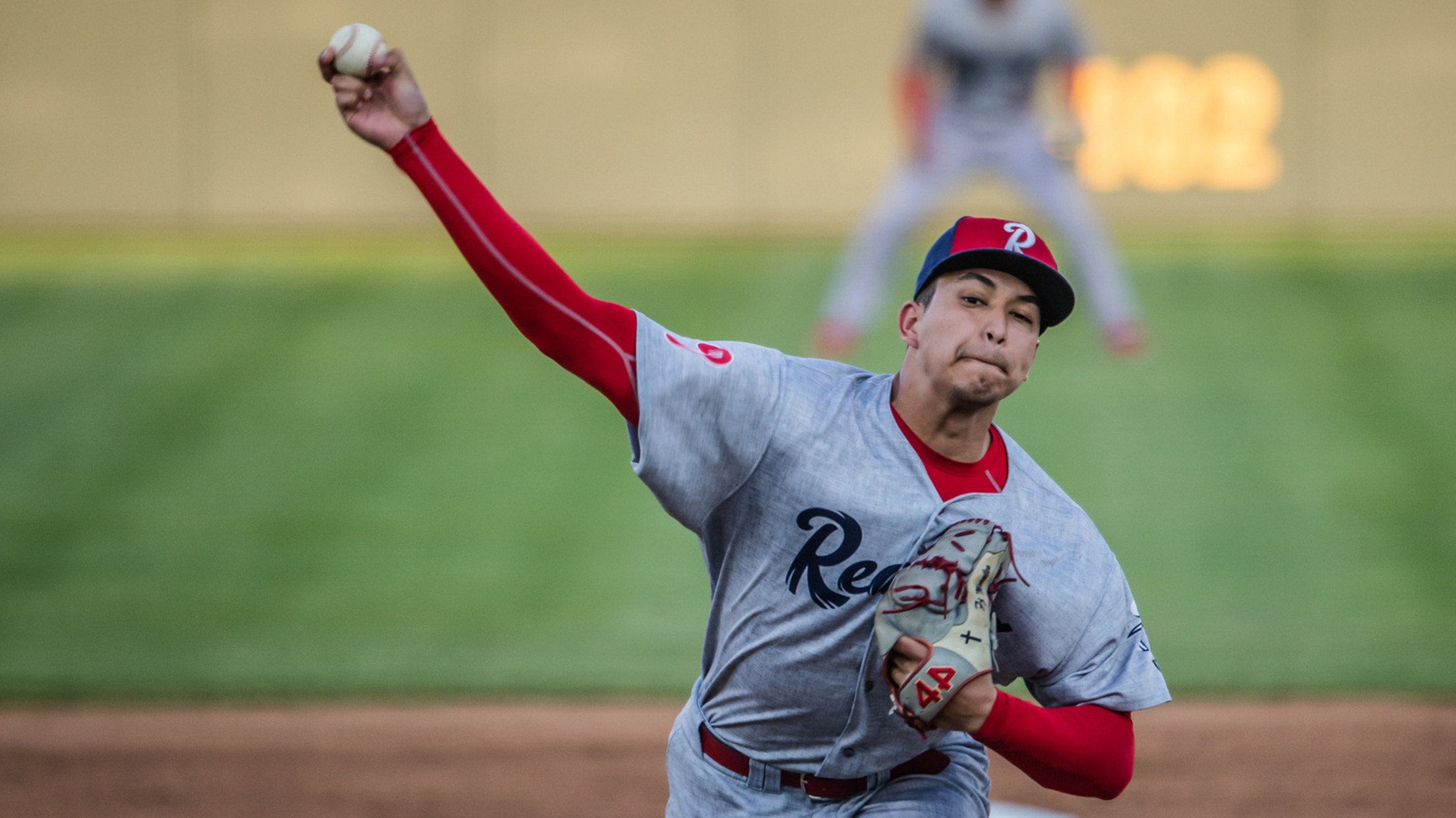 BOX SCORE - Reading 2, Binghamton 1 The Reading Fightin Phils topped the Binghamton Rumble Ponies 2-1 on Tuesday night in the final series of 2021. Simon Muzziotti had a two-hit night in his Double-A debut including the winning hit. Bryson Stott also recorded two hits in the game. Francisco